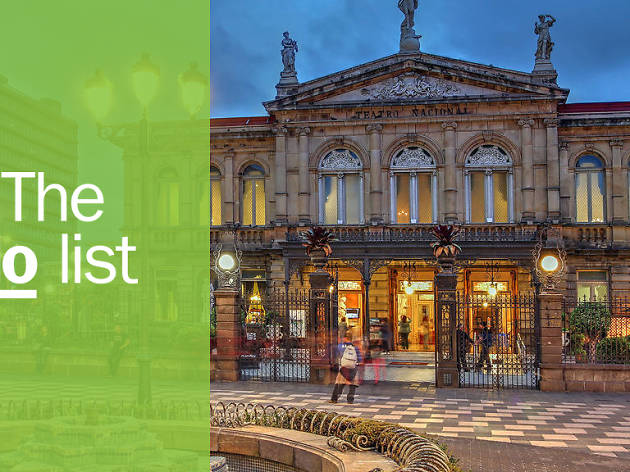 The 14 best things to do in Costa Rica
Get under the skin of this Central American paradise with our guide to the best of Costa Rica
Flanked by the Caribbean and Pacific oceans, and largely covered in lush, protected jungle, Costa Rica is a biodiverse natural wonder. Unsurprisingly, its verdant land attracts nature lovers and thrillseekers alike and its government has pledged to become the first carbon-neutral nation by 2021. This Central American country has also been voted the world's happiest country on more than one occasion (perhaps due to its lack of army).
Green achievements aside, whether you're looking for eco lodges and fine-dining or beers on the beach after a sunset surf, the options for adventure, dining and where to stay are endless. So get stuck into Costa Rica at your own pace, because there's only one thing that matters and you'll hear it everywhere you go: pura vida, the pure, simple life.
Done something on this list and loved it? Share it with the hashtag #TimeOutDoList and tag @TimeOutEverywhere.
Find out more about how Time Out selects the very best things to do all over the world.
Best things to do in Costa Rica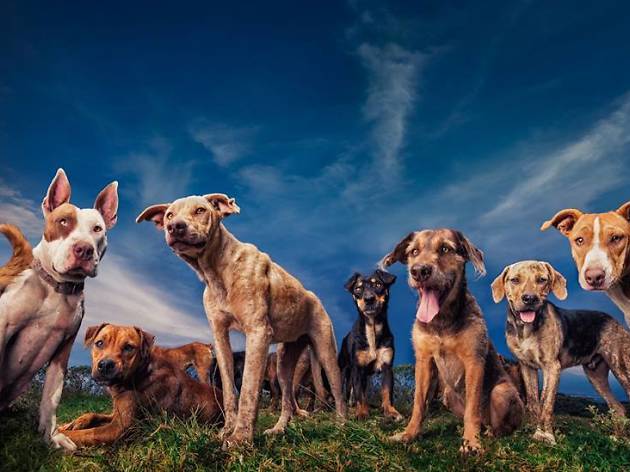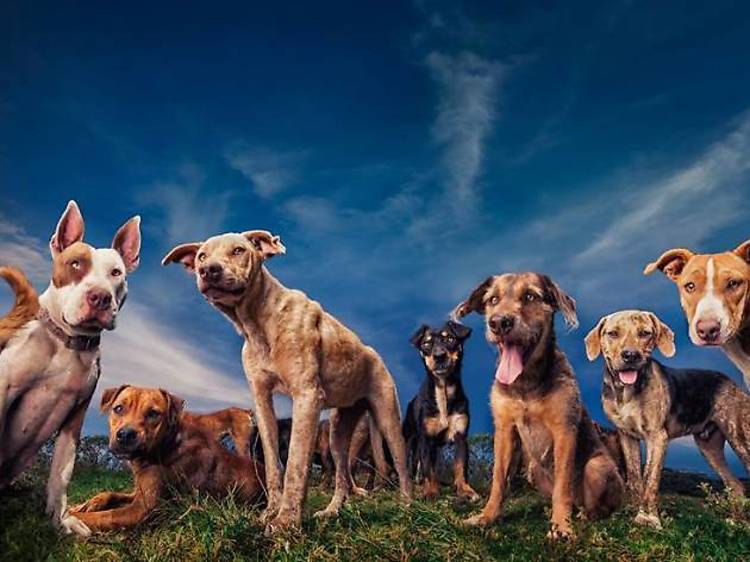 Photograph: Courtesy Kaylee Greer, Dog Breath Photography
1. Territorio de Zaguates
What is it? Hound heaven, this mountainside dog sanctuary, Land of Strays, has been the savior of thousands of mutts and random crossbreeds from the million-plus roaming free in Costa Rica.
Why go? Embark on a two-mile hike through the park and not only can you run free with hundreds of the furry critters – identified as unique crossbreeds with names like the long-legged Irish schnaufox and freckled terrierhuahua – but you're also helping them interact and get used to humans, which makes them more suitable for future adoption. Also: dogs on a mountainside!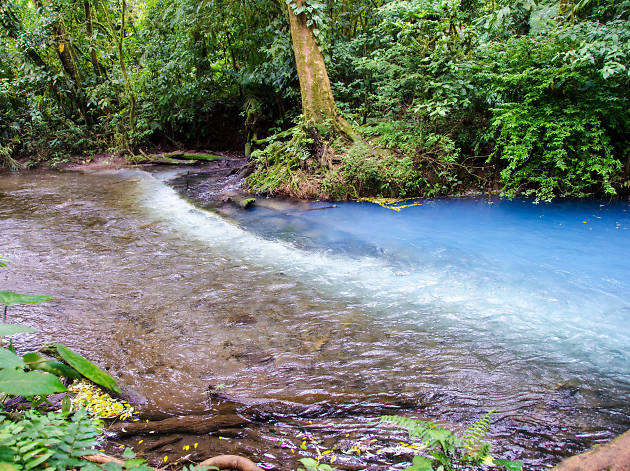 Photograph: Courtesy CC/Flickr/Marc Buehler
What is it? The 'sky-blue river' winds its cerulean way through the Tenorio Volcano National Park. The extraordinary hue comes where two clearwater rivers converge – and their minerals mix to create an optical illusion – at a point called El Teñidero (The Dyer).
Why go? No one really believes photos of Río Celeste haven't been Insta-filtered until they see it for themselves. Hike direct to Laguna Azul and track back towards the waterfall to take in its full splendor. Though you can't swim in the park itself, the Celeste does meander out of it in places – keep an eye out for locals taking a hot spring dip and feel free to join them.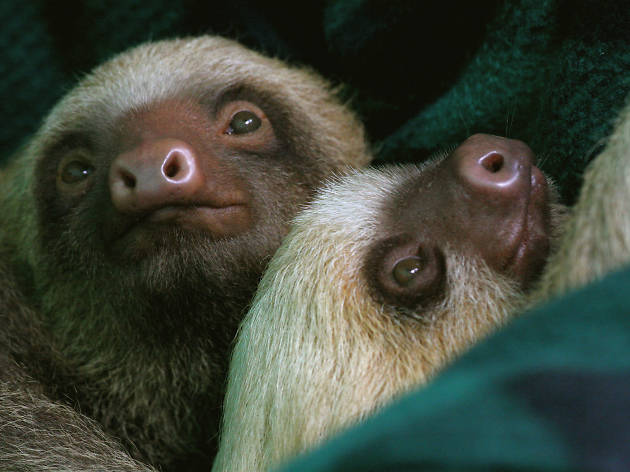 Photograph: Courtesy CC/Flickr/Alan Wolf
What is it? Having hand-reared more than 700 of what may officially be the world's cutest animal since getting their first orphan sloth, Buttercup, in 1992, the Sloth Sanctuary near Limon on the Caribbean coast has gained worldwide acclaim.
Why go? Erm, it's a sloth sanctuary! Enthusiastic volunteers will take you on a tour of the learning centre and enclosures to show the plight of Costa Rica's two indigenous sloth breeds before inviting you to adopt one, which sadly doesn't involve taking it home.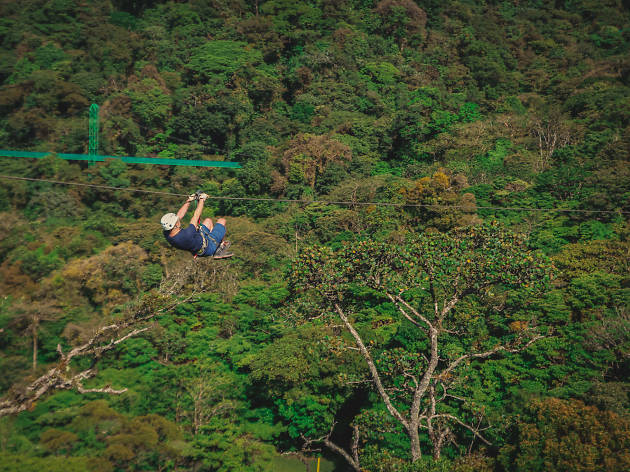 Photograph: Courtesy Costa Rica Sky Adventures
What is it? Located in two different parks, Monteverde and La Fortuna, Sky Trek offers perhaps the most thrilling zip line ride in Costa Rica. How does half a mile of zip lining down the rainforest mountainside sound?
Why go? Opt for their La Fortuna site, where you can explore Arenal Volcano via a series of treetop walkways, zip lines and aerial trams. And don't worry, the volcano has been dubbed safe and isn't set to explode any time soon.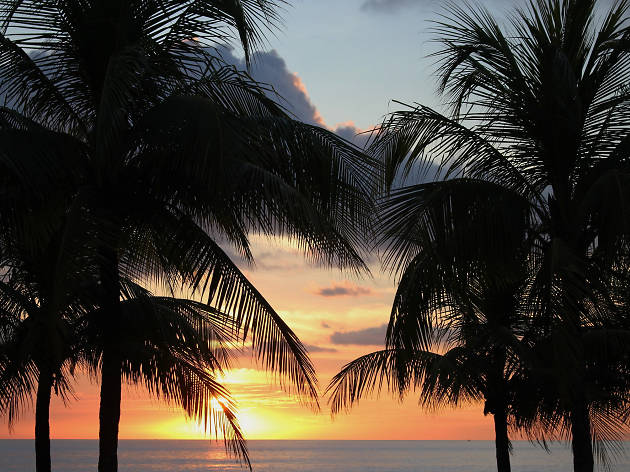 Photograph: Courtesy CC/Flickr/Globe Trotting
What is it? A hidden gem tucked away between beach and jungle on the outskirts of so-laid-back-it's-horizontal Montezuma. Founded by two traveling Romans in 1994 it focuses on seafood with a Mediterranean twist.
Why go? Incredibly atmospheric and romantic, many claim it to be the best restaurant in Costa Rica – and rightly so. Sit at a rickety wooden table, dine by candlelight feet from the shoreline and gorge on some of the best ceviche, carpaccio and octopus you'll ever taste.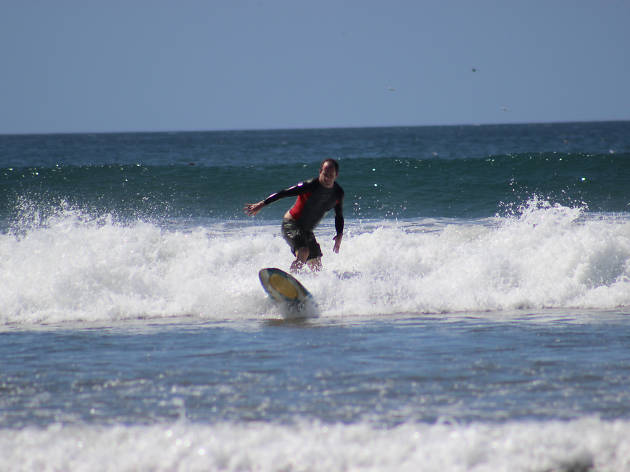 Photograph: Courtesy CC/Flickr/lewisha1990
What is it? One of the best waves in the world breaks just off Playa Naranjo, not far from the surf Mecca at Tamarindo. Roca Bruja, the rock in question, was hurled into the sea here by a volcano around 30 miles away.
Why go? Famously tough to get to, Witch's Rock was made famous by cult surf film 'The Endless Summer II' and offers a world-class wave suitable for almost any level of surfer. Top tip – take a boat to the break rather than risk paddling through the cayman-infested estuary!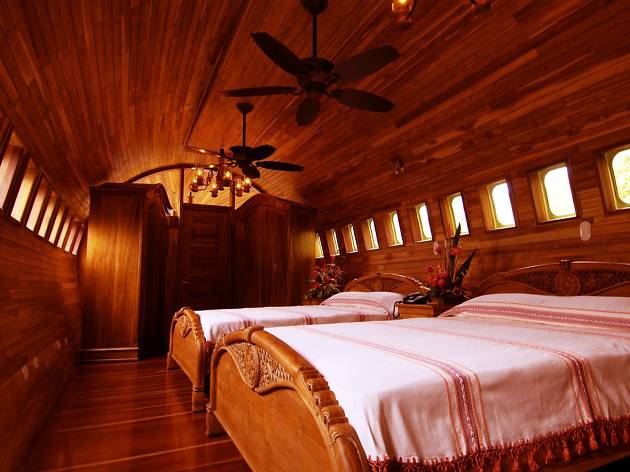 Photograph: Courtesy Costa Verde
What is it? What initially looks like a 1965 Boeing 727 that's crashed through a Swiss chalet is actually a luxe beachfront suite and part of Hotel Costa Verde on the Pacific coast.
Why go? The only plane you'll ever get a decent night's sleep in, this 727 has been revamped into a decadent wood-lined hotel suite complete with balconies, a sweeping stone staircase and wonderful rainforest and ocean views. It also looks like your holiday accommodation just crashed into the jungle, which is cool.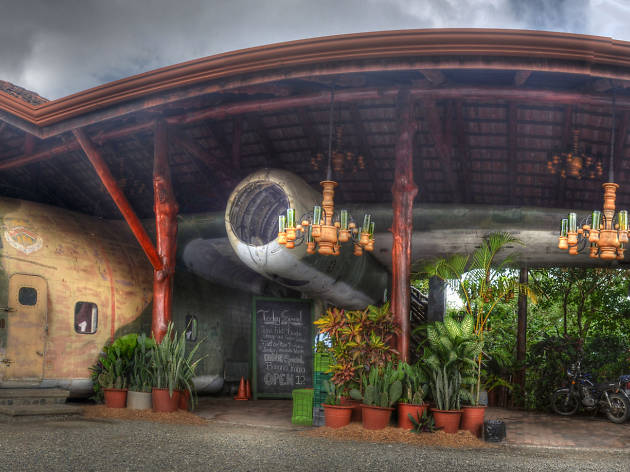 Photograph: Courtesy El Avión
What is it? El Avión is the sister plane of the Fairchild C-123 infamously shot down over Nicaragua during the Iran-Contra Affair and one of the Reagan era's biggest scandals. It's found a new life as a restaurant and bar in Manuel Antonio.
Why go? For the sheer, unadulterated lunacy of it all. Where 'cargo cult meets cocktail crowd', head to the top deck, 150 meters up, for gorgeous sunset views over the Pacific. Added bonus – chef Roberto Mora Calderón's food is excellent and his daily fish specials renowned.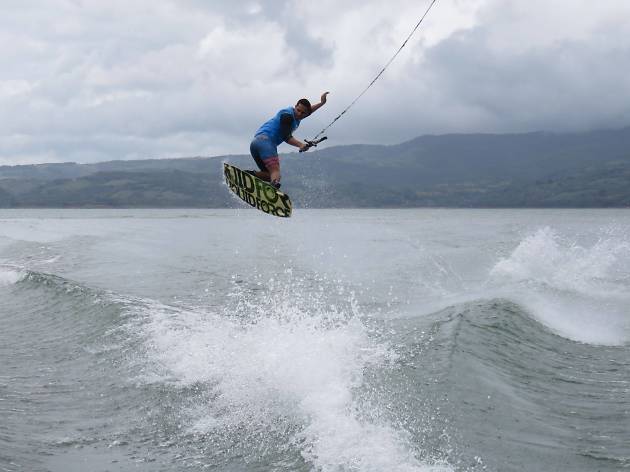 Photograph: Courtesy FlyZone Costa Rica Wakeboard and Wakesurf School
What is it? Set in the sheltered bay of San Luis near Tilarán, FlyZone offers wakeboarding and waterskiing lessons for beginners and sessions for the experienced across the whole of Lake Arenal.
Why go? While there's no shortage of adrenaline-fueled activities around Arenal Volcano, gorgeous Arenal Lake is often overlooked. FlyZone runs everything from one-on-one lessons to wakeboard-themed vacations for all skill levels. Cool, clear waters, bright blue skies and the volcano a perfect backdrop to it all.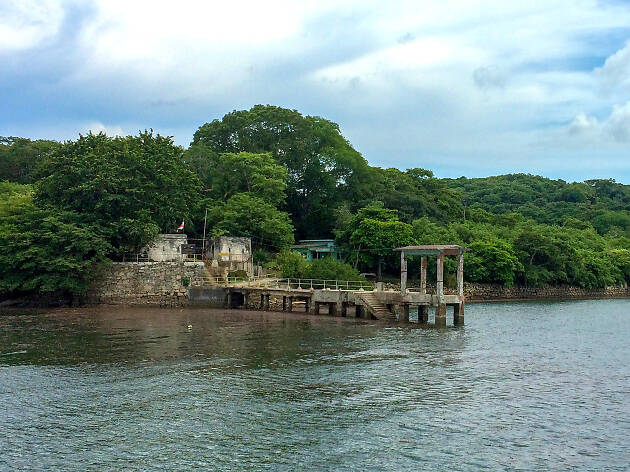 Photograph: Shutterstock
10. San Lucas Island Prison
What is it? Now a wildlife refuge, for more than a century San Lucas Island just off the Nicoya Peninsula housed Costa Rica's most notorious and brutal prison. Here interred artists exercised their creative bent using anything at their disposal, including their own (and each other's) blood.
Why go? Perhaps not a tour for the kids, the artworks veer from the racy (mostly naked women) to the religious (Jesus and holy icons), with disturbing laments on the suffering of the prisoners and their hopeless situation.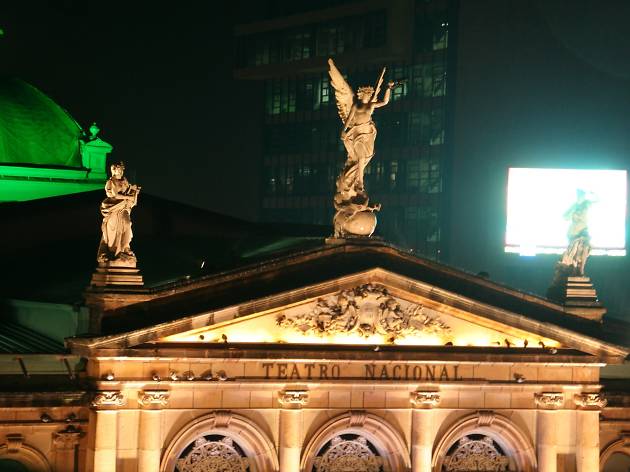 Photograph: Courtesy CC/Flickr/Fran Devinney
What is it? Costa Rica's most beautiful building is also one of its most important cultural assets. Opened in 1897 with an opulent neoclassical façade, marbled lobby and intricate gilded interior, it's a great source of national pride.
Why go? A museum as well as a theater, it houses Italian artworks and sculptures and the stage hosts plays, operas, classical concerts and Latin American music events. The excellent tour explains how it was designed and built around the concept of equality, is hosted by knowledgeable guides and ends up at the excellent café.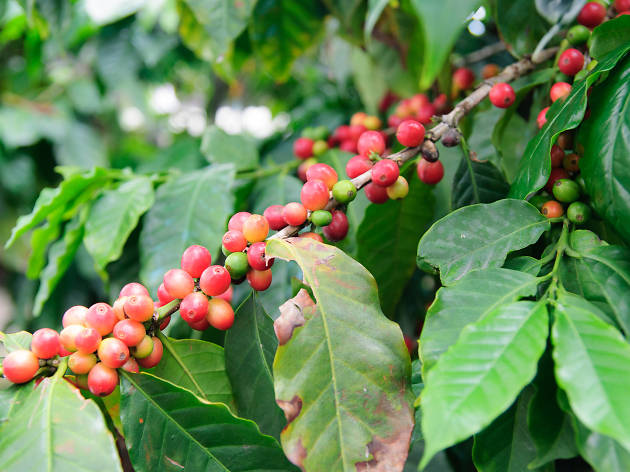 Photograph: Courtesy CC/Flickr/Martin Diepeveen
12. El Toledo Coffee Tour
What is it? Costa Rica is serious about coffee and there are lots of coffee tours around the country, some tourist traps and some more intimate. El Toledo, an organic eco-friendly plantation less than an hour from San José, is one of the latter.
Why go? Step away from the Nespresso machine – El Toledo is all about the coffee rather than the business of big agriculture. The family grows some of the finest beans while focusing on sustainability and the land itself, and their excellent tour will make you rethink the impact your daily caffeine fix is having on the world.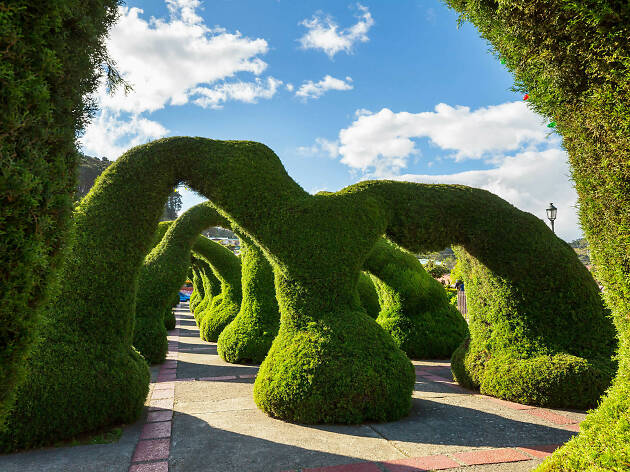 Photograph: Shutterstock
13. Parque Francisco Alvarado
What is it? Like a set from 'Edward Scissorhands', this surreal garden in Zarcero is the life work of Evangelisto Blanco who's been sculpting ever weirder and more extraordinary shapes from shrubs and hedges since the 1960s.
Why go? Walking the park is an otherworldly experience as you navigate past dinosaurs, abstract human figures and Jesus, before entering the incredible series of sculpted tree arches that form a naturally grown tunnel.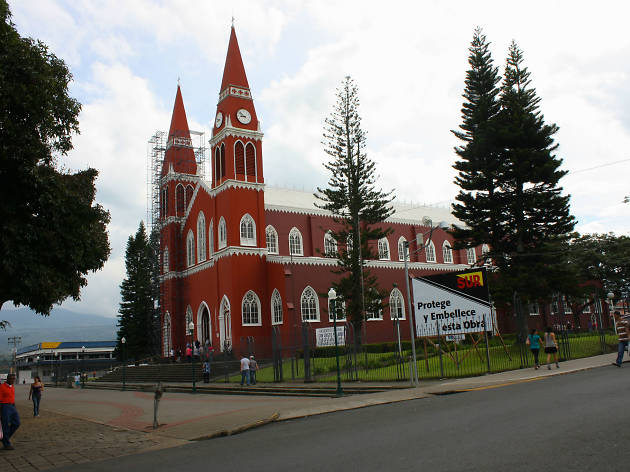 Photograph: Courtesy CC/Flickr/Trevor Huxham
14. Iglesia de Nuestra Señora de las Mercedes
What is it? At first glance the typically pretty nineteenth-century Central American Catholic Church of Our Lady of Mercy in the quiet city of Grecia, painted in bright red and white, doesn't seem out of the ordinary. But look a little closer…
Why go? Built entirely of Belgian sheet steel it's officially the most metal church in the world. At the time of its construction in the 1890s it was a technological marvel.
Looking for the best places to stay in Costa Rica?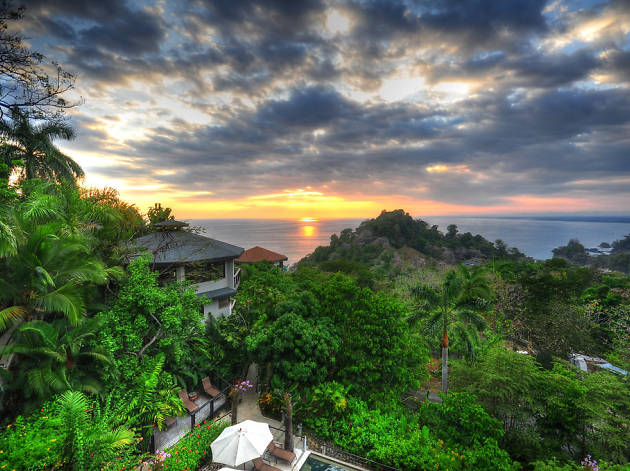 Photograph: Courtesy CC/Flickr/kansasphoto
From climbing majestic volcanic peaks to surfing barrels on Caribbean and Pacific coasts, ziplining through cloud forest canopies to farm-to-table dining in underrated San José, its diversity is its strength. Here are five distinctly different locations that typify the warm and welcoming Costa Rica experience.