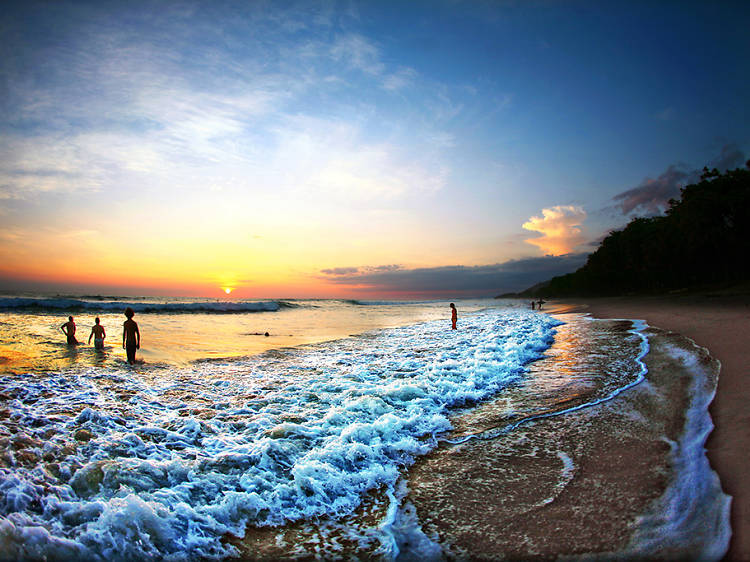 Photograph: Shutterstock
Nosara
Firmly clamped between jungle and beach in the Nicoya Peninsula, hip and healthy Nosara is making a name for itself. Amble down the dusty streets and you'll encounter eco hotels, yoga studios, surf shops and good eating that lures families, surfers, stoners and sun-seekers from all four corners to its shores. Life moves at a pace unchecked by clocks and deadlines, and the trick is to make the most of it. Slip off your shoes, shake off your worries and let the good vibes wash over you.
STAY
Chilled out and back to nature is the mantra here, with plenty of hotels and lodges offering both. For something simple and cozy, try the jungle-set Living Hotel, or if you're after a little more luxury with your laid back, the beautiful Harmony Hotel takes prime position right on Playa Guiones.
EAT
In the humid jungle, nothing cools like a great gelato. The brilliantly named Seekretspot on Playa Pelada serves the best in town. For an atmospheric evening meal with the sand between your toes, cocktails in hand and fresh fish (or awesome wood-fired pizza) on your plate, look no further than La Luna.
DRINK
On the beach at Playa Pelada, rough-and-ready Bar Olga's has a deserved reputation for cold beers, great sunsets and a lively crowd of locals and tourists happily rubbing shoulders. For something more refined, most restaurants offer cocktails and the newly refurbished, très chic Gilded Iguana is earning a reputation for great margaritas.
DO
Nosara's star attraction is the fabulous undeveloped Playa Guiones – a crescent shaped stretch of sand littered with tide pools, amazing rock formations, great surf, warm waters and, amazingly, few crowds. If you surf, bring your board. If you don't, bring a book and your shades, and get ready to embrace beach life – pura vida, baby!
If you do just one thing…
Take an early morning horseback ride from Playa Guiones up into the jungle and back down onto Playa Pelada beach to see the full gamut of Nosara's beauty close up. Boca Nosara Tours are the best and will set you up with a healthy, well-looked-after steed suited to your saddle skills.