The best Airbnbs in Düsseldorf
Need a place to stay in this Rhineland city? Look no further – we've done all that pesky searching for you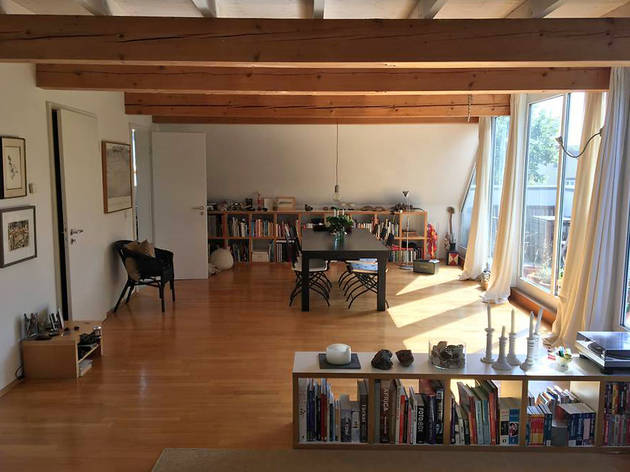 It may be tucked away on the western fringes of Germany, but those who dismiss Düsseldorf as a provincial backwater do so at their peril. With innovative architecture, incredible attractions, impressive shops and (given its size) an astonishingly vibrant art scene, the North Rhine-Westphalia capital is one of the country's most attractive destinations, with a wealth of things to do. (Oh, and like many German cities, its nightlife is a total revelation.) And if you're looking for a play to stay, an Airbnb could well be your most affordable option. We've taken a look through the best Airbnbs in Düsseldorf – so take a look and start making your travel plans!
Düsseldorf's best Airbnbs
Maisonette with roof terrace near the Rhine
Get a room with a view when you stay at this light and airy maisonette. It has large windows looking out over the city and the surrounding Altstadt area, but also a roof terrace. Bonus. Nearby you can enjoy the river with a stroll along the Rheinuferpromenade.
Image©Airbnb
Large four-bed near the train station
Okay, the canary-yellow decor choice will probably divide opinion. But this place is a perfect choice for groups of friends, and ones who are travelling throughout Europe, perhaps – it's cheap, sleeps up to four, and is located very close to Düsseldorf's train station.
Image ©Airbnb
Pretty-as-a-picture studio apartment
This charming two-bed apartment is a good one for families. It's spacious, is surrounded by supermarkets and other handy shops, and has a balcony too. The area it's located in – on the west side of the Rhine – is relatively peaceful, but the centre of Düsseldorf is only a tram journey away.
Image ©Airbnb
Don't fancy staying on dry land? Book this houseboat, which is moored in the glitzy Media Harbour stretch of the Rhine. It sleeps up to four people in a double bed and bunk bed and is nicely kitted out, too – even sporting underfloor heating that comes in handy for the chillier months. Toasty.
Image ©Airbnb
Friedrichstadt loft with top tech
The owner of this Friedrichstadt loft describes it as having a 'home cinema'. This might be a bit of an overstatement, but it's certainly got an impressive media system with various pay-per-view TV channels. A good choice if you fancy throwing a little (note, little) party before heading out to explore Düsseldorf's nightlife.
Image ©Airbnb
Studio in Carlstadt with balcony
This apartment is located in an Art Nouveau building on Carlstadt, which was originally built in 1881. Since it's set on a bustling street in the Old Town, you'll encounter open-air market stalls selling traditional Teutonic fair as soon as you step outside. Think: bratwurst alongside mouthwatering snacks like Indian cheese (mmmm). Oh and luckily, the entire area isn't usually over-saturated with tourists so you'll get a more authentic feel of Carlstadt. Winner.
Image ©Airbnb
Upscale three-bed in Gerresheim
If you and your fellow travellers have the budget for something a little luxurious, take a look at this split-level apartment in Gerresheim, a glitzy district near the Grafenberg forest. It boasts three bedrooms, two bathrooms, a 55-inch television and a roof terrace.
Image ©Airbnb
Gorgeous apartment in Gerresheim
Another property in Gerresheim, this place is homely and inviting over chic and stylish. Its floor-to-ceiling windows lets plenty of light into the kitchen and lounge, while a trip up the spiral staircase takes you to a large bedroom and bathroom. And if you fancy ditching the home cooking one evening, there's an Italian restaurant just opposite. Wunderbar!
Image ©Airbnb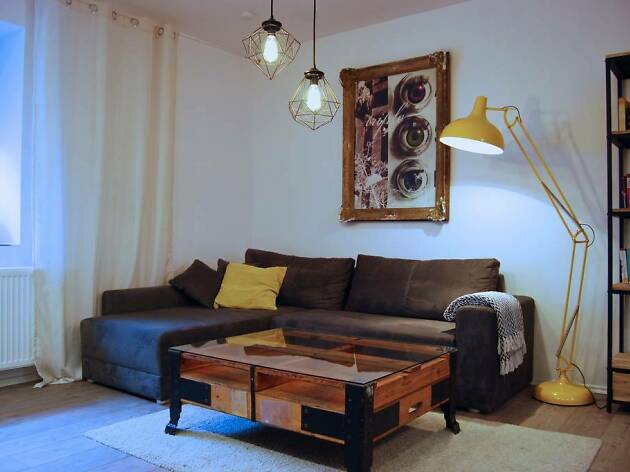 Trendy three-sleeper in the centre of town
Boasting a stylish interior, plus a location near to the Messe Expo Centre, the old town and the Rhein, this spot is ideal for a small group of friends to share on a city break. Shopping, dining and nightlife are all nearby and with easy transport links, including close proximity to the airport, it's a functional spot, too. Besides the cost is pretty minimal, which is great news if you're on a budget.
Image ©Airbnb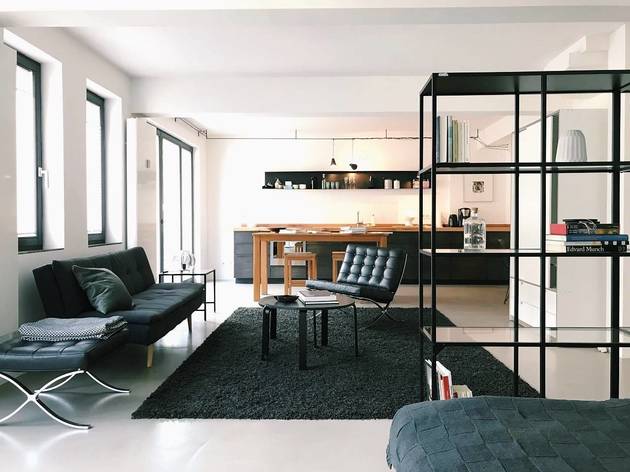 Stylish one-bed in Unterbilk
In a city that's full of pretty swish-looking properties, this one-bed apartment still stands out. With its monochrome decor and contemporary furnishings, this place would be an ideal choice for a couple who want to make the most of the trendy Unterbilk district, full of fashionable galleries, restaurants and boutiques. With two small balconies to chill out on too, you can enjoy city sights in the evenings, when the lights turn on and the streets have a delicious nocturnal buzz.
Image ©Airbnb
Check out Dusseldorf's best hotels
In a city full of rich culture and sites, there's plenty of hotel options, from quirky boutique stays to luxe manses