The best attractions in Düsseldorf
Modern art and style meet centuries-old structures and historic sites in this vibrant city full of unique attractions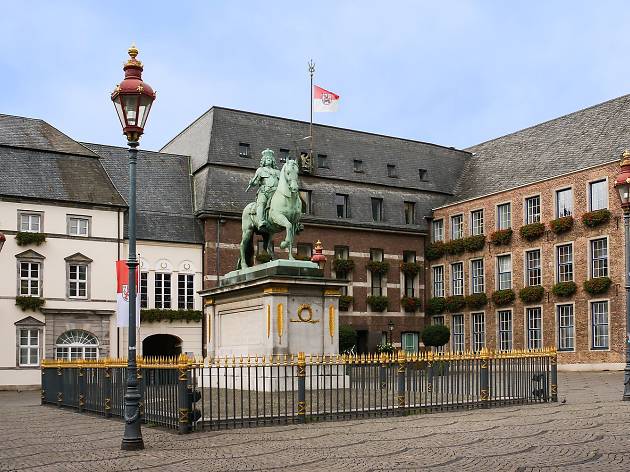 Düsseldorf's worldly appeal is nothing new—Napoleon himself fell for the charms of this city on the Rhine, dubbing it "Little Paris." Founded 730 years ago, the capital of the North-Rhine Westphalia state is certainly steeped in history, most evident in the narrow, cobbled streets of the picturesque medieval Old Town. But the city has a sophisticated modern edge, too. Gleaming new architecture has transformed the skyline, and the ever-expanding arts scene—26 museums and 100-plus galleries—rivals that of much larger cities. Add to that stylish shopping and vibrant nightlife and bar scene, and there are more than enough attractions in Düsseldorf to keep any visitor busy.
The best attractions in Düsseldorf
1
Düsseldorf is one of the wealthiest cities in Germany, so it's no surprise that luxury shopping is a favorite pastime here. The well-heeled flock to posh Königsallee (King's Avenue), better known by its nickname, Kö, a nearly mile-long promenade brimming with high-end designer boutiques including Chanel, Louis Vuitton, Cartier and Ferragamo. For those with less-deep pockets, the southern end of the avenue is home to big chains like H&M, Zara and Massimo Dutti. Whatever your budget, the Kö is a lovely stretch to stroll, shaded by tall trees and flanked by a picturesque, bridge-laced canal. At its northernmost tip is the snazzy Kö-Bogen, a modern glassy retail and office complex designed by architect Daniel Libeskind. Opened in 2013, the mall's biggest draw is the Apple Store, but it also houses several upscale German brands—Porsche Design, Hallhuber, Graf von Faber-Castell—plus the ritzy German department store Breuninger. Cafes line the Kö, with tables facing toward the shops, so settle in for a coffee while ogling the parade of fashionistas. Just be sure to get your shopping fix Monday to Saturday; stores are closed in Germany on Sundays.
Read more
2
Altstadt (Old Town)
With around 300 bars, clubs and breweries all concentrated in one compact quarter, the Altstadt (Old Town) is known as "the longest bar in the world"—and it's the place where everyone in Düsseldorf comes to party. In the evenings, revelers spill from bars along Bolkerstraße, Kurze Straße and Berger Straße out onto the streets, crowding around waist-high tables and squeezing into picnic benches to down the famed local brew, Altbier. One of the most famous spots to drink the hoppy malt beverage is the restaurant/brewery Zum Schiffchen, an old-school haunt that has been around since 1628—though it, like much of Düsseldorf, was largely destroyed during Second World War and rebuilt. (Napoleon quaffed beer in Zum Schiffchen after a victory parade in 1811; look for a bust of the emperor in the corner.) The Altstadt is a raucous scene, especially in warm weather, so get there on the early side to score a seat.
3
Sigmar Polke, Joseph Beuys, Paul Klee and Andreas Gursky are among the celebrated German artists who attended the famed Düsseldorf Arts Academy, cementing Düsseldorf's reputation as a hub for modern and contemporary art. The city amassed a vast number of works by these and other 20th- and 21st-century artists; the collection is so large, in fact, that it's housed in two separate museums, K20 and K21. If you're not too exhausted after viewing all the Pablo Picassos, Andy Warhols and Gerhard Richters, along with 100-plus works by Paul Klee, in the K20, hop the shuttle bus (complimentary with a combination ticket) over to the K21. Inside this spectacular glass-domed former parliament building are some seriously challenging contemporary art and video installations by the likes of Nam Jun Paik and Chiharu Shiota. A tip: Wear comfy clothes and shoes if you want to take full advantage of Tomás Saraceno's climbable steel mesh installation "Orbit" in the dome of K21.
Read more
4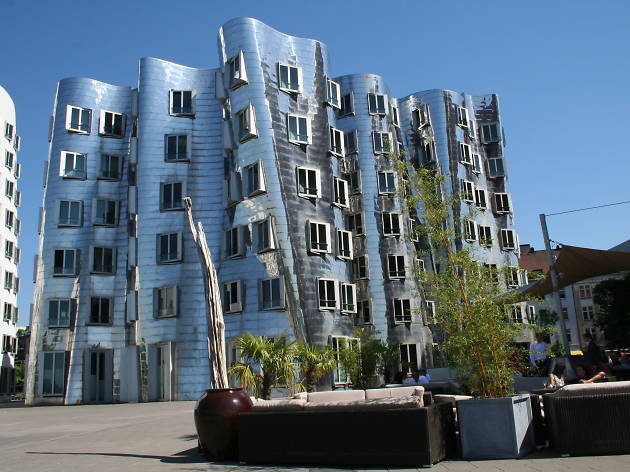 MedienHafen (Media Harbor)
This once-dingy commercial port area along the Rhine has been transformed into a haven for architecture aficionados, with postmodern masterpieces by a who's-who of architecture, including Frank Gehry, David Chipperfield and Steven Holl. Now a hub for media, fashion and other creative industries, the redeveloped harbor is an interesting mix of the old and new, with renovated warehouses standing side by side these shiny new icons. Head-turners include Gehry's Neuer Zollhof complex, a trio of twisting, leaning buildings clad variously in red brick, white plaster and stainless steel, and the uber-Instagrammable Roggendorf House, covered by brightly colored climbing figures, known as Flossis, by German artist Rosalie. The best perspective of the architecture is from the Living Bridge, a pedestrian walkway that connects the two sides of the harbor. If you're hungry, in the middle of the Living Bridge is the swanky Lido Hafen restaurant, a glass-walled cube that offers magnificent views of the harbor and good (if pricey) French cuisine.
5
Rhine Embankment Promenade
There are few better ways to while away a pleasant afternoon in Düsseldorf than along its riverfront promenade, a mile-long stretch that links the Altstadt (Old Town) to the modern MedienHafen. The upper level is ideal for a quiet stroll, especially along the tree-lined gravel path; the lower level, which hugs the Rhine, buzzes with tourist-filled outdoor cafés and bars—especially around the Burgplatz pier, where boat cruises depart. Soak in views of the river and the iconic telecommunications tower on the grassy banks near its southern end; on bright, warm days it's a popular sunbathing spot for locals. On the southern part of the promenade (look for the glass cube) is the Kunst im Tunnel, an underground exhibition space featuring rotating shows of cutting-edge contemporary art.
6
Kaiserswerth
A 40-minute tram ride north from the Altstadt lands you in this adorable riverside hamlet, dripping with all the requisite charm of a historic German village: cobblestone streets bordered by pretty 18th-century row houses, a leafy main platz ringed by cafes and beer gardens, and yes, even a crumbling medieval castle. Shaded by linden trees, the main avenue, Kaiserswerth Market, extends down to the Rhine, and is lined with chic boutiques and cozy restaurants, including a particularly good spot for flammkuchen (aka Alsatian pizza) called Zum Einhorn. A few minutes' walk along the river will take you to the impressive ruins of the Kaiserpfalz Kaiserswerth, an imperial palace that dates to the 12th century. It's open for self-guided tours from Good Friday to October. If you plan to visit between April to October, you can opt for more romantic journey by boat to Kaiserswerth from Düsseldorf's Burgplatz pier.
7
When you've had your fill of museum-hopping and shopping, head to this tranquil green space in the heart of the city. Germany's first and oldest park dates to 1769 and its nearly 70 acres feature expansive meadows, ancient trees, multiple ponds, fountains, flowerbeds and plenty of lovely walking paths and bridges, especially along the picturesque Düssel canal. Be sure to have a look at the many modern and contemporary sculptures along the way: There's the Las Meninas sculptures, based on the famous Velázquez painting, near the Jägerhof Palace; "The Admonisher," a bronze by Jewish-Russian artist Vadim Sidur, on the Ananasberg hill; and next to the opera house, Henry Moore's "Reclining Figure in Two Parts." A sentimental favorite is the 1904 "fairytale fountain" by French sculptor Max Blondat showing three children sitting together and looking at three frogs. From May to September, catch a gratis Sunday morning concert at 11 a.m. at the open-air Hofgarten Pavillon, on Jägerhofstraße.
Read more
8
Set in the hip Flingern neighborhood just east of the city center, this sprawling new gallery is a must-see for fans of cutting-edge art. Local businessman Gil Bronner converted a former glassworks factory into a sleek 20,000-square-foot space for his personal collection, which focuses on the work of contemporary Düsseldorf artists. Along with top talents like Andreas Gursky, Thomas Grünfeld and Thomas Struth, plenty of real estate is given over to emerging local artists, like abstract painter Silke Albrecht and photographer Sebastian Riemer. There's also a 6,000-square-foot rooftop sculpture garden, open seasonally. You can visit the collection Thursday from 4 to 8pm (without a guided tour) and Friday to Sunday, when a guide is required. However, there's only one tour given in English (on Friday at 4pm), so be sure to book ahead online. The gallery's vintage-industrial style bar and café, Glas Lennarz, stays open even after the museum closes, until midnight on Thursday and even later on Friday.
Read more
9
Locals and tourists alike flock to this foodie paradise, occupying an entire square just south of the Old Town. Beneath a glass canopy, vendors hawk local produce, meats and cheeses, freshly baked goods and more types of potato than you ever knew existed. You can also chow down on all kinds of international fare such as currywurst, daal or crepes. The market is a great place to pick up gourmet souvenirs, like dried beans from Inka & Mehl, spices from Kräuterhexe and coffee (roasted onsite) from KaffeeReich. Oh, and that queue you see at the Fischhaus Obst stall is for its stellar fish soup—be sure to join the line.
Read more
10
Built as a summer palace and hunting lodge for Elector Palatine Charles Theodore, who ruled Bavaria in the mid-18th century, this pink confection is one of the most beautiful and well-preserved castles in the region. French architect Nicolas de Pigage labored on the massive winged palace and its 148 acres of gorgeously landscaped gardens for nearly 20 years, completing it in 1770. The rooms in the main castle are sumptuously decorated with enormous chandeliers, opulent frescoes, marble floors and statuary galore. Some furniture is still original to the palace, including richly carved console tables and a delicate lady's writing desk. The wings have been converted into two museums, one covering natural history in the lower Rhine, the other European garden art. But it's the park and gardens that are the real draw, with an enormous pond and canal surrounded by magnificent trees, lush flowerbeds and of course, more statues. Sadly, the Elector visited the palace only once. Benrath is about 6 miles from the city and an easy 45-minute tram ride. Entry to the main palace is only with a guided tour; book in advance for an English one. There's a special "hidden spaces" tour that takes you behind the scenes to the servants' staircases and rooms. Tours are limited to eight people, so email visitor services ahead of time.
Read more
Still looking for things to do?
This medieval city on the banks of the Rhine recently celebrated its 730th birthday, but Düsseldorf isn't resting on its historic laurels. With a slew of cutting-edge architecture and a booming arts scene both above and below ground, the capital of the of the North-Rhine Westphalia state is fast becoming one of Germany's most lively metropolises.
Read more