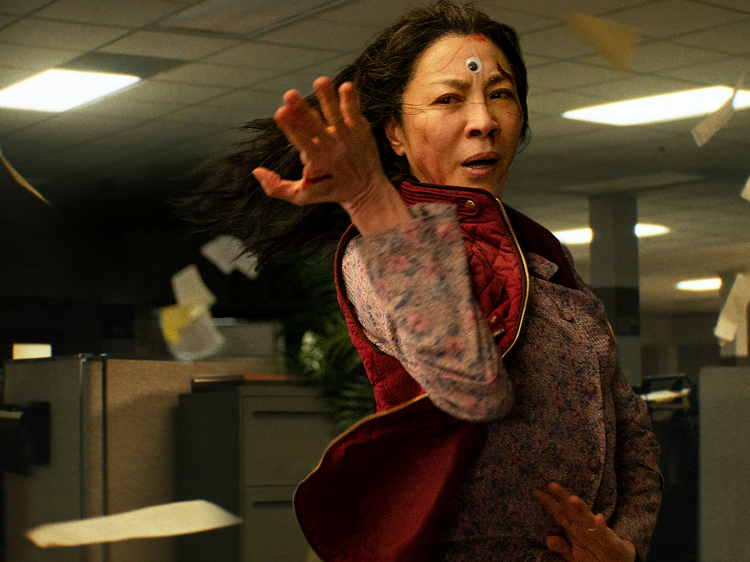 Photograph: A24
What should win: Everything Everywhere All At Once
If the point of the Academy's biggest award is to enshrine the film that most defines the year in cinema, then the obvious choice is Daniel Kwan and Daniel Scheinert's head-spinning genre explosion. Sure, Top Gun: Maverick saved cinema, but it's still a movie inextricably tied to 1986 – plus, the only other sequels to win Best Picture are The Godfather Part II and Return of the King. Everything Everywhere, meanwhile, feels both bracingly of-the-moment and from another timeline entirely – a movie that uses the au courant comic-book trope of the 'multiverse' as a framework for exploring the meaning of love, family and fate. When future generations think of the movies of 2022, the first image that will pop into their heads is of Michelle Yeoh fucking shit up in a tax office with a googly eye stuck to her forehead.
What will win: Everything Everywhere All At Once
It's certainly an out-there choice – how many past Best Picture winners include dildo fights, hot dog fingers and a butt-plug battle, not to mention a predominantly Asian cast? – but historical precedent is very much on its side. After losing to The Fabelmans at the Golden Globes, it's been Everything everywhere else, taking the top honour at the Screen Actors Guild Awards, the Producers Guild Awards and the Directors Guild Awards. The only other films to pull off that trifecta in the modern era are Birdman, Argo and The King's Speech – all three of which went on to win Best Picture. Academy voters may not be able to explain it, but it's looking increasingly like they won't be able to deny it.