If there's been a purer dose of cinematic endorphin than Paul Thomas Anderson's Licorice Pizza this year, we've missed it. A San Fernando Valley-set '70s romance with a difference, it's the filmmaker's funniest and most uplifting movie to date (and our film of 2021). It introduces Cooper Hoffman, the son of his old friend and collaborator, the much-mourned Philip Seymour Hoffman, as Gary Valentine, a teenager intent on wooing twentysomething photographer's assistant Alana (Alana Haim of LA band Haim). It also gives us Sean Penn as a boozy, maverick cipher for Hollywood legend William Holden and Bradley Cooper as the actual Jon Peters, another Hollywood legend for whom the word 'maverick' barely gets close.

In short, it's a story of young love and a goofy, sideways Tinseltown memoir all wrapped up in local lore and colour that you don't have to have been near to LA to appreciate. When Time Out catches up with him, Anderson – a high ranker on our 50 Coolest Filmmakers in the World list – is fresh from a trip to London, the setting of his last movie, Phantom Thread, and maybe one day a future film ('I don't know how soon but without question I would make another film there,' he says, 'it's just a matter of when'). But his own home patch is on his mind at the moment with the Valley's ghosts, old haunts and movie misconceptions all bubbling to the surface during our conversation.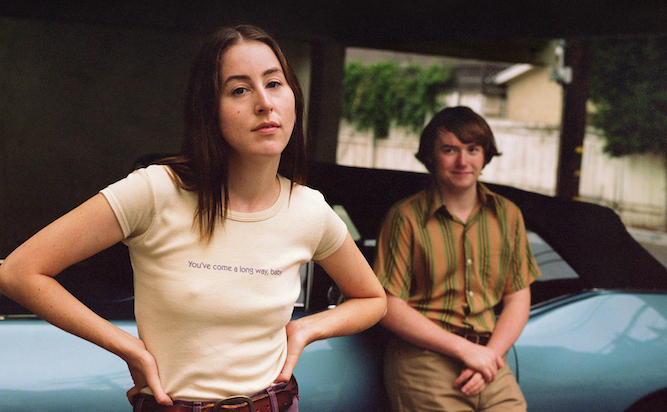 Did you have Cooper Hoffman in mind for the role when you were writing the script?
'I remember having a flash about halfway through, thinking about him [but then] thinking: Oh, no, don't think that, put that thought away. Then we took a more traditional route of auditioning young actors with Alana (Haim) and nothing was even close to being right. There seemed to be a curse that I couldn't shake, which was that most of the young actors seemed more interested in being on sitcoms or on Instagram, than acting. I do not mean [they need to be] serious, just taking the work seriously. The irony of my frustration was that the thought I'd had a year before tapped me on the shoulder and said: Dummy! You've got a kid right in front of your face who's perfect for this.'
Alana Haim is great too. Tom Waits is in it too – and David Bowie is on the soundtrack. Why do musicians make such good actors? Is it that they're comfortable performing or is there something more to it?
'It helps that they're comfortable in performing – without naming some of the some of the great rock stars who can't act. Because you are a rock star does not mean that you can act; and as we've seen, just because you're a great actor does not mean you can be a rock star. But they do cross-pollinate quite often, don't they? I think the reason Tom Waits has success at both is because he's never not truthful, and I think that extends to Alana as well. That's why the performance is so messy and unwieldy – you can't quite grab a hold of what she's what she's going to do next – because she's incapable of performing something that doesn't feel honest to her. Lord knows, there were a couple of times that I tried. Even though it was her first movie, we have a comfortable enough relationship for her to be able to point out, very delicately, that the director was asking for something that wasn't going to happen.'
She didn't scream 'You're not my director!' at you, I hope.
(Laughs) No. That was one of her favourite lines [in the script] but it didn't make the final cut of the film. Great for the trailer, though.'

There's so many quotable lines. A personal favourite is Tom Waits's film director, Rex Blau, calling Sean Penn's veteran movie star Jack Holden a 'shiny, gold, tall, inexpensive prick.'
'That line is a combination of Tom Waits' improvisation and things that I had written. It was very easy for me to wrap my mind around these two characters because having grown up in Hollywood and been near these types of people in my youth, I felt like I knew them intimately. And my father was very much like that: the more that they loved someone, the stronger, more wonderfully worded the insults were. I always knew my father didn't like somebody if he didn't say anything to them at all, or he was polite. But if he greeted them by insulting them, and he got the insults back, that meant that they were a genuine friend. I just indicated to both Sean and Tom that that's what the mission was and they could run with it and do variations on it, take after take. That one belongs to Tom entirely, I think.'
'Valley girl' has become a catch-all for

any girl west of the Mississippi. The stereotypes are all kind of horseshit
I don't know whether you'd call Licorice Pizza a love letter to the Valley, but it's certainly a movie that loves the Valley. Are there things that movies get wrong about the Valley that get under your skin?
'It's funny just how long the Valley's reputation has lasted, because I don't think there's been any films in recent memory that have taken a swipe at it or made some attempt to portray it as something that it isn't. It's just wild that the stereotypical vision of the San Fernando Valley, which started probably back in the early '80s, has had such a long life. I think it's more of a catch-all probably for somebody from Europe, [where] Valley Girl kind of equals "American Girl" and any girl west of the Mississippi. The stereotypes are New York cosmopolitan girls – The Devil Wears Prada-type – and Barbies from California. They're all kind of horseshit.'
Is there a bygone Valley spot that you particularly miss?
'Is there just one? No way, there's a million of them. The most painful ones are the movie theatres that have gone away: the Studio City Theatre, the La Reina Theatre, Studio City, Sherman Oaks, even the Mann Valley West Theatre in Tarzana. So I start with movie theatres as my sources of pain, and then you start to tick off the wonderful coffee shops and restaurants: Du-par's in Studio City, where we shot Boogie Nights, is now a Sephora. The Tail o' the Cock, which we portray in the film, is no longer there. They used to allow for more wide open spaces in the middle of these suburbs, so you'd have pony rides on these huge vacant lots right next to Ventura Boulevard with a slide on it that you could ride down on a potato sack. Some guy had a farm! I miss those kinds of things.'
You've been trying to work with Sean Penn for a while. What was that experience like?
'It was too quick. It's nice when you finally get a chance to work with somebody when you're comfortable in your role and with the work that you've done, and you can engage in a shorthand. I was incredibly admiring of him; I really, really think that he's one of our great actors and we're lucky to have him. Again, he's sort of irritating because he doesn't do it enough. He follows his own rules, for sure, and makes films that no one will see – that are super-challenging, super-unique. [But] long may he reign. He's one of the greats.'
He plays a version of William Holden in the movie. For people who aren't so familiar with Holden, which of his films would you start with?
'That's a terrific question. Hmm... where to start? Do you start further back with Sunset Boulevard and Stalag 17 or do you start deeper with S.O.B. and Network and then go backwards? I wouldn't start with The Wild Bunch – I'd put it on the list but it's more of an ensemble piece and a different type of feeling. It's funny, I'm so delusional that I still live in a world where William Holden is the biggest movie star and everyone, man, woman and child, knows who he is. I've reached that point in my life where I cannot see the forest for the trees. People have to tap me on the shoulder and remind me that no one under the age of 40 knows who William Holden is. Which is a fucking crying shame because he is one of the greats.'
I'm so delusional that I still live in a world where William Holden is the biggest movie star
When you get together with Quentin Tarantino and talk movies, do you have to be prised apart at the end of the conversation?
'No, I just stop talking and let him do the work. He knows more than I do. He's in charge of the conversation.'
Lastly, what are you bingeing at the moment?
'This is really embarrassing to admit but I only saw the first episode of Ted Lasso very recently. People will say: "Oh, you haven't seen Ted Lasso?" and then you finally get to it and you feel like a dummy for taking so long to get to it. It's great.'

Licorice Pizza is out in US and Australian theaters Dec 26 and UK cinemas Jan 1. Read Time Out's verdict here.