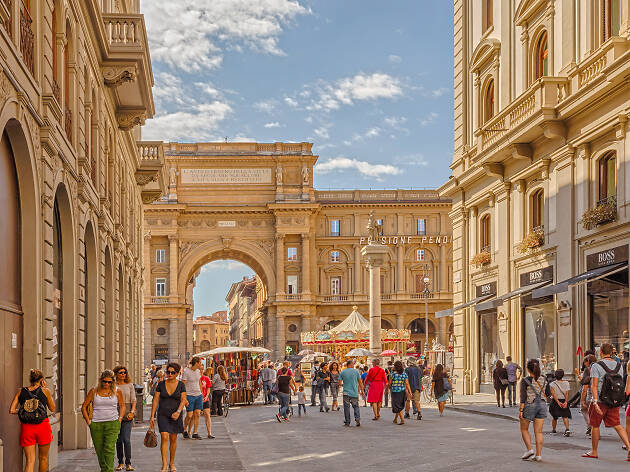 Where to go shopping in Florence
Shopping in Florence doubles as a city exploration: here are the streets, neighbourhoods and districts worth visiting.
The best shopping in Florence goes hand-in-hand with the presence of high-end design houses like Gucci, Ferragamo and Pucci, who all call the city home. Can you blame Florentines for always being properly decked out from head to toe?
In medieval times, textiles were a key part of the city's economy and, during the Renaissance, fashion was used to showcase new wealth: the upper classes donned luxurious fabrics while dining at top-notch restaurants and galvanizing around town.
The city, just like the rest of Italy, boasts an illustrious history tightly tangled with its couture and crafts-related heritage. Before the catwalk shows took over Milan, the Tuscan capital was considered the country's fashion capital, playing host to events within the splendour of Sala Bianca in Palazzo Pitti and rendering all style-related activities the very best and most sought-after things to do in town. The city's museums take particular note of inhabitants' intrinsic connection with fashion, mounting and hosting yearly exhibits focusing on its many facts.
Today, you'll still find boutique workshops with designers creating fashion-forward clothing, shoes and accessories by hand. Take in the essence of the city, the fashion that makes it an Italian destination par excellence, by visiting these acclaimed shopping districts.
RECOMMENDED: Full guide to the best things to do in Florence
Best shopping in Florence
Photograph: Courtesy Tripadvisor/Benheart
1. Via Roma and Via dei Calzaiuoli
Florence's main shopping hub is made of two keys streets that bridge the iconic Duomo and the main square of Piazza della Signoria. On Via Roma, find high-end brands like Miu Miu, Marni, Armani and the paradise that is Luisa via Roma. With a history that dates back to 1930, the destination today is home to the latest designs by luxury labels including Valentino and Fendi on its ground-floor showroom. Nearby, La Rinascente department store has six floors dedicated to fashion and home wears with a roof terrace ideal for a post-shop spritz while Via dei Calzaiuoli houses high street labels from Calzedonia to retail outlet Coin.
Photograph: Courtesy Tripadvisor/Marco B.
Any shopper eyeing designer labels will come here to find the crème of the crop: Gucci, Pucci and Prada, to name a few. The pedestrianized street is elegant and calls for window-shopping while walking around. Be sure to pop into cosmetic store Olfattorio Bar a Parfums for a sensual experience and dive into the basement at Palazzo Spini Feroni, home to Ferragamo, for a history lesson in shoe making since the 1920s.
Photograph: Courtesy Tripadvisor/Benheart
Extending south from Via de' Tornabuoni towards the river Arno, Via della Vigna Nuova offers a heady collection of clothing stores the end up at leather outlet Benheart, whose jackets, bags and accessories are made with true dedication by a Florence-based designer. For home wears, the acrylic glasses and bowls at Mario Luca Giusti are unique souvenirs to take home that will brighten up any room.
Photograph: Courtesy Tripadvisor/Poesia21
Via della Spada has landed as a street worth exploring on all shopping lists only in recent years. Home to an ideal mix of fashion and home wears, peruse the sustainable and quirky offerings at MIO Concept Store, racks of vintage clothing at Marie Antoinette and everything on the shelves of local beauty brand Poesia21, whose creams and candles are made with fresh spring herbs, Iris Florentina and wild flowers – all made in Tuscany, of course.
Photograph: Courtesy Yelp/Michele F.
A quaint cobbled lane just off via de' Tornabuoni, you'll discover bold contemporary jewellery by local legendary designer, Angela Caputi, neatly kept in velvet-lined drawers ready to be explored in Borgo Santi Apostoli. Shoe brand Viajiyu is across the street and offers a made-to-order philosophy: choose you style, colour and trim, and they'll ship your custom-made pair of shoes anywhere in the world.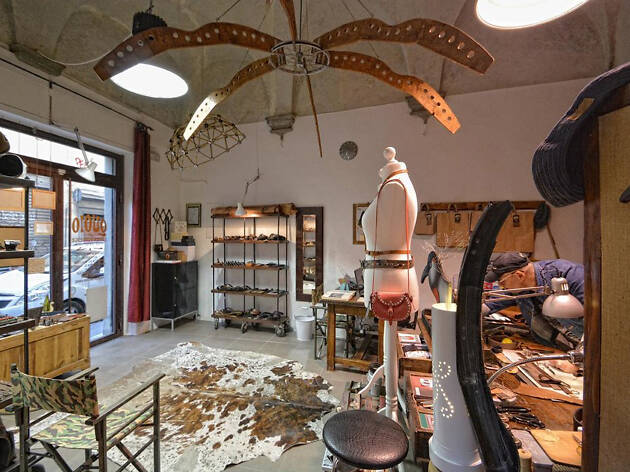 Photograph: Courtesy Tripadvisor/Quoio
Over the river Arno, the Oltrarno district is famed for its artisan workshops. Clothing at Frame, leather goods at Quoio and a mix of clothing and vintage home wears at Indigo Mood will keep any avid shopper busy. To truly cover all of your shopping bases, indulge in locally made hats and shoes at Reinhard Plank and jewellery at Nokike Atelier.
Photograph: Courtesy Yelp/Ilaria F.
Linking Palazzo Pitti to Porta Romana, stop by Muse Lab and Be Giuls for hand-stitched clothing and Reciclo for up-cycled furniture, T-shirts from John Rocket and ceramics at Anita Russo. Sdrucciolo de' Pitti is a quaint side street that connects Piazza de' Pitti to Piazza Santo Spirito and is certainly a worthy detour for the bold prints at Guilia Materia and Sicilian couture at Tiziana Alemanni alone.
Photograph: Courtesy Yelp/Mario Bemer
Traditionally lined with antique stores, Via Maggio today offers a mix of street fashion between art shops lined with classic pieces tucked within the ground floors of Renaissance palaces. Société Anonyme and Dexter are go-tos for curated men's and women's wear while at Atelier Via Maggio, bespoke designs can be made to order. You can also create your own custom handmade pair of men's leather shoes at Mario Bemer.
Photograph: Courtesy Yelp/ Sara Amrhein
9. Via di Santo Spirito and Via dello Sprone
For the latest contemporary designs, head to Santo Spirito 9 by local Federico Curradi. His cashmere sweaters and unique artisanal pieces will delight all shoppers. Drawers of jewelry at the flagship store of Angela Caputi are waiting to be explored and the gladiator-style leather sandals at Francesco never go out of style. On Via dello Sprone, the chic and streamlined Nordic designs curated by Filippo Anzalone are racked at Bjørk while the colourful jewelry using polymer clay and beading by Sara Amrhein Firenze are perfect for spring.
Photograph: Courtesy Yelp/Francisco R.
10. Via de' Bardi and Via di San Niccolò
Heading east, you'll discover the hand-crafted paper creations by Erin Ciulla at Il Torchio, a unique studio-cum-store lined with leather notebooks and marble effect paper. On Via di San Niccolò, the fine jewelry atelier of Alessandro Dari is a curious mix of museum-like and take-it-home silver pieces. Perfume master Sileno Cheloni has opened his eponymous space inviting shoppers to create their own perfume during a private sitting, while bespoke shoes by Stefano Bemer are made by artisans within an old church workshop under the shadow of Torre San Niccolò.
Photograph: Courtesy Yelp/James M.
Lest we forget this popular outlet for designer labels at discounted prices, add The Mall Firenze to your must-do list now. From Florence, venture into the green hills of Tuscany to find a retail village with wares from Versace to Valentino, Dolce & Gabbana and Roberto Cavalli. You'll find last season styles at a fraction of the retail price, making this a worthwhile out-of-town day trip. Buses depart every 30 minutes from Santa Maria Novella station (a round trip costs 13 euros) and The Mall Firenze is open daily.
Looking for local-approved activities?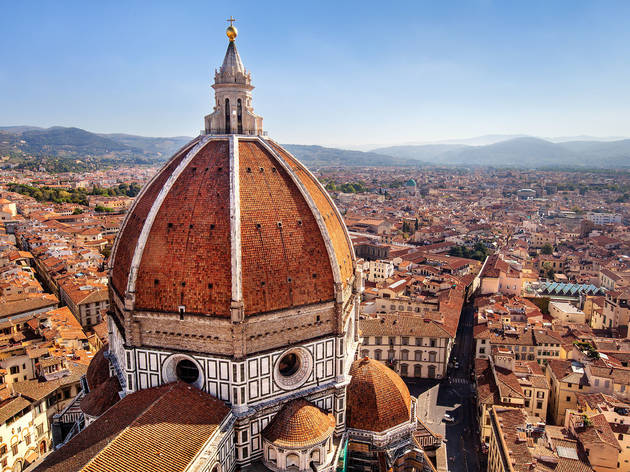 From under-the-radar museums to shopping destinations that double as historical sites, markets and one of the oldest gelato shops in town, this Italian city will entice all sorts of visitors.