Could 2022 be the year when alcohol is finally challenged in its monopoly over social 'drinking'? It may have taken a global pandemic, unprecedented levels of anxiety and a realisation that our health is actually quite important – but there may just be a new contender entering the ring. The plucky upstart comes in the form of an ancient ingredient derived from a highly misunderstood plant that has provided us with food, fibre and medicine for thousands of years, and was also one of the earliest agricultural crops cultivated by humans – Cannabis Sativa L.
My personal path towards understanding the power of this plant came not from an illicit transaction followed by a smoke-filled haze, but from a trip to Europe's largest cultivation facility for medical cannabis near Copenhagen in Denmark. In 2018 I spent a year on a project with one of the world's largest medical cannabis producers to create educational content about the human endocannabinoid system and the benefits of plant-derived cannabinoids for health and wellbeing – a perspective-shifting experience that led to meeting Eoin Keenan, my co-founder of the CBD business Goodrays, at the Cannabis Europa conference on London's Southbank.
MORE 2022 TRENDS:
🚆 Why train travel is going to be on your 2022 bucket list
🌳 From parklets to urban forests: how cities will get a whole lot greener in 2022
🧙 Why 2022 is going to be the biggest ever year for fantasy on screen
Eoin is a veteran in the nascent cannabis industry, and we shared a vision for a world in which cannabis could become a mainstream product to rival alcohol, and be consumed at all the same social occasions. We quickly agreed that combustion was clearly not the correct method of delivery and that, if there was a model to follow, it was that of the alcoholic beverage industry. Booze had taken the fundamental human need for hydration and social connection and built out an aspirational narrative centered around products, but although it provided a nice buzz, it also contained an ingredient with no medicinal value to humans – ethyl alcohol. What could be possible with something that is actually positive for your health… and makes you feel good?
Uruguay, Canada and many states in the USA have led the way in ending the prohibition of cannabis, and the medical benefits of the plant are now recognised by governments worldwide. In Europe, Germany, Malta and Luxembourg have been at the forefront of developing medical access programmes and the subsequent legislation to allow for recreational use of cannabinoids. The tide of public opinion also appears to have turned with stigma around cannabis almost completely disappearing in legal US states, where over a period of only a few years, it has become as normal to drink a beer or wine at a party, as to sip a CBD or THC drink or snack on a cannabis edible. Suffice to say that the people partaking in the cannabinoid offerings are rarely the ones falling over or shouting at strangers at the end of the evening.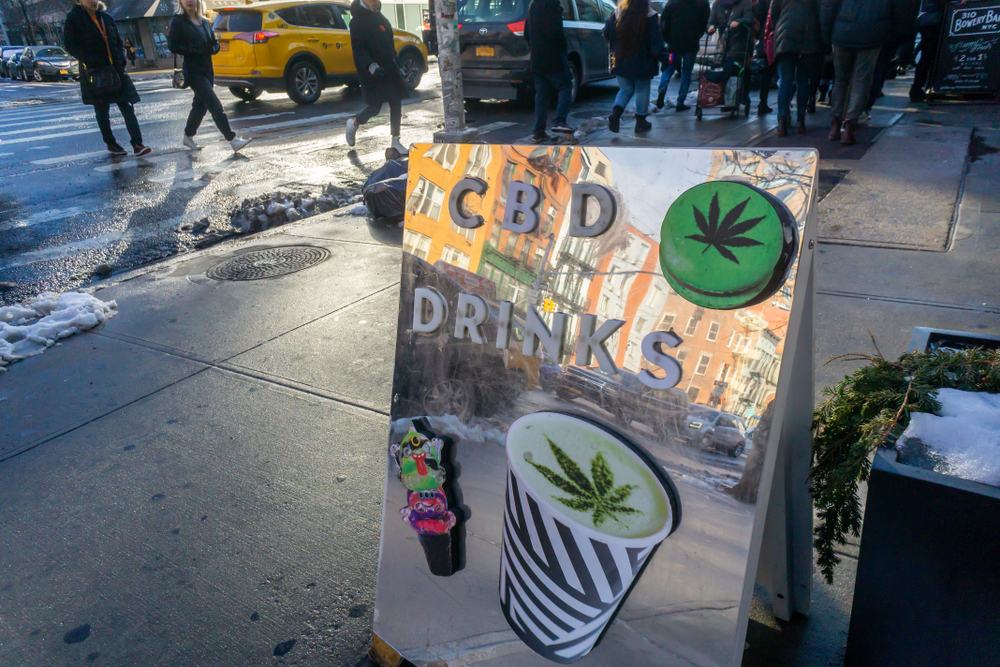 CBD (Cannabidiol) and THC (Tetrahydrocannabinol) are the two most prevalent compounds in the plant. THC, which remains widely illegal in a non-medical context, is responsible for the psychoactive 'high' and the subsequent 'munchies' that cannabis is commonly associated with. CBD, meanwhile, is the mostly legal and non-intoxicating compound that offers relief from anxiety, pain and inflammation and can improve recovery, mood and quality of sleep. For these reasons CBD is positioned to be the cannabis plant's most powerful ambassador and it has the potential to be the arrowhead for its inclusion into mainstream social occasions and culture. Ordering a relaxing, functional cannabis drink at a bar, or sharing a bottle of non-alc CBD wine over dinner at home should quickly become a part of everyday life for those who wish to relax and unwind without the negative impacts of booze.
This past year, high-end bars and restaurants have begun reserving space on their menus for 'relaxation beverages' and 'mindful drinking', while mainstream grocers are opening 'functional drink' sections to tap into the trend. We've seen low-and-no alcohol become the fastest growing segment of the beverage industry in 2021, with no signs of it slowing down any time soon as more new brands enter the space and the big players in alcohol shift their focus to zero percent versions of their best-selling brands.
MORE 2022 TRENDS:
🚶 Walk on: why 2022 should be the year of the pedestrian
🔮 How Gen Z's obsession with crystals and spirituality will continue to influence city life in 2022
🎶 How ABBA's 2022 virtual concerts could change the face of live music
At Goodrays we see the future of social drinking as one including drinks made from a variety of medicinal plants and herbs that positively impact physical and mental health, allowing the power of community and connection to shine through in social settings. From adaptogen-based non-alc spirits to mushroom-based alcohol-free beers there are myriad ingredients being explored and developed. It may still take a while, but walking up to a bar and being asked how you would like to feel could be a reality within the next few years. We think relaxing and unwinding might be close to the top of the list of required 'feels' and that it's doubtful many customers will ask to be angry, uptight or incoherent… or so sick that they need to vomit and hug a cold toilet bowl (we've all been there after all!)
If 2021 taught us one thing, it's that people love to spend time together in the real world and that Zoom is no replacement for a pub (quiz or no quiz). Socialising – whether in restaurants and bars or at music, art, sport and cultural events – is an essential part of the modern human experience and a key ingredient for our happiness. Sharing spaces together, engaging in conversation with friends and interacting with strangers, offers us access to a deep sense of wellbeing – something that we had mostly taken for granted until Covid turned off the fun tap. Perhaps 2022 will be the year that social drinking evolves to be less about intoxication and more about health, relaxation and connection.
Chris Kelly is the co-founder of Goodrays – a London-based business which makes seltzers, wines, oils and gummies containing Colorado-grown CBD