Travel of all forms has been a bit more complicated than usual of late, but when we (touch wood) get to start to start going places this year – without lots of extra admin or worry – rail travel is where it's going to be at.
In 2022, a whole load of new routes will be opening up, meaning there will much more opportunity for clean, comfortable and convenient travel – and to more places than ever before.
Long-distance overnight services in Europe have seen something of a revival over the past few years, and even more are set to spring up over the next 12 months. For instance, the Swedish state-owned SJ railway is introducing a Stockholm-Hamburg night service later this year, allowing you to sleep your way through 670 miles of rail travel overnight, passing through Copenhagen on the way.
MORE 2022 TRENDS:
🎶 How ABBA's 2022 virtual concerts could change the face of live music
🌳 From parklets to urban forests: how cities will get a whole lot greener in 2022
🧙 Why 2022 is going to be the biggest ever year for fantasy on screen
Though it's Swedish-operated, SJ has had to partner with German company RDC, as their own carriages have turned out to be slightly too wide for German railways – a very practical example of how key international cooperation is to these endeavours.
Other proposed upcoming night services include Brussels to Prague, Zurich to Rome, and even Edinburgh to Paris. There's even a revival of the iconic Trans-Europe Express in the works – during its heyday in the 1970s it was celebrated in the form of a Kraftwerk song, no less.
And this effort is paying off. Bernhard Rieder of Nightjet operator ÖBB, the largest provider of night trains within Europe, says he expects to 'double passenger numbers by 2026'. Among Nightjet's new offerings is a service between Paris and Vienna – in effect restoring the route of the Orient Express, which was discontinued in 2009. The two, presumably not uncoincidentally, share the service number 469.
In the UK, good news stories about train travel have been a little harder to come by, with disappointment (from rail enthusiasts, at least) over the scrapped HS2 leg between Birmingham and Leeds. But it's not all doom and gloom. For one thing, after many, many, many, many delays, 2022 should see the opening of the Elizabeth Line, a new 60-mile route that'll mean you can get a train all the way from Reading (or Heathrow) directly into the heart of the capital (and if you really feel the need, stay on until you reach Brentwood in Essex on the other side).

MORE 2022 TRENDS:
🚶 Walk on: why 2022 should be the year of the pedestrian
🔮 How Gen Z's obsession with crystals and spirituality will continue to influence city life in 2022
💰 How cryptocurrency is going to change the face of city nightlife in 2022
Elsewhere the British government's Restoring Your Railway plan has resurrected its first line in Dartmoor, bringing back regular trains between Exeter and Okehampton in Devon. 2022 will see this route expanded to hourly services, with proposals for 37 further revivals currently under review. Work has already begun to bring back trains to Newcastle-under-Lyme, one of the largest towns in the country to lack a railway station since the Beeching cuts to the railways 60 years ago. With a bit of luck, 2022 will bring further announcements that bring trains back to places they should never have left in the first place.
And there's good news for people looking to travel slightly further in the UK. This year, travellers wanting to get between London and Edinburgh gained a new option – a four-and-a-half-hour service costing as little as £20, from new operator Lumo. The aim is to provide a service that's more competitive with domestic flight times and prices, with plans to expand to five daily services next year. Whether experiments like this will work in the long term remains to be seen, but anything that can give rail an advantage certainly seems like a good idea – not only because it's better for the planet, but also because who wouldn't prefer to head to the railway station instead of the airport?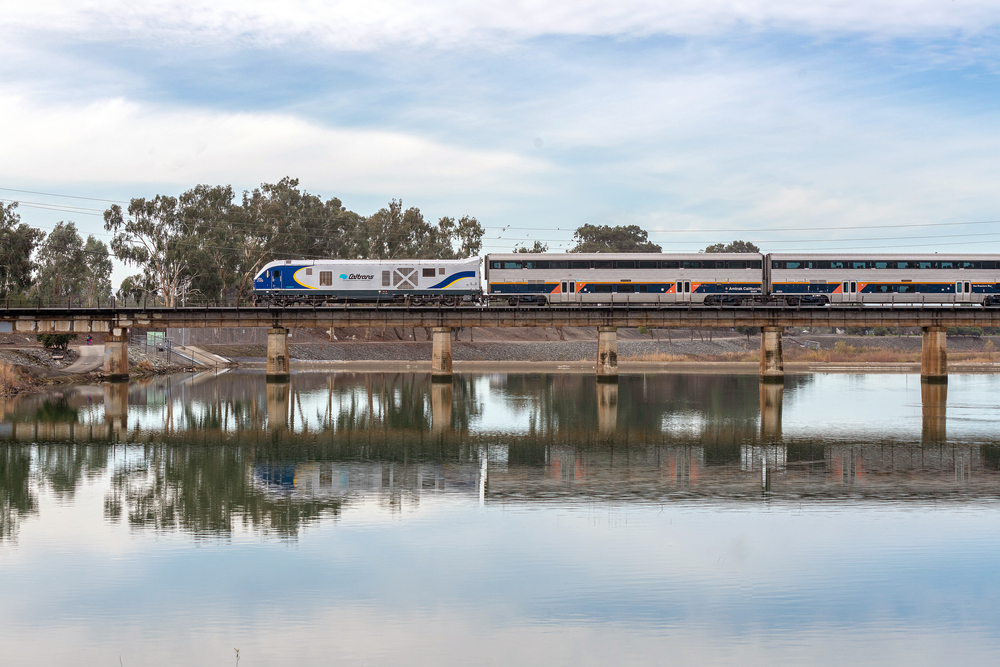 Meanwhile, on another continent entirely, 2022 should see the start of a true rail revolution in the USA. President Biden's recently passed infrastructure bill includes a $66 billion commitment to expand the country's Amtrak rail network – the single biggest investment since it was founded in 1971. The plan is to link it up to 160 places that are currently without stations, increasing passenger numbers by more than 20 million over the next 15 years. Commenting on the passing of the bill, Amtrak president Stephen Gardner emphasised the benefits of 'enhanced mobility, economic growth and reduced greenhouse gas emissions'. Too right.
The investment's impact will be felt across the country, with proposed new routes connecting cities across southern states such as Texas, Tennessee and Georgia, revived Amtrak services between Los Angeles and Las Vegas, and a massive rebuilding programme to fix ageing infrastructure in the country's north-east. Getting Americans out of their cars might be a challenge, but it's heartening to see such renewed commitment to rail travel, even in a country where it's been such a neglected mode of transport for so long.
Building railway lines and negotiating new routes doesn't happen overnight. But even in countries where trains might not reach new destinations over the next 12 months, there are signs that they'll at least be figuratively closer. In fact, 2022 could be the year the second golden age of rail really gets going.