Heads up! We're working hard to be accurate – but these are unusual times, so please always check before heading out.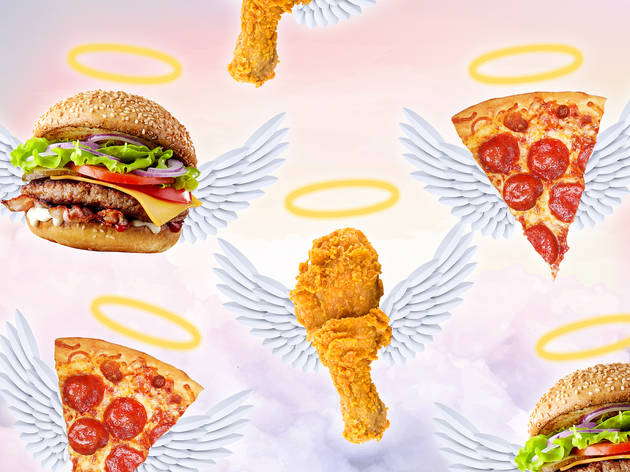 These three dishes dominate delivery menus – and for good reason
In a year of turmoil, the world's best chefs served a holy trinity of pizza, burgers and fried chicken.
This week marks one year since the WHO declared Covid-19 a pandemic. To mark what we're calling the Pandemiversary, Time Out is looking back at the past year in cities around the world, and ahead to what the future may hold.
There weren't many constants for the hospitality industry over the past 12 months. Through shutdowns and reopenings (and more shutdowns), restaurant owners had to turn their business models upside-down. As the new normal set in, some of the world's best chefs went back to the drawing board, swapping truffles and table linens for something far more casual.
It didn't take long for the holy trinity of takeout to emerge in pizza, burgers and fried chicken. The fast-casual power throuple is by no means revolutionary – it's food that diners around the world have been crushing for eons. But in many ways, these three dishes offered a lifeline to fine-dining chefs who were trying to break into the takeout game, some for the first time.
There's a reason why we saw pizza, burgers and fried chicken dominate delivery menus around the world over the past year. Let's dig into it, with insight from the chefs who pivoted to tossing pies, griddling patties and frying poultry to crispy, craggy perfection.
The holy trinity of takeout – and why it worked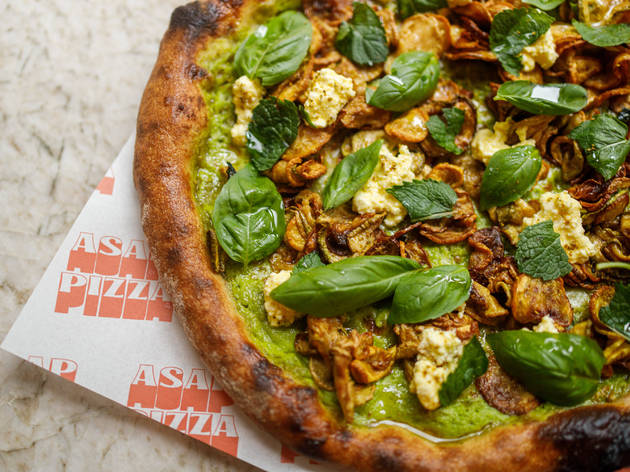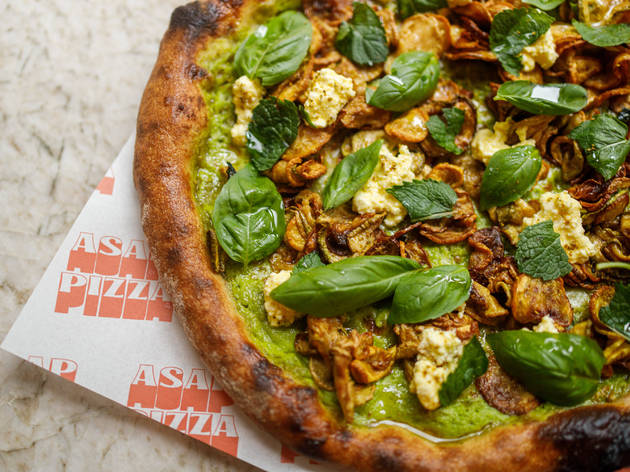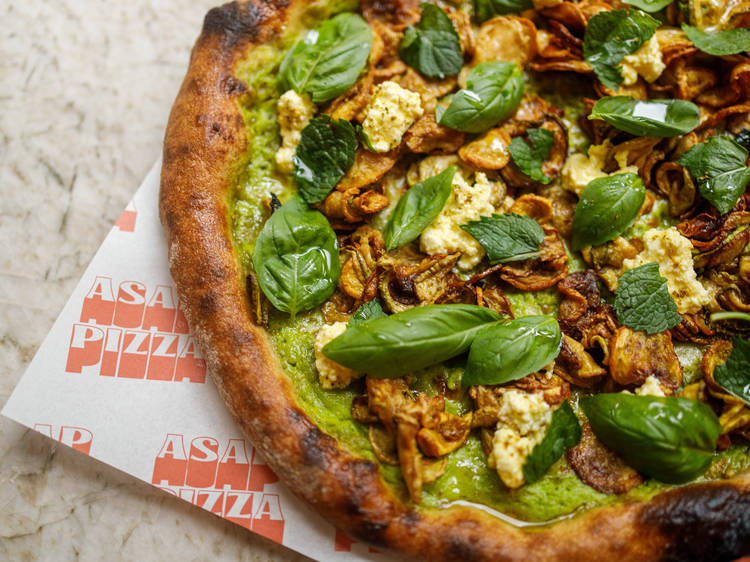 Photograph: Courtesy ASAP Pizza
Comforting food for uncomfortable times
Around the time that grocery store shelves emptied and toilet paper became a scarce natural resource, we realized that our leisurely nights out were numbered. It also became clear that salads and green juice weren't going to get us through this. In London, chef Pamela Yung knew that her popular bakery and wine bar, Flor, would have to shift gears to survive.
"When lockdown first hit and everyone was suddenly shut down, we were pretty worried," Yung recalls. "It seemed obvious that we needed to simplify what we do, reduce staffing but also create something comforting that people would want to eat during a pandemic."
The answer? Pizza, of course. Harnessing her experience working at pizzerias around the world (including Roberta's in Brooklyn), Yung saw the potential for a New York-style pie shop in London. That's how Flor temporarily transformed into ASAP Pizza, which serves bubbly sourdough crust topped with everything from honey and 'nduja sauce to potatoes and pancetta.
Three miles north, at 12:51 By Chef James Cochran, management was having similar conversations. Instead of pivoting to something brand-new, Cochran says he found inspiration in one of the restaurant's most beloved menu items: buttermilk jerk chicken.
It didn't take long to launch Around the Cluck, a delivery and takeout concept that serves soul-soothing dishes like buttermilk fried chicken wings slicked in sticky gochujang glaze and a fried chicken sandwich dripping in kimchi, sriracha mayo and jalapenos.
"For me, fried chicken is the ultimate comfort food," Cochran says. "It fits the bill all year round. Whatever the weather or situation, it's a great thing and it crosses so many different classes, cultures and people. There's a universality about it."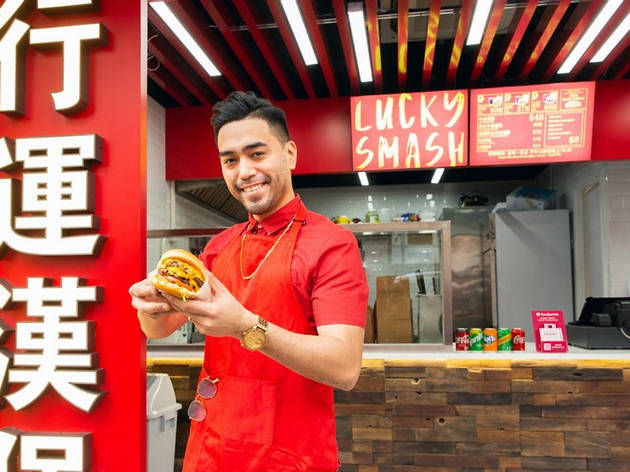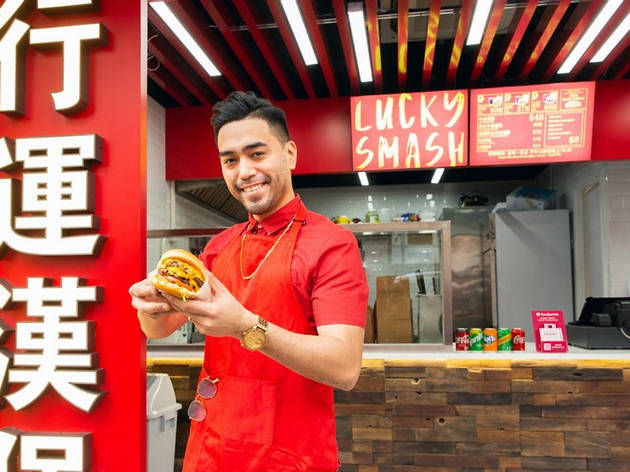 Photograph: Courtesy Lucky Smash
A new class of budget-friendly favorites
While they were pivoting, chefs and restaurateurs were also acutely aware of the fact that unemployment was skyrocketing and, as a result, their usual customer base had less to spend. Elevating fast food but keeping the price down was critical.
In Hong Kong, Burger Joys founder Manu Lee saw an opportunity to expand his fast-casual chain and offer an even more budget-friendly menu. At Lucky Smash, he's serving smash burgers for about half the price, an adjustment that accurately reflects the neighborhood's current average spend. Lee says he's hopeful that as the city recovers, he'll see a new cross-section of customers who are fans of both concepts.
Then there's fine-dining chef Noah Sandoval in Chicago, who found himself swapping his $215 Michelin-starred tasting menu for something much more affordable: $4 slices of Sicilian-style pizza. He and partner Bruce Finkelman debuted Pizza Friendly Pizza last summer as a pandemic-friendly, grab-and-go concept that operates out of an alley window.
"We could keep people working, get some cash into the business and have fun doing it," Sandoval says. "The lower price point of pizza allows us to cater to a larger group of people that may have lost their jobs or have been furloughed. Bruce has always been invested in the community, and this reflects that."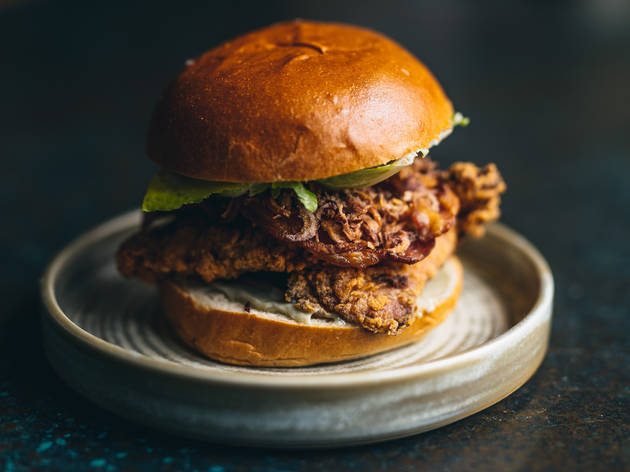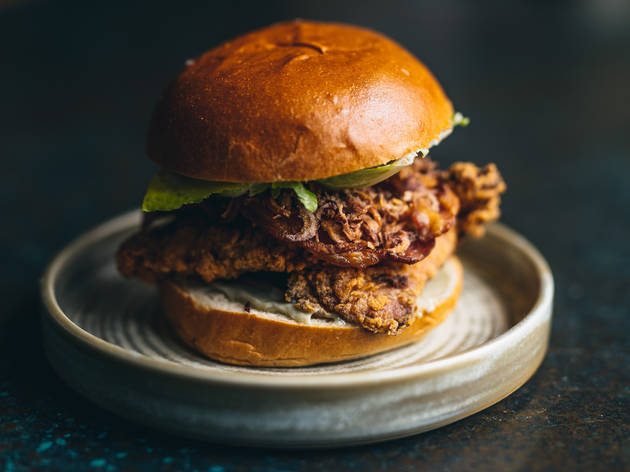 Photograph: Lateef Okunnu
When chefs start talking about delivery and takeout, quality assurance comes up a lot. They worry about what happens to your dinner when it leaves the restaurant. How will it taste if it sits in a car for the next 45 minutes? Will that appetizer hold its shape or fall apart? Will the fries still be crispy by the time they arrive on your doorstep?
It's part of the reason why many chefs revisited these tried-and-true takeout favorites rather than forcing their existing menu items into a delivery container. Cochran says it took plenty of trial and error to adapt his original chicken recipe for Around the Cluck.
"It had to be a top-quality experience for the customer at home or there wasn't any point," he says. "We were able to tweak the recipe and combinations as we went and elevate fast food to something special but keep it at an affordable price. It needed to work for us and the customer – and we've managed to do just that."
Sandoval says he wouldn't have considered pivoting to a food that didn't travel and reheat with ease. Pizza Friendly Pizza's signature Sicilian-style crust isn't easily weighed down by toppings; the thick, bubbly base holds its crunch long after it's packaged up to go.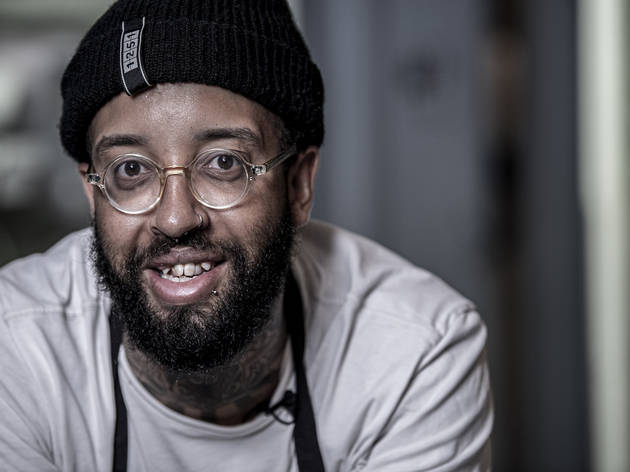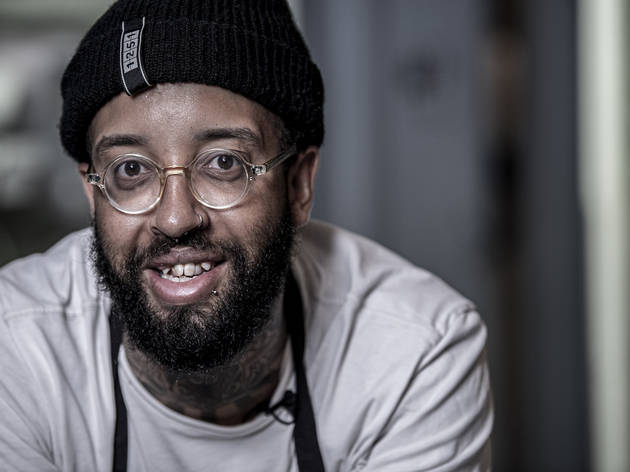 Photograph: Sim Photography
It's not an exaggeration to say that most of these concepts wouldn't exist if it weren't for the pandemic. Though it's hard to find silver linings in the rubble of the past 12 months, these fast-casual pivots offered some of the world's best chefs an outlet to continue doing what they love: comforting locals through food and service.
Though all of these chefs are giddy about the idea of reopening their restaurants and resuming service when it's safe, the holy trinity of takeout is here to stay, in one way or another.
"People have really taken to it, so we'll carry on giving them some banging fried chicken alongside offering a fine dining experience at the 12:51 restaurant," Cochran says about his foray. "Despite all the hardships lockdown has brought, it has been a huge positive. There wouldn't be a 12:51 to reopen if we hadn't made Around the Cluck a success."
An intimate look back at the day that changed everything
To mark the anniversary of the declaration of the global pandemic, Time Out spoke to a range of nightlife heroes in cities around the globe, from Sydney to Los Angeles. Here they remember the nights their lives changed for ever.