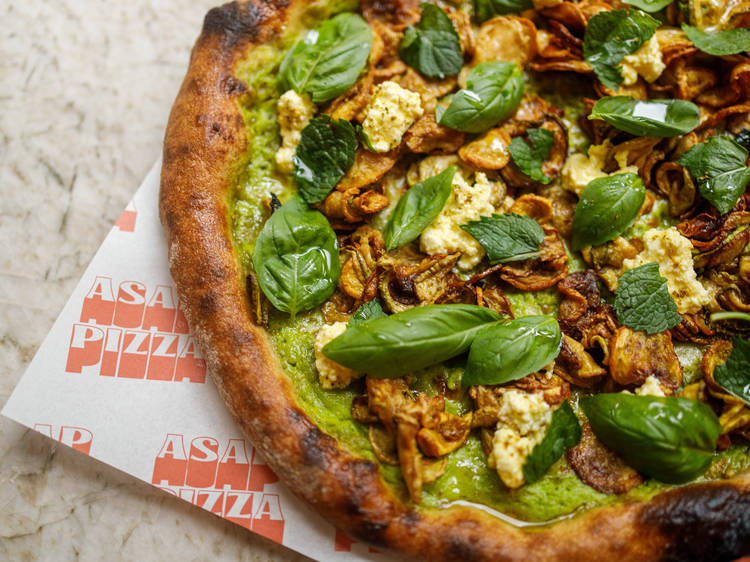 Photograph: Courtesy ASAP Pizza
Comforting food for uncomfortable times
Around the time that grocery store shelves emptied and toilet paper became a scarce natural resource, we realized that our leisurely nights out were numbered. It also became clear that salads and green juice weren't going to get us through this. In London, chef Pamela Yung knew that her popular bakery and wine bar, Flor, would have to shift gears to survive.
"When lockdown first hit and everyone was suddenly shut down, we were pretty worried," Yung recalls. "It seemed obvious that we needed to simplify what we do, reduce staffing but also create something comforting that people would want to eat during a pandemic."
The answer? Pizza, of course. Harnessing her experience working at pizzerias around the world (including Roberta's in Brooklyn), Yung saw the potential for a New York-style pie shop in London. That's how Flor temporarily transformed into ASAP Pizza, which serves bubbly sourdough crust topped with everything from honey and 'nduja sauce to potatoes and pancetta.
Three miles north, at 12:51 By Chef James Cochran, management was having similar conversations. Instead of pivoting to something brand-new, Cochran says he found inspiration in one of the restaurant's most beloved menu items: buttermilk jerk chicken.
It didn't take long to launch Around the Cluck, a delivery and takeout concept that serves soul-soothing dishes like buttermilk fried chicken wings slicked in sticky gochujang glaze and a fried chicken sandwich dripping in kimchi, sriracha mayo and jalapenos.
"For me, fried chicken is the ultimate comfort food," Cochran says. "It fits the bill all year round. Whatever the weather or situation, it's a great thing and it crosses so many different classes, cultures and people. There's a universality about it."