Heads up! We're working hard to be accurate – but these are unusual times, so please always check before heading out.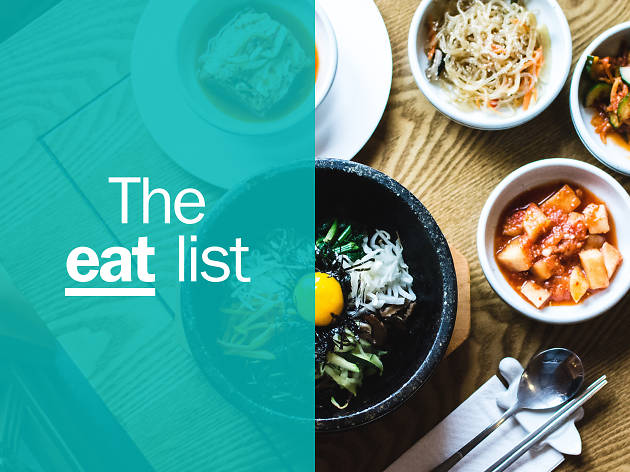 The 10 best restaurants in Fort Worth
From tender brisket to killer pizza and cutting-edge ramen, the dishes at Forth Worth's best restaurants will never bore
The Fort Worth food scene is constantly evolving, and there are always hot new restaurants and hipper-than-hip eateries opening. If you're looking for a truly local thing to do, the city's culinary backbone can be found in its long-standing, family-run institutions that reflect Fort Worth's rich cowboy heritage and Old West charm. It's this mix of old and new, though, that makes dining in Fort Worth so special. In a city where you can find diverse offerings such as cutting-edge ramen dishes, the tenderest brisket imaginable, tasty tacos, killer pizza and the finest seasonal Texas cuisine around, you'll never get bored – or grow hungry.
Best restaurants in Fort Worth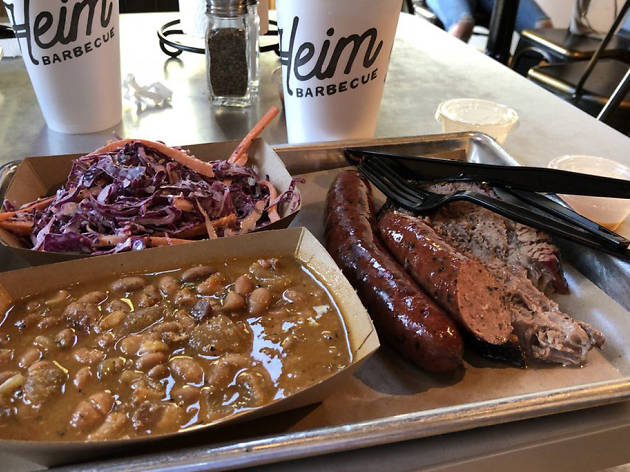 Photograph: Courtesy Yelp/Iftekarul I.
1. Heim Barbecue & Catering
What is it? Formerly a food truck, the most beloved barbecue joint in the city is now a brick-and-mortar on Magnolia Avenue.
Why go? Husband-and-wife duo Emma and Travis Heim started the Heim Barbecue truck in 2015, and within a year, they got an offer to open up their own place on West Magnolia (and there's a second location in the works). The food is simply just that good. Eat all the smoked meat you want, but make sure to save room for Emma's Banana Pudding – it's so good that it's the only dessert on the menu.
Price Bracket: Average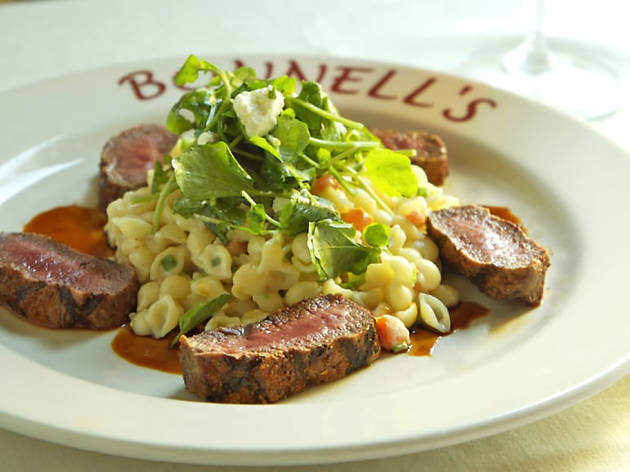 Photograph: Courtesy Yelp/ Bonnell's
What is it? Showcasing delicious Southern-Creole-Mexican fare sourced from local ingredients, Bonnell's is considered a Fort Worth treasure, and chef Jon Bonnell has even been called the "Most Loved Chef in Fort Worth".
Why go? Bonnell's has earned national recognition as one of the top spots to eat in Fort Worth, mainly for the restaurant's inventive use of wild game like elk, buffalo and wild boar. It's elevated Texas cowboy cuisine, and it's darn good. For a more seafood-centric meal, try Jon Bonnell's other restaurant in town, Waters.
Price Bracket: Pricey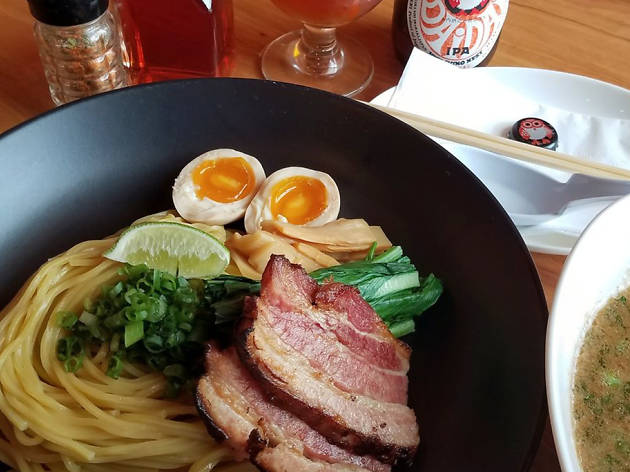 Photograph: Courtesy Yelp/Oni Ramen
What is it? Located on West 7th Street, this popular gourmet ramen restaurant regularly draws raves from locals and out-of-towners alike.
Why go? Oni Ramen's menu is singularly creative, with multiple ramen options that include cabbage-soy broth, a rich tonkotsu (pork-on-pork) and a variety of other homemade broths and bowls. You should know, though, that "oni" is the Japanese for demon, and is a reference to chef Jesus Garcia's love of spice – consider yourself warned.
Price Bracket: Average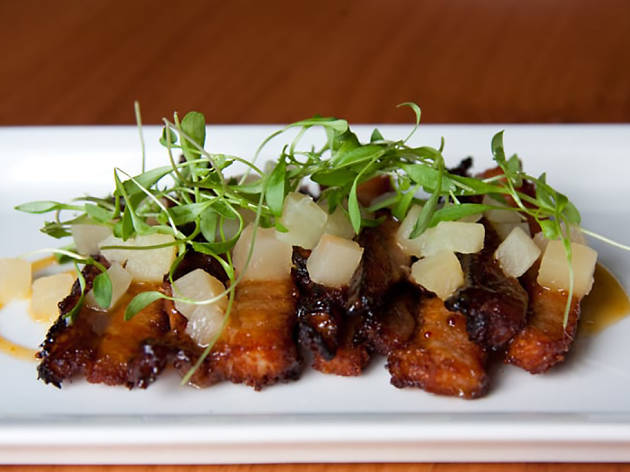 Photograph: Courtesy Yelp/Clay Pigeon Food and Drink
4. Clay Pigeon Food and Drink
What is it? One of Fort Worth's most prominent fine dining restaurants, located in the heart of downtown, whose menu always features in-season, house-made dishes.
Why go? Chef Marcus Paslay's passion for food is evident in every single one of Clay Pigeon's dishes, from the house pasta (prepared daily with made-from-scratch noodles and seasonal veggies) to the decadent steaks and seafood. Their wine list is stellar, as well.
Price Bracket: Pricey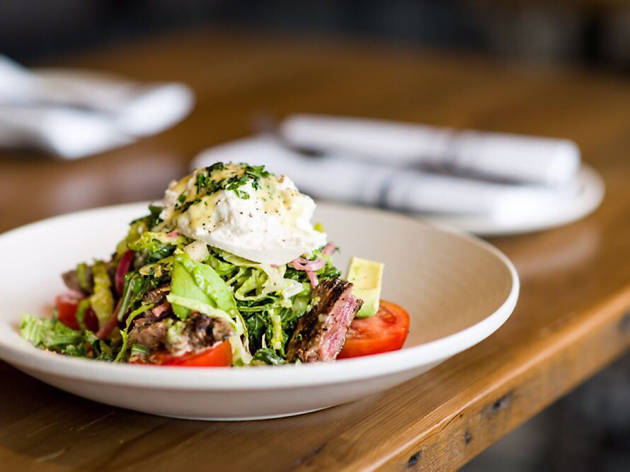 Photograph: Courtesy Yelp/Cork & Pig Tavern
What is it? A foodie favorite run by former Hell's Kitchen participant Virginia Dalbeck that specializes in pizza, wine and grilled delicacies.
Why go? At Cork & Pig, the wood-fired grill is the cornerstone of everything: be it pizza, salmon, rotisserie chicken or prime rib. The vibe feels simultaneously elegant and casual, rendering this a great date spot. And the weekend brunch menu is always a hit, with comfort food dishes like Fruity Pebbles French Toast and Banana Oatmeal Pancakes.
Price Bracket: Average, bordering on Pricey
Photograph: Courtesy Yelp/Chuch B.
What is it? Fresh, healthy food that doesn't skimp on flavor.
Why go? If you're in the mood for deliciousness but you don't want to feel sluggish or bloated afterward, Righteous Foods is the perfect place to enjoy a meal. You can't go wrong with anything on the menu, but the Grilled Organic Salmon Tacos, served with fermented cabbage, carrots and heirloom corn tortillas, are particularly, well, righteous.
Price Bracket: Average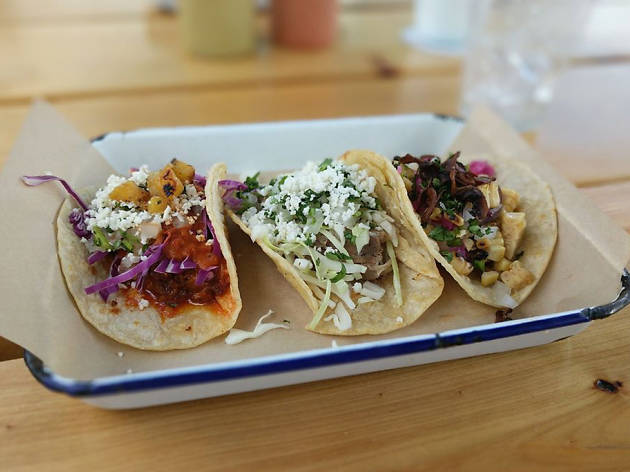 Photograph: Courtesy Yelp/Kyle R.
What is it? A mecca of Mexican street food that got its start as a humble food truck in the city's West 7th District.
Why go? Though Fort Worth certainly isn't short on tacos, there's just something special about Taco Heads. For one thing, the ingredients are fresh and locally sourced when possible. For another, the chips and salsa are out-of-this-world good. And the tacos themselves (especially when washed down with a Cucumber Margarita) are what dreams are made of – just keep in mind that they're of the "street size" variety, so plan on ordering at least two if you're hungry.
Price Bracket: Average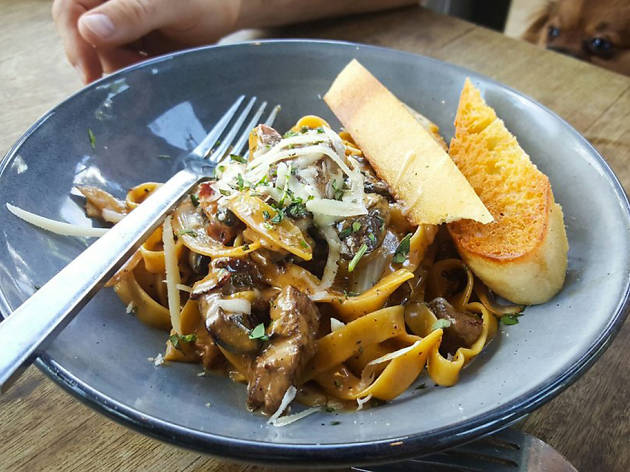 Photograph: Courtesy Yelp/Soannia T.
What is it? An unpretentious, modern eatery, overlooking the Trinity River in southwest Fort Worth, that serves basic breakfast items, sandwiches, burgers, salads and entrees.
Why go? There's a little something for everyone at Press Café but rest assured that nothing about the food is boring or generic. Specialties include pasta of the day, fresh fish of the day and a very good ancient grain bowl; the vibe is hip, warm and friendly. This is a great local haunt that even the pickiest of eaters will enjoy.
Price Bracket: Average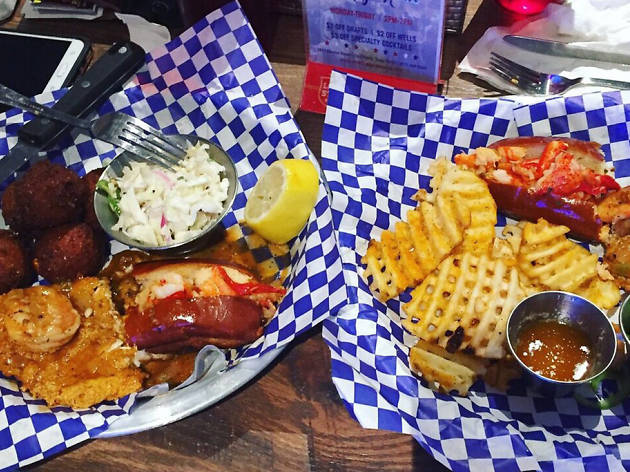 Photograph: Courtesy Yelp/Trinity River Foodies
What is it? An outdoor beer-garden experience with a sprawling, 10,000-square-foot patio, a savory bar menu and a plentiful beer and cocktail list.
Why go? America Gardens is a neighborhood magnet for everyone from families with children to groups of young professionals. It's not hard to see why – this patio-restaurant is a super-fun place to be. There are plenty of games to keep diners occupied while they wait for food, including air hockey, cornhole and ping-pong. Knock back a local IPA and don't leave without trying the house jalapeno burger, which comes stuffed with jalapenos, pepper jack cheese, greenhouse tomatoes, guacamole and a jalapeno popper wrapped in bacon.
Price Bracket: Average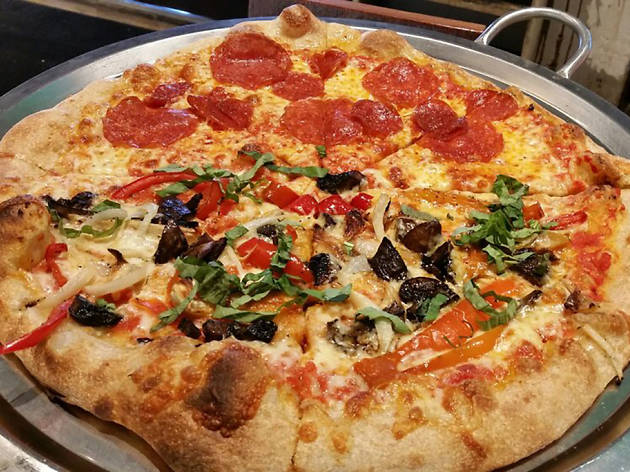 Photograph: Courtesy Yelp/Christian M.
What is it? An Argyle pizzeria with seriously tasty hand-crafted pies, salads, sandwiches and appetizers.
Why go? This exceptional pizza spot is rustic, charming and hip, but even if the atmosphere was terrible, it wouldn't matter one bit: The pizza at Earl's is almost too delicious for words. In addition to the plentiful toppings and various specialty pies, all three appetizers – especially the Crawfish & Artichoke Fonduta – are well worth trying.
Price Bracket: Average
Discover Time Out Market: the best of the city under one roof
Ready to map out your itinerary?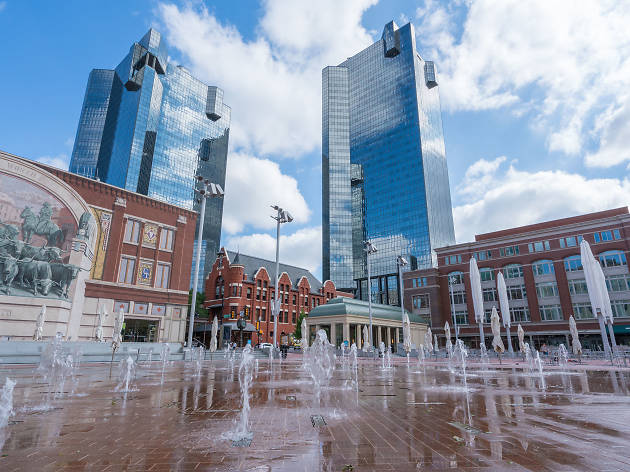 Texas's fifth largest city is also one of its most interesting and iconic destinations, though it's frequently overshadowed by hippie Austin and glamorous Dallas. Texas-bound travelers would do well to make Fort Worth a top priority, as there are dozens of diverse, fascinating attractions here that run the gamut from legendary rodeos to world-class art hubs—not to mention some amazing restaurants.