Girona wine tour
We take a look at some of the best wine-makers in the Empordà region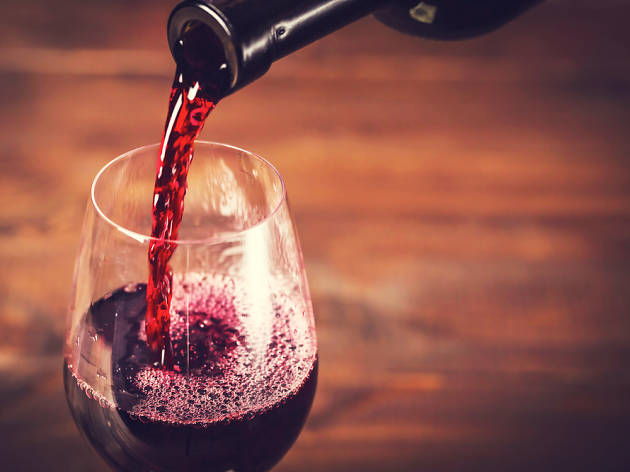 Are you a dyed-in-the-wool wine addict? Do you regularly defend the argument that one glass of wine at lunch does no harm? Well, this one's for you - a tour around some of the most important vineyards in the Girona region, along with a few of our recommendations for vintages to try. Long live the wine of the Empordà!
To go with your wine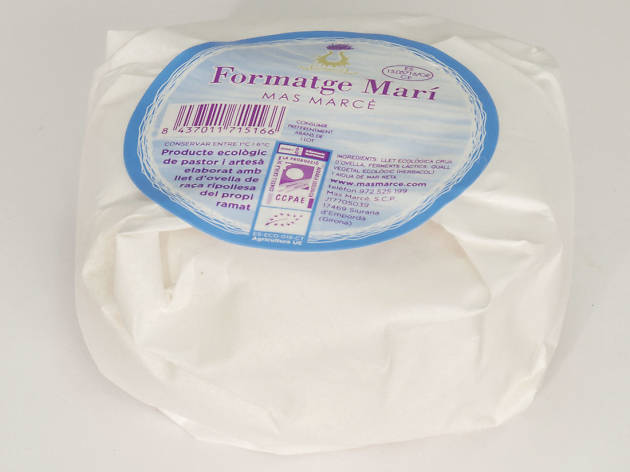 © Mas Marcé
The Mas Marcè family have been shephers for more than six generations. The artisan cheese-makers specialise in making 'recuits' (curds), yoghurts, 'mató' (fresh Catalan cheese), 'flams' (custard-based desserts) and cured cheeses. Everything is made according to organic criteria and, for that reason, they've decided to recover classic cererals such as red corn, clover, sainfoin and vetch. In addition, the farm is all run using renewable energy. Mas Marcè creates all of its products using the milk of Ripoll sheep, which are raised on-site, and vegetable rennet with cardoon.

Our selection: El Marí cheese. Created with raw milk and vegetable rennet with cardoon, and lightly salted with seawater from Cap de Creus. It's a soft cheese that leaves the palate slightly oily. It goes well with quality anchovies (from L'Escala, of course) or dried figs.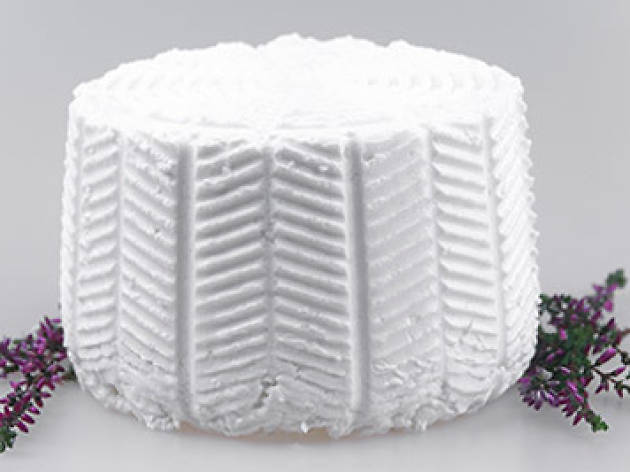 The story of Làctics Pauet sounds like something out of a Hollywood rom-com. In the summer of 1978, Olga and Xavi meet while gathering fruit in the countryside. They had neither land nor animals, but were desperate to dedicate themselves to livestock farming and living off the land. They started by making 'recuit' (curd) using a traditional recipe in Les Gavarres, and read a heap of books about goats. However, two children later they decided to move to the Empordà plain, to the town of Jafre. When their first son, Pau, grew up, he decided to follow in their footsteps by first training and then working in farming and creating the cheese dairy, Làctics Pauet.
Our selection: The fresh cheese. It has character, taste and a smooth texture. It's created, obviously, with pasteurised goat's milk and without salt. It's ideal for eating with a good salad, whether it's sweet or savoury.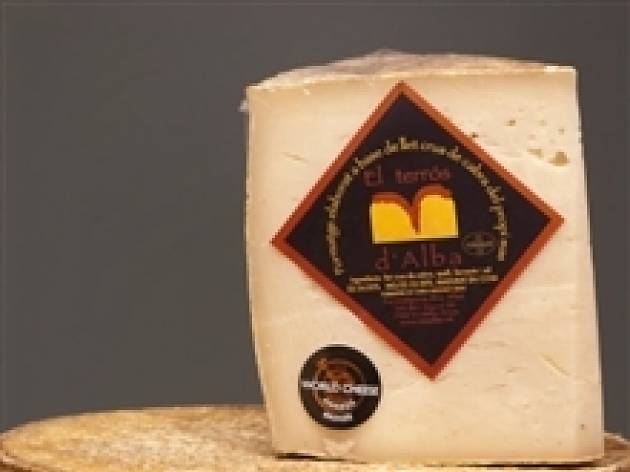 © Mas Alba
The artisanal cheese dairy of Mas Alba is located in the heart of the village of Terradelles, on Pla de l'Estany, in the 'masia' (country farmhouse) of the same name. At the beginning it focused solely on milk production, but since 2008, with Martí Huguet in charge, they've been branched out: they create cheeses using the milk from their more than 300 goats (which are fed with products from the farm itself, such as alfalfa, oatmeal, straw and grains like barley and corn). The masia, which dates from the 18th century, has been converted into accommodation for rural tourism.
Our selection: El terrós. A large cheese made with raw goat's milk. Penetrating scent, elastic texture, slightly tender and with a light spicy flavour at the end. It has a lot of personality and is one of the first large-format Catalan cheeses It's ideal for eating alone, with a slice of quality bread drizzled with olive oil.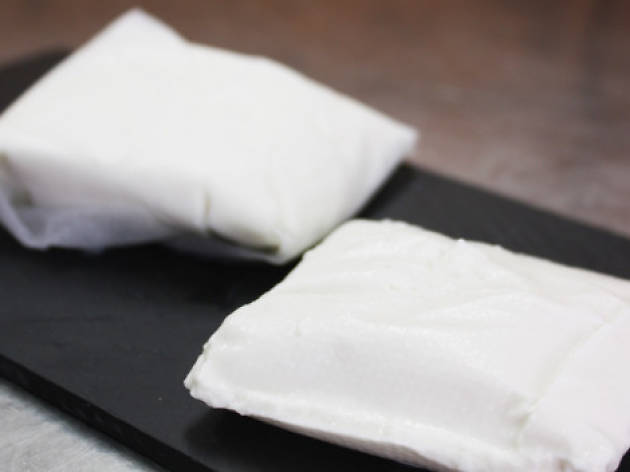 If you browse the cheese shops and delicatessens in New York, it's more than possible that, among the bries, camemberts and other delicacies, you'll find the 'recuit' (curd) from Fonteta. That's one thing that makes this business, which is also known as Casa Martell, interesting, but it's not the only reason. Román and Montserrat - the parents of current owner Quim - inherited the recipe for recuit from grandma Rosita, and they sell it, along with various cured meats, in their own shop (Fitor, 2, Fonteta). When they retired, Quim decided to take over the reins of the family business and, rather than diversifying, he decided to strengthen the products they already knew how to make: curds, cheeses and yoghurts. And now they're products are found in kitchens around the world including those of various Michelin-starred restaurants. The recipe, and the production method, is still the same as grandma Rosita's.

Our selection: The recuit, obviously. Whether it's made with goat's or cow's milk, it's an authentic gastronomic treasure thanks to its tender, compact texture, creaminess and smooth aroma. It's ideal for eating by the spoonful with a touch of honey or sugar on top, or follow the example of chef Ferran Adrià, and eat it whipped and with anchovies.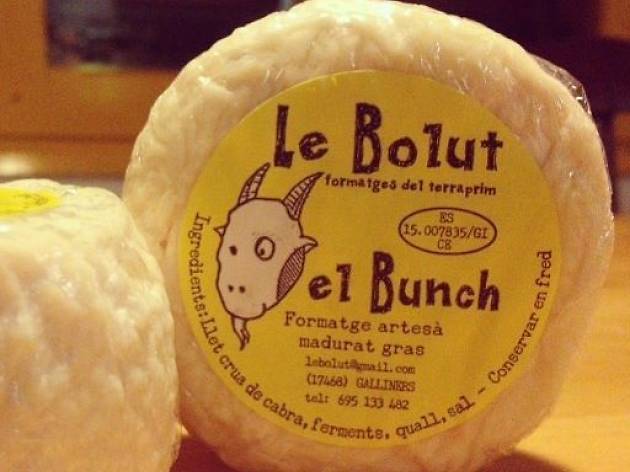 The history of La Bolut proves that the boom in artisan cheeses is much more than a passing trend. After having worked for a couple of years with Martí Huguet, from Mas Alba (see above), Santi felt the calling and, after he'd completed various courses, decided in 2014 to create his own cheese dairy: Le Bolut, in the town of Galliners. He currently makes two cheeses: el Bunch, created with raw milk from Martí's goats, and el Put, made with organic cow's milk from Can Frigola.
Our selection: El Bunch. Creamy texture and intense aroma, it's a 'crottin'-like cheese, which intoxicates the palate. You can find it both plain or covered in herbs - both formats are truly delicious. It's great to eat with a piece of good, country bread ('de pagès'). Or straight up with a glass of white.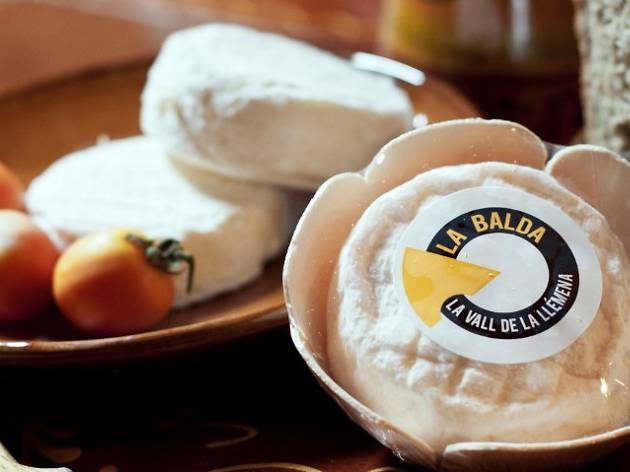 In the middle of the Vall del Llémena, specifically in Sant Martí, at the foot of the Sant Roc cliff, the small cheese dairy of La Balda was created by a man called Pablo Garcia in 2012. They currently produce two cheeses using raw, organic cow's milk, taken from their animals raised nearby, from Can Frigola in la Garrotxa and Can Garriga in Ripollés. One to look out for in the future.
Our selection: El Fermió. A rustic-looking cheese that may remind you of the French Saint Marcellin. Soft, intense flavour and creamy texture. It's ideal for filling tartlets but is also absolutely irresistible on toast. In 2015, after collecting his Príncep d'Astúries prize, the director Francis Ford Coppola had supper at Barcelona's El Passadís d'en Pep (Plaça del Palau, 2) where he sampled a good Fermió. It must have been an offer he couldn't refuse...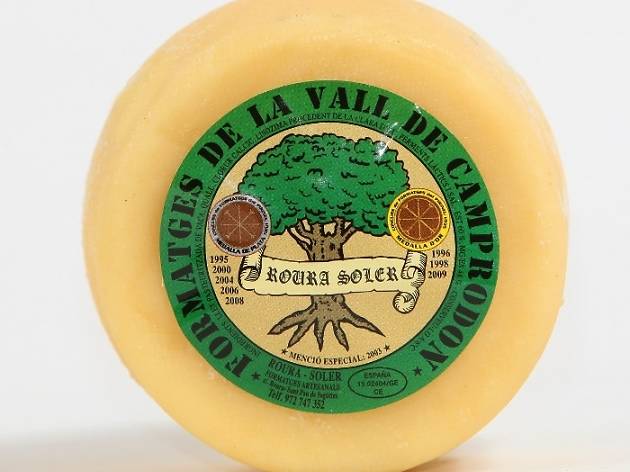 © Roura Soler
The Roura Soler cheeses find success wherever they're sold - indeed, they've won various gold, silver and bronze awards. Roura Soler is a small artisan, family cheese-makers created by Carme and Martí in the 1990s in Sant Pau de Segúries, in la Vall de Camprodon. The family already had a herd of cows, but they decided to increase their efforts and move into the world of cheese. At the start they only used cow's milk, but they're currently also using milk from goats raised in the same town. What is practically unchanged is their way of making the cheeses: over a fire. Well, they use a 1,000-litre pot, a boiler to achieve the necessary temperature, a mechanical press and a ripening chamber.
Our selection: The cow variety, one of the most garlanded. It's smooth and slightly buttery, created using pasteurised milk. Scrummy.