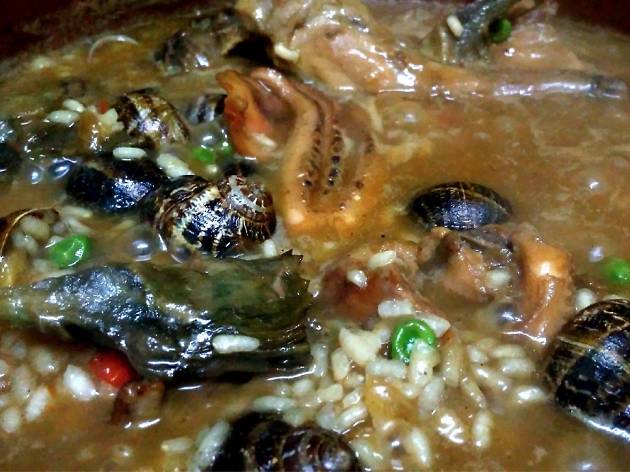 Cap i Pota is synonymous with slow-cooked Catalan cuisine, ideal if you love dipping your bread in the leftover juices
Cap i Pota is synonymous with Catalan cuisine that is cooked slowly, letting the ingredients gently bubble away, making it ideal if you love dipping your bread in the leftover juices when you're in no hurry about finishing your meal. The restaurant is also the dream made reality of Artur Sagués, head of the dining-room, who has a long background in the field. He started as a waiter in the early days of El Bulli, and after three years moved to be assistant maître d' at Senyor Parellada in Barcelona, alongside Ramon Parellada. It was this restaurant that became the biggest influence for Cap i Pota in Figueres, thanks in no small part to its concept of retrieving the traditional Catalan 'fonda' (inn).
There's no set menu and the à la carte menu features some 20 permanent dishes, along with a blackboard featuring daily specials. Sagués's wife, Pietat Valenzuela, despite having little experience in the restaurant trade, is the person who prepares all these traditional delicacies and presents them with style. Among the starters, stand-out dishes include the 'xató' (cod salad with lettuce, olives, tuna, anchovies and a special sauce that includes toasted almonds and hazelnuts), tuna belly salad, marinated sardines and cod fritters. The mains include veal cheek cooked at low temperatures with mustard, oxtail in red wine, veal tongue with 'caparrons' sauce (made with red kidney beans and chorizo), and, of course the 'cap i pota' (stew of calf's foot and head) that gives the restaurant its name.
Venue name:
Cap i Pota
Contact:
Address:
Vilafant, 35
Figueres
17600

Opening hours:
Wed-Sat 1.30pm-3.30pm, 8pm-10.30pm; Sun 1.30pm-3.30pm