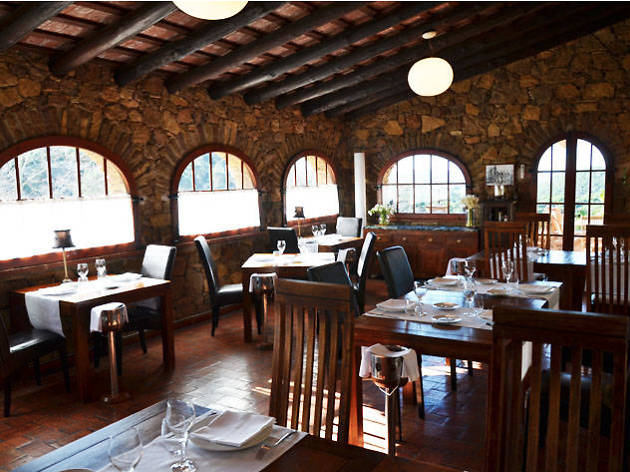 At Galena in Begur, the menu includes a selection of meats and fish grilled over vegetable charcoal.
According to Greek mythology, Galena was one of the 50 Nereids or sea nymphs, the daughters of Nereus who helped sailors not run their ships aground. It's also the name that the owners of this Begur restaurant – which is located in a traditional Catalan country house ('masia') from the 17th century and is also a hotel – chose as a synthesis of the venue's comfort and peace. It's built close to the coast but 220m above sea level, to offset the strong tramuntana wind that often blows in the area. The same tradition that is encapsulated in the stone walls of the dining-room is also captured in the restaurant's gastronomic options. The menu includes a wide range of meats and fish grilled over vegetable charcoal, and classic seafood dishes such as monkfish soup and rice stew with lobster. They also have a daily set lunch menu. In the summer, and on sunny winter days, the dining-room is extended with a large outdoor terrace that enjoys privileged views of Les Gavarres massif.
Venue name:
Galena Mas Comangau
Contact:
Address:
Ramon Llull, 1
Begur
17255

Opening hours:
1pm-3.45pm, 8pm-10.45pm. Closed Tue.
Price:
À la carte: €25-€30. Set menu: €19. Weekend set menu: €26.50.