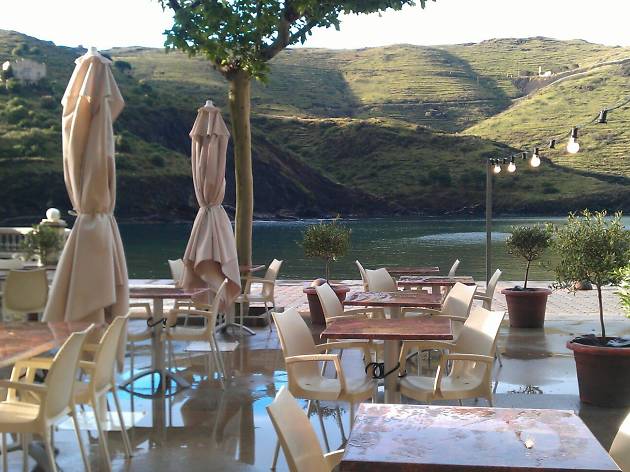 At Passatges they focus on local ingredients, but also include homages to international cuisine
Passatges is the name of the memorial that sculptor Dani Karavan erected in Portbou in homage to German philosopher Walter Benjamin. According to the chef, Sergi Gubert, the monument can also be used to reflect the restaurant's cuisine: if you go down its stairs, you'll see the sea, and if you go up, the sky; similarly in the restaurant you can see the sea, whereas the kitchen houses a laboratory where imagination flies ever upwards with a desire to create new things.
The menu is small because, in the main, it features a seasonal set menu that changes according to the time of year. The daily set menu changes each week and is very affordable. Sergi likes to work with local Km0 products but he also makes small homages to different types of international cuisine. His method is to seek out a combination of ingredients and flavours with which, even if they don't initially seem like they will go together, he can achieve a good match and some surprise factor on every plate; this is cuisine that likes to take risks. For instance, succulent veal is cooked at a low temperature with local herbs, a light curry sauce and a peanut foam, as a way to get close to African flavours. The cod is au gratin with spicy 'sobrassada' spreading sausage from Maó (Menorca) and white bean cream.
Venue name:
Passatges
Contact:
Address:
Psg. de la Sardana, 7
Portbou
17497

Opening hours:
Tue-Sat noon-3.30pm, 8pm-10.30pm; Sun noon-3.30pm