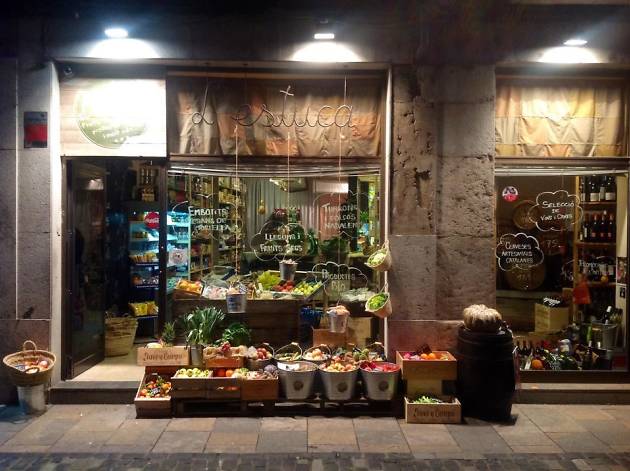 Mixture of grocer's shop and delicatessen, they have everything from craft beer to washing liquid. Spend over €20 and they'll carry your shopping home for free
The couple in charge of this small 'colmado' (traditional grocer's) where they stock everything (yes, absolutely everything) deserve a prize. At a time when the Barri Vell was filling up with shops aimed at tourists but it was increasingly difficult to buy oranges, Lautaro and Neus rolled up their sleeves and opened L'Estuca to serve local residents, and encourage them to stop by the colmado for a chat as much as the shopping, rather than visit a supermarket.
With the passing of time and changes made to the store, it's now a fantastic mix of neighbourhood shop and delicatessen that fights to keep its prices competitive and stand up to the big chains. They have local fruit and vegetables, craft beers, organic wines and a small selection of wine in barrels, but you'll also find daily necessities such as washing liquid for your clothes. If you spend more than €20, they'll bring the shopping to your house for free, a service that has become indispensable to many older residents of the Barri Vell, and others who are not so old but very busy.
Venue name:
Colmado L'Estuca
Contact:
Address:
Pl. de Sant Feliu, 13
Girona
17004

Opening hours:
Mon-Sat 9.15am-9pm