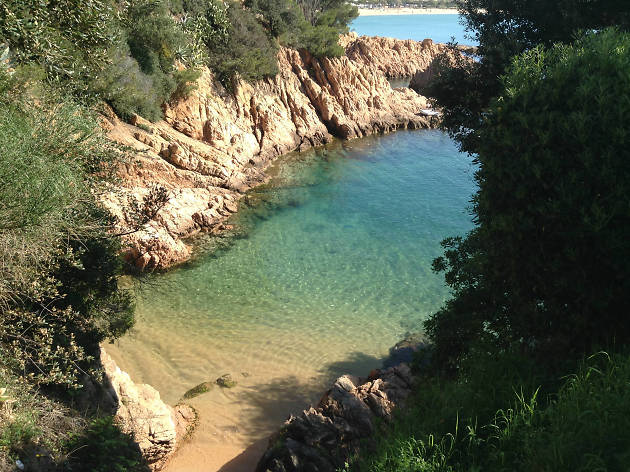 Cala Maset isn't exactly hidden away, but it does have a summer secret that it's worth uncovering.
Cala Maset is a small place with just a few square metres of sand, very close to the popular beach of Sant Pol. It's known locally as the Cala del Pont (the Cove of the Bridge) because the road between Sant Feliu and Sant Pol crosses over it via a small viaduct. A few minutes of climbing down stairs from the main road and you're there. So why have we included it in this list of secluded beaches? Because Cala Maset has a secret that very few people know: during the days around the summer solstice, when the sun rises exactly in the east, the first rays of dawn fall right there and transform it into a kind of golden jewel that is nothing to do with the shady corner it will be for the rest of the day (which means it's actually not a bad option if you want to go to a beach with not too much glaring sun).
If you go into the water and swim 50 metres to the left, you'll find a solitary rock which is easy to climb on to and then jump into the water. The surrounds are deep and the drop, about eight metres, is totally safe. Five minutes from the centre of Sant Feliu is this spot that looks a lot like paradise. Having said that, the magic, as in the story of Cinderella, ends with the ringing of the bells, in this case the ones marking 9am, which is when the summer visitors begin their relentless daily invasion.
Venue name:
Cala Maset
Address:
Carretera de Sant Pol, s/n. Sant Feliu de Guíxols
Sant Feliu de Guíxols


Transport:
To get there by car: Take the AP-7 motorway until exit 9 (Lloret de Mar/ Sant Feliu de Guíxols). There's a regular coach service from Barcelona and Girona operated by Sarfa.