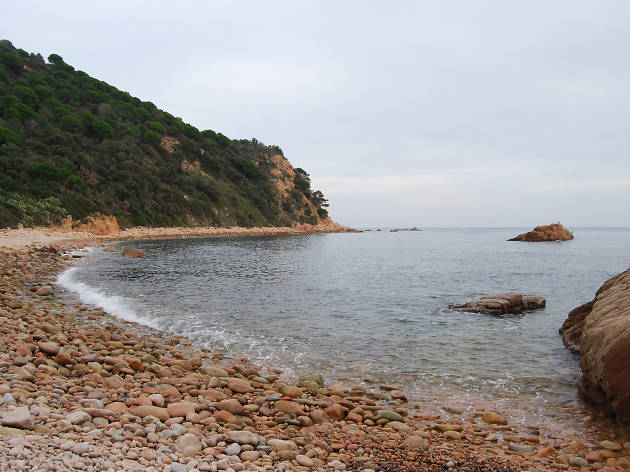 Cala Vallpresona is accessed via a trek through a forest (good footwear required) but once there you'll find next to nobody in this silent, clean paradise.
This beach is untouched and when you're there, you won't catch sight of any man-made constructions. It's as simple and extraordinary as that. To get there, you need to drive along the hideous road that links Sant Feliu de Guíxols and Tossa de Mar, with its 350+ bends, and keep your eyes peeled for a sign that indicates the start of the path down. You can't get there by car, so you should leave it parked at the side of the road. From there it's quite a trek down through a forest – forget about the boho beach look and make sure you wear some good shoes, ones suitable for hiking. The effort is absolutely worth it, though.

In the middle of August, you'll find no more than two or three people on a pebbled beach that measures around 200 metres. It's nudist and particularly notable for its silence, the complete lack of human paraphernalia and because, despite the total absence of services, it manages to stay pretty clean, doubtless because the few people who endeavour to actually get there are well aware of the need for impeccable environmental efforts for such a special place. If you're not sure that so much isolation is really necessary, carry on a bit further in the car towards the north and you'll come to Cala del Senyor Ramon, which is also slightly cut-off but is easier to get to with kids and elderly people.
.
Venue name:
Cala Vallpresona
Address:
Avinguda Vila de Blanes, s/n. Santa Cristina d'Aro 17246
Santa Cristina d'Aro


Transport:
To get there by car: Take the road from Tossa de Mar to Sant Feliu de Guíxols, the GI-682. About 4km from Tossa, you'll find a sign indicating the beach. Park and walk about 10 minutes.