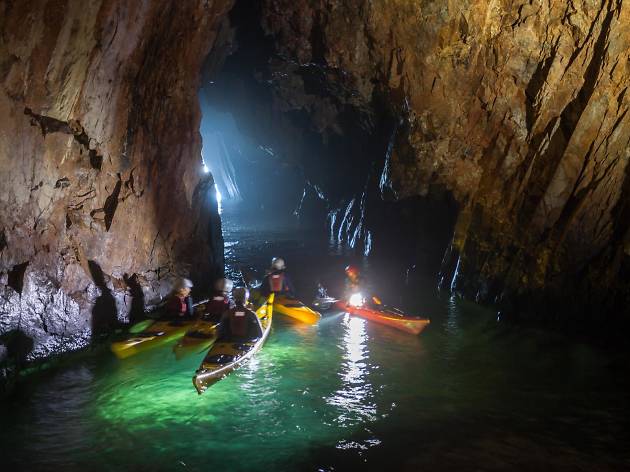 The longest and most spectacular sea cave in the Costa Brava
The Cova d'en Gispert (sea cave of Gispert) is the longest and most spectacular of its kind in the Costa Brava. It's located between the coves of Aiguablava and Aiguaxelida and, as a result, the best way to get there is by kayak, leaving from Aiguablava. It's also possible to get there from Aiguaxelida or even Tamariu. Wherever you start from, the outing is really worth it.
Don't be fooled by the narrowness of the entrance: la cova d'en Gispert stretches for almost 150m and you can travel by kayak right to the end. In addition, it has two very different sections: la Galeria, which occupies the first 90m from the entrance, and the Sala Final, where you'll find a small rocky island (that many know as the 'Taula', or table), where you can sit. A few metres before the entryway that gives on to the Sala Final, a junction opens that allows for underwater access to the space.
The fact that the cave is so spectacular has long been known. In the 1960s, impressed by its accoustics, Salvador Dalí organised a private concert of song in the Sala Final. What's more, in mid-August (normally around the 21 and 22), when the sun's rays reach the very end of the cave, a special event is organised whose name roughly translates as 'Waking up to the sun in the Cova d'en Gispert'. It's an emotional expedition in kayak that begins just before the sunrise with the chance to contemplate the start of the day from within the cave. An unforgettable experience.
Venue name:
Cova d'en Gispert
Address:
Cova d'en Gispert
Begur