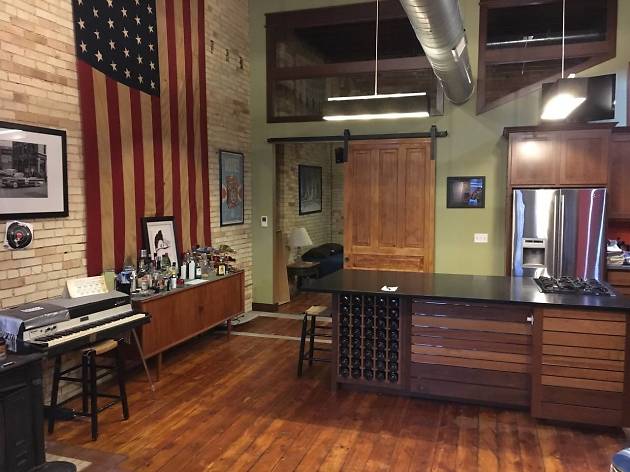 Stay in these amazing Grand Rapids Airbnb rentals
Book one of these cool Grand Rapids Airbnb rentals for a weekend-long beer run to Michigan
Just three hours' drive from Chicago, Grand Rapids is a mecca for craft beer lovers, with more than 30 breweries and brewpubs around town including Midwest favorites Founders and a satellite outpost of New Holland. But there's more to Michigan's second-largest city (with a population of nearly 200,000) than beer—like the annual ArtPrize competition, popular museums and great opportunities for outdoors enthusiasts, it's a place that is packed with things to do. Whatever drives your visit, consider these charming Grand Rapids Airbnb offerings for your stay.
Best Grand Rapids Airbnb rentals
Photograph: courtesy Airbnb
In the tiny Heritage Hill neighborhood, you can rent this studio with a private entrance, attached to the hosts' century-old home. Enjoy the beautiful sunroom before heading out to explore the historic neighborhood—there's a Frank Lloyd Wright house just down the block.
Photograph: courtesy Airbnb
On the west side of the Grand River, you'll find this well-appointed one-bedroom with a kitchenette and backyard barbecue. The location, in what the hosts describe as an old Polish neighborhood, brings you closer to west side attractions like the John Ball Zoo.
Photograph: courtesy Airbnb
Located in Grand Rapids's "Avenue for the Arts" district just south of downtown, this bright, bohemian loft offers three beds and puts you near galleries, studios and record shops. Bonus: The host says the space is powered by 100 percent wind energy.
Photograph: courtesy Airbnb
Check out the Grand River view from the balcony of this luxury loft in a new development near downtown, fully equipped (underground parking included) and a stone's throw from restaurants and nightlife.
Photograph: courtesy Airbnb
With attractive woodwork and fixtures, this spacious farmhouse-style two-bedroom is a steal. The East Hills location puts you in walking distance from eating and drinking destinations like Marie Catrib's and Brewery Vivant.
Photograph: courtesy Airbnb
This downtown condo in a recently rehabbed early-1900s building is on the pricier side for Airbnb rentals, but it puts you in spitting distance of attractions like Founders and VanAndel Arena. And with two bedrooms, two baths and 1,400 square feet, it's big enough to split among a large group.
Photograph: courtesy Airbnb
Rent this cozy one-bedroom in the Creston neighborhood on the city's northeast side for its casual vibe and giant backyard, including a built-in fire pit.
Explore more of Grand Rapids
ArtPrize isn't the only reason to visit Grand Rapids: the city has plenty to offer year-round.
From quaint, cozy, low-key spots to five-star, dress-to-the-nines fine dining, Grand Rapids offers a full spectrum of divine restaurants.