Heads up! We're working hard to be accurate – but these are unusual times, so please always check before heading out.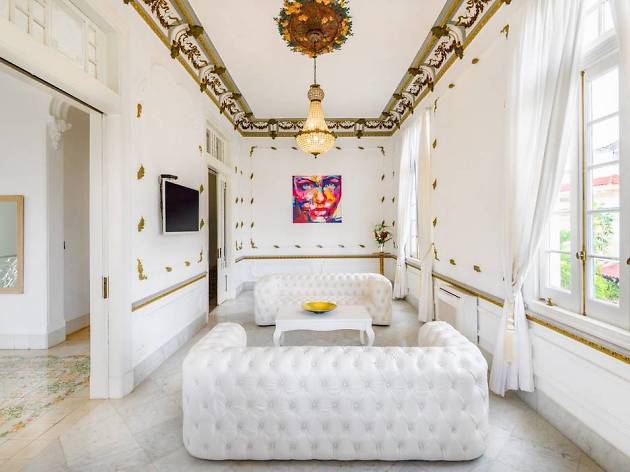 Amazing Airbnb Havana homes you can rent
Cuban tourism has gone modern—and these Airbnb Havana rentals offer ocean views and rooftop decks among old Cuba charm
Though many don't realize it, Cuba's selection of Airbnb Havana homes is diverse and incredibly affordable. The city has embraced the hospitality app wholeheartedly. Now, the only hard part is figuring out if Havana's food stacks up to the best Cuban restaurants in Miami (which is a debate we'll leave for another time).
Amazing Airbnb Havana homes you can rent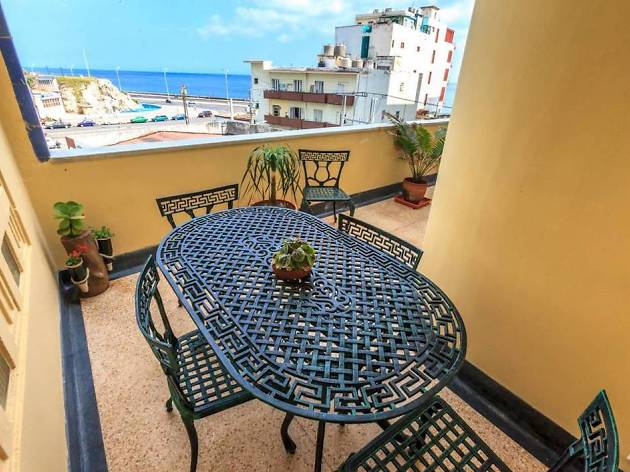 Photograph: Courtesy Airbnb
You really couldn't ask for much else with this modern apartment. The interior is modern and crisp. Guests—the place can accommodate up to four—have access to a full kitchen, two bathrooms and two bedrooms. The real selling point—the balcony—offers a great view of Havana's famous waterside roadway, the Malecón.
Photograph: Courtesy Airbnb
This insanely affordable (up to eight guests can split the $95 per night) villa blends elements of old and new Havana. Located in Havana's historic and trendy Vedado district, the Villa has four bedrooms (each with their own bathroom) and a picturesque rooftop perfect for a bit of rum at sunset. brunch or a group dinner.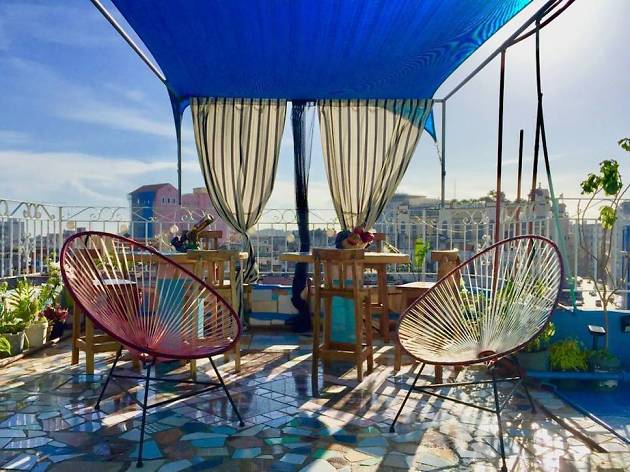 Photograph: Courtesy Airbnb
The one potential downside of this Airbnb is that you might spend the whole vacation on the impossibly charming rooftop. Who could blame you? The colorful, aqua blue terrace not only offers jaw-dropping, 360-degree views of Havana, but it's just plain cool, decorated in a way that perfectly encapsulates Cuba's effortless style.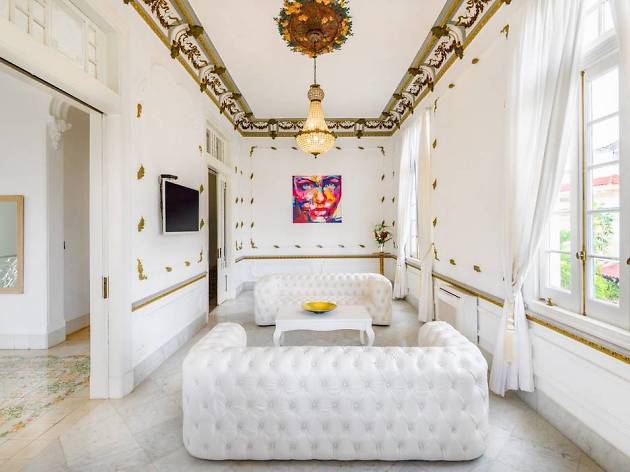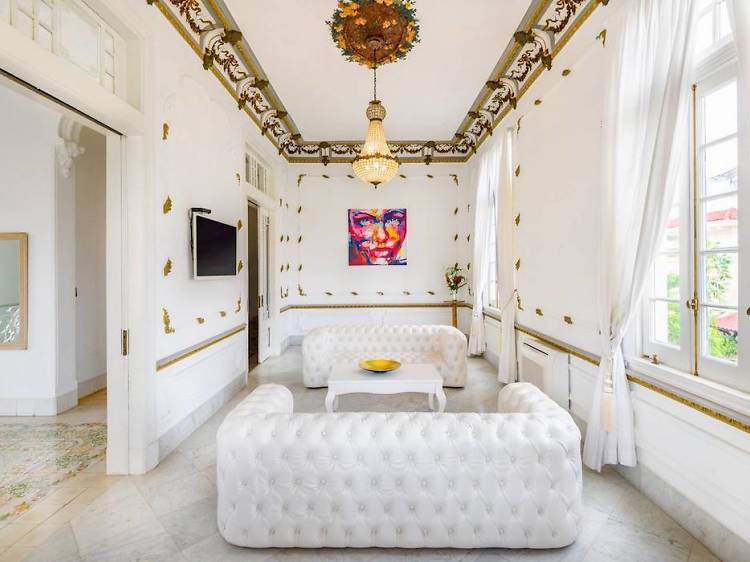 Photograph: Courtesy Airbnb
While most Cuban Airbnb rentals are incredibly affordable, this one is certainly for those with a hefty disposable income. But your $467 per night does get you quite far. You're basically staying in a cloud-white mansion equipped with five bedrooms, a maid service, a pool table, gorgeous modern furniture and a rooftop deck that provides incredible views. Suddenly, that $467 is starting to sound reasonable.
Photograph: Courtesy Airbnb
Contrasting the stately architecture of Old Havana, this studio provides a glimpse into a newer hipster Havana aesthetic (it was designed in 2017 by students of the Havana School of Design, apparently). It's cozy but features a kitchenette and bathroom that are both sufficient. You're within walking/driving distance to pretty much everything there is to do in the Cuban capital.
Photograph: Courtesy Airbnb
6. Casa-Bosque de la Vega
Funky and cozy, this Havana house is a 15-minute cab ride from Old Havana. Guests can enjoy a kitchen, spacious bedroom and a lush backyard lounging area. Plus, the property's certified superhost Alejandro has raving reviews and a clean five stars to back it up.
Photograph: Courtesy Airbnb
Open the windows and enjoy the art in this modern apartment. Perfect for couples, the minimal living space has an artsy aesthetic and small but efficient kitchen. It's close enough to the water to smell the salt through the windows and just a short cab ride from the heart of Havana.
Photograph: Courtesy Airbnb
It's hard to pass up this steal. At just $30, this private apartment can sleep up to three (that's just $10 per person for those keeping score at home). And you certainly won't be slumming it. While a bit tight, the thoughtful design and modern interior make this Airbnb great for a weekend trip with friends.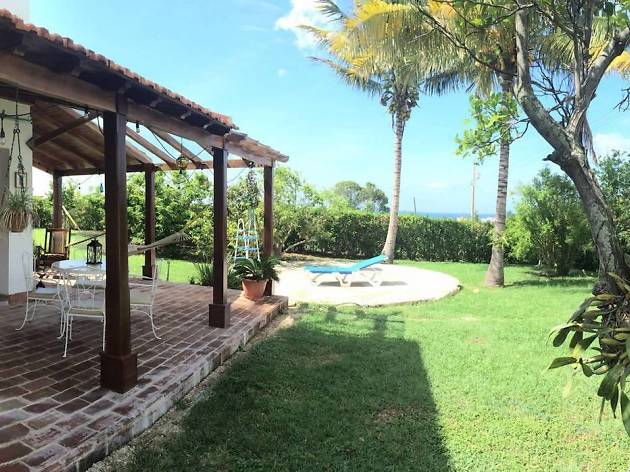 Photograph: Courtesy Airbnb
This true Cuban villa is right on the edge of the beach, just a short walk from Santa Maria Beach. Upon request, your host will arrange massages, taxi service, yoga and kitesurfing lessons. There's also a small outdoor pool available if you can't muster the energy to walk over to the beach.
Photograph: Courtesy Airbnb
This spot is a good fit for anyone looking for the community of a hostel with a bit more privacy than your average Euro-backpacker bunk beds. The Animas303 complex (which calls itself an hotelito, or little hotel) should be comfortable for both the solo traveler or groups of two. The location is prime and the staff is attentive and helpful.
Photograph: Courtesy Airbnb
Two people can stay in this studio apartment, which is a very quick walk to the beach and about 25 minutes via cab to Old Havana. It's a nice spot for someone looking for a laid-back vacation. The apartment's garden area is a vibrant green space perfect for a morning coffee or an afternoon drink or, honestly, anything at all.
Can't make it to Cuba?
Find your own Cuban vacation in Miami.