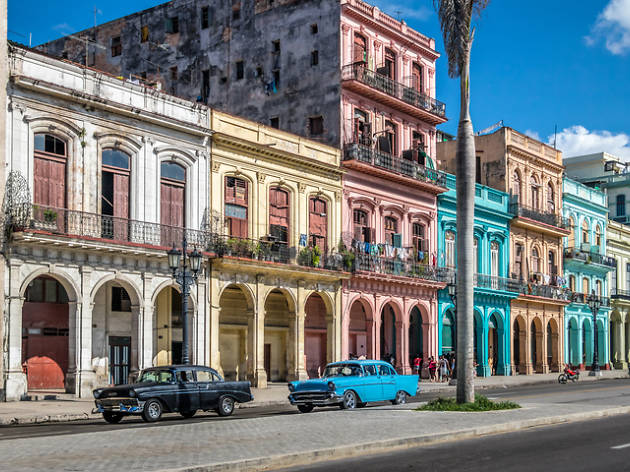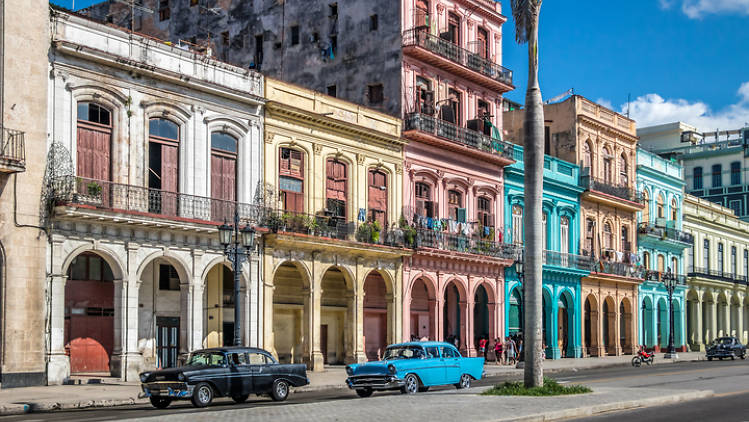 What to do in Old Havana, Havana's coolest neighborhood
Historic Old Havana holds some of the best restaurants, bars, and things to do in Havana. Here's our insider's guide
What's the deal with Old Havana?
Havana has always been a seducer. From the pirates who hovered at the mouth of her ample bay wanting to snatch the loot of Spain's New World colonies, to today's visitors who swoon at the sight of candy colored American cars and perked-up plazas, she's a magnet. And on her 500th birthday this year, she shows no sign of dimming attraction. Walking the streets of Spanish colonial, art deco, art nouveau and modern buildings is like stepping across the black and white squares of a checkerboard. One square is utterly gorgeous and filled with alfresco cafés. Around the corner, a ruin slumps, a pedicab swerves a tarmac chasm and corral of cats, wooden scaffolding pins up a city block, and fruit and veg sellers call out amid decades of debris. Old Havana's tight streets are hot, broken down, pot holed and bursting with life - the bars, restaurants, boutique stays and artisan shops of the communist government's new economic era have injected creativity and promise into this extraordinary ancient city.
RECOMMENDED: Full guide to the 50 coolest neighbourhoods in the world
Off the beaten track
In southern Old Havana's tumbledown streets, spray-painted murals, art galleries, and an emerging bar and restaurant scene in barrio San Isidro are reviving this once-famous haunt of brothels and pimps. Swing by Galería Taller Gorría for the low down; and check San Isidro Distrito de Arte on Facebook for music and art events.
Get cultured
500 years of Cuban art – from pop and avant-garde to works by the country's top contemporary artists – are found in the Museum of Fine Arts. Also seek out cutting-edge art at Factoría Habana, a gallery in a converted paper factory, and at the new Raúl Corrales Galería for Cuban Revolution imagery and the work of talented Cuban photographers.
Stay up late
Havana's Malecón, a seawall that ripples for several miles along the Atlantic coast of the city, is affectionately known as the 'gran sofa'. Grab a rum planchao (rum in a carton) – often cheaper than water – and head down to the seawall to hang with the locals who chat, flirt, sing, and fish long into the night as the moonlight flickers on the ocean swell.
Eat here
Ivan Chefs Justo serves fresh seafood risottos, stellar roast suckling pig and other hearty meat dishes with faultless service. This tiny restaurant, stuffed full of paintings, plants and furniture in an 18th-century home, is unmissable.
Nelson Rodríguez Tamayo gained barista experience in London before returning to Havana to open the city's coolest coffee bar, El Café. The pulled pork sandwiches and zesty juices are winners, too, at the unsigned café inside a tiled townhouse.
After 20 years in Cuba, cigar-smoking Paramjit Chhatwal opened Buena Vista Curry Club to honor his native cuisine. The curries and naan, all cooked and baked by a Delhi-born chef, bring flavor and authenticity to this Bollywood-meets-Buena-Vista-Social-Club Indian restaurant.
Fresh, fragrant seafood dishes and summer salads, as well as the best breakfast in northern Old Havana are found at cute corner café, Lo de Monik.
Drink here
In the emerging San Isidro neighbourhood, head to Jesús María 20 to sip perfectly executed daiquiris amid a vibrant, painted roof terrace. Cocktails are a cut above the food.
Havana's creatives and visitors in the know head to the alfresco rooftop bar El del Frente for killer passion fruit cocktails and generous piña coladas. Don't pitch up too late for a seat on the neon-lit terrace.
Cozy cocktail tavern Jíbaro mixes non-alcoholic drinks – the sprightly pink ale (blackberry and ginger ale) is a favourite. Combine with its pepped-up tapas, or boozy drinks, too.
El Dandy is stuffed with salvaged tables and contemporary photography on the walls. Turn into this cool, popular corner-of-a-plaza bar for its signature basil mojito.
How to get to Old Havana
Old Havana is 40 minutes from the airport, CUC $25 by taxi, and at the heart of the city. The old quarter is best navigated on foot or by pedicab.
What else is nearby?
Neighbouring districts are gritty residential Centro to the west; further west el Vedado brims with porticoed mansions, bars, galleries, restaurants and music haunts. East of Old Havana, across the bay, are castles and the golden-sand Eastern Beaches.
Discover more things to do in Cuba
From the old world architecture, must-try restaurants and cabaret shows of Havana to the pristine beaches and tobacco farms of the countryside, there are the sites you need to see in Cuba.
Best selling Time Out Offers