Heads up! We're working hard to be accurate – but these are unusual times, so please always check before heading out.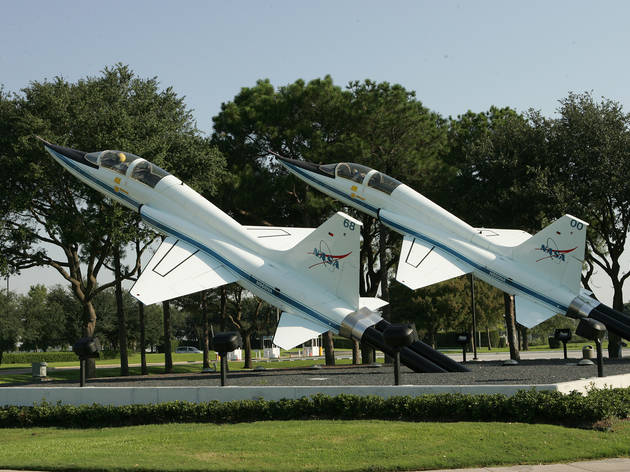 The 10 best museums in Houston
Spend the day exploring the best museums in Houston for world-class exhibits in science, art, space and history
When it comes to sheer cultural output, Houston packs a mighty punch. This dynamic, sprawling metropolis boasts some of the finest restaurants in the country, gorgeous architecture and a wonderful arts scene. So it's no surprise, then, that Houston's museums (of which there are many) are simply world-class things to do, not to be missed. The Museum District, a leafy, quiet neighborhood between the Texas Medical Center and Rice University, contains 18 museums in a 1.5-mile radius. Best of all, there's a museum to suit nearly everyone's interests here – whether you're fascinated by great art, Texas culture or even funeral history (yep!), or looking for fun things to do with kids in Houston, there's a little something for every type of museum-goer in this city.
Best museums in Houston
Photograph: Courtesy Yelp/John H.
What is it? This leading science and space learning institution is the official visitor center of NASA's Lyndon B. Johnson Space Center and Mission Control.
Why go? The Space Center in Houston offers a captivating look into the world's largest space program – attractions include interactive exhibits, astronaut artifacts, space simulators, the Northrop Grumman IMAX Theater and Martian Matrix, a kid's play area. Diehard space fans should consider doing a "Level 9 Tour", which provides an in-depth look at NASA and Mission Control.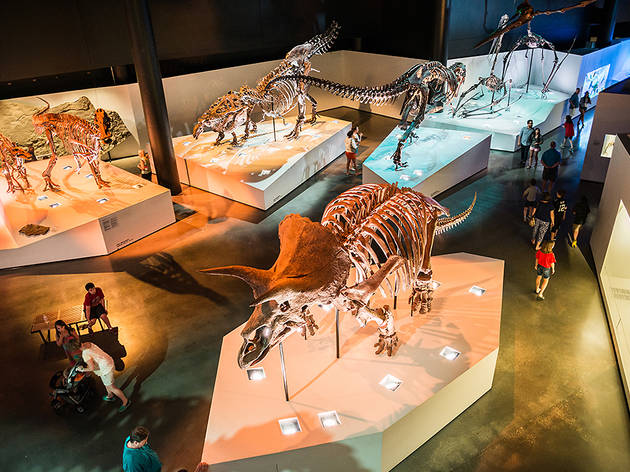 Photograph: Courtesy Houston CVB/Julie Soefer
2. Houston Museum of Natural Science
What is it? Located in Hermann Park, this high-quality museum complex boasts a dizzying array of interactive exhibits, ancient artifacts, fossils, bones and stuffed creatures that span the time of the dinosaurs up until the space age.
Why go? One of the most attended museums in the country, the Houston Museum of Natural Science is truly impressive. Wander through towering rows of dinosaur skeletons, peer at living specimens of rare insects, catch an IMAX movie and marvel at the Butterfly Garden, an incredible rainforest habitat that houses hundreds of colorful butterflies.
Photograph: Courtesy Yelp/B.G.
What is it? Founded by a French couple, John de Menil and Dominique Schlumberger de Menil, who moved to Houston during World War II, this award-winning museum contains an incredible permanent collection that consists of important works dating from the Paleolithic era to the present day.
Why go? The Menil Collection is one of the world's greatest private art collections. Situated on a quaint Montrose-area campus, the collection features Byzantine and medieval works, tribal art, the renowned Cy Twombly Gallery and the noteworthy Rothko Chapel. The Menil Collection is an absolute must-visit for art lovers, and arguably the coolest museum in Houston.
Photograph: Courtesy Yelp/Freddy S.
4. Holocaust Museum Houston
What is it? Located in the Museum District, this impactful museum documents the Holocaust through hundreds of permanent exhibits and artifacts, as well as rotating special exhibitions and 30-minute films which share the stories of survivors living in the Houston area.
Why go? Houston's Holocaust Museum is a poignant step back in time, and an immersive look at one of the darkest periods in our history. Through the exhibits, archival footage, photographs and the building's very architecture itself, the museum seeks to tell the stories of the six million victims of the Holocaust. Perhaps most importantly, the Holocaust Museum serves as a powerful warning to future generations of the dangers of marginalization, prejudice and apathy.
Photograph: Courtesy Yelp/Varenka R.
5. Contemporary Arts Museum Houston
What is it? A non-collecting institution founded in 1948, this world-class museum occupies the famous stainless-steel building in the heart of the Museum District.
Why go? The Contemporary Arts Museum showcases some of the best regional and national art of the last 40 years – this innovative space features a steady stream of reliably awesome exhibitions in a variety of media, from sculpture to digital media to performance art. Best of all, the Contemporary is totally free.
Photograph: Courtesy Yelp/Billy P.
6. San Jacinto Monument and Museum of History
What is it? Housed in the base of the San Jacinto Monument, the San Jacinto Museum of History honors those Texans who fought here in 1836, in the Battle of San Jacinto.
Why go? This one's for the history buffs: The San Jacinto Monument and Museum of History offers a rich look into Texas culture and tradition, through exhibits, art and artifacts that chronicle the 18-minute battle for independence that took place here. Plus, this is the world's tallest monument tower – the view from the top is stunning.
Photograph: Courtesy Yelp/Paul L.
7. National Museum of Funeral History
What is it? The largest collection of funeral relics in the country.
Why go? This is an educational experience unlike any other – the National Museum of Funeral History is chock-full of truly unique exhibits on caskets and coffins, hearses, celebrity funerals, mourning customs, worldly funeral traditions and the cultural heritage of the funeral service industry in the U.S. Though this may sound like a morbid activity to some, the National Museum of Funeral History is an insightful look at the science and history of death, and a true celebration of life itself.
Photograph: Courtesy Yelp/Gloria S.
What is it? A private museum of contemporary art that pays homage to Houston's alternative scene and the art car movement, in which folks create artistic masterpieces out of everyday vehicles.
Why go? The Art Car Museum displays a truly inventive and exciting mix of art cars, and many artists from all over the world show their work here. There are always special events and exhibitions happening, including an annual Art Car Parade; entrance to the Art Car Museum is free.
Photograph: Courtesy Yelp/Monty W.
9. Children's Museum of Houston
What is it? A playful, popular museum for kids up to 12 years old, conveniently situated in the Museum District.
Why go? Boasting an array of highly interactive and bilingual displays, the Children's Museum of Houston is a serious treat for kiddos. The museum even includes a sprawling child-sized city called Kidtropolis, complete with a city government, skyscrapers and even a banking system. For children under 3, TotSpot has plenty of structures and toys that babies and toddlers are bound to love.
Photograph: Courtesy Yelp/Na L.
10. The Museum of Fine Arts
What is it? The fifth largest museum in the country, and Texas's first (and biggest) art museum.
Why go? When it opened in the 1920's, the Museum of Fine Arts (MSFA) was only the third museum in the South, and today, it remains one of the country's most impressive art institutions and cultural hubs. Featuring over 50,000 pieces that span six continents, the MSFA offers a comprehensive look at some of the world's best art. Be sure to allow ample time for exploring both the inside and the outside – the Cullen Sculpture Garden is simply lovely.
Looking for more must-do's in Houston?
Looking to explore the history of space travel, kayak a scenic waterway, rummage through tunnels and finish it off with one of many Broadway shows on tour playing in one of the city's great theaters? No sweat. Here are the best things to do in Houston for all kinds of visitors, locals and general adventure-seekers (including some top notch things to do with kids).