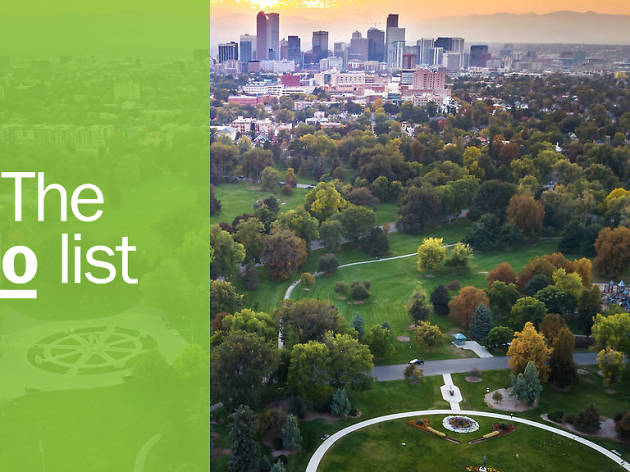 The 20 best things to do in Houston
One of the best things to do in Houston takes you underground: 7.5 miles of tunnels twist their way beneath the city.
NOTE: Given current regional and national guidelines, certain businesses mentioned in this article are operating on different schedules and limited capacities. We've indicated in the text which of our favorite restaurants, bars and museums are temporarily closed right now, but it's always best to check ahead since venues may be operating a limited capacity.
The best things to do in Houston range in scope and genre: local museums will cater to the artsy crowd while lovers of Asian cuisine will delight in the city's restaurant scene (the Houston brunch game is pretty strong).
The country's fourth largest city by population is also a haven for space aficionados (the Space Center is here!) and a home to a super-cool outdoor theater, recognized all across the nation.
One more thing to call out: the Underground Tunnel Tour is one of the most exciting things to do in town. There are about 7.5 miles of tunnels twisting their way beneath the city's surface—and exploring them all is just as exciting as it sounds. Remember: everything is bigger in Texas.
Done something on this list and loved it? Share it with the hashtag #TimeOutDoList and tag @TimeOutEverywhere.
Find out more about how Time Out selects the very best things to do all over the world.
Best things to do in Houston
What is it? The first word spoken on the moon was "Houston," so it's fitting that the city is home to one of the finest interstellar museums on planet Earth.
Why go? NASA's Space Center Houston boasts a mammoth amount of permanent displays and attractions, including a flown SpaceX Falcon 9 rocket that is over 156 feet long. Plus: an extensive artifact collection, live shows and the NASA Tram Tour, which will take you behind the scenes at Johnson Space Center.
What is it? Reaching northwest from Galveston Bay, Buffalo Bayou serves as ten miles of urban oasis of hundreds of acres of parkland and running trails. Founded in 1986, the partnership has raised millions of dollars for waterfront redevelopment and spearheaded various park protection projects.
Why go? One of the finest ways to enjoy the bayou's beauty is from the water itself, starting downtown at Allen's Landing and working your way west. Rent a kayak from the Buffalo Bayou Partnership or join one of the company's boat tours, including history tours and the popular twilight tours.
What is it? Visitors can discover everything from the mysterious traditions surrounding the burial of a Pope to a recreation of Abraham Lincoln's state funeral at this awesome museum.
Why go? Alright, taking a trip to this museum may not be the most upbeat day out, but it's certainly engaging. The real must-see here is arguably the enormous 1916 Packard graveyard bus, created to "eliminate funeral processions." It could carry a coffin, pallbearers and 20 mourners, but was hastily retired after the sheer weight in the back caused it to tip over on a San Francisco hill, sending bodies (both living and dead) bouncing down the street.
What is it? As one of the largest museums in the United States, expect exhibitions and installations galore.
Why go? Check out everything from Renaissance art to rare African sculptures with a cocktail in hand, before enjoying the resident DJ and grabbing a bite to eat from one of the curated food trucks usually parked outside.
Photograph: Courtesy Visit Houston
5. Houston From Below: Underground Tunnel Tour
What is it? There's a lot of space-based info in Houston but trust us, things are just as interesting from below. With 7.5 miles of tunnels twisting beneath the city's surface, there's subterranean expanse to explore—but there's one excursion that's really worth taking.
Why go? Urban Adventures takes explorers below the sidewalk, so that they can experience the tunnels that connect a whopping 95 city blocks. Discover the history of the tunnels, see the only remaining portion of a 1933 hotel and even snag a sweet treat from a local bakery. Plus, you get to escape the notoriously sticky Houston humidity for a few hours.
What is it? The oldest haunt in Houston, La Carafe is an intimate candlelit tavern that has been serving locals for more than 125 years.
Why go? Enjoy a string of immortal jukebox tunes (think Django Reinhart, Edith Piaf and Hank Williams) while sipping wine or beer in this venue, which has been listed on the National Register for Historic Places. Keep an eye out for the resident ghost: an old bartender called "Carl" who's allegedly still hanging around, possibly waiting for one final tip (he doesn't accept credit cards either).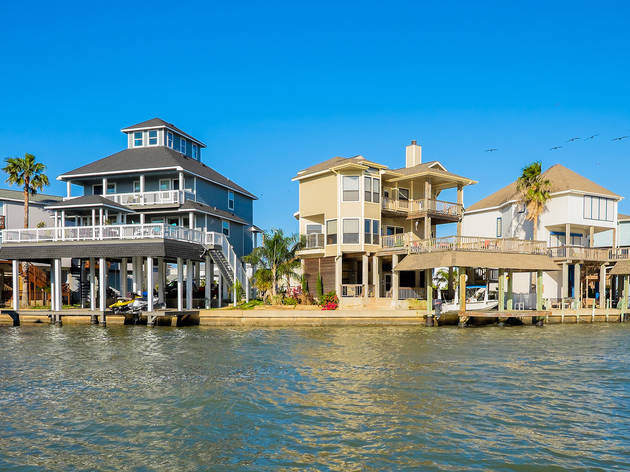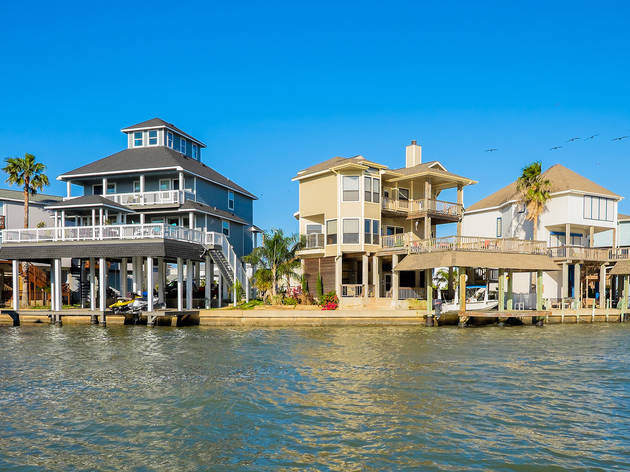 Photograph: Shutterstock
What is it? The historic beach town of Galveston is less than an hour's drive from Houston and is considered by many to be an extension of the city itself.
Why go? There's plenty to do here too, from 32 miles of beaches (chilled-out Jamaica Beach is the locals' favorite) to an evocative historic district, full of Victorian architecture and old seafaring inns. Check out the chateau-like Bishop's Palace before pedaling a beach cruiser bike along the seawall at sunset. Had enough of volleyball and sun-bathing? Spend some time fishing and exploring the historic ships at Seawolf Park, including the U.S.S. Cavalla and U.S.S. Stewart.
What is it? Legend has it that the fajita was invented in Houston—and the restaurant which had the bright idea is still serving the treat today.
Why go? Original Ninfa's has been around so long that its slogan is "the best Mexican food in Texas since Texas was in Mexico." It's not all hot air either: The food here is incredible, particularly when ordered with the famous "off the menu" toppings. They also serve some of the finest margaritas in town!
What is it? The Houston Museum of Natural Science boasts a number of world-class exhibits, including fossils in action.
Why go? Most major palaeontology exhibits feature dinosaur skeletons lined up one after the other. This museum, however, tried something entirely different: recreating actual encounters between dinosaurs as they might have occurred millions of years ago. The results are fantastic: skeletal dinosaurs eating, chasing and fighting. The breathtaking jewelry vault and indoor rainforest are also not to be missed.
What is it? Towering over the Houston Ship Channel, the San Jacinto Monument is the tallest war memorial in the nation, standing 15 feet higher than the Washington Monument.
Why go? The 570-foot obelisk—topped by a massive 220-ton Lone Star of Texas—pays tribute to those who fought for Texas' independence from Mexico in 1836. The outstanding San Jacinto Museum at its base contains a number of fascinating artifacts from the Texas Revolution and subsequent Republic, and is the access point for the all-important elevator to the summit. The San Jacinto Museum also houses the Albert and Ethel Herzstein library where you'll discover rare books and delicate manuscripts.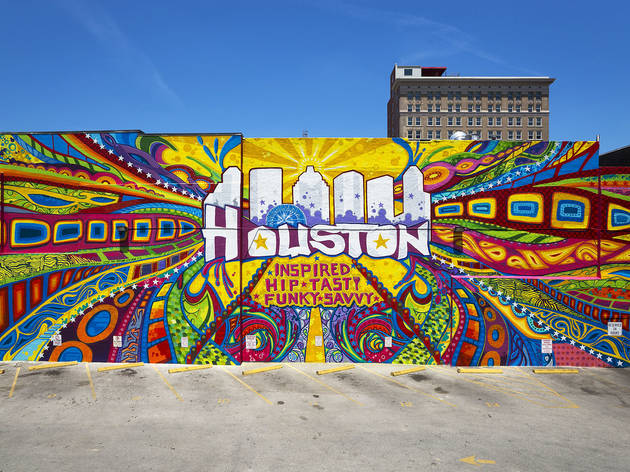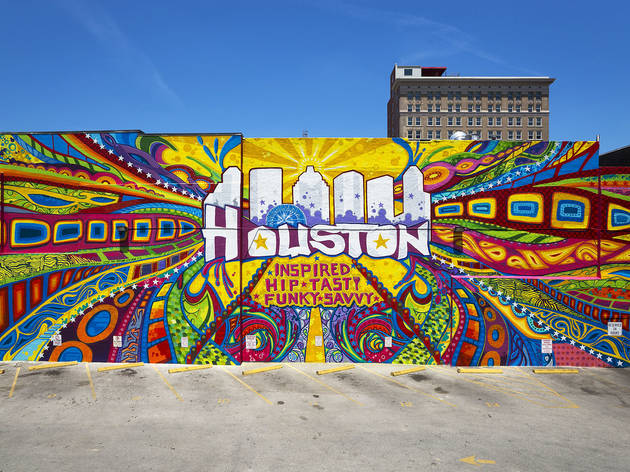 Photograph: Courtesy Visit Houston/Andrew Broadfoot
11. The "Houston is Inspired" mural
What is it? "Inspired, hip, tasty, funky, savvy" shouts the famous mural at 520 Travis Street, which has become something of a photographic flag-bearer for the city.
Why go? This wonderfully vibrant, colorful image isn't just Instagram bait: It aims to boost local pride by drawing attention to the city's more celebrated characteristics, right here in the heart of the Market Square District. Its message is clear: Houston, we don't have a problem.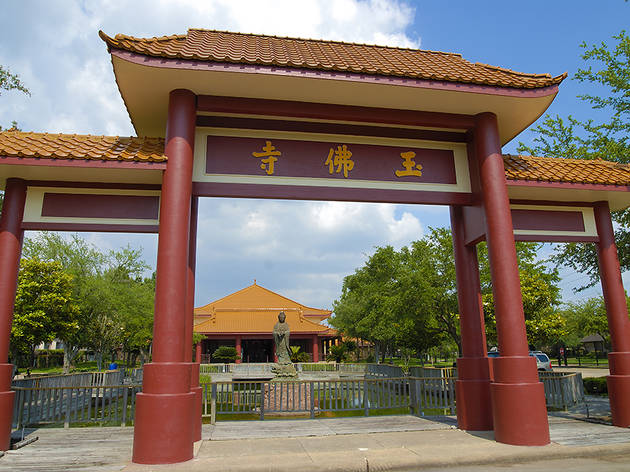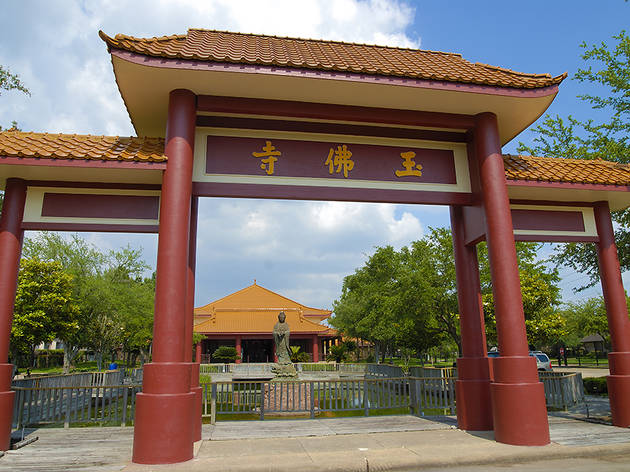 Photograph: Courtesy Houston CVB
What is it? Houston boasts the second largest Chinese population in the U.S. (after Los Angeles), so it's only fitting to visit Chinatown when in town.
Why go? Head to the thriving district in the city's southwest for an epicurean adventure. First of all, savor the exotic (and tempting) tastes, sights and smells of the bustling Hong Kong Food Market. After that, nibble on dim sum at Ocean Palace or a steaming bowl of vermicelli soup at Tan Tan. Finish your afternoon with a peaceful stroll around Jade Buddha Temple's serene lotus ponds, statues and gardens. Heaven.
Photograph: Courtesy Houston CVB
What is it? Formerly the Williams Waterwall, the Gerald D. Hines Waterwall is one of Houston's most popular spots to relax—and the city's most photographed site. It became fully operational in 1985.
Why go? A dramatic 64-foot semicircular fountain, it recycles a ferocious 11,000 gallons of water per minute in what has become liquid Instagram gold. Once you've taken your mandatory snap, grab some lunch from the neighboring Galleria before returning to the oak glades in the Waterwall's three-acre park for picture-perfect picnicking.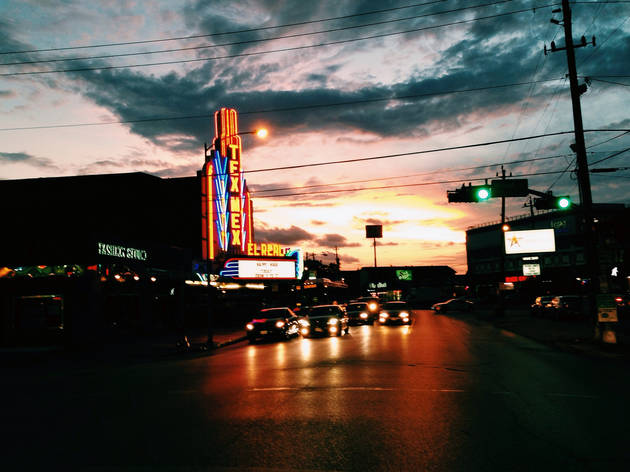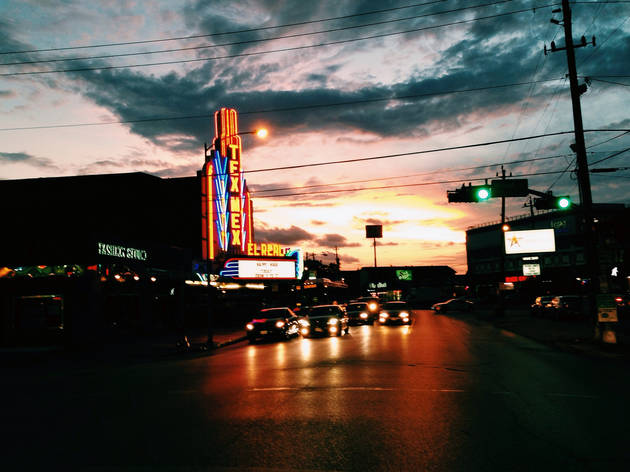 Photograph: Courtesy CC/Flickr/Urban Houstonian
What is it? From neon-lit tattoo parlors to tree-covered bungalows and quaint coffee shops, this four-square-mile neighborhood is a pocket of eccentricity like no other this side of Austin.
Why go? Spend an afternoon perusing its experimental art galleries or find a one-of-a-kind treasure at one of the offbeat boutiques along Westheimer Curve.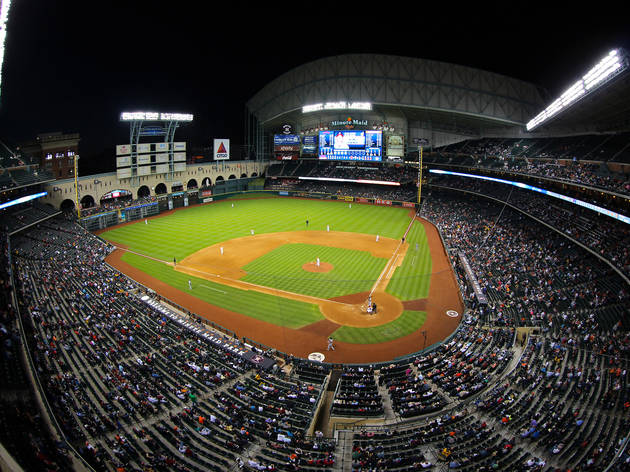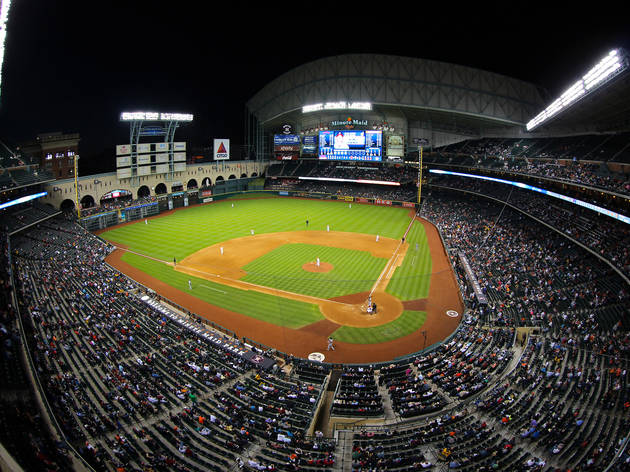 Photograph: Courtesy CC/Flickr/Roy Luck
What is it? The home of the Houston Astros can keep as many as 40,000 fans cool through all nine innings, thanks to its 242-foot-high retractable roof and effective air conditioning.
Why go? If the promise of relief from the Texas heat isn't enough to entice you, Minute Maid Park's food might. Chow down on exclusive dishes like the tortilla-wrapped hot dog topped with hot Cheetos, queso, sour cream and pico from Torchy's Tacos. Besides, even if you aren't a baseball fan, the atmosphere alone is worth the ticket price. You'll be rooting for the home team before you know it.
NOTE: This venue is currently closed
What is it? This octagonal building in the Museum District is an oasis of peace and calm, where religion, art and architecture intermingle.
Why go? The 'Chapel' (a misnomer given the venue is without denomination) is decorated with 14 mural canvasses painted by celebrated Russian-American artist Mark Rothko shortly before his death in 1970. Rothko considered them to be his most important works and their power in this tranquil space is undeniable.
NOTE: This venue is currently closed
What is it? Retired upholsterer John Milkovisch and his friends guzzled some 50,000 beers to give his small home in the Rice Military neighborhood its bizarre aluminum armor.
Why go? A scenic drive from downtown, Beer Can House is one of H-Town's quirkiest and most popular sites—and perhaps one of the world's greatest examples of recycling. Shell out $5 to get inside the house, or just admire the beloved folk art creation from the sidewalk.
NOTE: This venue is currently closed
What is it? One of Houston's brightest cultural gems, Miller Outdoor Theatre in Hermann Park has been staging free outdoor performances since 1923. With eight months of free arts programming every year, the sloping lawn in front of the stage gets packed with locals toting blankets and picnics.
Why go? Because where else can you can enjoy everything from drama to the symphony, free of charge? Just check the event calendar before your visit and to book tickets if necessary. Besides, it's a great way to lay back and enjoy some toasty Texan weather without being accused of laziness.
NOTE: This venue is currently closed
What is it? One of the most significant art assemblages of the 20th century, the Menil Collection is housed in a magnificent purpose-built gallery designed by none other than Renzo Piano.
Why go? Displayed in spacious, naturally lit white-walled sections, the superb works are the collection of John and Dominique de Menil. The nearly 15,000 pieces range from Paleolithic carvings to Surrealist paintings, and many prominent artists—including Picasso and Rene Magritte—have entire rooms to themselves. With free admission and parking, it would be a crime not to spend time here.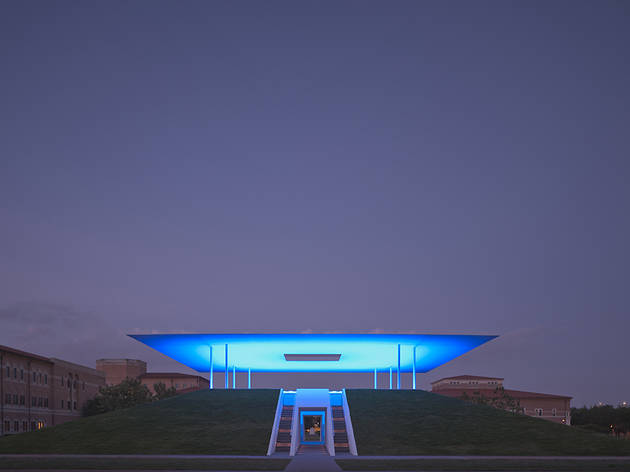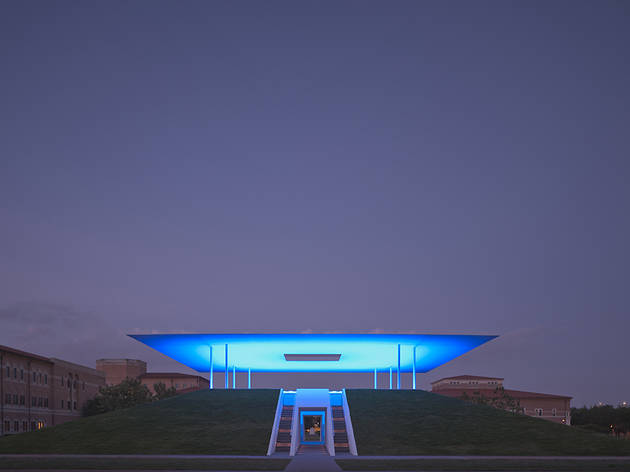 Photograph: Courtesy Houston CVB/Paul Hester
20. "Twilight Epiphany" Skyspace
NOTE: This venue is currently closed
What is it? Since Rice University unveiled James Turrell's "Twilight Epiphany" Skyspace in June 2012, the glass pyramid has become a cult favorite among Houstonians.
Why go? Locals come out in droves to enjoy the spectacular natural light show, particularly at sunset. The ingenious structure uses LED lights in sequence with the rising and setting of the sun to create a dazzling display, projected through a square aperture at the apex of the pyramid.
Find more things to do in Houston
Planning a trip for the whole family?
A sprawling, high-cultured metropolis, Houston is a fabulous place to be a kid. There's a vast array of family-friendly things to do, including activities, parks, museums, playgrounds, events and attractions in and around the Houston area—even family-friendly dining options from brunch spots to five-star restaurants.