11 best things to do in Ibiza
From sunset drumming ceremonies to perfect beaches and even better nights out, here are some fun things to do in Ibiza
Once upon a time, Ibiza was the most notorious party island in Spain, if not the world. Nowadays, as many people come here to enjoy the world-class beaches, beautiful rugged landscape, laidback way of life and fun things to do in Ibizia as they do for the hyped-up superclubs and bougie beach bars.
Whether you want to hide on a beach and only come up from the waves for fresh seafood, enjoy swishy sundowners at sunset, feast on five-star flavours or drop moves on the dance floor until morning, we're here to help you out with our awesome list.
Done something on this list and loved it? Share it with the hashtag #TimeOutDoList and tag @TimeOutEverywhere.
Find out more about how Time Out selects the very best things to do all over the world.
Best things to do in Ibiza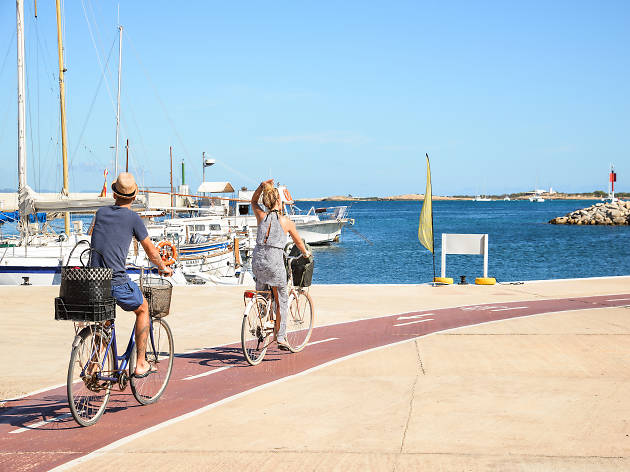 Photograph: Shutterstock
What is it? Like Ibiza's more glamorous sister, it's an island just off the south of the island.
Why go? If you've done Ibiza a few times, or if you're there for a more than a few days, it's worth jumping on a ferry and getting over to Formentera for a day or two. The smallest of the Balearic islands, just 20-minutes away from Ibiza on a fast ferry, you can go expecting more of the same world-class beaches, only with a much more laid-back pace of life. If you've partied on Ibiza, go here to chill.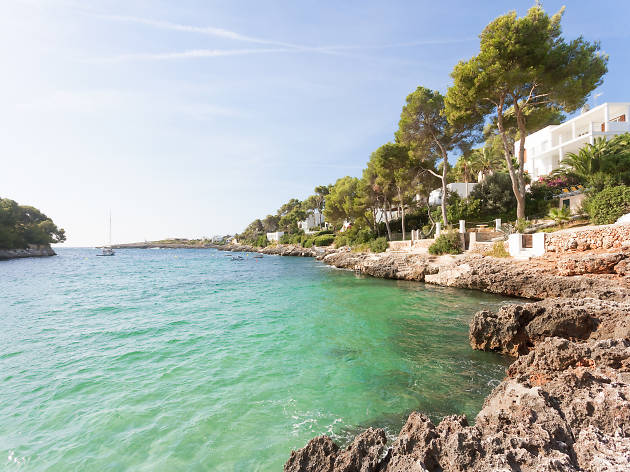 Photograph: Cala D'En Serra
2. The northeastern beaches
What is it? A string of blissful beaches, away from the crowds.
Why go? Ibiza is small. Nowhere is more than an hour away, but if you are looking to get in the car and drive to the quietest beaches you can find, head to the northeast of the island where you'll find a string of sleepy beaches, with clear waters, that you can spend a leisurely afternoon hopping between. Start at Playa Cala Xarraca and bathe on its stone pier, continue up to rocky Playa de La Cueva De Portinatx, and spend the rest of the afternoon down on the sandy shores of Cala D'En Serra.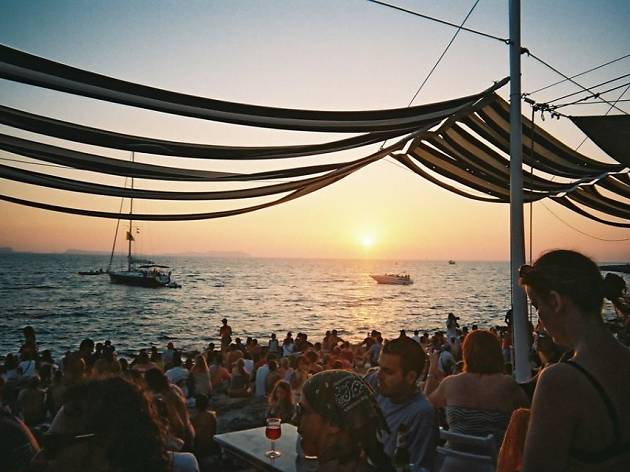 Photograph: Cafe del Mar
What is it? A sunset beach bar that's been serving up sundowners since 1980.
Why go? An Ibiza institution, this is where you want to be to watch the sunset. Set off of the main strip on Sant Antoni, it's a chilled out spot with good drinks, blissful beats and some of the best views around. Go early doors to bag a seat with a view and any chance of getting near the bar.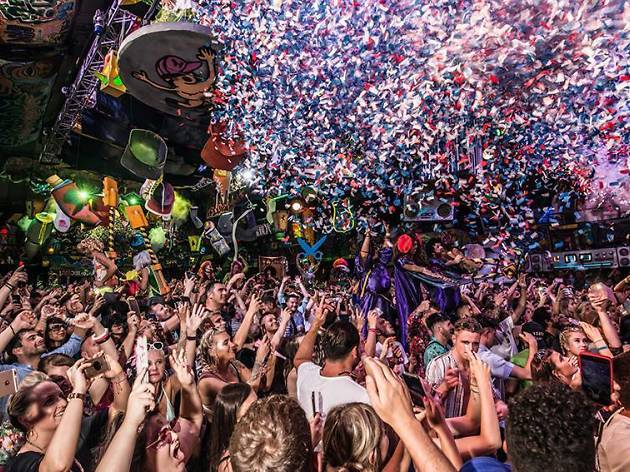 Photograph: David Pareja Riart
What is it? The club night of all club nights, with theatrics aplenty.
Why go? For a night with a difference, it's all about Elrow: the legendary Sunday night set up at Amnesia, which is probably, nope, definitely, the craziest party on the planet. There's glitter, there's trapeze, there are costumes, confetti, and inflatables. Add to that world-class DJs on the decks and you'll start to understand why it's a sell-out sensation every time it happens. GO!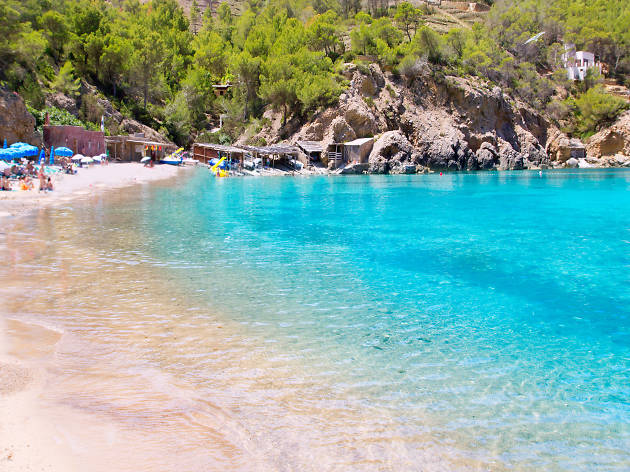 Photograph: Berrinas Beach
What is it? A hippie ceremony that takes places every Sunday on Berrinas Beach at sunset.
Why go? There's no place you want to be on a Sunday night other than Berrinas beach. A large, sandy bay on the north of the island, with beautiful golden light, locals and out of towners alike come here well before the sun sets to watch, dance and join in with the lively drumming ritual that takes place every week as the sun sets on the horizon. Go forth and join the chant!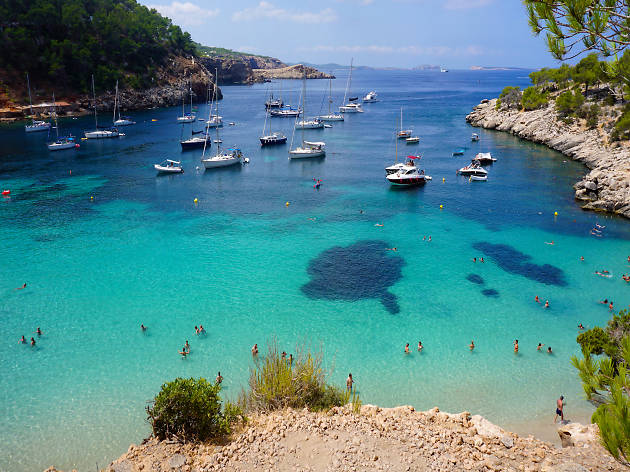 Photograph: Cala Saladeta
What is it? A rocky beach with the clearest waters, not far from Sant Antoni.
Why go? Like with most of the best beaches on Ibiza, you're going to need a car to get to this one. A quick 10-minute drive out of Sant Antoni though, and you're here. Follow Google Maps and it will lead you to a shady parking area in the forest, where you can leave the car and hike down the steep steps to the waterfront. Here, Cala Salada is pretty, but it's clambering over the rocks (wear trainers!) to the quieter, even more beautiful Cala Saladeta where you really want to be.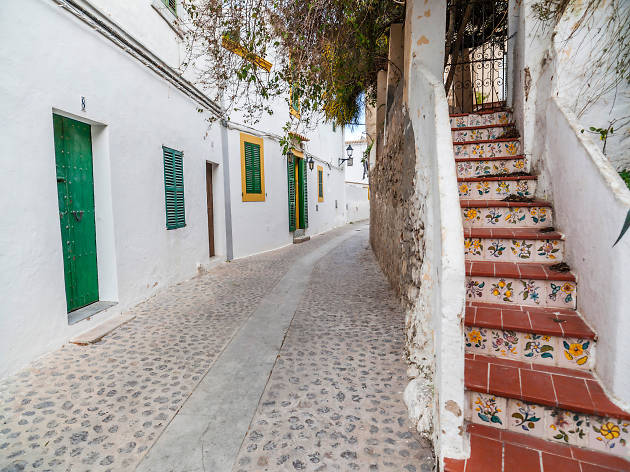 Photograph: Dalt Vila
What is it? The historical centre of the island, in all its whitewashed glory.
Why go? You're missing a trick if you come to Ibiza and don't spend at least a morning (and ideally, a sun-kissed evening too) getting lost in the cobbled web of streets that make up Ibiza Old Town. Wander up through the gate to reach Dalt Vila, with its glistening whitewashed buildings, colourful flora and towering cacti, all overlooking the coastline and across the rest of the city. It's picture-perfect so don't go without your camera.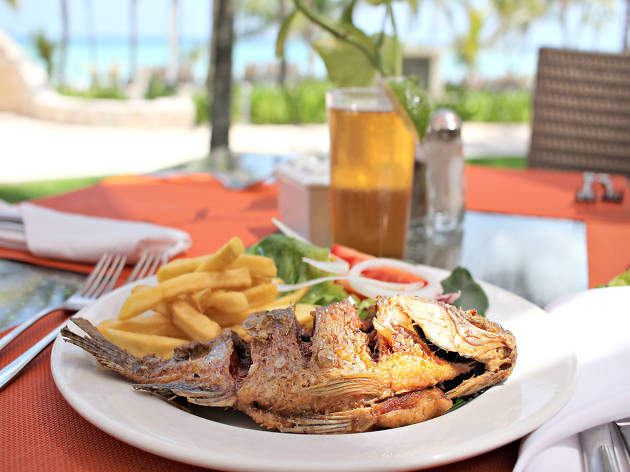 Photograph: Fish Shack
What is it? A remote seafood restaurant at the very end of Talamanca Beach.
Why go? You'd be hard pushed to find fresher seafood in Ibiza. There's no menu at Fish Shack. Not even a chalkboard with daily specials. It's ultimately a cluster of parasols and a few plastic chairs and tables, and once you've taken your seat, the waiters will communicate the different fish they've caught that day, and everything will be served the same way with potatoes, salad, and a generous dose of olive oil. Delicious and affordable – don't miss it.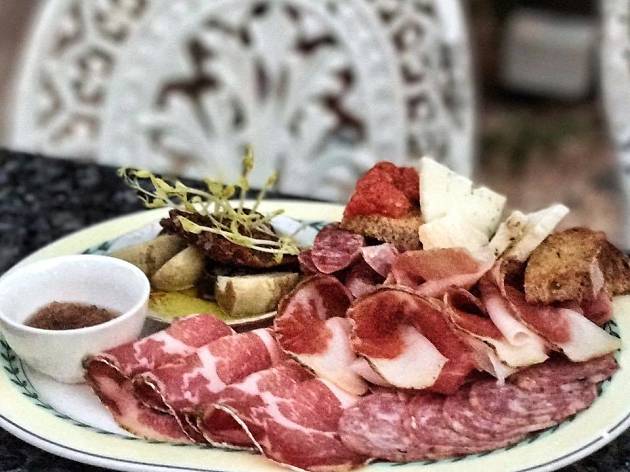 Photograph: Paloma
What is it? A relaxed and wholesome garden restaurant in the middle of the island.
Why go? If you're looking for a break from the tapas in the Old Town or the salty fresh seafood from the beach spots, head to Paloma for something a bit different and very delicious. A not-so-secret spot these days, Paloma has been doing its thing since 2004, serving up wholesome, homemade Mediterranean food using colourful local produce. In the evening, eat out under the stars, and don't be surprised if you're table-neighbours with a holidaying celeb or two.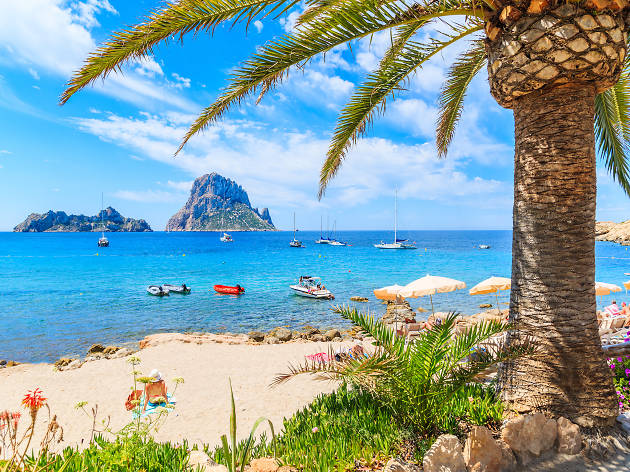 Photograph: Cala D'Hort
What is it? A sandy beach overlooking mystical Es Vedra.
Why go? Word is, if you make a wish while looking out to Es Vedra, it comes true. So wish wisely. Shrouded in myth and legend, Es Vedra is an uninhabited limestone rock that stands almost 400m tall in the ocean, off of Cala D'Hort bay. Once you've made your wish, get comfy and watch the epic sunset — one of the most beautiful on the island — as it shadows Es Vedra on its way down.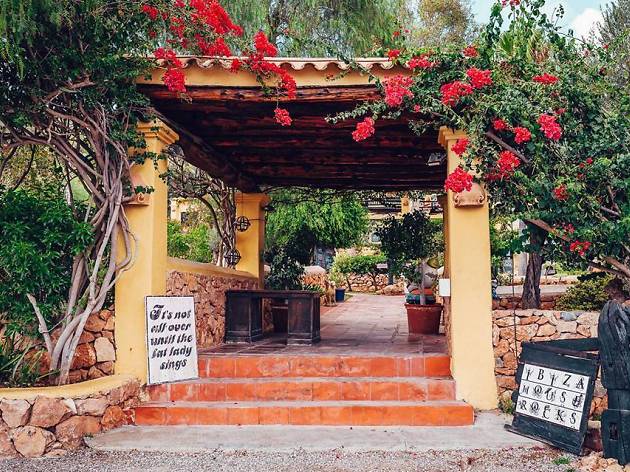 Photograph: Luke Dyson
What is it? The home of hedonism: a luxury hotel with bars, a restaurant, a pool, and... a reputation.
Why go? Another Ibiza institution, people have been coming away from Pikes with stories since the early '80s. The luxury hotel, set in a fifteenth-century stone mansion, was where Wham!'s inimitable 'Club Tropicana' video was filmed, and where Freddie Mercury's held many a legendary bash. Today, it's just as notorious as ever. Now owned by Ibiza Rocks, you can stay in one of the 29 rooms, or party by the pool at one of its infamous parties. They say what happens by the pool in Pikes stays by the pool in Pikes.