The 15 best beaches in Spain
From the Mediterranean to the Atlantic, these idyllic spots make up some of the best beaches in Spain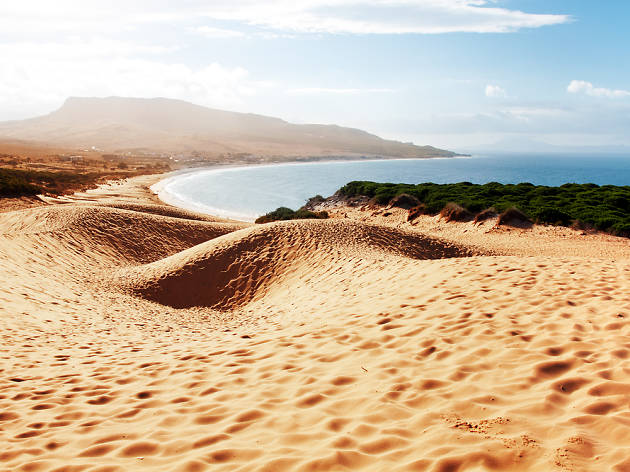 The incredible turquoise waters of the Balearic Islands, the Catalan and Valencian coasts, the green landscapes of the beaches in the north, desert enclaves, others that are rocky and hidden: these are just some of the magical elements that make up the best beaches in Spain. These locations are a national treasure, and everyone has their favourite – that special seaside spot that's always calling us back. The editors at Time Out Spain have chosen 15 beaches from around the country that you have to visit at least once in your lifetime.

RECOMMENDED: Full guide to the best things to do in Spain
Best beaches in Spain
1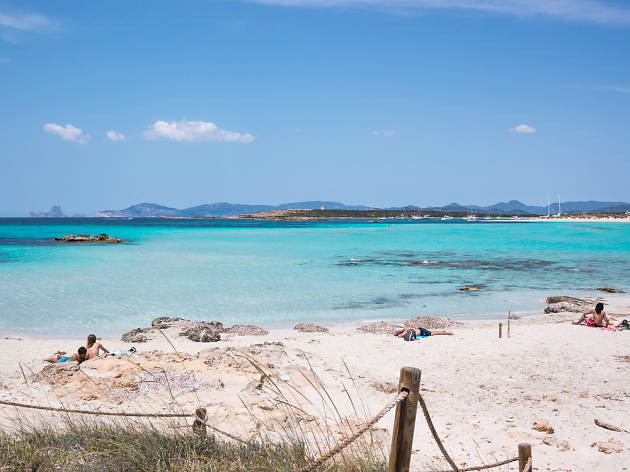 Where: Formentera
The small Balearic island of Formentera is where you'll find this most idyllic of beaches. Its 450 metres of beautiful white sands extend north toward the island of Espalmador, where some visitors dare to swim at low tide (we don't advise it!). Ses Illetes gives you two beaches in one: on one side you have wind and waves, while the other provides a lovely, tranquil sea. Enjoy the silence (or the sound of the wind and waves) and, if you want, strip off – nudism is permitted. You can get to Formentera only by ferry from Ibiza or Denia, which means that, unlike most stunning beaches, it doesn't get overcrowded, even in high season. After disembarking, your best bet for reaching Ses Illetes is by bicycle, which you can rent from the same port where you arrive.
2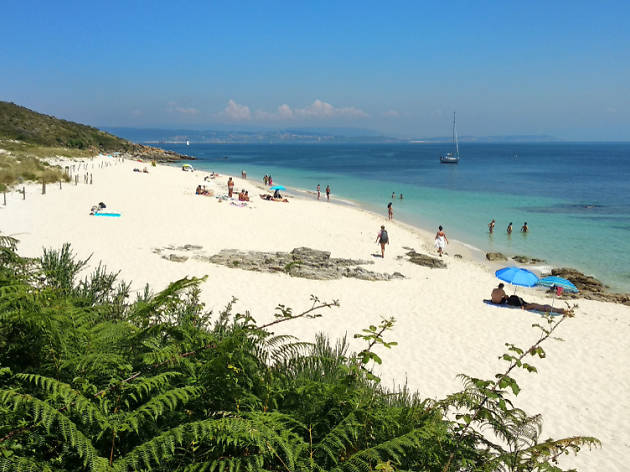 Where: Galicia
The Ons Archipelago boasts five practically unspoilt beaches, and the biggest one among them is Melide, on the Isla de Ons. This nudist beach provides white sands, still crystal-clear waters, and impressive views of the nearby Pontevedra estuary. These incredible gifts from nature do come with a small price, however, as the waters of the Atlantic can be gasp-inducingly chilly. It's also not the easiest place to get to, though in summer you'll find boats that ship out fairly frequently from Cangas or Sanxenxo headed for Melide.
3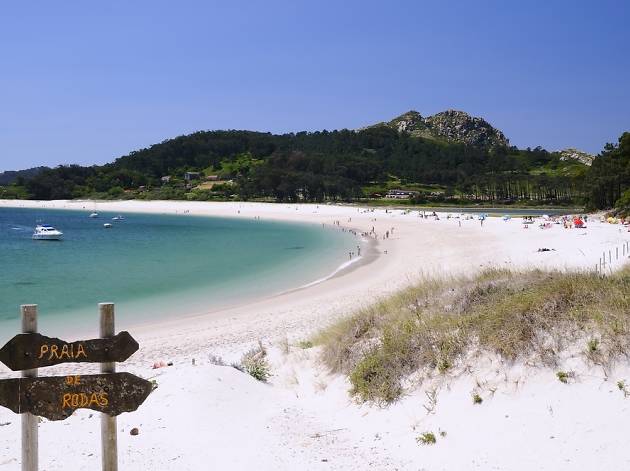 Where: Galicia
When the Romans discovered the Islas Cíes, they christened them the Insulare Deorum, or the Islands of the Gods. They weren't wrong. Even nowadays, this archipelago is still in touch with its wild side. The nine beaches you'll find here are all blessed with fine white sand and endless coves that all merit exploration. Among them is Rodas, which 'The Guardian' chose as the best beach in the world in 2007. If you want to stay overnight, you'll be camping, as it's the best way to preserve this gorgeous environment. One downside to be aware of when it comes to the Islas Cíes is that they fill up quickly during peak season.
4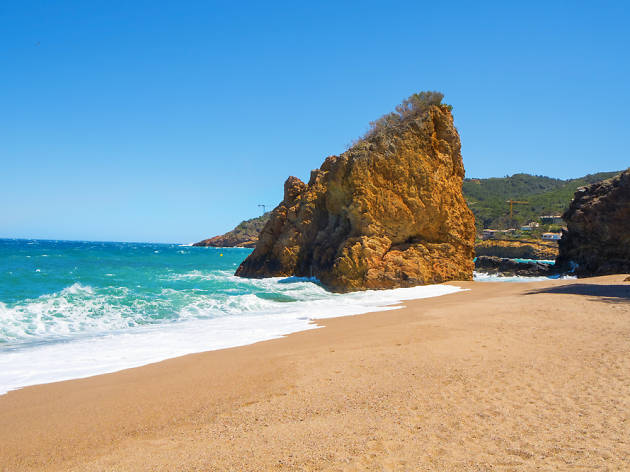 Photo: nito
Where: Begur, Catalonia
Illa Roja means 'Red Island', and once you see it for yourself, you'll know how it got its name. This is not only one of the few nudist beaches in this area, but it's also one of the quietest. There are no beach bars (called 'chiringuitos') or any services, so if you don't know about it, you'll likely have a hard time finding it. The location is fantastic: it's 150 metres of sand that's grainy enough that it doesn't burrow itself into every crevice of your body, the water is glassy and calm, and if you head toward the end of the stretch of beach, with the water to your right, you'll find plenty of shady areas. Enormous rock walls crowned with pine trees surround the beach and make you feel closer to nature. Getting there is easy: you can walk from Begur along the path or park your car in the blue zone near the descent that leads to Racó beach.
5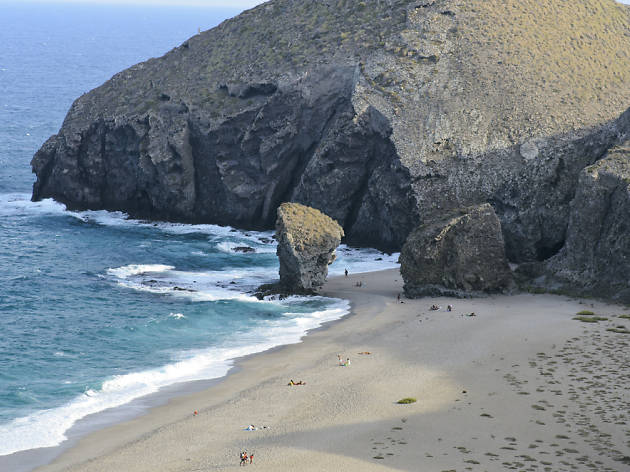 Where: Cabo de Gata, Almeria
You don't have to travel all the way to the Caribbean to take a dip in pristine waters from a beach with magnificent white sand. That may sound like a cliché, but it's true. All you have to do is go down to the Cabo de Gata-Níjar natural park and find a spot on Los Muertos beach, one of the most vaunted coves in Carboneras. Despite the rocky and somewhat dry descent leading to the beach, your prize is well deserved: Los Muertos has long been considered one of the best beaches in Spain, and indeed in all of Europe. If you're a fan of letting it all hang out, note that the left side of this beach is where nudism is allowed. There are no beach bars, so it's best to bring a cooler full of food and ice-cold drinks.
6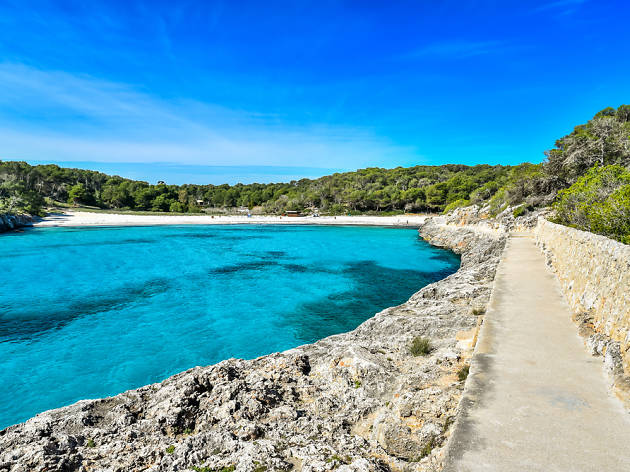 Where: Majorca
The Santanyí coast, in the southeast of Majorca, is one of the loveliest and least crowded on the island thanks mainly to the Mondragó National Park. Since 1992, great efforts by the park services have been made to preserve this space covered in dunes and Mediterranean vegetation from the destructive tendencies of overtourism. Practice your language skills with a copy of 'Poemas de Mondragó', by Josep Maria Llompart, and let yourself be caressed by the poetry and surroundings until you doze off dreaming of making love on S'Amarador beach. Your destination is easily accessible by car as there are two parking areas nearby.
Discover the best things to do in Majorca
7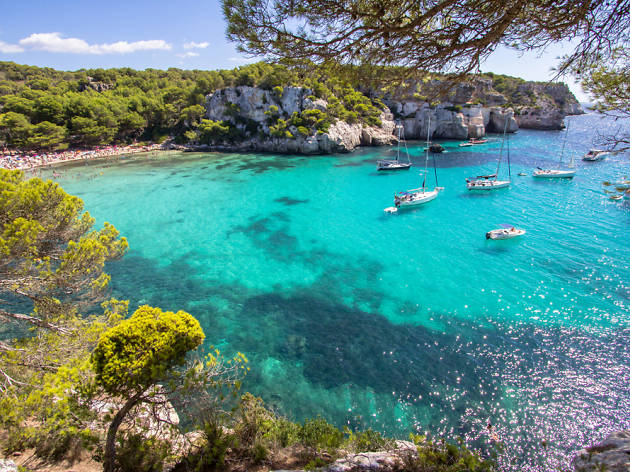 Where: Menorca
Very close to a pine forest and set deep between the rocks, you'll find this wonderful beach that has just one problem: it's so well-known that during the summer months you'll hardly find any space to breathe, let alone spread out your blanket. If you want to spend time somewhere a bit more relaxing, your best bet is to take the Camí de Cavalls, an ancient pathway that encircles the whole island, to Macarelleta, a nudist beach that gets fewer visitors than its bigger sibling. Swim in the clear waters of this corner of the Mediterranean and get lost in your thoughts. Simply put, life is lived at a slower pace here.
8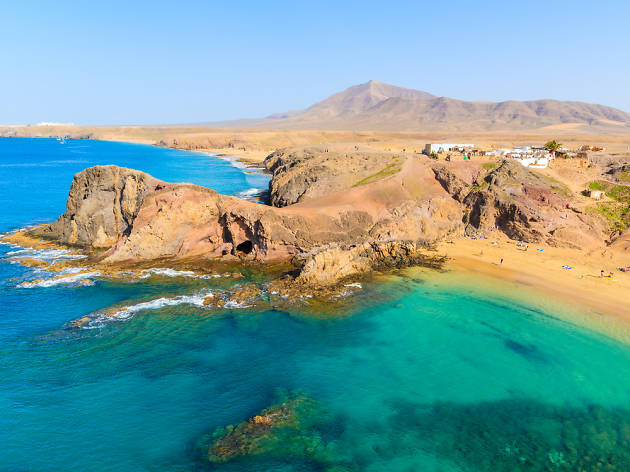 Where: Lanzarote
Papagayo is quite simply one of the best beaches on this particular Canary Island. It's far enough from civilisation that it doesn't get too populated, and public transport won't bring in extra beachgoers. But it's close enough that getting there doesn't feel like an impossible odyssey. Its beauty, beyond the sky-blue water that contrasts wonderfully with the golden sand and the blackness of the Timanfaya National Park in the distance, is found in a cluster of incredible coves that make up the two-kilometre stretch of beach. You'll have to decide which of the five beaches to visit once you're there, but when in doubt, start with the eponymous Papagayo: it's one of the few with a chiringuito, where you can have a drink and watch the sun set. And that's never a bad idea.
Discover the best things to do in Lanzarote
9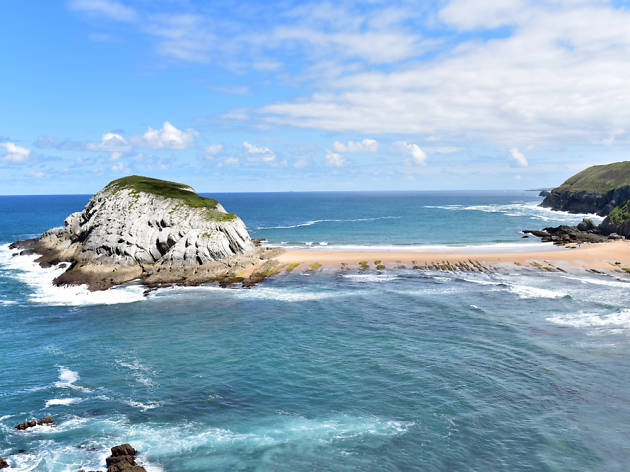 Where: Cantabria
When the tide is low, Playa de Covachos connects with the island it's named after and that's made it so special by regaling this beach with a limestone jewel, white sand and translucent water. Located near Santander, this tiny beach is only about 50 meters long and fairly isolated, making it a favourite for nudists. You can get there by car, but be aware that the stairs leading you down to the beach aren't friendly to those with reduced mobility. Also, don't expect any beach bars or places to rent a lounge chair. Playa de Covachos is a lovely gem, but be careful out there: it can get quite windy, which can make swimming dangerous at times.
10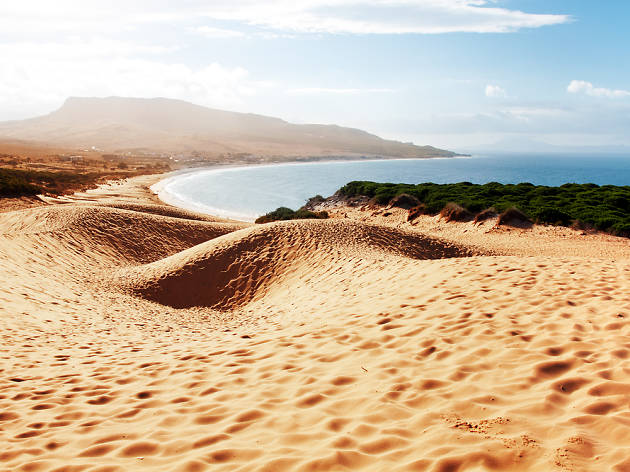 Where: Cádiz
Playa de Bolonia is one of the last remaining unexplored beaches in Spain. That in itself is enough to draw sun worshippers to this corner of the Cádiz coast. But, wait, there's more. It's often quite windy here, but not to worry, as the wind is far from being a nuisance; rather, what it's done is helped to create an impressive dune that rises into the west. And here's a bonus for sightseers: beyond the beach, but still in the same exceptional enclave, you can explore the ruins of a Roman village called Baelo Claudia, including its streets and temples, and what remains of a theatre that long ago sat 2,000 spectators. Even better, it's all free to visit!
11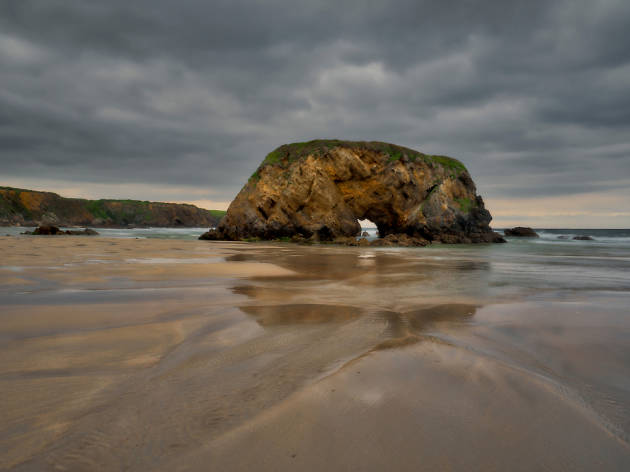 Where: Asturias
Playa de Peñarronda can get very crowded during summer weekends since it's so easy to get to and has plenty of amenities (beach parking, a small restaurant, a picnic area, a surf school...), but the rest of the year you're greeted with tranquillity. The beach is nestled between two cliffs and protected by dunes and the Pedra Castello, a rock formation you can reach when the tide is low – all of which prove it's worthy of having been declared a National Monument more than 15 years ago.
12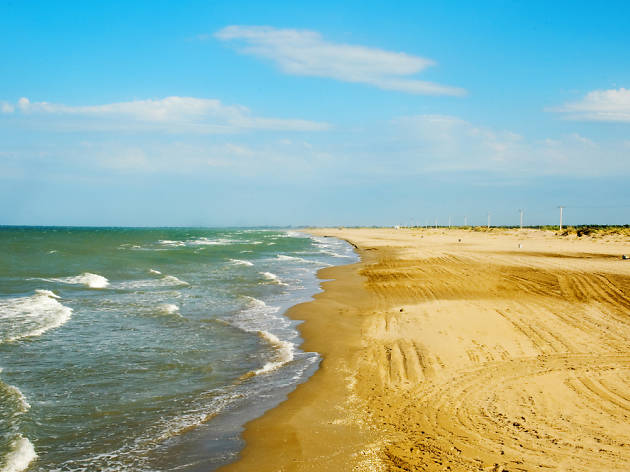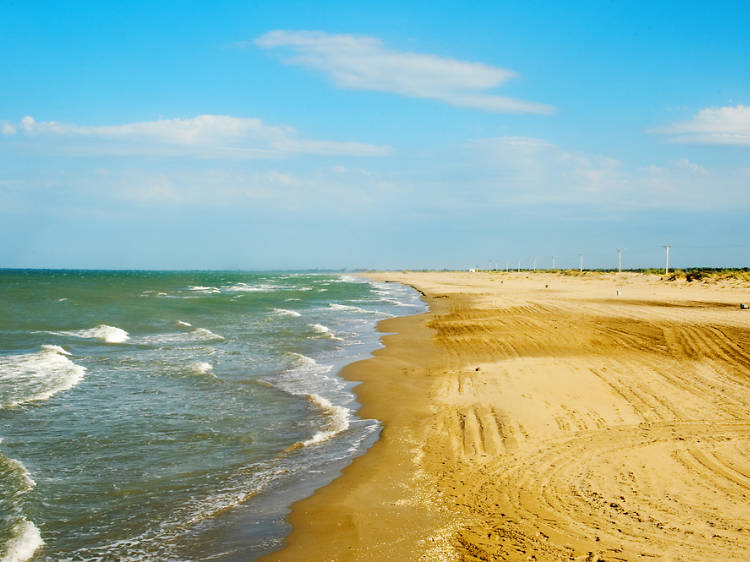 Where: Delta del Ebro, Tarragona
When you reach Playa del Trabucador, you'll feel like you've come to the end (or beginning) of the world. This is a huge beach (6.5 kilometres long) with little in the way of civilisation (no lifeguards, showers or chiringuitos), but that just brings you closer to nature, and when the tide rises, you can walk far out in the shallows. At Trabucador, it's you and yours, the sea and little else, but what else do you need? This beach is also part of the Delta del Ebro park and leads to the Punta de la Banya. It's really worth going to see the sunset here, especially if you're a photography fan. You can also visit the 'salinas de la Trinidad' for great birdwatching. Get to Trabucador by car via the A-7 motorway, exit 41, or via the N-340.
13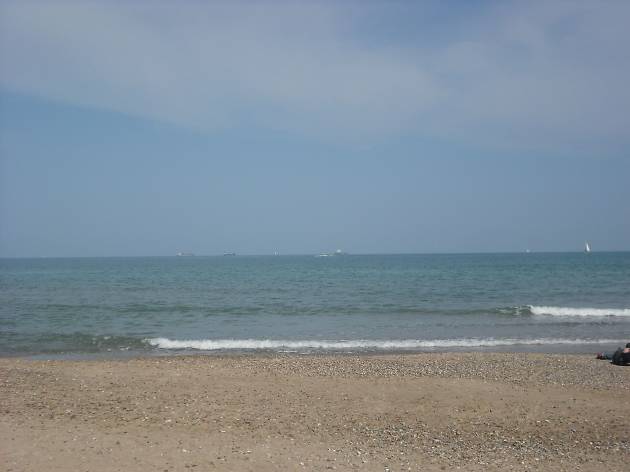 Where: Valencia
It's hard to believe that only a few kilometres outside of Valencia, you can find a place of such incredible natural beauty with magnificent, fine-sand dunes and local fauna like the seagulls that glide along with you while you're taking a dip in the sea. The almost perfectly conserved environment is down to the fact that the beaches here are part of the Albufera Natural Park, which they, in turn, protect from the sea. That said, in the '70s these beaches were practically wiped out because of urban growth, but luckily that didn't happen, and they've since become one of the best assets of Valencia's metropolitan area. La Devesa beach is a nudist beach, and you can rest easy because lifeguards and security are around during the summer months.
Discover the best things to do in Valencia
14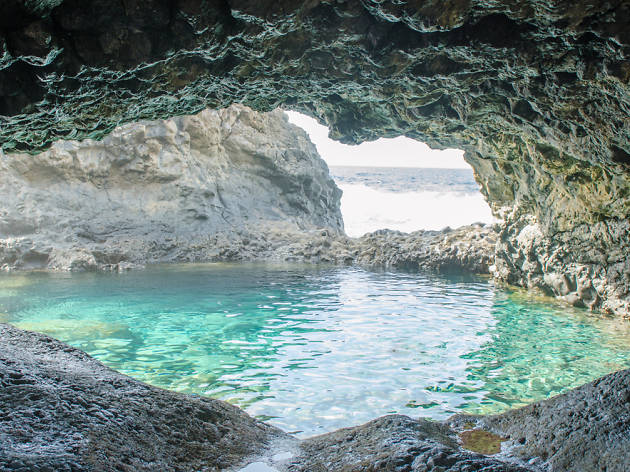 Where: El Hierro, Santa Cruz de Tenerife
Natural pools are common in the Canary Islands, and one of the most beautiful is the Charco Azul, in El Hierro, the smallest island of the archipelago. This is a wild spot, almost prehistoric, with sinuous formations left by lava that provide a wonderful contrast with the turquoise waters. When you're not cooling off, relaxing or snapping hundreds of photos, take some time to just close your eyes and listen to the sound of the waves breaking inside the pool. It looks like something out of a fairy tale, and it's located in an almost secret enclave, but it's fairly easy to get to the Charco Azul via some wooden stairs – if you haven't got mobility difficulties. Another feature here are platforms where you can tan as long as your sun cream will allow.
15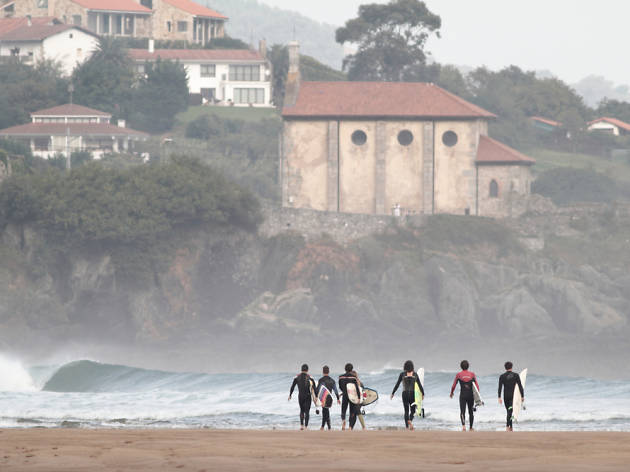 Where: Bizkaia
Although it's known by the name of the nearest town, Mundaka, this popular beach does actually have its own name: Laidatxu. This is a small, city beach, but it's nonetheless one of the best-loved places of pilgrimage for surfers from all over. The reason? It has these unusual left-breaking tubular waves that can pose a challenge for even the most experienced. And something few people know is that this beach is located inside the Urdaibai Biosphere Reserve, a UNESCO World Heritage Site.
Need a hotel in Spain?
Whatever the mood, moment or budget, Spain has a hotel that fits the bill. We're talking places with personality, history and one-of-a-kind design that will take you from the ragged heights of the Pyrenees to the sun-bleached badlands of Andalusia, the Modernist boulevards of Barcelona to the Moorish alleyways of Córdoba. Choose wisely and where you stay will add a whole new dimension to your travels. Here are some of our favourite hotels in Spain.