The best Airbnbs in Iceland
From cabins with spectacular sky views to fabulous farmhouses, Iceland has a space for every explorer
Iceland is nothing short of wonderous. The country was the site of the first European parliament, is home to two tectonic plates that you can actually see moving apart (at 2cm per year) and it's 80 percent powered by geothermal and hydro. Oh and if you fancy some fries then no can do – there are no McDonalds here. But what you can do is see the Northern lights, which beats out Ronald anyday.
Ready for a getaway to this unique part of the globe? We've rounded up the best things to do in this mysterious and unique country – so all you need to do now is find somewhere to stay. And for a true taste of Icelandic living, nothing beats an Airbnb. Here's our pick of the best Airbnbs in Iceland.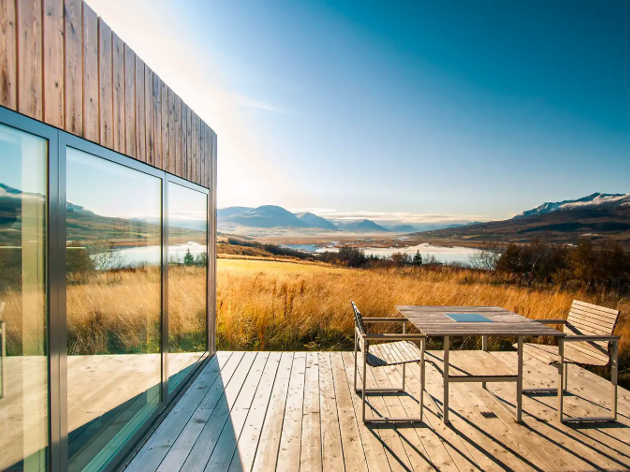 A contemporary space in Akureyri
An architectural home located in the picturesque north of Iceland, this villa boasts incredible views of the countryside, as well as the aurora borealis (if you're lucky) and midnight sun (if visiting in Summer). As for the apartment itself, it sleeps four and is kitted out with contemporary luxuries.
A cabin beneath the stars
The big brother to camping, staying at this cabin is a unique experience. With space for two guests, one night just wouldn't be enough – mainly because you'll be located near water caves, lava fields and breathtaking black beaches.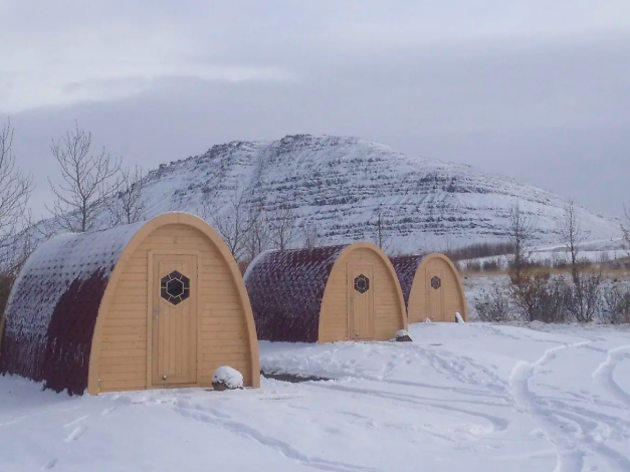 Wooden camping pod in Borgarnes
You might need to bring your own bedding to this little pod (or pay a little extra to have it provided for you), but don't let that put you off. Quaint and cosy, they're properly insulated so you don't get the shivers – and you'll have startling views for a fraction of the cost you'd expect.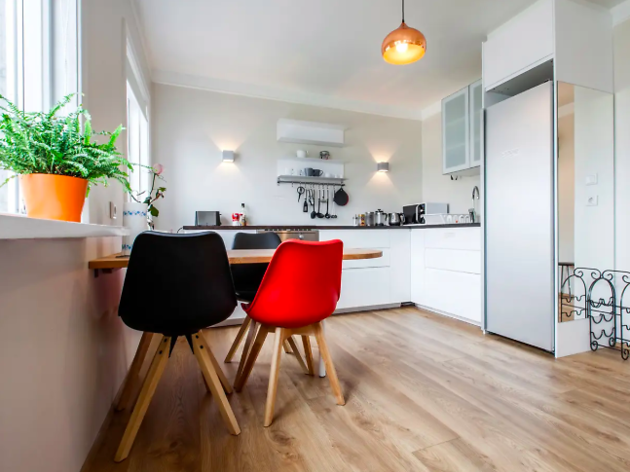 New design apartment in Reykjavík
Iceland's capital city is famed for its museums, as well as harbouring a great chunk of the country's Viking past – and now you can explore that for yourself, thanks to this perfectly located apartment. Situated in Downtown, it comes with parking, easy access to the Old Harbor and all of the basics you'd need for a comfortable stay.
Yes we said farm – which is why the majority of the photographs for this Airbnb contain the grassy outdoors. Wanna get up close and personal with the farm horses? This spot offers up a guided riding tour, so saddle up and get ready to see the countryside in a whole new way.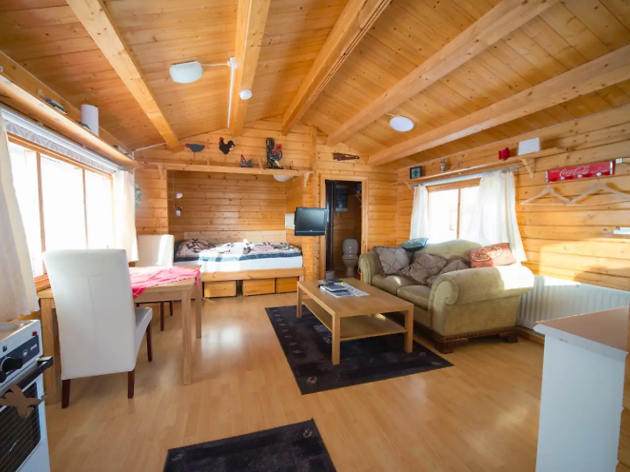 A quaint cottage in Selfoss
If you dream of a white winter but don't always have your fantasy fulfiled then we have some good news for you: Selfoss, the largest town in South Iceland rarely reaches a temperature above 16 degrees Celcius – and is usually way lower than that. So snuggle up in this cottage and peer out over the white hills and fields.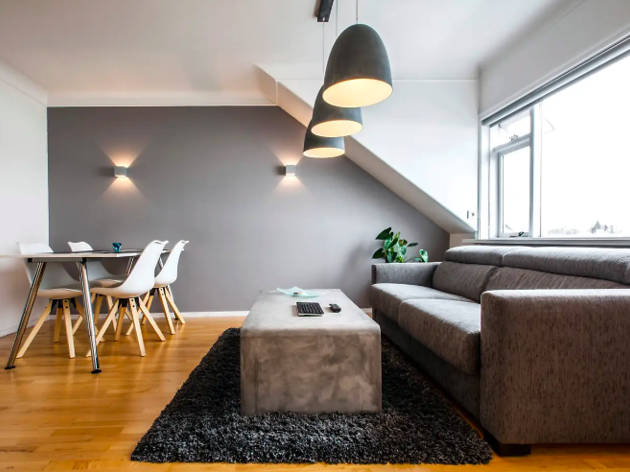 A Scandi-style penthouse in Reykjavík
Bringing elements of Swedish design to Reykjavík, along with phenomenal city views, this penthouse is on the third floor and can host four guests. Chic and comfortable, the residential area is fairly quiet, so you can rest very easy indeed.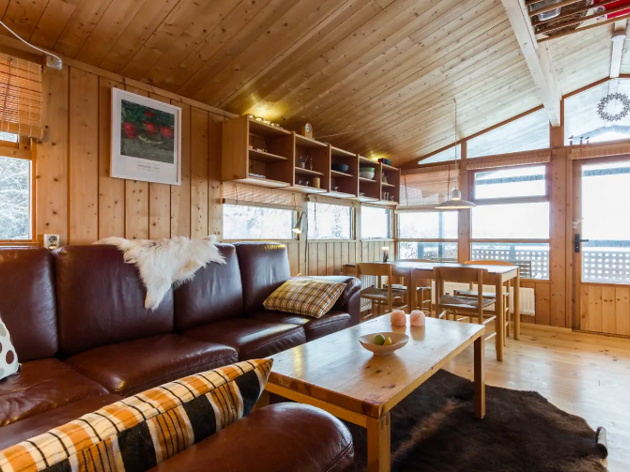 A cabin close to Blue Lagoon
Desperate to feel at one with mother nature? This cool Airbnb is situated within an incredible nature reserve, which means wild and wonderful surroundings. The homely interior is rustic-inspired but updated, which means you won't have to put up with a rickety build and nighttime breeze.
A chilled and cozy home in Downtown Reykjavik
A home away from home, this studio is bright and surprisingly spacious. Decorated in the popular Nordic style (think muted colours, plants and velvety furniture), two guests can easily use this as their city base – especially since it's a mere short walk to the main Downtown street.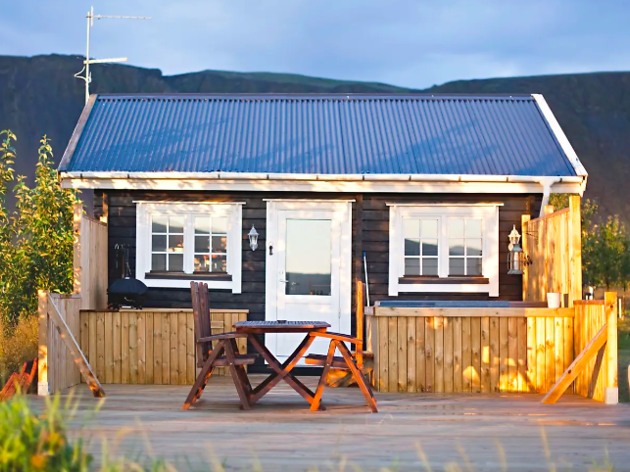 A countryside guest house with hot tub
Forget about the city because the countryside has a lot to offer, including wonderful wildlife, blissful breezes and this charming guesthouse. In fact, what it lacks in size it makes up for style; basically, this is every fond memory you've had of your nannas – a snug interior with a cute retro design. Oh, and did we mention that there's a hot tub? (Massive respect if your nanna had one of those, too).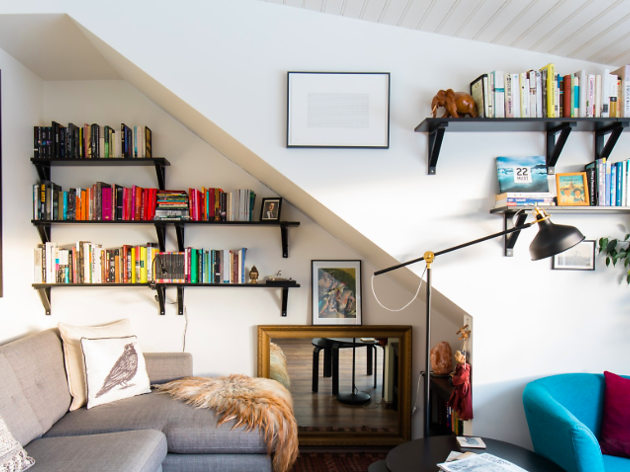 A '30s apartment with views of Hallgrímskirkja
Admit it: you've got home envy, haven't you. And we don't blame you, this spot is picture-perfect. But beyond the stunning interior, you just need to look out of the window and you'll fall in love with Iceland all over again. Why? Because astonishing views of volcanic mountain ranges rest in the distance.