Heads up! We're working hard to be accurate – but these are unusual times, so please always check before heading out.
The 23 best things to do in Iceland
Check out the best things to do in Iceland, an island of mystery and wonder that goes well beyond the famed Blue Lagoon
Nudging the Arctic Circle and sitting on one of the world's most volcanically active spots, Iceland is a sulphur-seeped, wild wonderland of steaming geothermal pools, smouldering volcanoes and dancing Northern Lights—all part of our best things to do in Iceland list, of course.
Take time to get to know the capital, Reykjavik, one of the coolest cities in Europe, packed with quirky museums (including the world's only penis museum), eye-popping street art and buzzing restaurants. Visit during the winter to see breathtaking frozen landscapes or in the summer for 24-hour sunlit days; explore colourful fishing villages, pet stocky Icelandic ponies, go whale-watching, marvel at the lava-strewn alien landscape, stay in breathtaking hotels and relish the sheer weirdness of it all. Trust us: it won't take long for this spellbinding place to get under your skin.
Done something on this list and loved it? Share it with the hashtag #TimeOutDoList and tag @TimeOutEverywhere.
Find out more about how Time Out selects the very best things to do all over the world.
Best things to do in Iceland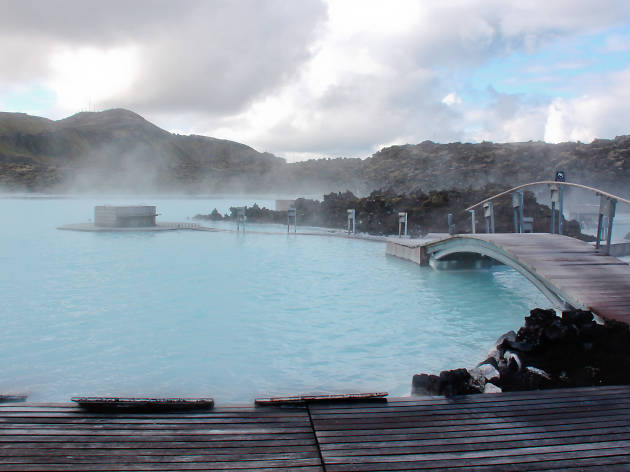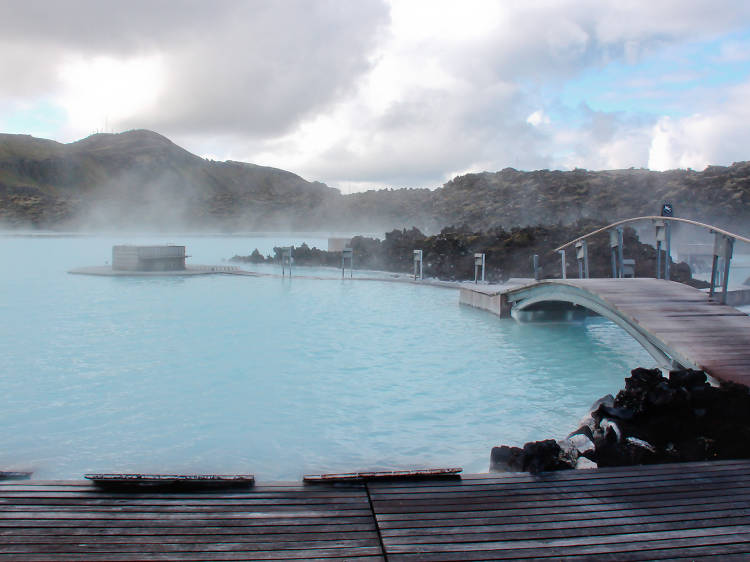 Photograph: Courtesy CC/Flickr/Chris Goldberg
1. Soak in the Blue Lagoon
Named one of the 25 wonders of the world by National Geographic, the Blue Lagoon - Iceland's most famous thermal bath - is a magical sight with pearly blue waters dotted against a landscape of black lava rock. The steaming pools can get pretty crowded, so visit early in the morning or late in the evening for a relaxing soak with cocktails from the swim-up bar. There a spa treatments available, or you can DIY like the locals and slather yourself in chalky white silt from the lagoon bed, which supposedly has anti-ageing properties.
2. Join the locals on a runtur
Get your thermal gladrags on and paint Reykjavik red on a runter, a "round tour" or bar crawl along the main shopping street Laugavegur. The festivities usually start around midnight on Friday and Saturday nights, and involve lashings of booze. However, alcohol is a pricy commodity in Iceland, so make sure you neck it back at the right places—visit Húrra for alt live music and plenty of dancing, the famous Kaffibarinn with its London tube logo and brilliant happy hour, Kaldi for local brews on tap and Slippbarinn for cocktails.
Photograph: Peter M. Logan
3. See where one of the world's first democracies began at Þingvellir National Park
Iceland is bursting with sublime natural landscapes, but what makes Þingvellir National Park special is its connections to the beginnings of the Icelandic state. In 930 AD over thirty ruling chiefs from across Iceland met at this spot, forming one of the world's first parliaments. The UNESCO World Heritage Site also happens to be ruptured by the North American and Eurasian plates physically tearing apart; it's a sight that'll leave you awestruck at the exquisiteness and fragility of the natural world. While there, check out Þingvellir church, Öxarárfoss waterfall and Iceland's largest lake, Þingvallavatn, all of which are pretty easy on the eyes too.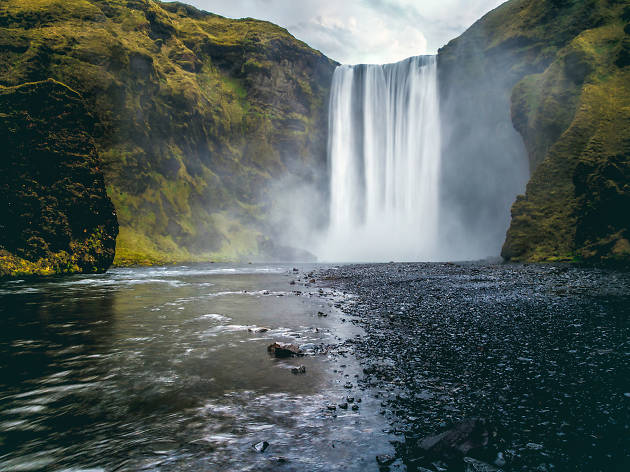 Photograph: Courtesy CC/Flickr/Andres Nieto Porras
4. Dance through rainbows at the bottom of Skógafoss waterfall
It's easy to go chasing waterfalls in Iceland, and while the mighty Dettifoss and Gullfoss may be the country's most famous and ferocious, Skógafoss is the most beautiful. Nestled along the south coast the fall cascades down a 26-metre drop, and on sunny days you'll almost certainly see a gorgeous rainbow rising from the foam. Take time to venture to Kvernufoss, a secluded fall off the tourist track which lies a few minutes walk east of Skogafoss.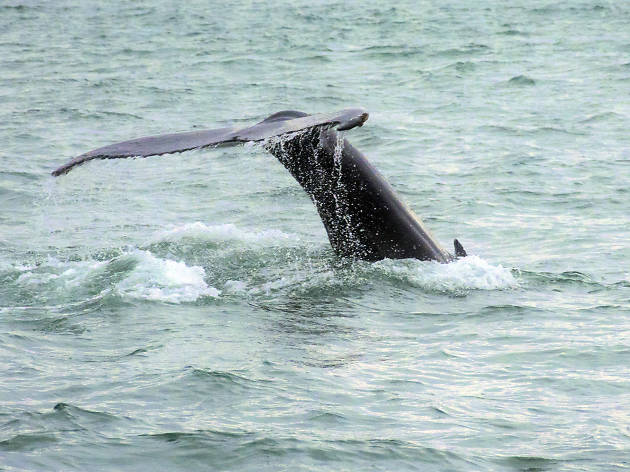 Photograph: Courtesy CC/Flickr/mariejirousek
5. Go whale watching from Húsavík
The colourful harbour town of Húsavík has become the unofficial whale watching capital of Iceland. (The area relies so heavily on the industry that it was at the forefront of calls to stop the resumption of commercial whaling in Iceland in 2006.) Book a tour at the harbour - there are plenty to pick from - grab a sturdy raincoat and set sail across Skjálfandi bay. On most tours you'll catch a glimpse of dolphins, porpoises and minke. You may see humpbacks dancing along the swells, or even fin whales, blue whales, orca and sperm whales if luck's really shining on you.
Photograph: A. Shchukin
6. Stroll down the black, volcanic Reynisfjara beach
The tiny village of Vík on Iceland's south coast is an isolated smattering of pretty buildings, particularly its handsome white church sitting high above the town against a backdrop of craggy cliffs. But the spot's real gem is Reynisfjara, a beach of sweeping Goth-black sands. Watch waves crash across the coal pebbles, ogle at Reynisdrangar (three gnarled sea stacks said to be petrified trolls in Icelandic folklore) and climb up the enchanting basalt columns jutting out from one of the beach cliffs.
Photograph: Peter Daniel
7. Walk through Heimaey, a town once buried under lava
Heimaey is the only inhabited island in the Westman Islands' scattered archipelago. A quick ferry ride from Iceland's south coast, it's an idyllic place with puffin-shaped signposts, fleets of fishing boats, staggering volcanic peaks and bird calls filling the air. In 1973, things weren't so pretty here when a volcanic eruption engulfed a third of the town in ash and lava. Learn more about the eruption at Eldheimar, a museum showcasing a house dug out of the lava 40 years after the catastrophe. After, hike to the top of Helgafell volcano (if the exhibition hasn't terrified you too much) and check out the island's delightful puffin colonies.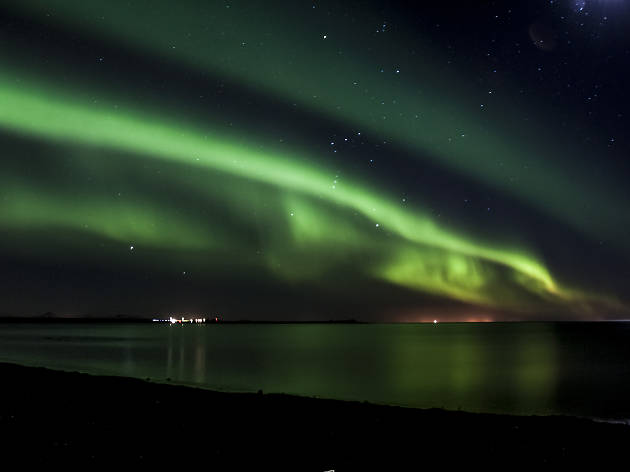 Photograph: Greg Kruk
8. Get entranced by the Northern Lights at Grótta nature reserve
Mother nature's most marvelled phenomenon can be glimpsed for around eight months out of the year in Iceland, from September to April, all around the country. To increase your chances of catching the alien glows, it's best to head out of light-flooded city centres at night and into more remote spots. Grótta nature reserve on the tip of Seltjarnarnes peninsula outside of Reykjavik is a perfect spot to get an eyeful of the dancing Aurora.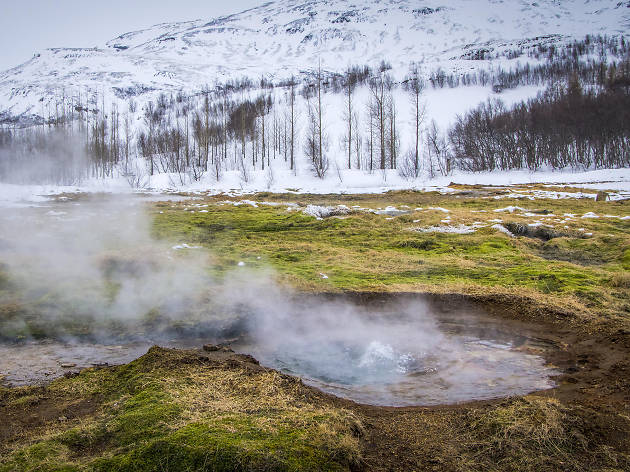 Photograph: Courtesy CC/Flickr/Thomas
9. Watch a boiling natural eruption at the Geysir Hot Spring Area
At first sight the Geysir Hot Spring Area might not look so exciting, but beneath the grassy plains and tranquil pools water is bubbling away at 125C, ready to explode. You can't miss the steaming fountains that burst from Strokkur, the most active of the area's geysirs, shooting out 30-metre tall spouts every few minutes - it'll soak you if you get too close. Other less volatile, but no less alluring, sights are the Blesi twin pools (one is clear turquoise, the other pastel blue, steaming next to each other) and Little Geysir, which viciously churns bubbling water.
Photograph: Ed Ogle
10. Get a view of Reykjavik from Hallgrímskirkja, the country's largest church
You can't miss Hallgrímskirkja, the country's largest church, whose rocket-shaped tower looks like it's been plucked from the Wizard of Oz's Emerald City. There's something alienly beautiful about the smooth concrete lines of the building, which is named after the 17th century poet Hallgrimur Petursson. Although building started just after WWII, work has only just finished—most of it has been done by a family firm consisting of just two people. Head up the lift to the top of the 73-metre steeple where you can get a charming view of the city and its gorgeous coloured roofs.
11. Bathe in geothermal pools at Myvatn Nature Baths
Immerse yourself in the Myvatn Nature Baths, north Iceland's answer to the Blue Lagoon. Icelanders have been bathing in these parts for centuries, and with water temps at 40C, its pretty delicious lolling about in the creamy blue waters, which are packed with minerals. Nearby Myvatn Lake is a must-see with lots of geothermal thrills and a famous duck colony. Don't miss the "underground bakery" on the way to the baths, where loaves of rye dough are baked in geothermally-heated soil.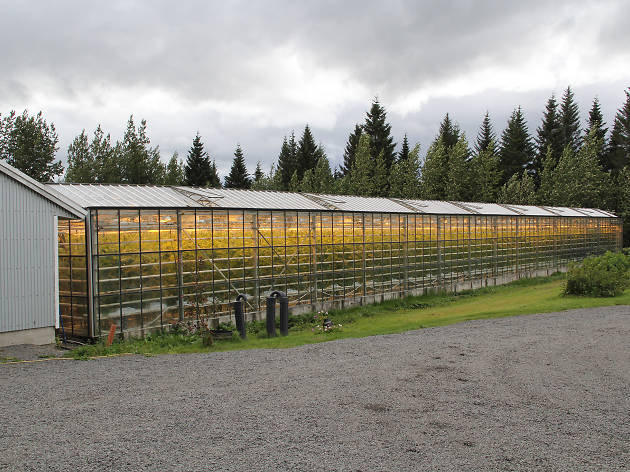 Photograph: Courtesy CC/Flickr/Terry Feuerborn
12. Have lunch inside tomato-filled greenhouse Friðheimar Tomato
Iceland's climate isn't the most hospitable for growing vegetables, so you're likely to see plenty of glowing greenhouses peppered across the country. Friðheimar Tomato is a huge, eco-friendly greenhouse teeming with lush tomato vines in neat rows next to an airy cafe. This place grows around 18 percent of the country's tomatoes, helped by pollinating bees that zoom around the glass house. Some of the vegetables go into lip-smacking vats of soup that visitors can help themselves to, buffet style. Order the tomato ice cream and the Bloody Mary for a real treat.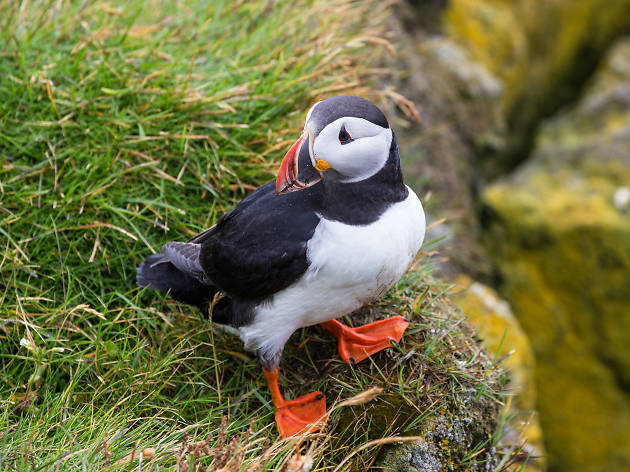 Photograph: Courtesy CC/Flickr/Carolien Coenen
13. Spot puffins on the sandy white beach of Breiðavík
Only a handful of tourists make it out to the Westfjords, narrow fingers of land joined to the country by only a six-mile-wide stretch. Wild and unspoilt, this is one of Iceland's treasures, and Breiðavík beach is the area's best gem. With deep blue waters, a sweep of white sand and towering cliffs, this is one of world's most alluring and pristine coasts. When the sun shines, its empty stretches are irresistible. Don't miss Látrabjarg up the road, Europe's largest bird cliff where you can get up close and personal with a posse of Puffins.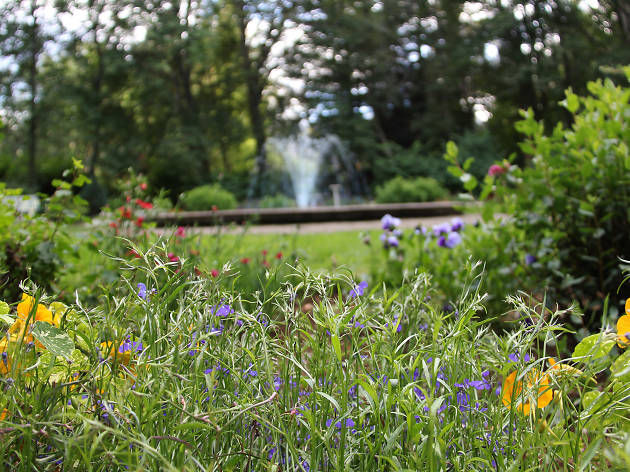 Photograph: Courtesy CC/Flickr/Börkur Sigurbjörnssonn
14. Visit Lystigardur, one of the country's rare botanical gardens
Akureyri, the largest town outside of Reykjavik, is still pretty tiny, housing just over 18,000 people. What it lacks in size it makes up for in charm, with richly-coloured wooden houses, a picturesque harbour and heart-shaped traffic lights. A must-see here is Lystigardur, one of only two botanical gardens in the country, which seems to defy the elements by holding gorgeous Icelandic greenery plus subtropical plants despite an average temperature here of just 3.4C. Visit in summer when the place is awash with colourful blooms and dizzying floral scents.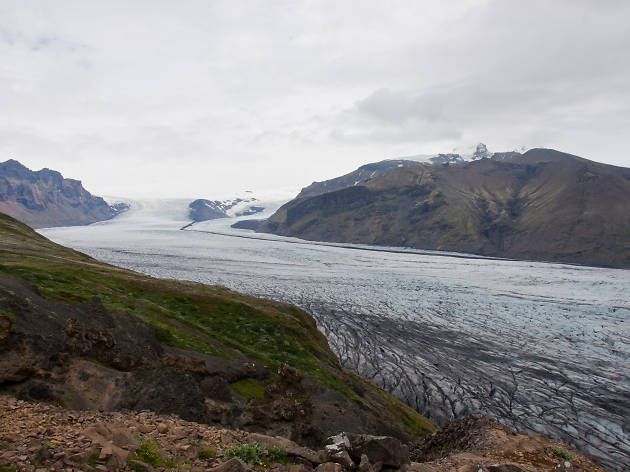 Photograph: Courtesy CC/Flickr/Lauri Laineste
15. Snowmobile across Vatnajökull, Europe's largest glacier
Measuring a whopping 8100 km2, Vatnajökull is the largest glacier in Europe with monstrously thick ice and active volcanoes lurking beneath its frosty top. This extreme landscape isn't for the fainthearted, but thrill seekers can explore the icy reaches of Vatnajökull National Park on an organised snowmobile tour. GlacierJeeps and Extreme Iceland offer guided journeys where you can learn more about how the vast expanse of white was created and what issues affect its future, and gaze open-jawed at the snowy peaks surrounding you.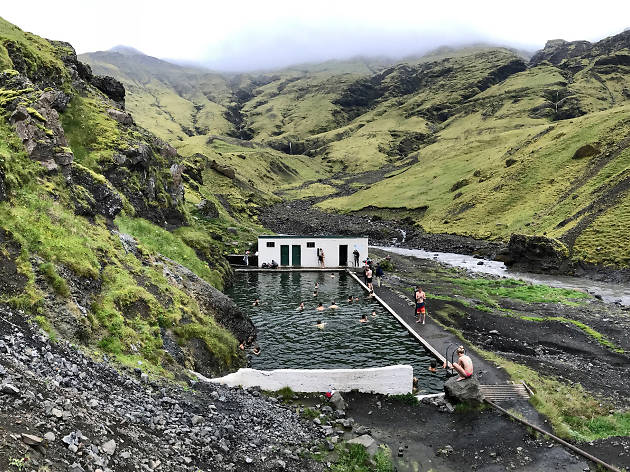 Photograph: Courtesy CC/Flickr/Anna & Michal
16. Swim in Seljavallalaug, a secret pool in a volcano valley
If you can find Seljavallalaug, a secret swimming pool hidden in a valley at the foot of Eyjafjallajökull (the volcano that erupted back in 2010), prepare to have your mind blown. You'll have to veer off the country's main ring road and hike across a rugged path to reach this little white bathing house and its long rectangular pool, fed by a nearby hot spring, both built in 1923. It's not the warmest, but lolling in its inky waters in the shadow of towering, waterfall-strewn mountains will be one of the most exhilarating things you ever do, trust us.
17. Tuck into Iceland's best seafood at family-run Tjöruhúsið
As a country surrounded by sea, you can expect Iceland to offer some banging seafood, and the coastal town of Ísafjörður, tucked away in the Westfjords and loomed over by tremendous mountains, is known for dishing up some of the best. Tjöruhúsið, a family-run seafood joint in a little wooden house by the town's Heritage Museum has developed a reputation as the country's top seafood spot. Open from Easter through October, the spot has no menu—the dishes are dependent on the morning catch—but you can expect super-fresh fish cooked to absolute perfection, every day.
18. Channel your inner Johnny Rotten at the Icelandic Punk Museum
"No Sexism, No Politics, No Hate, No Bullshit" read the stairs leading to this former public toilet, now a subterranean and lovingly curated exhibition of Iceland's punk heritage. Tracking the genre's history from the '70s to the Sugar Cubes' break up in the early '90s, the Icelandic Punk Museum's small rooms spill over with memorabilia plastered across the wall like an anarchistic collage. Exhibits sit in old sinks and toilet bowls, while headphones hanging from the ceiling play Icelandic punk belters. There's also a drum kit, guitar and bass to thrash around on if you fancy yourself as the next Joe Strummer.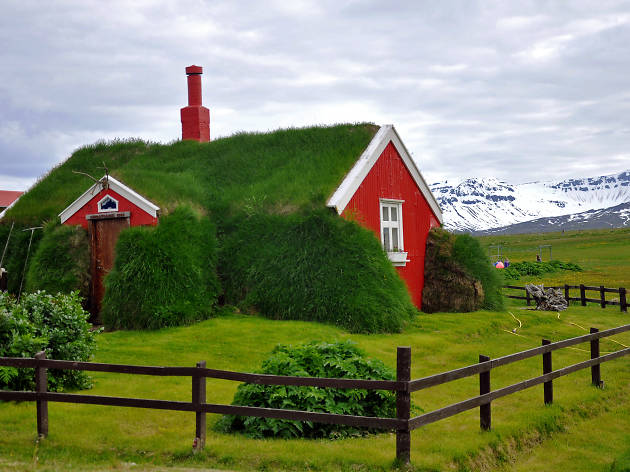 Photograph: Courtesy CC/Flickr/Jennifer Boyer
19. See a traditional turf-roofed house in the magical village of Borgarfjörður Eystri
Borgarfjörður Eystri is steeped in weird and wonderful folklore. Naddi, the spirit of an evil monster, is said to haunt the crude roads leading here, and an elfish Queen is rumored to live in a grassy rock behind its church. It's easy to see why these myths take hold when you're surrounded by sublime peaks gushing with waterfalls and dotted with deep lakes—this is a fairytale place. Lindarbakki, a hobbit-style turf house with rust-red wooden walls and a grassy roof, only adds to the magic. It's privately owned, so not accessible to the public, but it's an achingly quaint reminder of the country's traditional housing stock.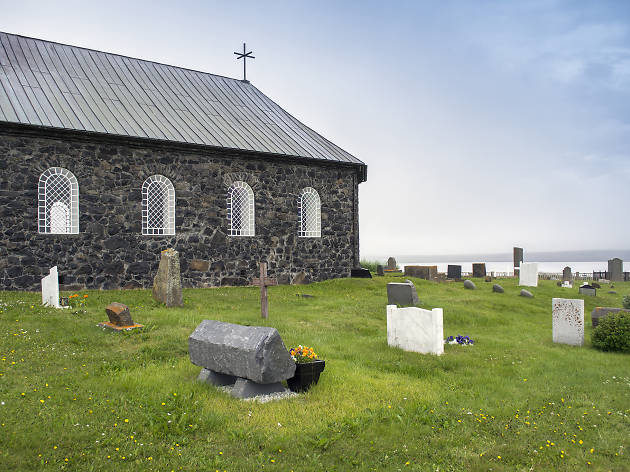 Photograph: Courtesy CC/Flickr/mariejirousek
20. Fill your eyes with stars in stand-out church Þingeyrakirkja
In an isolated spot between two gloomy looking lakes in Þingeyrar, on the north coast, Þingeyrakirkja is a squat stone church built in 1877. It may not look like much from the outside, but step through the doors and you'll quickly realise why this is a must-see. The deep-blue arched roof is studded with a thousand dazzling golden stars; the clinquant altarpiece, originally made in the Netherlands in 1696, is full of beautifully carved wooden figures; and the wonderful pulpit boasts silhouette of a golden dove at its centre. It'll have you green with interior-envy.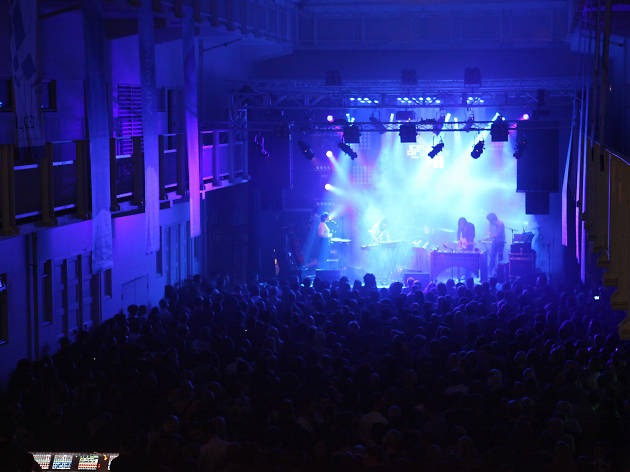 Photograph: Courtesy Roman G
21. Discover a local band at annual music fest Iceland Airwaves
Thanks to Björk and Sigur Rós, Iceland has an enviable musical heritage and Reykjavik's annual music festival, Iceland Airwaves, does not disappoint. For four days in the winter months, the fest takes over venues across the city, including the wondrous Harpa Concert Hall, which twinkles by the harbor-edge. It's a chance to discover little-known local bands, as well as to see acclaimed international acts—Father John Misty, Florence and the Machine and PJ Harvey have all graced past line-ups. There are also more than a few raucous after-parties taking the good vibes into the early hours.
22. Walk around the rim of Kerið, a colourful volcanic crater
Around 3,000 years ago, a giant volcano in Grímsnes collapsed in on itself, and thank your lucky stars it did, because the results are a treat for the eyes. Kerið is one of the lesser known stops on the famous Golden Circle tour, but it's shining turquoise waters cupped in steep red slopes of volcanic rock are truly breathtaking. A 15-minute walk will take you around the rim of the mesmerising crater where you can see the ribbons of colourful rocks and soil that make up its technicolour slopes.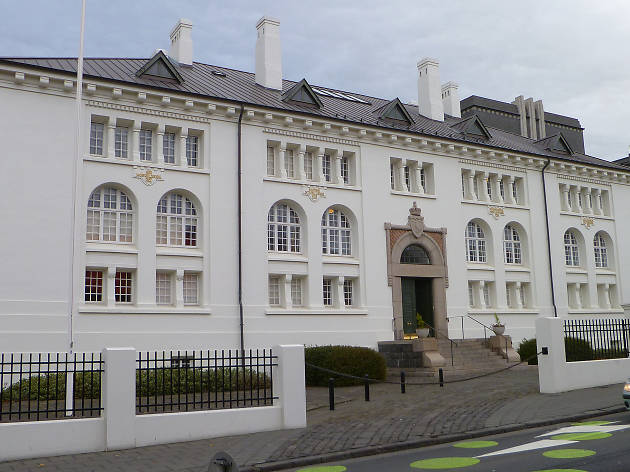 Photograph: Courtesy CC/Flickr/A.Currell
23. Get to know Iceland's ancient Sagas a tÞjóðmenningarhúsið
Reykjavik's answer to the British Library, and one of its most elegant buildings, Þjóðmenningarhúsið (the Culture House) holds everything from contemporary art to ancient relics, including a collection of Icelandic sagas written down in ornate medieval manuscripts. The sagas are a huge part of Icelandic identity, detailing the beginnings of the nation. Don't miss a glimpse at Flateyjarbok, a beautifully illustrated document written in the 14th century, and Codex Regius, the world's oldest script of Old Norse mythology. You'll hear a lot about sagas in Iceland and getting nose to nose with them here it's easy to see what the long-lasting fascination is all about.
More of the best of Iceland
Accommodation is concentrated in Reykjavik and the west, but with the increasing interest in outdoor activities and exploration of the island's more remote, ethereally beautiful regions, lodgings are now spreading far and wide.
With just over 120,000 inhabitants, Reykjavik, Iceland's coastal capital, might seem small - but it has a big character. There's no shortage of fun things to do, from trying out unusual national dishes such as puffin and boiled sheep's heads to chilling out in a relaxing natural spring or gaping at the natural wonders just a short drive from the vibrant city.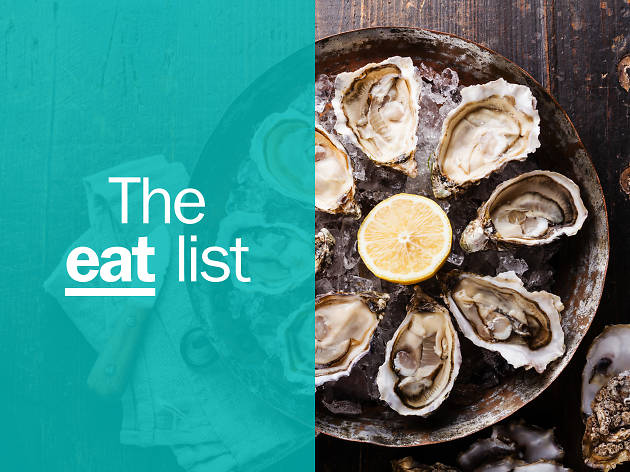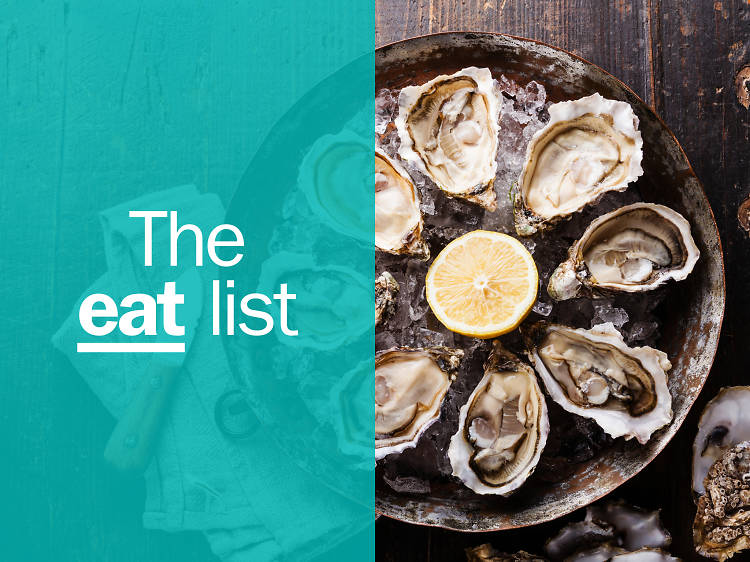 Reykjavik is hot right now. (Okay, it's freezing, but you get the gist.) And it's also a foodie heaven, especially if you're into fish and meat.