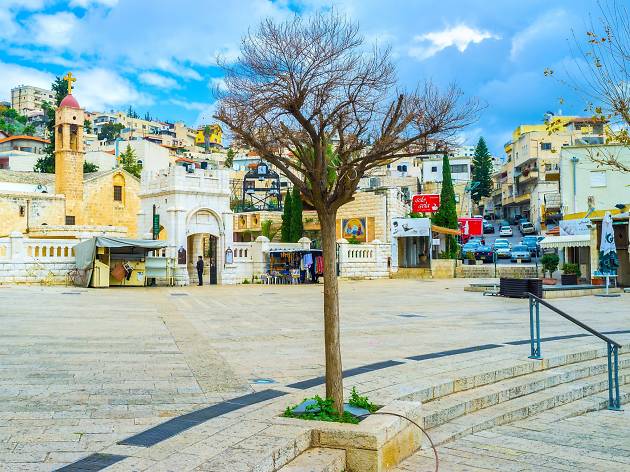 Time Out says
An essential site for the Christian religion, lined with stained glass and depictions of Mary.
Also called the Greek Orthodox Church of Annunciation, St. Gabriel's is located in the center of downtown Nazareth. It is the largest Christian church in the Middle East, colorfully decorated in a modern architectural style. According to Greek Orthodox tradition, it is said to be the site Mary learned she would become pregnant with Jesus. Inside, visitors will find impressive murals and stain-glass windows, among other works from around the world. Mass on Sunday starts at 8:30. It is requested that guests dress modestly. A historical, stunning site for travelers of all faiths.
Details
Address:
Downtown Nazareth
Nazareth


Contact:
Opening hours:
Mon-Fri 8:00-11:45, 14:00-17:00, Sun 14:00-17:30
Rating Breakdown
5 star:

0

4 star:

0

3 star:

0

2 star:

0

1 star:

1
Atheism American constitution 1776 Separation of Church and State, 241 years, churches tithes by now atheism tithes in all agreements and more than likely disagreements internationally ,imports,exports, atheism nation's lands, commercial and residential properties, all assets, all currencies atheism of separation of Church and State in the American constitution, it needs to be rewritten and separation of Church and State illegal. My name is Tracy Stevens, the color of my skin is Cherokee Indian yet I am a third or fourth maybe fifth generation non tribal, I have never been a member of the Cherokee Indian tribe, nor was my white mother, I am brown sugar smite by the sun, my grandmother, Ora Lee Greene Terry was Cherokee Indian color when in sun around her seventies, she was non tribal with a white brother and sister, my dad is no mix in family line all white more than likely, before dad, kkk. My twin son's and adopted son,, in my name and blaspheme if not their own and grandchildren and on down the line, non tribal of any and all American Indian tribes and Mexico and all internationally.