Tel Aviv's nightlife spots are getting bigger than ever
Three new bars in town are upscale, visually-hypercolor alternatives to Tel Aviv's otherwise rough-and-tumble nightlife scene.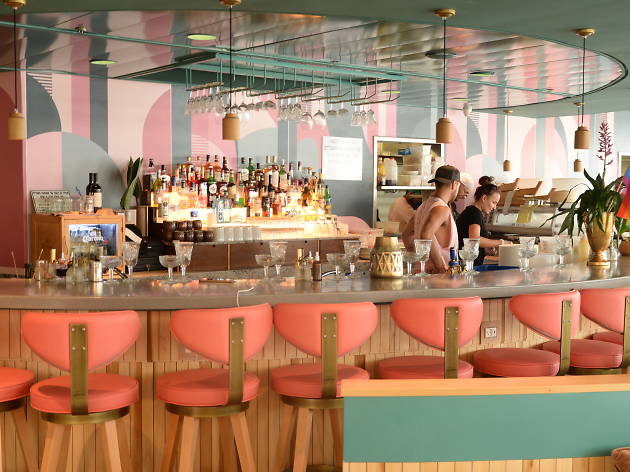 A restaurant with a famous chef, a lounge, and even a surfing club – the city's nightlife spots are getting larger and more extravagant than ever. Most of the successful bars in Tel Aviv are relatively small, and put the quality of the alcohol on the glimmering pedestal. This year, those bars are still here, but they are joined with larger bars divided into several areas with a kitchen that doesn't shy from being the next chef's restaurant.
Insta-worthy Bars
The new kid on the block is the T House Saloon & Garden boasts three spaces: a courtyard, a culinary space, and another complex that is on the way. The place also serves as an Asian culinary bar with 20 dishes on the menu. The courtyard of the restaurant is set to include a street food truck that will offer yakitori skewers, buns, noodles, shrimp popcorn and more.
The new Fantastic in the old north of the city works on an entirely different level. "People are looking for something to talk about and remember, but also to eat well," says Ariel Leizgold, owner of the 223 group (Bellboy, Hotel de Ville). "We defined Fantastic as a fantastical world of hospitality, and we knew that the surprises would be a significant part of the experience - the spaces, the designed cocktails, the presentation of the dishes, and of course Instagram, which brings with it a lot of desire to see, to be seen, and to take photos of special things." Fantastic checks all the boxes that characterize the bars of this new type: divided to different zones that provide various entertainment experiences and a food menu created by esteemed Israeli chef Edith Fadida.
A perfect fix for the summer months: the newly minted Beach Club at the Tel Aviv Dolphinarium, which includes the legendary surfing club, a Thai beach restaurant, Seeyam, and a cocktail bar. The complex provides an answer for all ages, with an emphasis on food, fun, and chilling out by the waves. The Seeyam restaurant is open every day from 12:00 to the last customer.