Tel Aviv's divinely romantic wine bars
Unwind after a busy work week at these classy White City wine bars
Not everyone is cut out for the crazy Tel Aviv nightlife scene. Or perhaps they were at one point – back in the day of the dinosaur – but years of thirsty Thursdays, cocktail hours and drinking one's way down Dizengoff can get the best of you. Just like with wine, when it comes to people, "good things come with age" too. And these good things include quieter, more romantic, evenings with a larger selection of fine Israeli wines that don't come from a box. There's no better way to unplug after a stressful workday than at one of Tel Aviv's top wine bars, pairing some bubbly with Israeli chef-quality cuisine.
White City wine bars to whet the palate
1
Bar à Vin has mastered the art of plating, enticing diners with its photo-ready meals before they take the first bite. A wine bar that is also a restaurant, Bar à Vin takes its inspiration from French cuisine. Here, you will find Middle Eastern fusion, with dishes bringing a delightful mix of Paris and Tel Aviv to the table. As the name suggests, Bar à Vin serves the finest wines from all around the world, including many local Israeli wineries. Come for a glass, stay for the tapas and wow all your foodie friends with the pictures.
2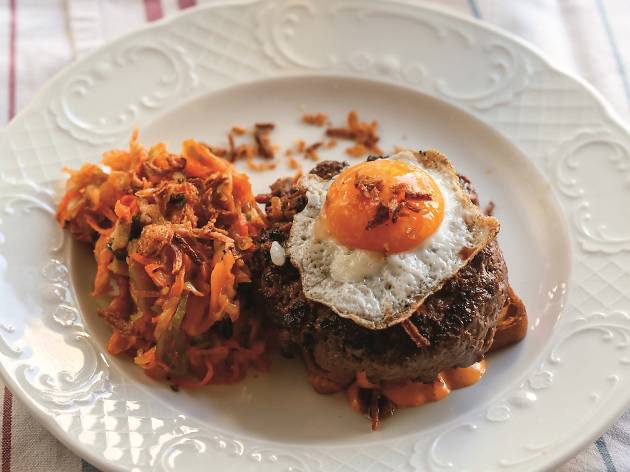 With an ever-changing menu, numerous specials and unique dishes, Brut is guaranteed to provide satisfying sustenance. The wine bar is run by professionals, so there is no need to hesitate to ask  any questions or seek tips and advice if you are not a wine expert. The environment is calm and charming while also feeling sophisticated and sexy, creating the perfect setting for a romantic night out or a casual evening with friends after work. The food menu is simple and tasty, offering warm pastas and crisp salads. When it comes to wining and dining, Brut is a no-brainer.
3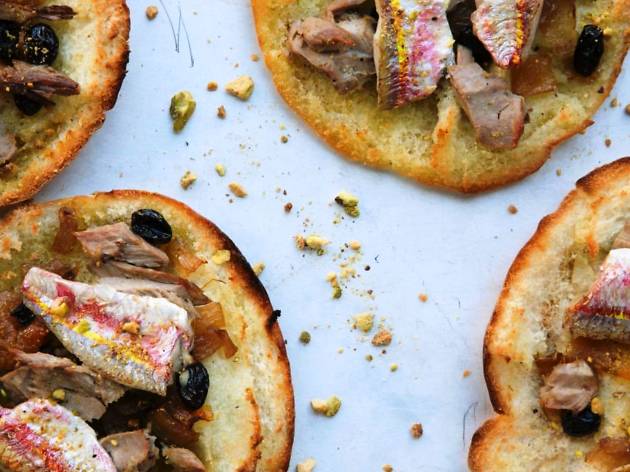 The little brother to the wine bar Brut, located next door, is Extra Brut. The only beers on tap are Guinness and Stella Artois, which are served in cold glasses to create a whole new standard of beer drinking. Extra Brut also has special alcohol unique to this bar, making it worth the trip. The kitchen serves bruschetta with cured and smoked fish, cheeses and meats from around the world. The menu also always has Asian-inspired dishes. Everything served at Extra Brut has been selected from the shuk earlier that day, so the menu items change in order to reflect the highest-quality ingredients available, as well as the mood of the chef.  
4
Classy and elegant cocktail bars in Tel Aviv don't get more authentic than The Library Bar at The Norman Hotel. This stylish 1940s style bar has an extensive cocktail and spirits menu as well as one of the finest wine lists in Tel Aviv. Whether meeting business associates or simply sitting back and relaxing with one of the books in the library, you can enjoy a special all-day food menu from the restaurant kitchen from noon or a traditional English afternoon tea. At night, the bar transforms into a stylish lounge, perfect for a romantic date or a night out with friends.
5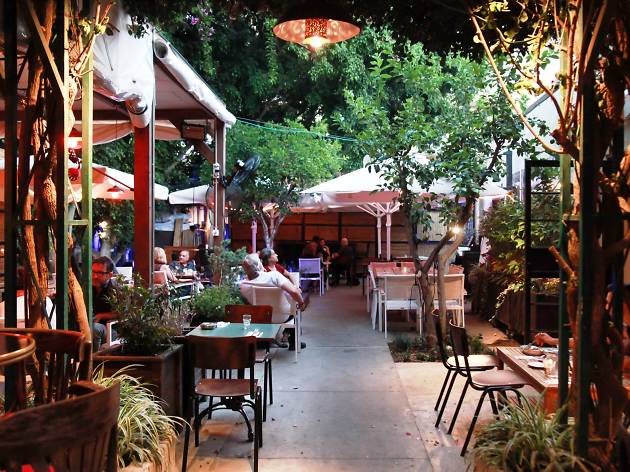 Par Derriere is a romantic wine bar, divided into intimate spaces, each with a unique atmosphere. In the front section, designed to look like a European café and delicatessen, visitors can purchase products for take home. Inside, an intimate wine bar that sits adjacent to an open area, where smoking is allowed. The left hosts Kibbutz dining-hall style tables and chairs and further back sits a room for private events. The highlight is a magically designed garden out back, perfect for date night. The drink menu contains a large selection of fine wines, imported drinks and artistic cocktails. Dine on tapas or a finely crafted salad, a specialty Italian dish or one of the other fine menu items, such as roast beef carpaccio, chicken liver pate or a cheese platter. Finish off with a delectable dark chocolate mousse, crême brulée or Nutella pancake with banana and nuts.
6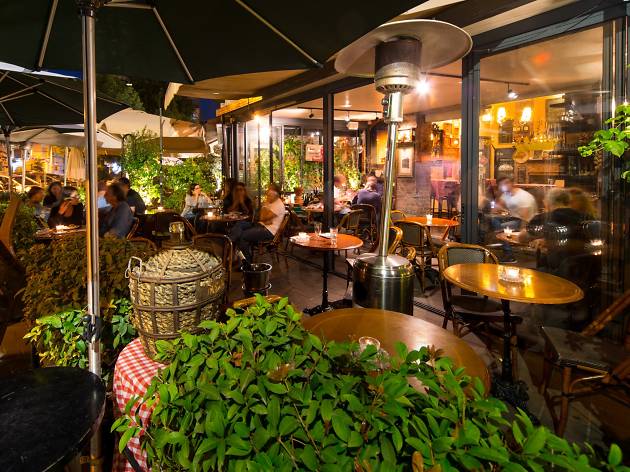 Using elements inspired by wine culture, this trendy-designed space displays walls decorated with collector's items from international wineries. Guests sit on dark wicker chairs, at the bar or outdoors in the glow of candlelight. Try the filo pastry pockets filled with Camembert cheese, sardine bruschetta's or handmade veal sausage and enjoy Friday afternoons where Tel Aviv meets Italy for an aperitivo.
8
Evoking the 2008 film, the name Vicky Cristina is only missing Barcelona — though that's exactly what you'll get when you make your way to the sensuous tapas and wine bar located on a beautiful patio under a lush, ancient ficus tree — the oldest in the city, in fact. Grab some paella de marisco, ceviche, or beef fillet at Vicky, the tapas bar, or a jug of sangria at Cristina, the wine bar — or better yet, go for both and get a true taste of Spain. You'll be coming back here weekend after weekend. 
See more bars in Tel Aviv