"Do the hokey poke": Tel Aviv restaurants serving up the trendy Hawaiian treat
Put your seaweed in, or take cilantro out, that's what it's all about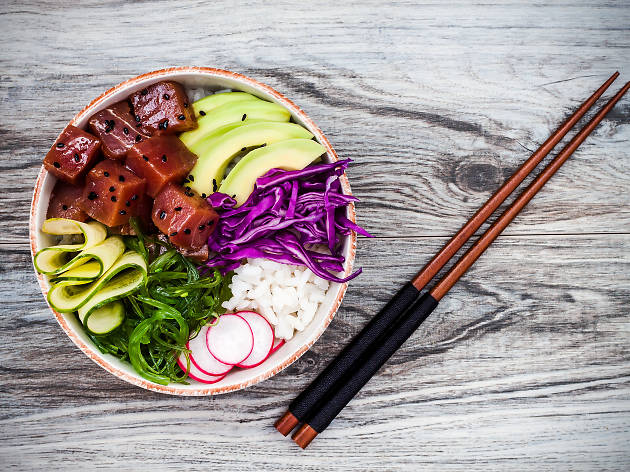 As the whole city seems to be moving towards a healthy lifestyle, so are our lunchtime choices…and that can only mean that poke (pronounced po-keh), the trendy Hawaiian treat, has finally hit the streets of Tel Aviv. Yes, it's sushi's biggest competitor; kind of like a deconstructed sushi dish with raw fish on top of rice–but there's a catch. You get to mix-and-match, turning your bowl into a creative canvas of culinary delights. Imagine a fro-yo fest in a salad bowl: choose your rice, then choose from a huge variety of toppings, such as seaweed, several types of raw fish, nuts, seeds, and fresh fruit.
Where to get your poke fix
Pokeshop's owner came over from France after owning several businesses in Los Angeles, and he knows how to spot a trend that is here to stay. Super friendly with world-class service and the freshest everything, this kosher spot just across from Rabin Square has a huge selection, overflowing with goodness and fish varieties–a true gem.
Here, for the indecisive poke eater, you can choose from ready-made, tailored choices. Try the "chareef esh" a spicy dish with white rice and red tuna, siracha sauce and spicy mayo–a true feast of fiery flavors. Alternatively, opt for the vegetarian with tofu marinated in their house-sauce, green beans, sprouts, and edamame. Another great choice is the Israeli with a citrus sauce and cilantro. Or you can always freestyle it and make your own!
This magic spot gets its fresh fish from Shuk HaCarmel, right across the way. Buzzing with an eccentric vibe, a fun and wacky atmosphere, and friendly service, stop by for a huge poke bowl, a tropical smoothie or some cocktails. This place turns into a bar scene in the evening so you can down some Hawaii-inspired cocktails with your treat. Oh and vegans, take note, they keep the fish completely separate so that vegans can get their poke fish-free.
Check out other popular Californian cuisine in Tel Aviv