'Food for your current mood': cozy
However grey the weather, you won't want to take a rain check on these rainy day restaurants
It's a not-so-white-winter in the White City. On a good day, that means crisp air, sunshine and a light scarf for comfort. On a bad day, it means gloomy skies, dreary rain and wild winds that make you want to bundle up in blankets and never leave bed. But sometimes, this grim weather calls for a pick-me-up: a cozy night out with friends at a restaurant with comfy vibes and heartwarming food. Here's our guide to eating out in Tel Aviv on a cozy, rainy night.
Current mood: cozy. Current food:
Walking into Suzanna's feels like home. Maybe it's the cozy atmosphere, with folksy wooden tables, warm tones and calming ficus trees. Or perhaps it's the people – the always-pleasant staff and family-friendly crowd. But for me, it's the food – warm appetizers, famous Kibbeh soups, traditional stews and stuffed vegetables that taste just like your grandmother's cooking. When I'm craving comfort food, their spring chicken stuffed with couscous and dried fruits never fails to satisfy. Their warm string beans in tomatoes and their scrumptious lamb meatballs with sweet potatoes also do the trick. Suzanna is the perfect home-away-from-home on a gloomy, rainy evening.
Sometimes, when it rains, nothing is more satisfying than the invigorating flavors and warm comfort of Thai food. And Thai House is the best place in town to get it. The restaurant's name rings true to its atmosphere; sitting in their restaurant feels like you were transported to an authentic, quaint Thai house, with wooden walls and traditional ornaments. The restaurant's authenticity continues with every exotic bite: each dish boasts just enough flavour to reflect the zest of Thai food, without overwhelming your tastebuds. Their Pahd Pakh Kiyao with stir-fried asparagus, Chinese broccoli and bok choy is cooked to absolute perfection, while their Pesa offers the perfect crunch to accompany a juicy slice of fried sea bass. And you mustn't forget about their traditional Pad Thai, which brings you back to sunny Thailand, where rain is no longer a factor.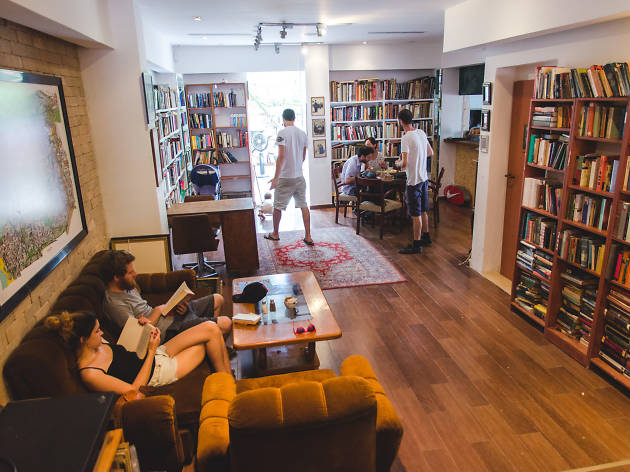 © Yuli Gorodinsky
Doesn't rainy weather just make you want to curl up with a book? Little Prince is just the place. Tucked away on bustling King George Street, this bookstore cafe is a cross between a retro local library and a hipster, rustic coffee shop. This bookworm's getaway is filled with scattered wooden tables and snug couches, enveloped by cases of second-hand books in all languages, shapes and forms. Order a warm cup of coffee, a creative cocktail or one of their delicious Mediterranean dishes, such as the mushroom lentil stir-fry accompanied by refreshing tahini. Plus, there's an added bonus: Little Prince has a charming patio - an idyllic spot to sit, chat and schmooze with friends when the storm clouds part.
Looking for comfort food at its finest? Café Noir arguably has the best schnitzel in the entire country. I could just stop there – you're sold, right? – but it would hardly do the restaurant justice. Café Noir is a long-time culinary institution that offers much more than legendary schnitzel. Situated in the heart of Tel Aviv, this intimate bistro imports you right to Europe. With dimmed lighting, candle-lit tables and romantic vibes, its warm, Parisian atmosphere is the perfect temporary retreat from the dreary weather. Their menu boasts classic dishes with fresh ingredients of the utmost quality, like their chicken liver in port wine terrine, accompanied by crisp, crunchy toasts that will have you nearing heaven. And the Schwartz's chocolate mousse gives you that melt-in-your-mouth sensation that any chocolate-lover lives for. This classic, elegant establishment is a quintessential Telavivian 'oldie but goodie', making for the perfect rainy-day escape.
Charming, cozy, and quirky, Café Puaa is a Jaffa neighborhood staple. Located in the heart of Jaffa's flea market, this iconic café feels like a retro living room. Its colorful carpets, antique ornaments and comfy couches give the restaurant a homey, authentic feel. Plus, Puaa embodies the spirit of its flea market surroundings, whereby every piece of furniture is for sale! But, what makes Puaa truly special are its wholesome, unique Mediterranean dishes. Treat yourself to their famous curried pumpkin dumplings, their hearty moussaka with quinoa and feta cheese or their all-day breakfast (yep, you heard me right). Each dish is creative and packs a flavourful punch - it's no wonder Puaa's loyal customers leave in good spirits, even when the weather is grey.