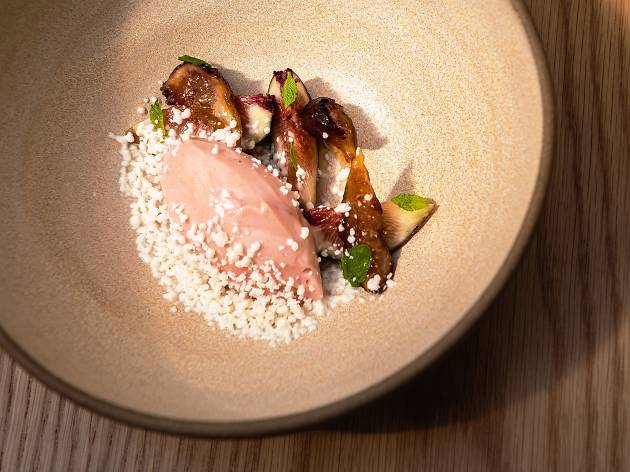 The 7 most delish vegan desserts in Tel Aviv
Did you think you couldn't get a proper dessert without butter, cream, and eggs? Think again. Here are the most creative, corrupt and deliciously vegan sweets in in the city
By Yael Shtukman
We ventured out to the cold(ish) streets of Tel Aviv to taste the best of the city's vegan desserts. They are creative, playful, original and think outside the box. In the past, we found it hard to believe that there were miracles that didn't come from butter, but life is full of surprises. Here is a list of the desserts that even the most beloved lovers of creme fraiche will devour because, after all, a billion vegans in our city can't be completely wrong, right?
The best vegan desserts in Tel Aviv
Imagine soft and blessed pralines of dreamy dark chocolate, flirting with heavenly pistachio cream and strong, precise espresso. The creativity in this dessert is boundless. The attention and deep familiarity with the wonderful raw materials creates a true and unified celebration. We would also recommend trying the almond butter pie and the drunken pear, which is perfection and beyond.
NIS 42
The Argentinian alfajores, which have long been given a place of honor in every coffee shop in Israel, are being reinterpreted at 416. Delicious layers of streusel, light creamy whipped cream in an exciting coconut milk jam make up these sophisticated treats - served alongside white chocolate and accompanied by bold lemon zest.
NIS 56
Sensual and intense truffles of pure Belgian bittersweet chocolate with well-ground almonds and dates are the winner here. All these are wrapped in purified cocoa and a little coarse salt, which deepens the flavors and contributes to a truly exciting experience.
NIS 39
Opa is a restaurant that celebrates fresh, natural produce with a complete focus on organic vegetables and fruit. Go for a fresh, cold fig sorbet, crafted from just-plucked figs roasted in white wine and scented vanilla. The combination of the cold sorbet and the roasted, warm figs is absolutely killer.
NIS 34
Indulge in the drunken pear with white wine on a crisp and delightful almond cookie, with a base of toffee syrup and a unique pecan butter. The pear, which often pales in comparison to the spritely apple, is the star in all its splendor here. A carnival of intelligent and powerful flavors, it's a proper and sophisticated game of textures resulting in a satisfied belly.
NIS 36
This tasty Vietnamese restaurant serves well-caramelized, warm bananas, glazed with brown sugar and decorated with roasted almonds. The sugar glaze is powerful and gives perfect complement to the softness of the fruit, while the almonds add even more flavor. The final result: a pampering dessert with a winning Asian flair.
NIS 33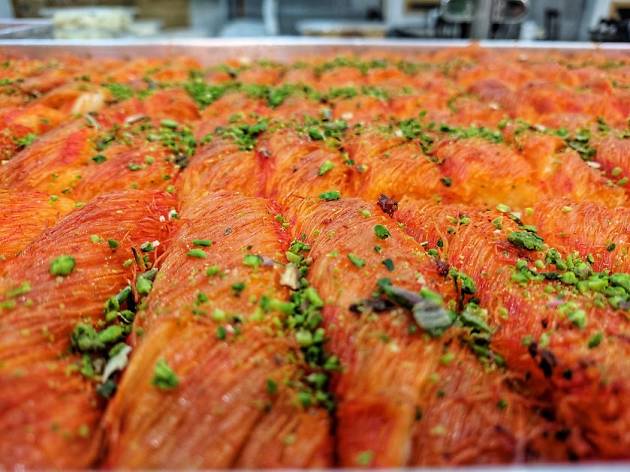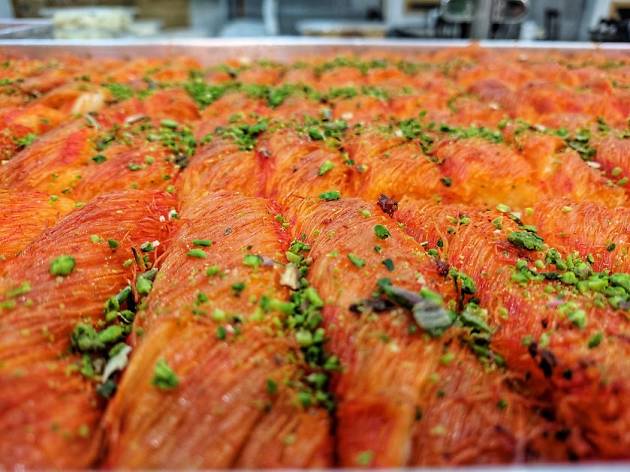 Malak Sweets Facebook page
7. Malak Sweets of Nazareth
Sweet soy cheese, kadaif coated in amazing syrup and roasted pistachios - it's unbelievable that this fine Kanafeh is strictly vegan. Many more authentic vegan desserts are also hidden here and all are to die for.
NIS 15. Malak Confectionery, 36 Yehuda Hayamit St, Jaffa
Best selling Time Out Offers