Things to do in Israel next month
Let go of the "FOMO." Plan ahead for the wildest events in Israel coming up next month with our early bird list
Save the date! There are tons of big events on the calendar next month. It's time to mark them down, purchase tickets, and let the anticipation swell over you while waiting for theatre performances, comedy festivals, and concerts to come to town, and new museum exhibits, designer boutiques, and restaurants to open their doors. After tackling the top attractions in the Holy Land, it's time for some good ole' fashion entertainment. You deserve the break and you're bound to save on early bird specials and presale tickets.
1
The weekly blues jam at the King George establishment, Bootleg, is BYOB: bring your own band, but no need to 'bring your own booze'. The top blues jam in Tel Aviv continues to live up to its reputation, Sunday after Sunday. Bootleg is a great place to enjoy muddy waters and all you can drink booze at the beginning of the work week, while listening to the Blues&Booz House band. Make sure to sign up for the jam that follows by messaging the Blues&Booz facebook page or at the actual jam itself until 00:30 once you've built up enough liquid confidence to test out those new riffs on a twelve-bar blues .
2
"Tel-Aviv Improv Workshop" creates a comfortable environment where every level of comedian—from new comer to veteran—can assemble to improve their improv. Each week, a different member of the community hosts a themed workshop in Dubnov Garden. The hands on workshops encourage participants to take part in as many skits as possible, forcing them to step out of their comfort zones and tap into their creativity.
3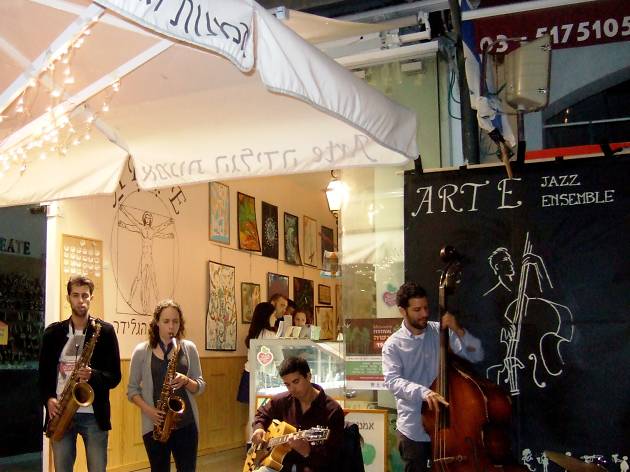 "I scream, you scream, we all scream for ice cream." Pop into Arte Glideria and treat yourself to this Sicilian slice of heaven on Nachalat Binyamin. Arte Glideria's staff are wonderfully friendly, and, if you can catch them at the right moment, are keen to show you their "laboratory"" at the back of the shop where they concoct their signature flavors. Staff picks are "Marco's cake," a creamy base topped with fruit coulis and rich almond crumble, their Mojito Granita, made in true Sicilian fashion by reducing the temperature of the ingredients to produce a snow-like texture, plus an array of vegan water-based flavors.