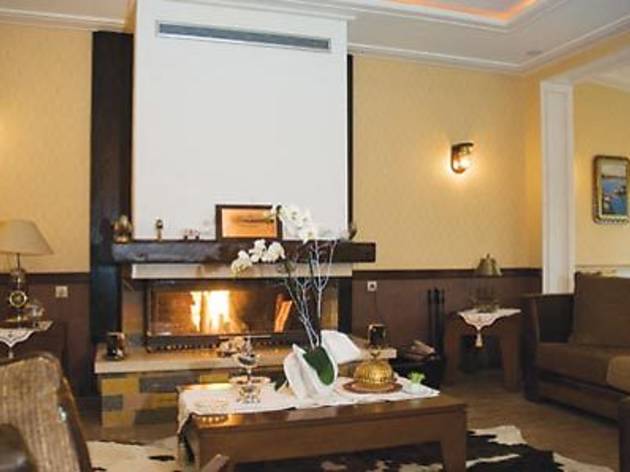 Like many of the other restaurants located here, this restaurant is home to a garden covered in camellia, a dining hall, and is especially indispensable for boat owners and marine enthusiasts. Göksu Marine Café & Restaurant also includes a marina with different services. Boat owners are able to leave their boats at Göksu Marina and spend their entire day enjoying themselves. You do not have to travel all the way to Göksu to be able to taste their restaurant menu filled with different cuisines from around the world, or their café menu, which includes mostly small appetizers. Those who are sailing across the Bosphorus far away from Göksu can even simply pick up the phone and order to their boat! Göksu will deliver your hot and wonderfully tasting order to wherever you are anchored. Those located along the water like Bebek for instance can even be picked up by the restaurant's marine service, which will pick you up and bring you to Göksu to enjoy dinner.
The venue itself is decorated in a marine theme with different accessories all collected from luxury yachts. The main room has large soft, leather sofas. The table in the center has Turkish delights and chocolate on offer for the guests. This area is perfect for socializing after a long meal with some coffee. The menu features breakfast which includes cheese, jams, ham and salami, simit, croissants, börek, omelettes cooked to your liking, hard or soft boiled egg, sausages, fruit salad, and limitless tea or coffee. Our favorites were the Continental breakfast plate, Marine breakfast plate, and the marine style omelette. If you would like something cold, try the smoked salmon towers with black caviar on top, the jumbo shrimps covered in mozzarella served with bruschetta. However if your choice would be to eat something hot, then we recommend the spring roles, shiitake mushrooms stuffed inside mini tomatoes, jumbo shrimps with soy sauce and sesame seeds, and the little salmon cubes covered in teriyaki sauce. In terms of the main course, choices range from fish, meat and salads, to risotto and grilled meat. If you enjoy fish, then the Marine style sea bass, salmon medallion and sea bream wrapped in vine leaves is perfect for you. The lamb and Osso Buco with fresh thyme is also delightful. Try the oven cooked French duck if you enjoy meat.
Aside from the original menu, Göksu Marine also prepares eight different menus for groups and special events. These menus consist of Turkish delicacies, seafood, and different international cuisine. These menus cost between 80-104 TL + VAT per person. An example of these menus would be grilled octopus, salmon pie with dashi sauce, kenloni baked seafood, and a warm palm pudding, all for 96 TL + VAT.
Venue name:
Göksu Marine
Contact:
Address:
Körfez Caddesi Kızılserçe Sokak 18-20
İstanbul


Opening hours:
Daily 09.00-02.00; Food service ends at 23.00).