Restaurants & Cafés
How to truly experience Istanbul's culinary scene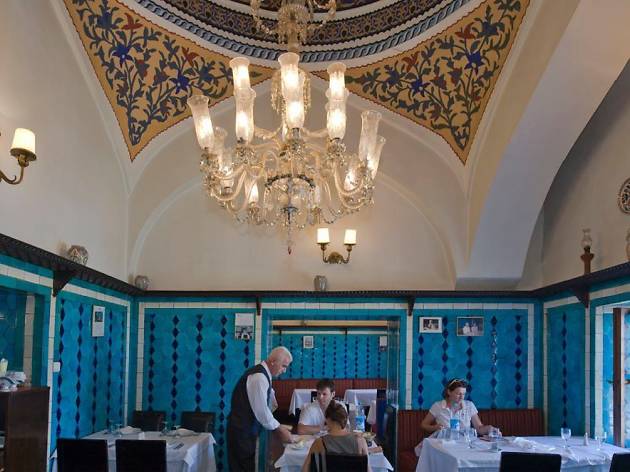 Pandeli
Around the turn of the century, Pandeli, the son of a Greek shepherd from Niğde, moved to Istanbul and started what was to become a legendary culinary career. After working odd jobs as a dishwasher and a barber's apprentice, Pandeli began selling piyaz (bean and onion salad) and köfte (meatballs) in the vicinity of where he would later open his eponymous restaurant. After half a century of operating eateries across Istanbul, Pandeli opened his current restaurant on the upper floor above the entrance of the Spice Bazaar, a location allocated to him by order of the state after his previous restaurant was looted during the 6-7 September pogrom of 1955. Hardships have always been part of Pandeli's saga and the legendary restaurant closed down in 2016 due to financial difficulties. Now, thanks to new investors, the Istanbul icon has once again opened its doors and is looking as good as ever with Abdullah Sevim, its chef of 20 years, back in the kitchen. Pandeli's hünkar beğendi, slow-cooked lamb served on a bed of charred eggplant puree, remains unparalleled, and the famous eggplant pie served with a leaf of döner kebap on top is still one of our favourite dishes in the city. Round it off with the oven-baked quince, which comes slathered with thick syrup and clotted Buffalo cream. As Pandeli is closed for dinner, stop by for lunch before or after visiting the historical peninsula. Pandeli is only open until 18:30 and no alcohol is served.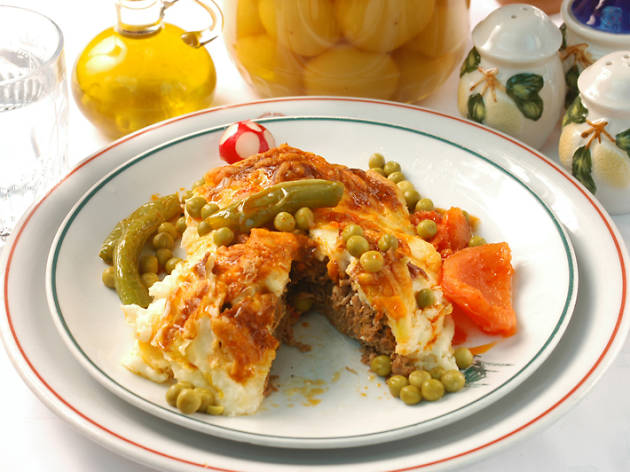 Hacı Abdullah
Without a doubt one of the most important restaurants in Istanbul, Hacı Abdullah was established in 1888 and licensed by Sultan Abdülhamid II himself, who entrusted its founder Abdullah Efendi with hosting foreign dignitaries visiting the Empire. One of the last bastions of Ottoman palace cuisine, Hacı Abdullah has remained true to tradition and not simply with the traditional fare it serves. The restaurant upholds a system of apprenticeship where the kitchen staff and waiters undergo years of training before being deemed fit for the job, and ownership of the restaurant is handed down from master to apprentice. Now maintained by its thirdgeneration founder Abdullah Korun, Hacı Abdullah keeps the flame burning and pots brewing in its Beyoğlu location, which it has occupied since 1958. When we recently visited the restaurant on a snowy winter's day, the brothy okra soup (kuru çiçek bamya çorbası) did wonders to warm us up. Follow it up with keşkekli kebap, a wonderfully smoky meat and wheat stew, or the signature kuzu tandır, slow-cooked lamb. Hacı Abdullah is famous for its fruit compotes and the colourful jars lining the walls of the restaurant contain some that are several decades old. The mixed fruit compote is a great way to end your meal – and rest assured it won't come down the wall but has been prepared fresh that day. Since there is no alcohol served and most of the food is cooked in the morning, visiting Hacı Abdullah for lunch is ideal.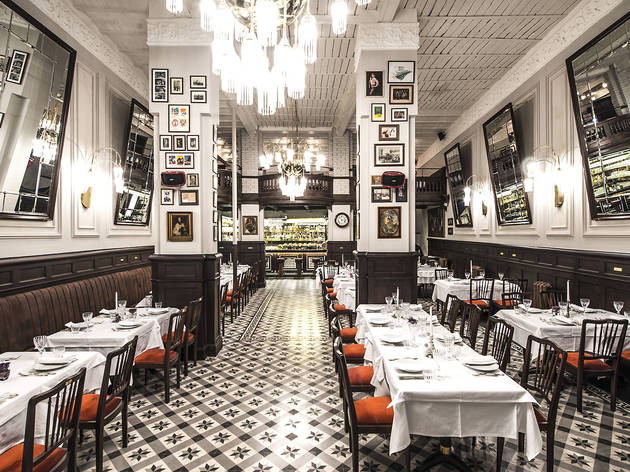 1924 Istanbul
One of a number of restaurants opened by White Russians fleeing the Russian Revolution, Rejans was frequented by many interesting characters throughout the years including Mata Hari, Greta Garbo, Atatürk, Agatha Christie and, according to urban legend, a number of spies when the city was teeming with film noir style espionage in the 1940s. After its 80-year run on a quiet backstreet off the hustle and bustle of Istiklal, Rejans closed its doors in 2011. Following a four-year hiatus, however, the folks behind 360 Restaurant set out to bring this historic eatery back to life, renaming it 1924 (though Rejans was in fact founded in 1932). Picking up where Rejans left off, 1924 is an eatery that combines the old and the new, paying tribute to its precursor without completely relying on the past. Russian classics like pelmeni dumplings with leek, beef stroganoff and chicken Kiev are made exceptionally well here. The restaurant also draws inspiration from Eastern European cuisine to add colour to the menu, as Russian fare on its own might seem a bit too 'country' for a restaurant like 1924. A strong suit of the menu is undoubtedly the desserts section, featuring delights like the chestnut cream profiterole. 1924's homemade vodkas make for a great aperitif or digestif and the lemon infused variety is our hooch of choice. If you're feeling adventurous, try the salmon vodka, which is certainly not for the faint of heart. 1924 is a place to visit for its historic feel as well as its go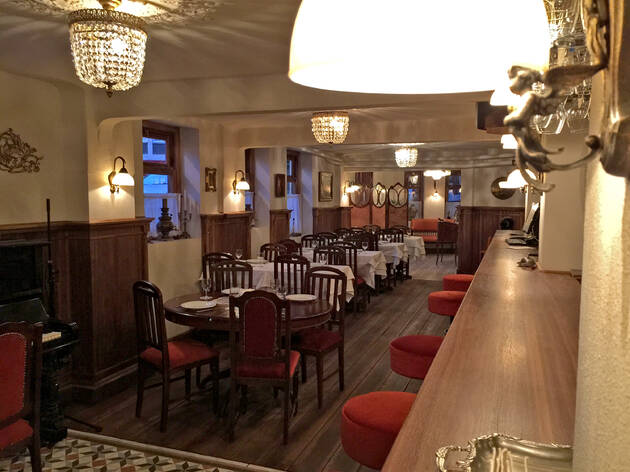 Ayaspaşa Rus Lokantası
Opened in 1943 by the Russian Boris Kreschsanovsky and his Hungarian wife Madam Judith, affectionately known as the 'Countess', Ayaspaşa Rus Lokantası catered to a different sort of crowd, frequented by those who preferred the low-ceilinged intimacy of Ayaspaşa and the homestyle cooking of the Countess to the heady and grand atmosphere over at Rejans. After Madam Judith passed away, Cemal Ok, who had entered the restaurant as a young waiter before learning all of the original recipes from the Countess herself, took over the management and today runs the eatery together with his son Serkan Ok. One of the most intriguing items on Ayaspaşa's menu is the veprevo koleno, which needs to be ordered three days in advance. The juicy leg of pork is cooked in beer and served with a side of pickled cabbage and mashed potato. The borscht soup served with a dollop of cream is wonderfully tangy and hors-d'oeuvres like the Russian salad, fluffy piroshky pastry with mushrooms, and blini pancakes with caviar go nicely with their signature black pepper vodka. For the grand finale, try the medovik, a layered honey cake that is served every day except Friday and Saturday.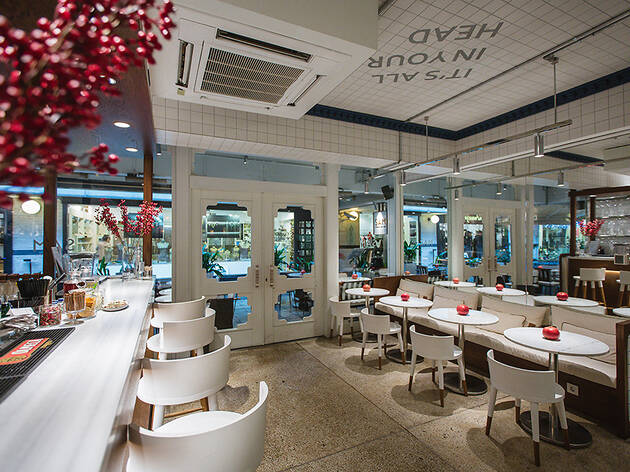 Sam Kitchen and Bar
Serra and Merve. Bu kelimelerin baş harfleri bir araya gelince Sam oluyor. Kuzenler Serra Erman ve Merve Büyükuğur, Şemsa Denizsel'in Kantin'ini devralmışlar. Milli Reasürans Çarşısı'nda açtıkları Sam's Kitchen and Bar, Nişantaşı sakinleri ve semt ziyaretçileri için yeni bir lezzet noktası. Beyaz rengi ağırlıklı kullanarak ortamda taze ve temiz bir hava yaratan Aslı Baysan Birgen mekan tasarımını üstlenmiş. İçeri girdiğinizde sizi barın ve sipariş penceresinden içine göz atabileceğiniz mutfağın bulunduğu ilk küçük salon karşılıyor. Solunuzdaki kısımdan geçince daha geniş ikinci salona ulaşıyorsunuz. Buradaki duvarlarda asılı tablolar hoş, ambiyans hem hafif hem de genç. Dışarıdaki kısımda oturup çarşıda gezinenleri izlemek de alternatifiniz. Mekan sahipleri mutfaklarını çağdaş yerel mutfak olarak nitelendiriyor. Menüde yer alan lezzetler Türk mutfağı ağırlıklı olsa da dünyadan esintiler taşıyor. Sabit menülerinin yanı sıra haftalık olarak güncelledikleri lezzetler de sunuyorlar. Biz karamelize pırasa ve Kars gravyeri çorbasına denk geldik ve çok sevdik! Derin bir kasede sunulan çorba hem doyurucu hem de inanılmaz lezzetli. Ispanak, arapsaçı ve İzmir tulumu ile zenginleştirilmiş eriştenin porsiyonu da tatmin edici. Al dente kıvamındaki erişte taze ot kaymağı ve badem sos ile sunuluyor. Mekana gelenlerin favorilerinden biri çıtırıyla meşhur ot mücveri. Kaburga kıymasından yapılan köfteyle hazırladıkları Sam burger ise yiyenleri mest ediyor. Normalde pazar günleri kapalı olan me
Latest restaurant reviews