Restaurants & Cafés
How to truly experience Istanbul's culinary scene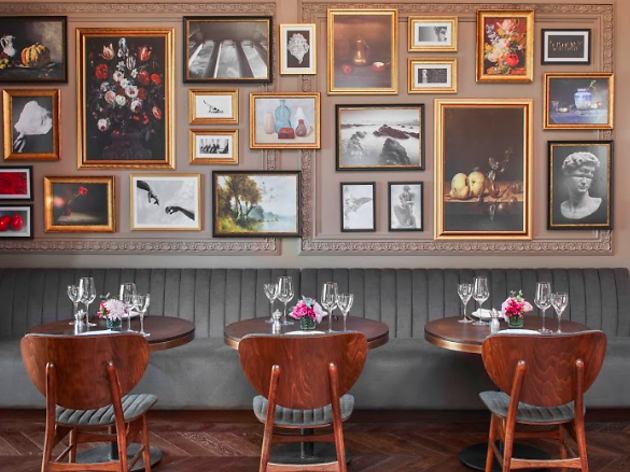 Villa Emma
What's it? An elegant restaurant serving international cuisine in Etiler. Why go? For foie gras parfait and comfortable environment. Villa Emma sets its target to be considered among the city's leading quality restaurants. Selected tastes from world cuisine, especially Far Eastern and Mediterranean cuisines, are on the menu of the restaurant. The recipes of Chef Durmuş Gökçe are tremendous. The first moment you taste goose liver parfait (115 TL), served with pear jam, the taste receptors in your tongue send good news to your brain. While preparing the parfait, which you can apply and consume on fried brioche, Rougié branded foie gras imported from France was preferred. Although it contains plenty of butter, it has a flavor that leaves a slight taste in the mouth. Duck gyoza & hoisin sauce (74 TL) is the hot start. The Chinese ravioli gyoza is prepared with rice flour. After being filled with Peking duck mortar, baked for three and a half hours, it is fried in sesame oil. You can enjoy the plum hoisin sauce over it and enjoy it. Smoked forest mushroom quail (85 TL) is served with parmesan soft polenta and orange puree. Villa Emma, ​​which attracts customers from business and community life, is a comfortable restaurant where you can chat with your friends comfortably. The winter garden, which will be opened in the summer, has stunning artworks.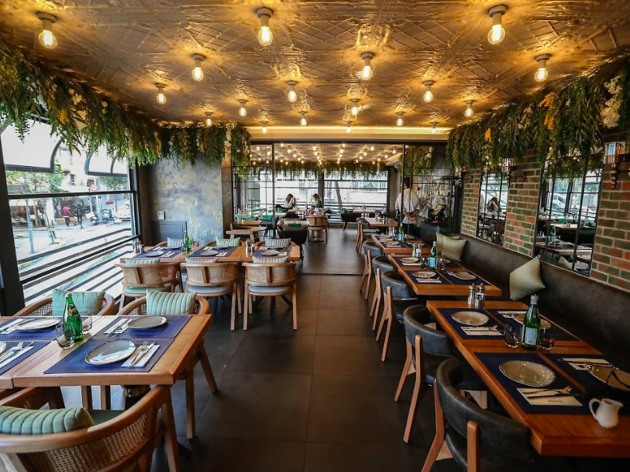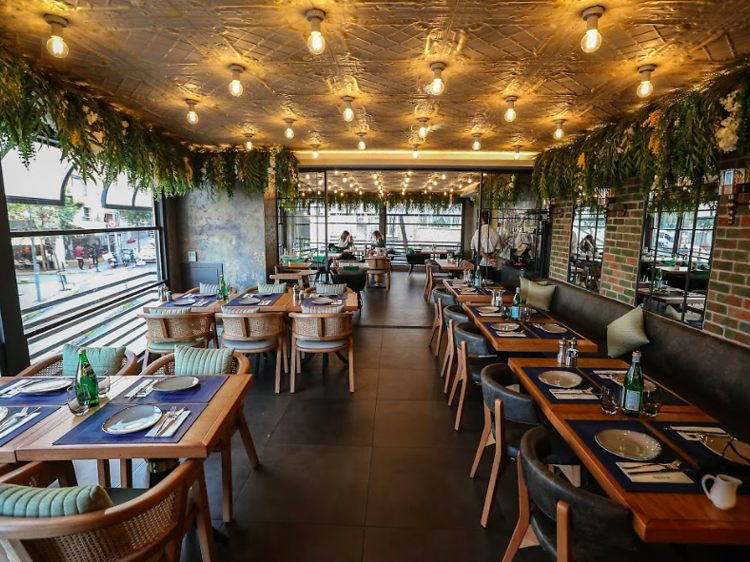 Gasto Street & Local Food
What's it? Local street food serving restaurant. Why go? For Thracian ravioli. A new restaurant was opened in Nişantaşı, and it combines the two trends of the gastronomic world. Gasto Street & Local Food, founded by Chef Emircan Canatar, focuses on both local food and street food. In the menu, you can find dishes identified with different cities of Anatolia together under the name of artisans. You can take your palate on a trip with Ispir beans (27 TL) served with fresh herb tzatziki or Bosnian meatballs (38 TL) served with Antalya market. It is better to finish Thracian ravioli (34 TL) slowly because of its taste. Green onion oil suits the open ravioli, which also appeals to the eyes with its star shape. You will find both the indispensable flavors of our food culture and the options that have become popular recently. The cheese flowing between the veal ribs and toasted cheese toast (37 TL) has an appetizing appearance. Migration and mohair on bread (32 TL) is another difficult option to resist. It is possible to taste new presentations of traditional national foods by ordering kokoreç (35 TL) and taco tantuni (36 TL) on the sheet. Those who eat lightly can choose a quinoa salad with Ezine cheese (37 TL). We recommend you to make a reservation before going to the place.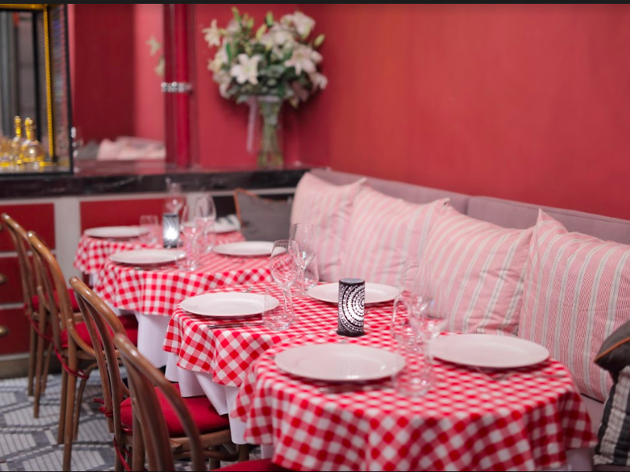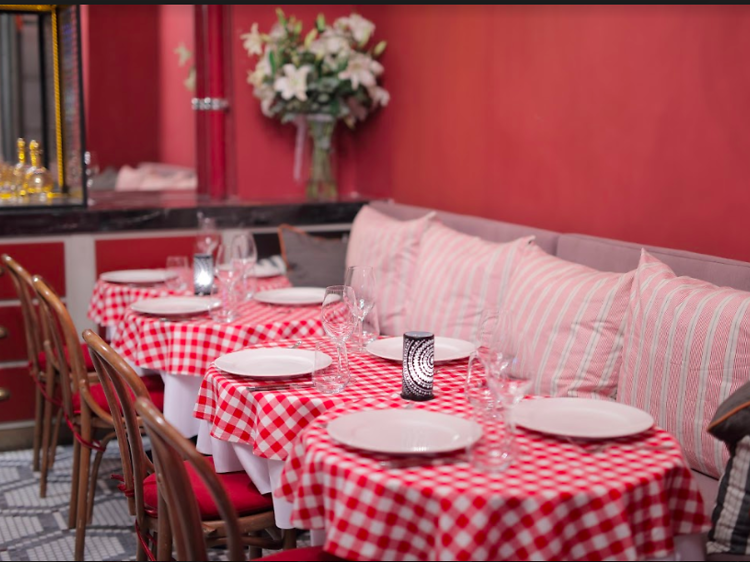 L'Entrecôte de Paris
What's it? A French restaurant. Why go? For its cute environment. Serafina's sister venue L'Entrecôte de Paris is located right next to this restaurant. The place, which was opened with the partnership of Metin Şen, Gökay Deniz and Murat Özgel, is ideal for those who want to take a short break in France for business. The most striking feature of L'Entrecôte is the short lunch menu. There is no way you can go into indecision because the L'Entrecôte menu (125 TL) is your main option. It includes lettuce, lollo rosso, salad with walnuts and white sauce, and L'Entrecôte de Paris. The ribeye steak cut into thin strips accompanied by a delicious looking sauce, together with french fries, which tempt everyone, swell appetite. Candles that located under the tray help maintain the temperature of the food. Onion soup (28 TL), a French classic, has also taken its place on the menu. We have a tiny warning for vegetarians alone. When interpreting the recipe, chicken broth was used, to tell us. If you want to enjoy cheese like the French after the meal, you can order a cheese plate (90 TL). Let's leave the ones who say "I will make the final with dessert" with the homemade crème brûlée (47 TL). In this cozy French restaurant where the fire of red reigns, we love the patterns of the floor coverings and the curtains that give the atmosphere a cute home feeling. The melodies in the background will take you to Paris.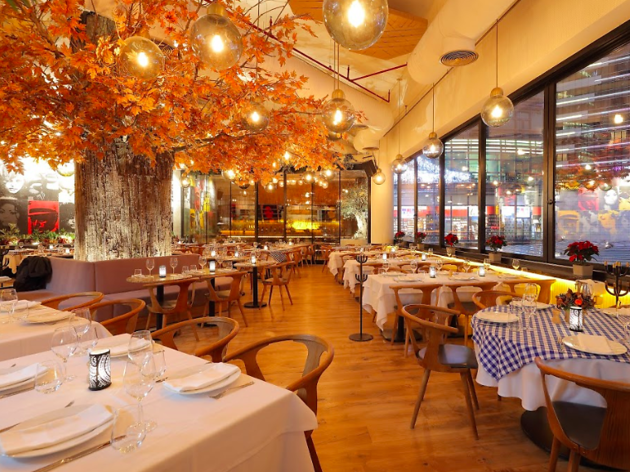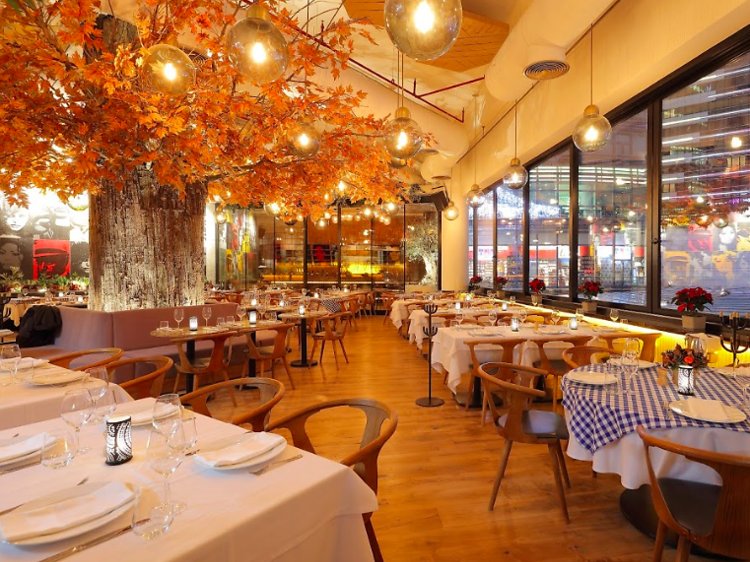 Serafina Kanyon
What's it? The new branch of an Italian restaurant at Kanyon. Why go? To experience Italian cuisine in an elegant ambiance. The Italian restaurant Serafina, the first branch of which opened in 1995, has been spread all over the world ever since. America, Japan, after countries such as Brazil and Israel to Turkey with the Akmerkez branch is now entering the Kanyon's Serafina restaurant. When you enter the interior of the space, the bar and the kitchen lie on your right. The façade facing out is made of glass; An open city view, which is not blocked by the buildings, is almost filled into the dining hall. You can find yourself in a spacious environment even though you are in one of the busiest places in the city with the view that the sky can also be received. In addition, since they cover the column in the middle of the place with the appearance of a tree trunk and add leafy branches on top, you are gathering under the same tree as all customers. A subtle elegance has been captured with the wooden-weighted space design, and a touch that creates a closeness with blue and white checkered tablecloths has been realized. You can find Italian classics on the menu. There are options to appeal to a wide audience, including pork lovers and vegetarians. Pappardelle al salmone (78 TL) from pasta is delicious. This homemade pappardelle accompanied by asparagus with salmon prepared in the form of tartar gives a hint about the kitchen of the place. The plates are prepared with confidence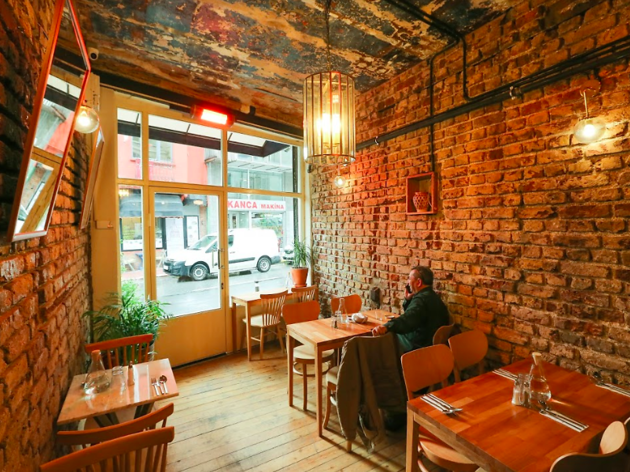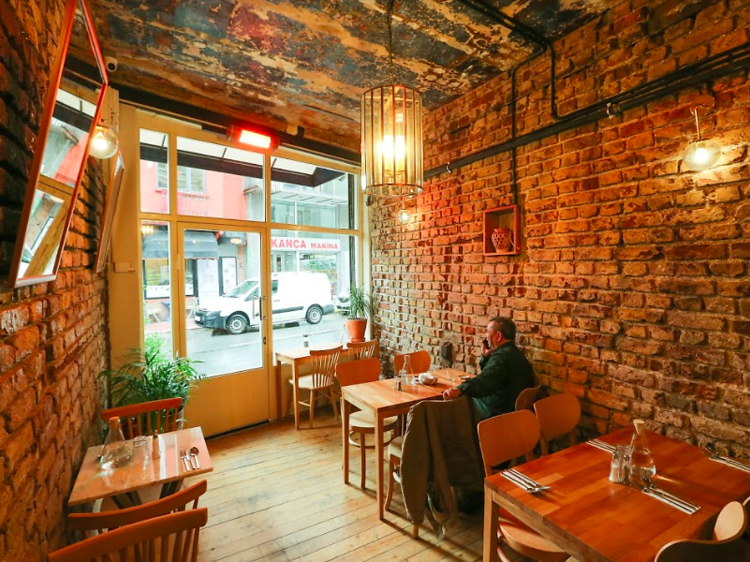 Lokanta Mimi
What's it? It is a modern place that keeps the tradesman spirit alive. Why go? For healthy food in a comfortable environment. Restaurant Mimi gets its name from "Hacımimi" District where it is located. This cute place plays a role in the mobilization of Karaköy's gastronomy scene, which will attract attention with the opening of Galataport. Their founding partners Ferhat Uzun and Dilruba Aybaş were trained at MSA and it was always in their mind to open their own places. After they both experienced in different jobs, they realized their dreams with Lokanta Mimi. Their friendly proximity is reflected in their space. As one passes by, he can recognize the warm atmosphere inside. When you enter, you realize that you are in a structure where you can feel the history of Karaköy. For example, when you raise your head, you notice that the original ceiling ornaments are preserved. Wooden tables and brick walls of oak make a calming effect. If you care about eating healthy meals, this is a place for you. You can choose the dishes prepared in the oven as one type (8 TL), three types (20 TL) or four types (26 TL). You can order dishes that focus on vegetables such as carrots, crispy Jerusalem artichoke, potato salad, and the ones that change daily. Many options such as vegan embers imambayıldı (22 TL) will make vegan and vegetarian diets happy. The planetary vaccine (24 TL) is a sour meatball review that they feature. Our favorites were soups. Jerusalem artichoke soup (14 TL) and blac
Latest restaurant reviews