Film
Istanbul cinema listings, film reviews and exclusive interviews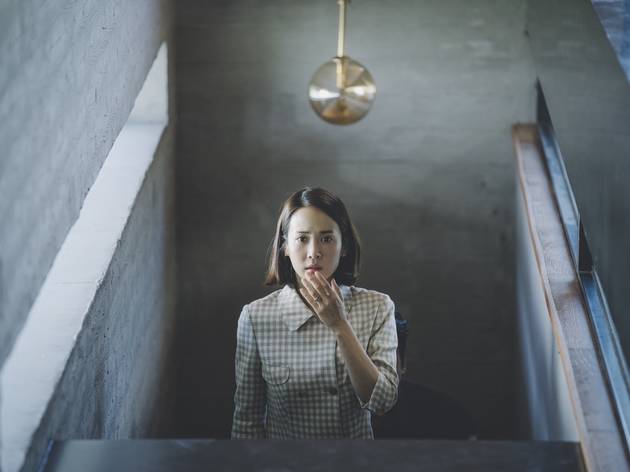 Parasite
It's rare for a movie to combine cinematic fireworks and social commentary in quite the thrilling and mischievous way that Korean director Bong Joon-ho manages with 'Parasite', a slick home-invasion drama that mirrors the masks worn by its characters: polite until they drop the pretence. The director of 'The Host' and 'Snowpiercer' is no stranger to genre gymnastics, and here he tells the story of a poor Seoul family infiltrating the lives of a super-rich household through suspense, drama, laughs and farce, allowing moments of pure terror, quiet observation and baroque noise to sit happily alongside each other. It never jars as it glides from one state of being to the next. The appeal of 'Parasite' is simple and age-old: inequality, class, manners and how we behave to protect what's ours – or to gain that which we believe should be ours. We meet a hard-up family living in a 'semi-basement' with a view of an alleyway where folk like to come and take a piss. The husband Ki-taek (Song Kang-ho), wife Chung-sook (Chang Hyae-jin) and their twentysomething kids, son Ki-woo (Choi Woo-sik) and daughter (Ki-jung) are all scraping together a living doing odd jobs like constructing pizza boxes. The film's touchpaper is lit when Ki-woo fakes his CV and starts tutoring the daughter of a handsome rich young businessman Mr Park (Lee Sun-kyun) and his equally alluring and polished wife Yeon-kyo (Cho Yeo-jeong). One by one, the rest of the family play the same game and infiltrate the Park hou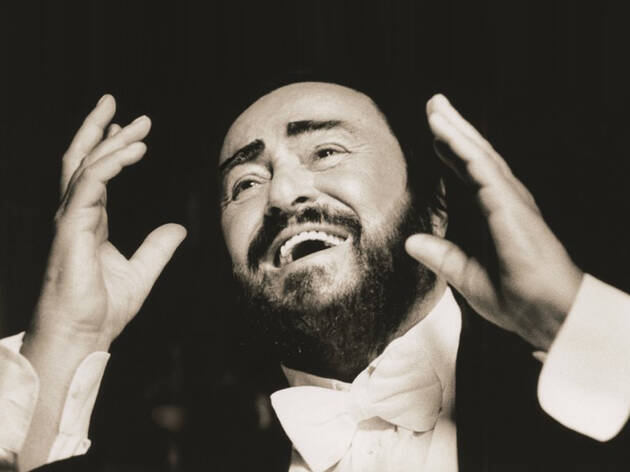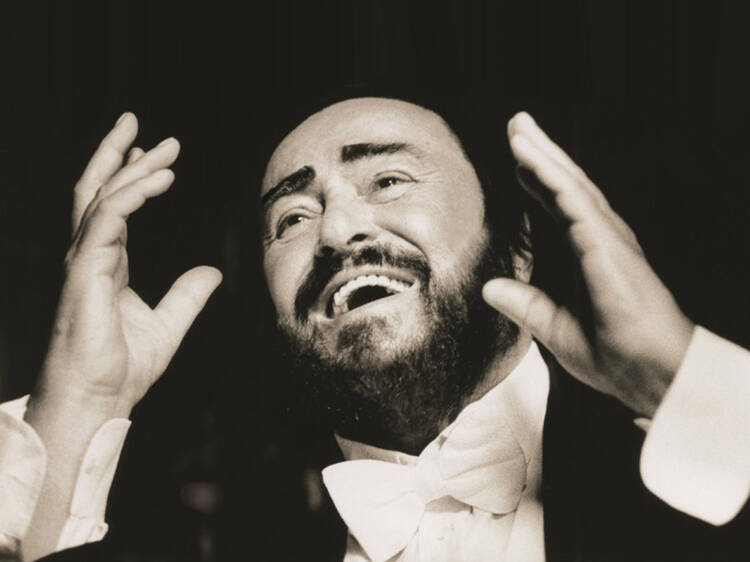 Pavarotti
From the filmmaking team behind the highly-acclaimed documentary The Beatles: Eight Days A Week - The Touring Years, PAVAROTTI is a riveting film that lifts the curtain on the icon who brought opera to the people. Academy Award winner Ron Howard puts audiences front row center for an exploration of The Voice...The Man...The Legend. Luciano Pavarotti gave his life to the music and a voice to the world. This cinematic event features history-making performances and intimate interviews, including never-before-seen footage and cutting-edge Dolby Atmos technology.
Terminator: Dark Fate - The IMAX 2D Experience
More than two decades have passed since Sarah Connor prevented Judgment Day, changed the future, and re-wrote the fate of the human race. Dani Ramos (Natalia Reyes) is living a simple life in Mexico City with her brother (Diego Boneta) and father when a highly advanced and deadly new Terminator- a Rev-9 (Gabriel Luna)- travels back through time to hunt and kill her. Dani's survival depends on her joining forces with two warriors: Grace (Mackenzie Davis), an enhanced super-soldier from the future, and a battle-hardened Sarah Connor (Linda Hamilton). As the Rev-9 ruthlessly destroys everything and everyone in its path on the hunt for Dani, the three are led to a T-800 (Arnold Schwarzenegger) from Sarah's past that may be their last best hope.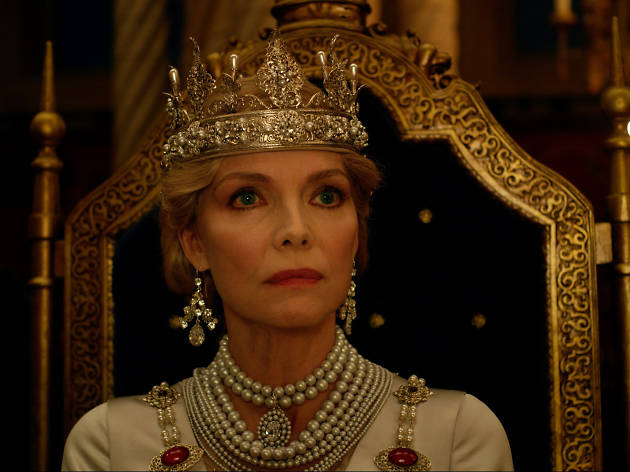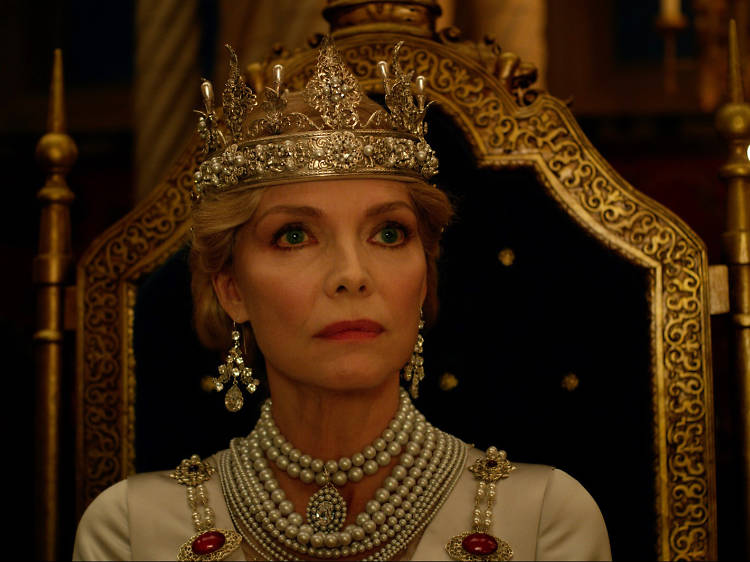 Maleficent: Mistress of Evil
An overstuffed follow-up to 2014's skilful Sleeping Beauty' spin-off 'Maleficent', Joachim Rønning's ('Kon-Tiki') sequel finds one worthy reason to exist in Michelle Pfeiffer's wicked Queen Ingrith. As the nemesis to Angelina Jolie's red-lipped siren, Pfeiffer gives us exactly what we want: the venomous Catwoman attitude she brought to 'Mother!'. Intimidating in costume designer Ellen Mirojnick's pearl-encrusted threads, Pfeiffer strides into character – her Ingrith plots to overtake the realm, poisoning the familial bond between its young queen, Aurora (a graceful Elle Fanning), and her misunderstood godmother, Maleficent (Jolie, glamorous and imposing). Will Ingrith's villainy destroy the duo's love, which the first film so thoughtfully built?Even if you have an idea how that question gets answered, Pfeiffer's deceitful empress (with flower allergies) keeps things entertaining enough. The rest of the package isn't as inspired, despite Patrick Tatopoulos's fanciful production design that recalls a lesser 'Avatar', and all the cute, flickering things hovering around. A smitten Prince Phillip (Harris Dickinson), engaged to Aurora, sometimes downgrades the otherwise central Maleficent from feared potentate to anxious empty-nester. There's also an underground clan of creatures that includes Chiwetel Ejiofor's horned Conall, living in hiding from human threat. It all leads to a noisy finale that wears out its welcome. (You'll crave more of the quieter battle from an earlier dinn
More reviews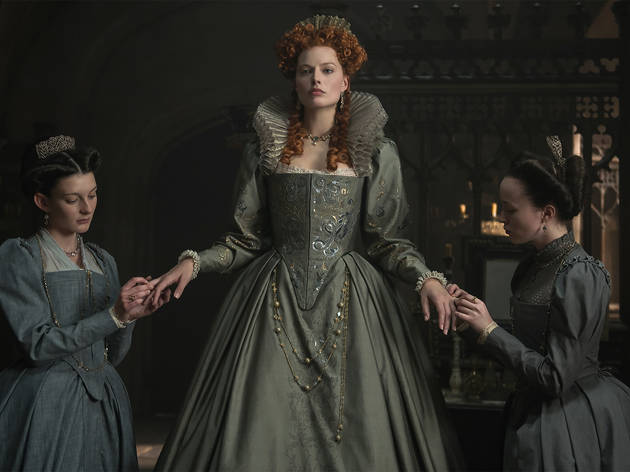 Mary, Queen of Scots
How much fun would it be to watch an alternate version of 'Game of Thrones' in which all the boring men cowered behind trees while two female dragons circled overhead? You may be wondering about that while taking in 'Mary Queen of Scots', visually dull and intriguing in only the most generic sense, but still a showcase for the twin talents of Saoirse Ronan and Margot Robbie. For their royal viciousness alone, the movie is almost worth seeing, even if the backbiting is nowhere near as killer as 'The Favourite' (it's a good time to be an onscreen monarch). Technically, this is Ronan's movie: She plays the titular role, Mary Stuart, estranged from her native Scotland, reared Catholic in France and already widowed as a teenager. In 1561, Mary is returning home to a mess of competing claims to power. For all the soulfulness Ronan has summoned elsewhere – her performances in 'Brooklyn' and 'Lady Bird' are worthy of the silent era's most iconic turns – she's a little stiff here, uneasy in the saddle, and wasted on moments of grandeur and hot-blooded pronouncements. Fortunately, 'I, Tonya's Robbie is happy to pick up the slack as England's ruling Elizabeth, cursed with bad skin, worse wigs, defective ovaries and a scheming cousin in Mary. They're rivals, but the script (by Beau Willimon, based on John Guy's 2004 biography) awkwardly constructs only one scene for them to play against each other. No matter: Long before the verbal fireworks of that final showdown, Robbie is exuding lo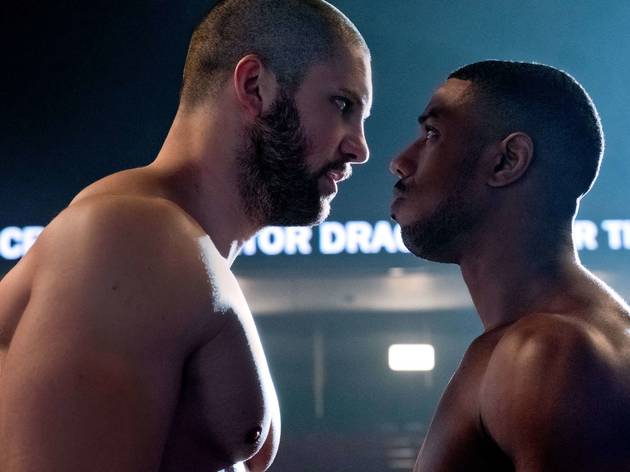 Creed 2
The word 'yo' has a near-sacred status in the lunkheaded 'Rocky' universe; it can be soft or hard, gentle or a throwdown. In 'Creed II', it comes reverently, with a marriage proposal and, later, the birth of a child. That's not an accident: As with 2015's affecting 'Creed', the sequel wants to consecrate every verse of Stallone scripture, bowing deeply to Rocky 'IV's clash of superpowers (both Dolph Lundgren and an icy Brigitte Nielsen are back), and evangelising on behalf of the franchise. The people making this movie know all the beats they have to hit, and hit them they do, jab by jab. If the results aren't as artful as those by 'Creed' director Ryan Coogler (Steven Caple Jr. steps in), they still feel earned. That's chiefly due to actor Michael B. Jordan, the linchpin of the rebooted series, who again makes hay with the role of rising young boxer Adonis Creed, rife with daddy issues. Last time, Jordan leaned hard into the story of a humble son chasing a ghost, Apollo Creed, gone before his child could know him. Now, Adonis is all but avenging him, confronting his father's murderer in the ring in the form of Viktor Drago (Florian Munteanu), the hulking progeny of Lundgren's iconic Russian heavyweight Ivan. ('It all feels so Shakespearean,' articulates one commentator for the cheap seats; the script is sometimes coarse.) You won't need to refresh on the '80s films to know that the bout doesn't go well: Adonis lets the mojo go to his head and his pre-fight entrance into Bro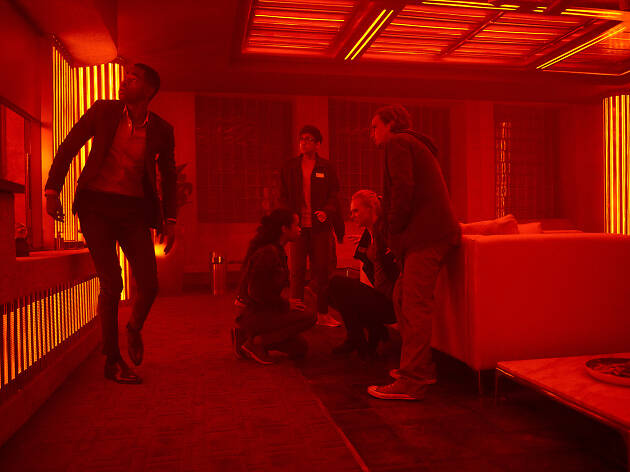 Escape Room
The current craze for escape rooms – in which groups solve puzzles to be released – was bound to inspire a horror film, so it's gratifying to discover that 'Escape Room' is more than just a cheap teens-in-peril cash-in. Six strangers – shy physics student (Taylor Russell), shelf-stacking slacker (Logan Miller), escape room addict (Nik Dodani), long-distance trucker (Tyler Labine), smarmy stockbroker (Jay Ellis) and Iraq war vet (Deborah Ann Woll) – receive mysterious invitations to an exclusive escape room, unaware of something else they have in common. At first, the apparent danger of the traps seems to be part of the experience – but before you can say 'The figure in the painting is pointing at the book!', the players realise that they'll be lucky to escape with their lives.Adam Robitel, director of 2014's underrated supernatural horror 'The Taking of Deborah Logan', gets the blood pumping right from the off, trapping the audience in a room with one of the contestants as the walls close in, splintering furniture and shredding nerves with equal gusto. This scene acts as something of a spoiler for what follows, as we know – or think we know – who's going to make it and who isn't. But the tricksy screenplay stays one step ahead and is smart enough that, while the audience can't participate in the physical puzzles – each staged as an elaborate and impressive set piece – it can still try to figure out what's going on behind the screams. There's more than a measure of 'Saw' abou
The Upside
It's déjà vu as the life-affirming hit French comedy-drama 'The Intouchables', the true story of a bromance between a wealthy quadriplegic man and his black live-in carer from the projects (aka the American version of a council estate), gets the Hollywood treatment. This really is an incredibly cheesy remake – and the original was already pretty cheesy – starring 'Breaking Bad' actor Bryan Cranston and Kevin Hart, doing their best with a script that cracks out all the odd-couple movie clichés. It's nicely acted though. Cranston plays billionaire investor Phillip, paralysed from the neck down after a paragliding accident. When his secretary (Nicole Kidman) advertises for a carer, Phillip hires the least qualified candidate Dell (Hart). Not long out of prison, Dell only shows up at the interview to keep his parole officer sweet. Is Phillip charmed by his humour and realness? Or because he suspects that Dell won't ignore his Do Not Resuscitate order? A good deal of seen-it-before buddy comedy follows, as Phillip introduces Dell to highbrow culture, while Dell gets his boss high on marijuana. The script even nicks that bit from 'Pretty Woman' where Julia Roberts cries at the opera. That's not to say The Upside is a complete write-off. The two actors bounce off each like ping-pong balls. Cranston in particular, acting only with his face, brings humanity and intelligence to a flimsy part – and it's pretty funny in places. But there's no ignoring the fact that the characters are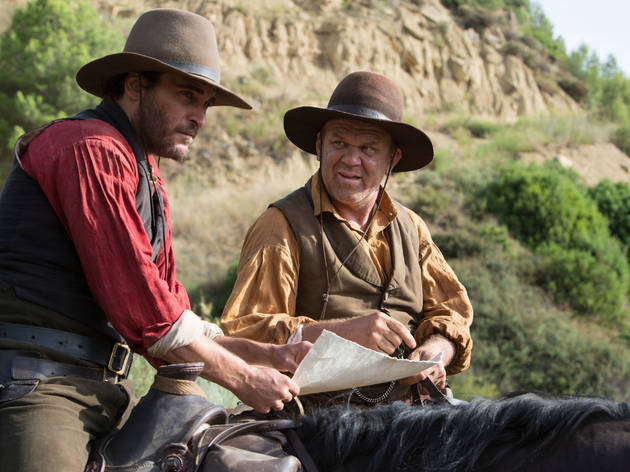 The Sisters Brothers
You don't need a deep love of westerns to get a kick out of Jacques Audiard's ('Dheepan') wry, surprising, and often plain hilarious frontier story set in 1851 Oregon and California. Sure, there's all the shootouts, smoky saloons and liquor-soaked gunslingers a genre aficionado could ask for, but at its generous heart, the Frenchman's first English-language film is a road movie about a pair of bickering siblings who just happen to be bounty hunters. The emotional beats are deep-felt and the one-liners come thick and fast. It's contemplative at times too, taking time to chew over its characters' hopes and dreams. Imagine 'Midnight Run' with saddle sores and you wouldn't be too far from the mark.Audiard immediately establishes the lethal bona fides of the brothers, Charlie (Joaquin Phoenix) and Eli Sisters (John C Reilly) – and their odd-couple chemistry – with a striking nocturnal gunfight. It begins with distant muzzle flashes and a bullet-ridden cabin and ends, like so many of the scenes to come, with the pair grousing enjoyably at each other. This job, it turns out, was on behalf of the pair's paymaster, a malicious and mostly unseen figure known as 'The Commodore'. Soon he has another one for them: to trek across the state and kill a man by the name of Hermann Warm (Riz Ahmed), a guileful chemist with a new formula for refining gold. To make things easier, Jake Gyllenhaal's detective, John Morris, will have him apprehended and ready to turn over. At least, that's the theor