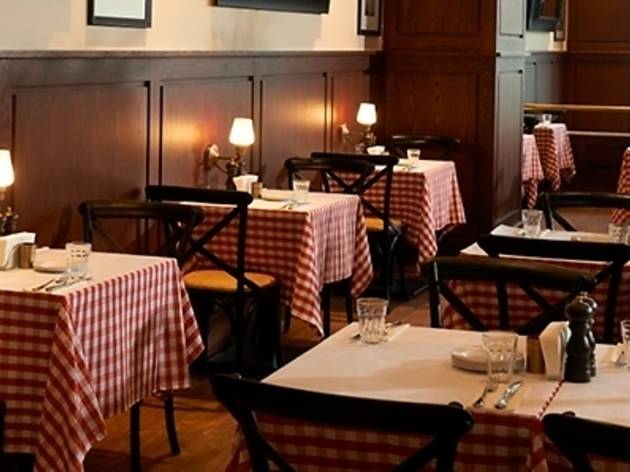 Italian flavors, local products
The man behind brands like Mikla and numnum, and a leading actor in Istanbul's gastronomy scene, Mehmet Gürs is now putting his own spin on Italian cuisine with a brand new restaurant. Trattoria Enzo is a purebred Italian with specially produced, daily made pastas as well as grilled and wood fire-baked pizzas with traditionally yeasted dough. No imported goods enter the kitchen; everything is made using local ingredients. As a result, every plate that arrives before you features completely fresh ingredients. Another notable feature of the menu is the selection of house wines that accompany your pasta or pizza. The staff is well informed about the dishes as well as the best wines to accompany them, and we recommend asking for their input without hesitation.
Trattorio Enzo's interior décor also reflects the flair of traditional Italian restaurants, with the classic red-checkered tablecloths adorning wooden tables. At the far end of the spacious bar, the pizza oven and open kitchen are buzzing with action, which lends the eatery a pleasant dynamism. Our favorite feature of the eatery is that it affords a real Italian culinary experience at a reasonable price.
While we're at it, we'd like to give you the latest news from Mehmet Gürs and the Istanbul Food & Beverage Group. This year, the IFBG is taking on two new projects in addition to Trattoria Enzo. The group is now in charge of Kronotrop, which is set to change public perception of good coffee, starting from how the grounds are roasted to how the final product is presented. IFBG is also bringing us Terra Kitchen, a "Fresh Casual" themed fast food restaurant whose slogan is "eat good, feel good."
Venue name:
Trattoria Enzo
Contact:
Address:
Çeçen Sokak, Akasya Acıbadem AVM 525 Kat 3.
İstanbul