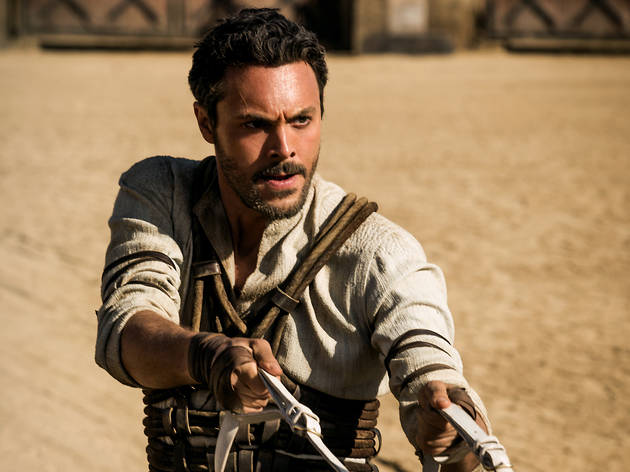 Time Out diyor ki
Sinema tarihinin ünlü klasiklerinden 'Ben-Hur'un yeniden çevrimi.
1959 tarihli 'Ben-Hur', 11 dalda Oscar kazanarak o zamana kadar en fazla Oscar kazanan film unvanını kazanmış, başroldeki Charlton Heston'ı da bir dünya yıldızı haline getirmişti. Günümüz teknolojisinin olanaklarıyla yeniden çekilen yeni 'Ben-Hur' ise üç boyutlu olarak izleyicilerle buluşmaya hazırlanıyor.
Lew Wallace'ın ölümsüz romanı 'Ben-Hur: A Tale of the Christ'a dayanan öykü, haksız bir şekilde ihanetle suçlanan prens Judah Ben-Hur'un macerası üzerine kurulu. Ailesinden ve sevdiklerinden ayrı bırakılan Judah, köle olarak geçirdiği yılların ardından intikamını almak için ülkesine geri döner. Judah, üvey erkek kardeşi Messala'ya meydan okuyacaktır.
Rusya'da çektiği aksiyon filmlerinin ardından Hollywood'a transfer olan Timur Bekmambetov'ın imzasını taşıyan yapım, epik bir dönem filminden ziyade bir aksiyon filmine benziyor. Orijinal filmdeki ünlü at arabası yarışı sahnesinin daha büyük ve görkemli versiyonunu izleyeceğimiz yeni 'Ben-Hur', ilk film kadar ağır bir tona sahip değil. Jack Huston'ın Judah'yı canlandırdığı filmde Haluk Bilginer de kısa bir rolde izleyici karşısına çıkıyor.
Ayrıntılar
Sürüm detayları
Yayın tarihi:
9 Eylül 2016
Süre:
0 dk
Oyuncular ve ekip
Yönetmen:
Timur Bekmambetov
Senaryo:
Keith R. Clarke, John Ridley
Oyuncular:
Jack Huston
Nazanin Boniadi
Haluk Bilginer
Morgan Freeman
Toby Kebbell