Heads up! We're working hard to be accurate – but these are unusual times, so please always check before heading out.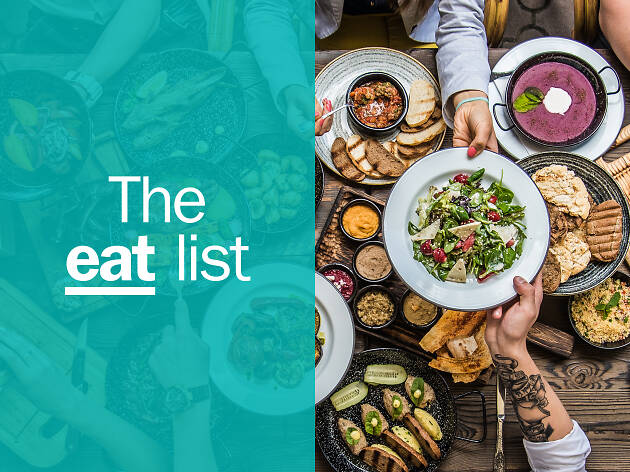 The 21 best Key West restaurants
Mostly offering fresh seafood, the best Key West restaurants are focusing on sustainability and, obviously, key lime pie
June 2019: We've updated our list of the best Key West restaurants for summer to include some new and old favorites that well-deserve the nod of notoriety. From new digs for must-sup staples, like Onlywood (#13) and the Flaming Buoy (#12), to new chefs and revamped menus (Marquesa at #1) and even newer town additions like Dirty Pig (#18), The Jerk (#20) and Little Pearl (#3). Whether you want to sink into a sandy spot beneath a banyon tree where the ubiquitous chickens roam free or want a ringside seat for sunset dining, we've got your covered.
There's a perception that things don't move quickly in Key West, but the Conch Republic is far from immune to the winds of change – especially since 2017's Hurricane Irma blew through town. While some spots like 2 Cent, Pescado and Cuzzy Bubbaz sadly shuttered (either as a direct result or financial fall-out of that storm), others turned key limes into limeade, changing locales, bringing in new talent or finding opportunity to strike out with something new altogether.
Of course, with its proximity to both the Atlantic and the Gulf, locally caught, deliciously fresh seafood is king here. That eye towards sustainability is also what impacts the best things to do in town, local bars and even the way Key West beaches are taken care of.
From the famed, ubiquitous grouper and mahi mahi, to mutton and yellowtail snapper, hogfish and lionfish (an invasive predator fish that more and more chefs are finding delicious use for), and the Key West pink shrimp, crab and spiny lobsters, water-bound creatures are the local protein of choice, although a slow-burn of barbecue spots popping up from Old Town to Uptown are a trend to keep an eye on as well. There's a natural gravitation toward Caribbean flavors and a casual, flip-flops-encouraged dress code that's long ruled the day and night. But spots like Little Pearl, Thirsty Mermaid and Nine One Five are bringing a new era of bright, fresh, less-is-more flavor to town, allowing the great local fare to take the star turn over heavy sauces or the confines of a frialator – same for revamped wine and cocktails lists that are venturing away from stale, sweet hit-parade pariahs.
Key West was, is and, if it doesn't become part of the ocean, always will be a vortex of creativity. To help you navigate it all, we break down the best eateries in town.
Best Key West restaurants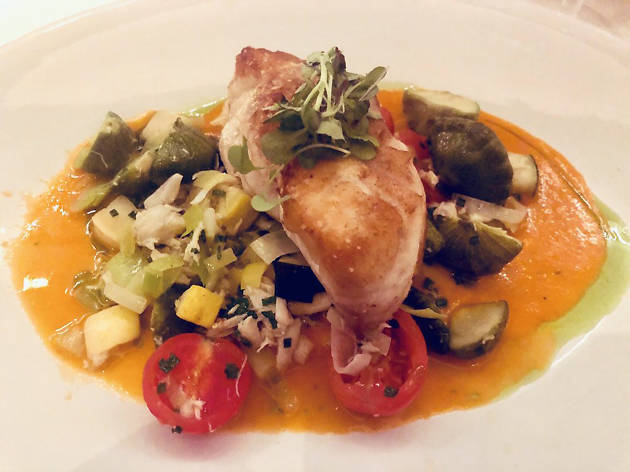 Photograph: Courtesy Yelp/Bob S.
This restaurant in the Marquesa Hotel, which just added a stunning 14-room annex a skosh down Simonton onto its already bespoke bedrooms, has long been one of the swankiest spots in town. Still, even the elegant climes of this upscale staple were ripe for a refresh, which has come in the form of Iron Chef alum Graham Daily, who cut his culinary teeth at Charleston's famed Peninsula Grill. He's brought some of that South Carolina flavor with him, too, in the form of crispy local yellowtail snapper on parmesan grits and seared sea scallops with a bit of spicy Andouille sausage, but Marquesa classics like seared duck breast and high-flavor ribeye are still in regular rotation.
Photograph: Courtesy Yelp/Lynn S.
Although it's blocks off the main drag on the northern edge of Old Town, it's hard not to notice this former gas station painted in shades of pale pink with splashes of turquoise and fuchsia. Place your order at the little indoor counter and grab a spot at one of the slender rectangular tables outside where cars used to fill up beneath the merciful misters (to help counteract that southernmost heat and humidity) for decadent marinated, slow-roasted pork sandwiches loaded with pickled jalapenos, caramelized onions and garlic mayo that will forever change you. Order it on a tortilla if you like, but the plush Cuban bread option is where it's at.
Now that Uber has come to the land of conch, getting out of Old Town isn't such a swim upstream, but it might make this in-the-know, reservations-only dockside supper club a hard ticket to score in short time. Sign up for the monthly mailing list and you'll get a proper heads-up on local chef Martin Liz's giddy, delicious exploration of the world in themed menus – think the flavors of the Mexican Yucatan, for example – or dive into balanced aromas of Indian Thali.
Photograph: Courtesy Yelp/Matt M.
In the tiny space that once housed Seven Fish (which moved to Eaton Street), magical two-year-old Little Pearl is the kind of spot that feels at once like a special-occasion treat and somewhere you want to be all the time. Owners Tommy Quartararo and Kristen Onderdonk followed the successful compass of their sister spot, Thirsty Mermaid, with fresh flavors and techniques that let them shine. But where the lovely Mermaid floats along on a casual wave, the Pearl shines like a precious stone. Start with the seared, tender Bangkok octopus curled around a posey of mung beans, mint, basil and cilantro and gently draped in a coconut-chili sauce, or take a cue from the eatery's name and order the baked oysters with bright pickled onion, mustard seed and wilted greens. The ample shrimp on stone ground grits with savory, salty lardon and a buerre blanc sauce is sigh-worthy, but you might want to order an extra crab, shrimp and lobster pot pie to spoon into at home when you find yourself thinking about it in the middle of the night.
Photograph: Tripadvisor/Nine One Five
Nine One Five is known for its forward-thinking menu of Asian-influenced flavors (think Thai curries, Sichuan peppers and vibrant basil oil), but it's also a great option for vegetarians who grow weary of single, tossed-off menu options: dishes like the Sichuan eggplant and tofu with ginger, cinnamon, garlic and soy will satiate the sensory desires and appetite of carnivores and veggie devotees alike. For a Duval Street spot, it retains a decidedly unchaotic atmosphere, if not a downright romantic one anchored by the white picket fence draped with bougainvillea on premise. Many plates are deemed shareable, and you should share them, but the dreamy house-made pastas, which come in half and full serves, are worth a visit alone.
Photograph: Courtesy Thirsty Mermaid
Founded by husband-wife duo and longtime Key West restaurateurs Thomas Quartaro and Kristen Onderdonk, Thirsty Mermaid's prime focus is always good ingredients, well highlighted in their bright, fresh seafood-heavy menu, where oysters and daily-changing ceviche are a must and dishes like the cool-you-down green gazpacho with a dollop of crème fraiche are well-complemented by the think-outside-the-Sauvignon-Blanc wine list and nicely curated craft beers. The driftwood-gray floors and white walls, sparsely decorated in nautical antiques and modern sea-skewed art, imbue a casual, airy kind of sophistication in which you feel thoroughly comfortable tipping back a flute of bubbly in your beach cover-up.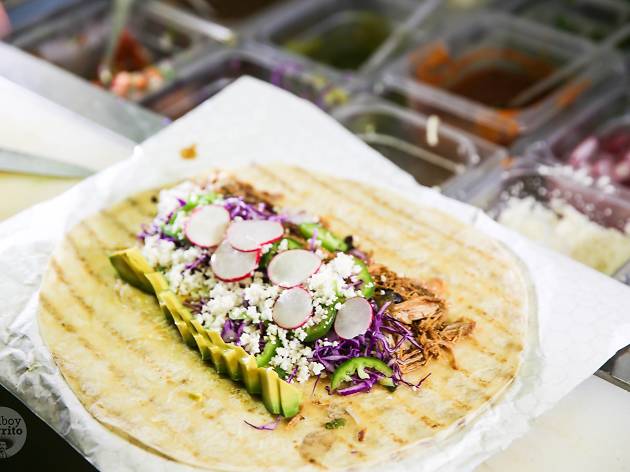 Photograph: Courtesy Bad Boy Burrito
Really, the name is kind of a misnomer: there's nothing bad about the fresh, organic ingredients at Bad Boy Burrito. Heap on the house-made salsas and toppings like pickled red onion escabeche and ancho chili relish because it's all about building your own "phattie" with meat and veggie options including kobe beef, duck confit, tofu or Key West pink shrimp. The taco trio is also a good choice, as well as the variety of salads, entrées, smoothies and juices on offer. Best of all, most items on the menu hover around $10.
Photograph: Nick Doll/Courtesy Pepe's Cafe
Established in 1909, Pepe's – with its white wooden fence with peephole cut-outs, funky brick courtyard and massive hand-juicer pumping out fresh lime juice for some of the best margaritas in town – has been doing things right for over 100 years. From fresh fish sandwiches with a side of al dente mac salad to truly excellent key lime pie (ask and they will gladly give you the recipe), Pepe's is the kind of place that feels like your regular go-to even if it's your first visit. It is, indeed, likely not to be your last.
Photograph: Courtesy Yelp/Maggie L.
The less-is-more casual vibe at Blackfin, with its white-on-wood banquettes and the work of Keys artists on the wall, makes it a perennial favorite among locals and tourists alike, but it's their excellent fresh-catch sandwiches, hand-cut fries and great fish tacos that make this a spot to return to over and over. They serve both brunch and dinner daily and, if the weather permits, the palm frond-framed back courtyard is a delicious respite when the Key West blue sky is in full splendor.
Photograph: Courtesy Yelp/Bonnie Y.
10. 5 Brothers Grocery and Sandwich Shop
Stop into this corner Key West staple on Southard Street for a hot, hardy cup of café con leche or, if you're on your way to an off-shore fishing excursion, for the famed Cuban sandwich. Because if you have to decide on a bit of Key West to linger on your senses, pickles, pork, ham and cheese on oh-so-soft Cuban bread is just about the best choice you can make.
Photograph: Nick Doll Photography
Walk straight through Turtle Kraal, all the way to the back where the Key West Bight-rimming outdoor tables give you a show of swimmy creatures below and the often interesting boating creatures who dock their Whalers here. Kraal and across-the-way Half Shell have the same owner and much of the same food: the conch fritters are tender and never dry, and the happy hour oysters on the half are one of the best deals going in town. But it's the excellent ceviche menu that makes this the winner of the two open-air, fish-centric spots. The Nikkei in particular (fresh grouper marinated in yuzu and tossed with tamarind, sesame, soy, ginger, Thai basil and Thai chilies) is a standout among the half-dozen options.
12. The Flaming Buoy Filet Co.
Owners Fred Isch and Scot Foreste may have recently moved from their old digs on Packer Street to Eaton, but they didn't leave behind their irreverent sense of fun, like the tangerine and black geometric accent wall or the Star Wars memorabilia perched next to wine bottles on the bar. And if you're one of those who thinks lobster mac and cheese has jumped the shark, please reconsider and order it here – it's awfully good, as is the Key West pink shrimp in red Thai curry with gingery rice.
Photograph: Courtesy Yelp/Nadia R.
Until you have had the fleeting, seasonal fresh strawberry jelly donut from Key West's place of pillowy, sugary goodness, it's a fact that you haven't lived a full life. There's the pineapple upside-down brûlée, the salted caramel cake and, of course, the key lime pie. Some, like the cinnamon sugar yum-yum, stay in constant rotation while others make seasonal appearances. The venue closes daily at 3pm (it's completely closed on Mondays), so your best bet for freshness and breadth of choice is to get here early, order a cup of local Red Buoy coffee and peruse the Key West Citizen for the daily cruise ship arrivals and talk about town.
Photograph: Courtesy Yelp/Ben B.
With a second space that opened on Caroline Street this past year, OnlyWood's thin-crust, Neapolitan style pizza (Italian native owners Alessandro Piazzo and Davide Cremascoli are alums of New York's famed Kesté, and work with ovens made of Vesuvian brick that heats to 1,000 degrees) is a must-have. Sip on a glass of chilly Arneis alongside a tartufata – truffles, housemade mozzarella, mushrooms and pancetta – and you'll swear you're in Naples.
Photograph: Courtesy Yelp/Celina J.
15. El Siboney Restaurant
If you come to Key West and only have time for one Cuban meal, make sure to have it at this no-frills, authentic spot on a quiet corner of Catherine Street (there's an outpost on Stock Island, too). The tender puerco asado with yuca and tamale is a traditional must, but if you can bargain with your dining companion to order the house special skirt steak with bright churrasco and salty fried green plantains on the side, you'll get to taste two of the dishes El Siboney has built its rep on.
Photograph: Courtesy TripAdvisor/Louie's Backyard
You will see no better sunset than the one afforded at Louie's Backyard, although chef Doug Shook's Caribbean-influenced cooking is hard to ignore. The menu changes seasonally, but his partnerships with fishermen and local farms mean what's in front of you – like the black grouper splashed with a preserved lemon vinaigrette and topped with a little nest of heirloom tomato, basil and watermelon salsa – is as fresh as it gets. This pretty pink Victorian home, located next to Dog Beach (yup, people really bring their pups here), has been open since 1971 and a long-time favorite of locals who never grow tired of the views of paradise.
Photograph: Courtesy Yelp/Sheila P.
Its old digs were so tiny, the hope of walking into Seven Fish on the fly was a futile endeavor. But the new, grander, aqua-blue spot on Eaton means more swimmy space for fans of this 20-year-old island institution. Admittedly, the menu hasn't changed much over time, but Seven Fish knows what it does and does it well. From the signature yellow snapper over sushi-grade rice, drizzled in a lap-able, creamy Thai curry sauce, to the toothsome house-made blue-cheese flecked gnocchi with sautéed catch of the day, and the truly excellent meatloaf, the eatery has earned its spot on every must-eat list focusing on the Conch Republic.
Photograph: Courtesy TripAdvisor/Mary Ellen's Bar and Restaurant
18. Mary Ellen's Bar and Restaurant
Down the way from the BDSM-themed Leather Master shop on skinny little Applerouth Street, you'll find a cheery take-out window imbued with the image of a '50s-era diner waitress. At Mary Ellen's, you can soak up all that late-night (and, well, early morning – this is Key West, after all) imbibing activity with generous, gooey grilled cheese sandwiches like the Giuseppe, packed with melted mozzarella, a myriad of cured meats, fresh basil and marinara. If you're feeling more like parking than walking, head inside for a sit-down meal made of old-time creamy tomato soup, a patty melt and some truffle-cheese drizzled tater tots.
Photograph: Courtesy Yelp/Jay F.
While the fresh, local seafood is the focus of most menus around town, the lure of barbecue is making a low-and-slow appearance the last few years. There's decent ribs at Charlie Mac's (nee the Meteor), and Smoked and boat-bound Smoked on North Roosevelt, but the recent opening of The Dirty Pig has us excited for meats of the smoked and slathered kind. Owner Dan Solove makes his own Carolina 'cue-style sauces, smokes his pork shoulder for half a day and believes that good rubs make good barbecue.
Photograph: Courtesy Yelp/Zhijian J.
20. Eaton Street Seafood Market
The name might imply dinner shopping lists, but the Eaton Street Seafood Market will let you pick your swimmy fave and cook it up for you right on the spot. You can also grab one of the excellent house-made shrimp or tuna sandwiches, lobster rolls (not Maine – Keys!) or crab cake on a buttery croissant roll, hop on your coaster bike waiting in the rack outside the shop, and head on over to Higg's Beach for on-the-go al fresco eating.
If you find yourself in the Stock Island area with a hankering for heat, Front Street newcomer The Jerk KW is the real deal, with a menu full of fresh-catch, daily changing Jamaican and Caribbean dishes, like whole roasted yellowtail snapper, tangy barbecue short ribs, mango-braised mutton and goat, and grilled jerk chicken.
More of the best in Key West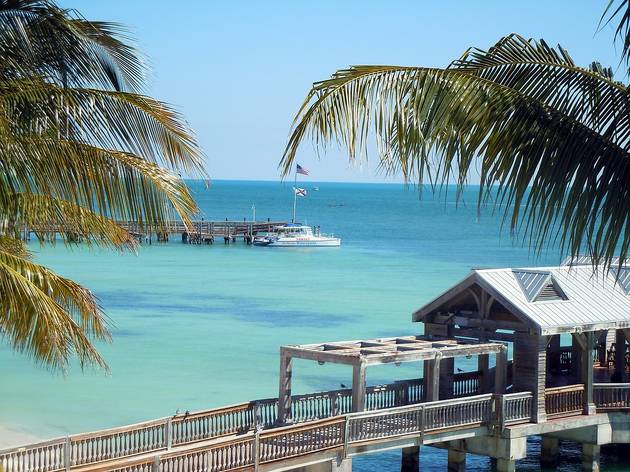 Offshore pleasures abound on Key West, from snorkeling the third largest reef in the world to sunset sails on historic schooners—not to mention discovering secret sandbar beaches.
We've rounded up blissful private cottages, rollicking oceanfront resorts and historic mansions remade as luxury inns. However you choose to unwind in America's southernmost city, we've got you covered.