Bearfoot Beware are yet another Leeds band doing it themselves. Whether it's because Leeds' bands favour itchier pants, are more determined to give it a go or receive less help in their corner of Yorkshire, the city's scrappy, hardcore-inspired DIY scene has been in fine fettle for a long time now.
The list of Leeds' similarly-minded bands that Tom Bradley of Bearfoot Beware give a shout-out to is long. Take a deep breath: Cowtown, That Fucking Tank, Blige Pump, Beards, Cattle, IRK, Eagulls, Esper Scout, New Woman, Blacklisters, Hawk Eyes, Nope, Clentsch, Track and Field, Super Luxury, Famine, GG Glitter, Molars, Post War Glamour Girls, Commiserations, Hank Haint and Cruickshanks, Pulled Apart By Horses, Unwave, Goodbye Chanel, Envoys, Engine, Juffage, Magnapinna, Dull Aches, Mush.
To celebrate the release of their debut album World Owes You Nowt – and ahead of their live show at Brudenell Social Club on Tuesday May 5 – here's Tom with his guide to doing it yourself in Leeds.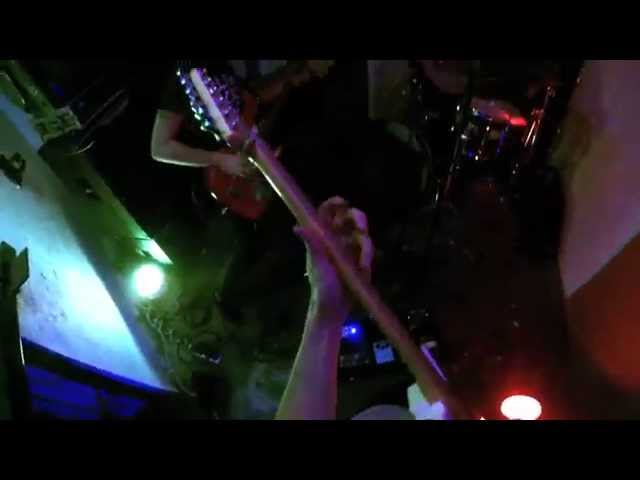 Go to Leeds gigs
"One of my first real gigs in Leeds was at the Brudenell Social Club – a full Leeds line-up watching Sky Larkin, Pulled Apart By Horses and Cowtown. All three bands nailed it and showed me a musical life beyond the indie landfill imposed on me as a youth. I haven't looked back. The musicians afterwards were walking around and totally up for a chat. It's this friendliness and willingness to connect that makes any scene productive. The friends you make and the bands you follow spur you on and inspire you to do better. So go to gigs, make friends, get involved."
DIY means you actually have to, you know, do it yourself…
"Struggling to find a show? Get together with friends, book any of the awesome small venues, like The Packhorse, The Library, Wharf Chambers and put on your own shows. Can't afford the fees? Do it in your living room, basement or a gazebo out in the back yard. When starting out it seems so hard, but in reality it's easy. Promote the show properly with a good poster and flyer. Don't depend on Facebook. It's not real. Get on a photocopier and cut the flyers yourself. So simple."
Practice
"You care about your music more than anyone else will, so when performing it in front of people, you want it to sound exactly how it's meant to and you want to play it with the intensity required. Leeds has a long list of established places offering varying qualities of practice space. Rock'n'Roll Circus, Blueberry Hill Studios and Eiger are all decent places to practice. Maybe when you're more established you can make you own space. Rent out warehouse space. Do it with a group of bands, all after the same thing. Bearfoot Beware have established CHUNK, which originally started out as a practice space but is now a DIY arts venue."
Attitude
"Reputation can sometimes be important in Leeds. On stage nothing much matters, but how you handle yourself off stage can sometimes be a hindrance. Messing around in soundcheck or being rude to sound guys holds up other bands. There's no need for it and, people, remember: if you've ruined a show due to a terrible attitude, you are not a rock star, you are a part-time musician playing in Leeds. Get perspective."
Records
"Leeds had a wealth of quality engineers and producers working hard on the scene's records. Some of my favourite recordings were done with a mic in a room, but if you want something well-produced then here's a list of great places to record: Ghosttown Studios, Suburban Home, Greenmount Studios, Cottage Road. Good recordings are important for getting better shows, too. The local independents, Crash, Jumbo and Norman are always up for stocking local artists' music and are really supportive. Don't be scared to go down and have a chat, they've always been super helpful and friendly."
The Cribs' tour of Leeds.