Heads up! We're working hard to be accurate – but these are unusual times, so please always check before heading out.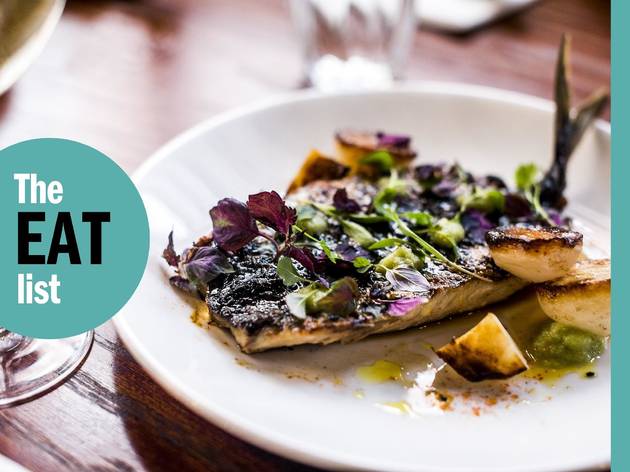 The 20 best restaurants in Leeds you need to try
Looking for Leeds' top dining destinations? These are the best restaurants in the city for curry, dumplings, tacos, small plates and more
March 2021: Fingers crossed, it won't be long until Leeds' restaurants can swing open their doors again. Under the current lockdown exit strategy, UK restaurants will be able to reopen from April 12 at the earliest for outdoor meals, and from May 17 indoor dining should be on the cards again. In anticipation of being able to eat delicious dishes without having to do the washing up afterwards, we've updated our list of the best restaurants in Leeds. From Michelin-starred heavyweights like Man Behind the Curtain and much-loved old-school joints that have stood the test of time like Corner Cafe, to exciting new ventures changing up the city's culinary scene like Wen's, here are the hottest tables in Leeds we think you should be booking once lockdown lifts.
When it comes to eating out – and doing it well – Leeds is one of Britain's finest foodie cities. The very best restaurants in Leeds boast some pretty impressive renown, easily justified by the quality coming out of the kitchens. From homey curry houses and classic Italian trattorias to next-level Thai restaurants and slick spots with one eye on those folk at Michelin, this Yorkshire city has pretty much everything any peckish visitor – or hungry local – could desire. So if you've worked up an appetite while exploring Leeds' array of brilliant things to do, here's our guide to where you should dig in.
Eaten somewhere on this list and loved it? Share it with the hashtag #TimeOutEatList.
Best restaurants in Leeds
What is it? First-rate Kashmiri dishes at a legendary curry house.
Why go? Aagrah has got its formula down to a tee: the Shipley-based chain now has locations across the North. Its roots lie in the late '70s, when the family-run restaurant served their curries and other dishes to a public still suspicious of South Asian cuisine. Of course, those attitudes are long done, and Aagrah is a perennial favourite among Yorkshire diners.
Time out tip: Order the phenomenal mild-to-medium hyderabadi chicken.
What is it? Zingy, shareable Italian small plates – perfect for a cosy meal with your other half.
Why go? This small plates spot is a little out of town, but is a resoundingly successful suburban neighbourhood spot. The menu has plenty of classics, but also varies according to the seasons. It's broken down into bocconi (mouthfuls), such as olives, white anchovy crostini or pizzette, and slightly bigger plates of cold meat, fish and pasta. Naturally, this is a place where you want to order a good spread and share with pals.
Time Out tip: If you want a taste of Zucco at home, pick up one of their treat-filled hampers.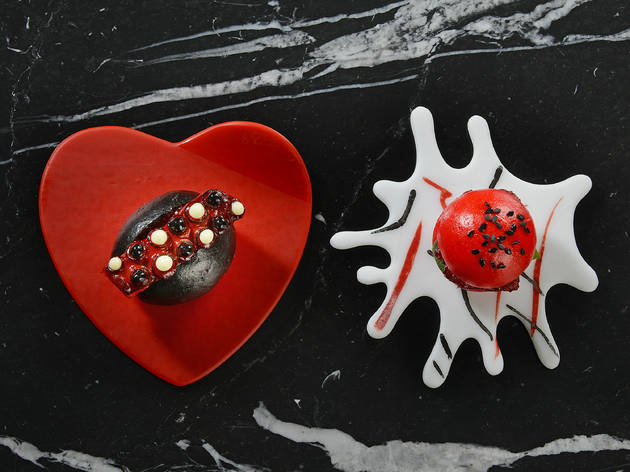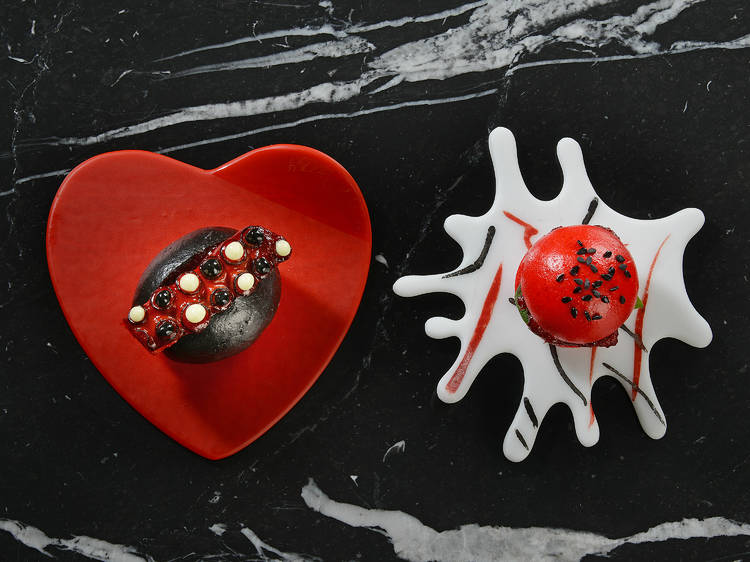 What is it? High-concept, ultra-refined dining that stays just the right side of pretentious.
Why go? The name refers to the titular sorcerer in 'The Wizard of Oz', and in turn, chef Michael O'Hare, who cooks in full view of diners. His restaurant is as much an artistic as a culinary experience: the walls are used as blank canvases for more creative patrons to doodle on.
Time Out tip: It's the 12-course dégustation that really shines: not cheap, but worth every penny.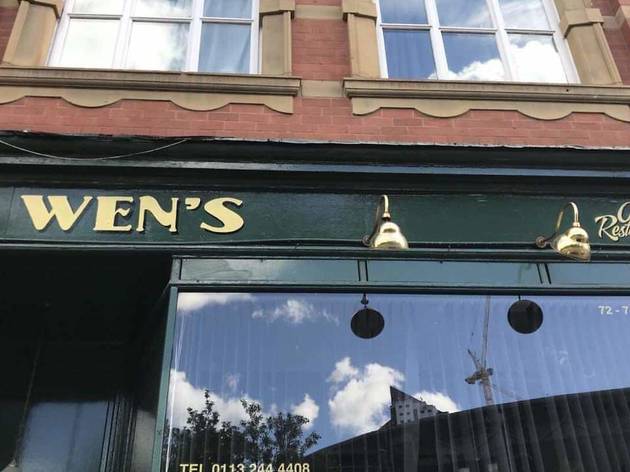 Photograph: Wen's
What is it? Home-cooked Chinese cuisine with plenty of surprises on the menu.
Why go? When Hansa's, a much-loved Indian restaurant, closed in 2019 after three decades whoever took over the site had huge shoes to fill. Luckily, Wen's is more than up to the task and continues the tradition of family-led, homemade cooking. You'll find dishes seldom seen on Chinese menus: the shredded potatoes with homemade chill oil, marinated jellyfish and dry-fried sweet corns with pine nut. The silky dumplings and Xiao Long Bao are homemade by Mrs Wen.
Time Out tip: You might not see any Chinese-Anglo classics on the menu, but the kitchen will still cook them up for you. Just ask.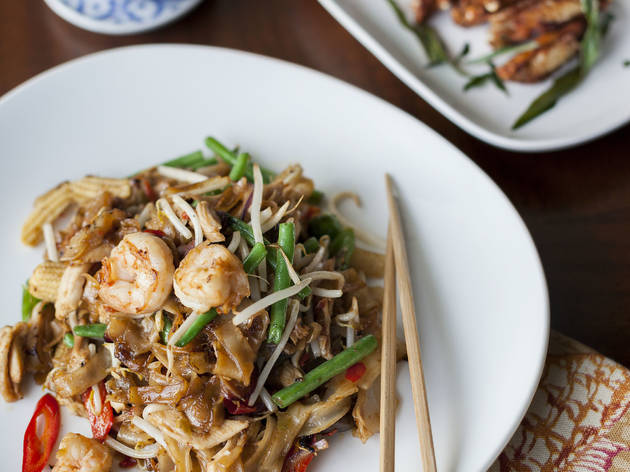 What is it? No frills, authentic Thai food at super affordable prices.
Why go? Thai Aroy Dee might not be much of a looker - a shabby frontage leads into a canteen-style dining room with industrial pipes and tinsel tied along the walls - but it's what's in your bowl that counts, and when it comes to authentic Thai food, this is about as good as it gets. Dishes pile out of the kitchen steaming and headily fragranced. They're not afraid to go heavy on the spice and dishes like Sea Bass Shu Shi and the Tom Saep are truly immersive experiences. The place has a loyal following, so it's best to book in advance. And ultimately the no-frills surroundings only add to the feeling that you've happened upon a hidden gem.
Time Out tip: Book a table between 12noon and 5pm for their happy hour deal: £7.95 for two courses. Absolute bargain.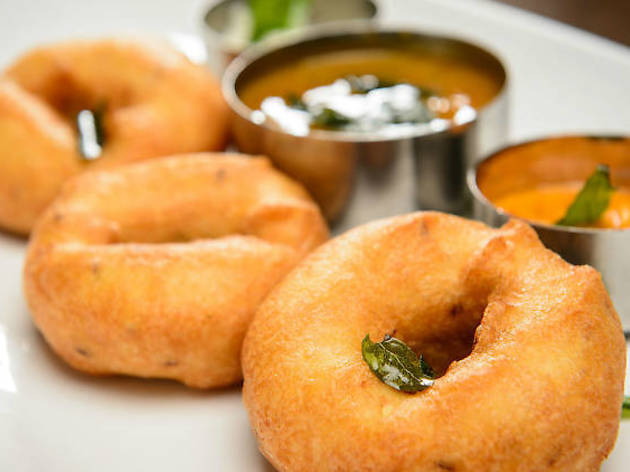 What is it? A popular Keralan spot with a mean dessert menu.
Why go? The Malayalam word 'tharavadu' roughly translates as keeping traditions alive – and that's certainly the ethos of this charming Keralan restaurant, which you'll find just across the road from Leeds train station. They cover a wide variety of southern Indian dishes, among which you'll find some unusual treats.
Time Out tip: Look out for crab cooked in coconut sauce, excellent fried lentil doughnuts and toffee-filled steamed rice cake.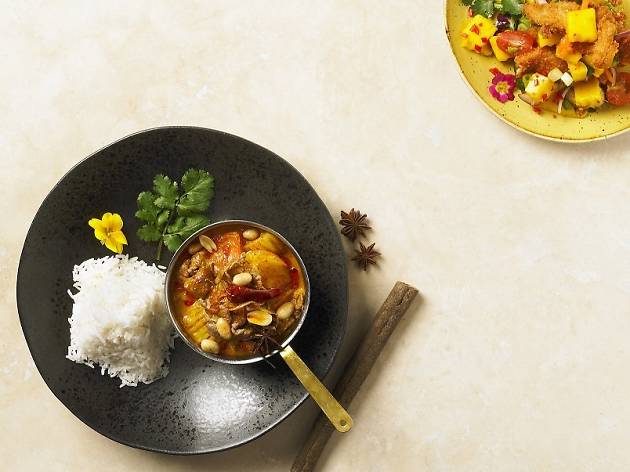 Sukhothai
What is it? Generous portions of traditional Thai food.
Why go? This mini-chain is clearly doing something right: it has branches in the city centre, in the up-and-coming areas of Headingley and Chapel Allerton, as well as out in Harrogate. The Sukhothai ethos combines high-quality South-East Asian cookery, impeccable service and generous plates that ensure all patrons leave full and with smiles on their faces.
Time Out tip: If street food's more your bag, check out Sukothai's sister restaurant Zaap.
What is it? A family-run restaurant proving Mexican food is more than tacos and tortillas.
Why go? It's incredibly hard to find truly authentic Mexican food in the UK, but under the care of Rudy, the head chef and owner of Lupe's Cantina Mexicana who was born and raised in Veracruz, Mexico, the kitchen serves up traditional dishes you won't find at your neighbourhood Tex Mex. Here the flavours are big and the colours bold. Specials include handmade tamales, grilled cactus salad and various ceviche dishes using epazote, an ancient South American herb. Even the usual suspects - the tacos and tortillas - all have an authentic twist, be it lashings of homemade mole sauce or sprinklings of queso fresco - Mexico's feta-like cheese. The margaritas are top-notch too.
Time Out tip: Order the mussels in chipotle sauce. Just do it!
What is it? Hearty, traditional southern Indian dishes in a family-run spot.
Why go? In a region that's known for its high-calibre curry houses, one of the finest resides in Leeds, and it's the award-winning Prashad. Another vegetarian Gujarati restaurant, it's a neighbourhood restaurant (in the suburb of Drighlinton), and boasts a menu jam-packed with traditional regional dishes.
Time Out tip: Check out their tasting menus for a whistlestop tour.
What is it? Sophisticated seasonal plates at a slightly off-the-beaten-track location.
Why go? This modern British pub-restaurant has a slightly awkward location, but the top-notch, high-end plates totally make up for it. That's not to say The Reliance is overly formal – its relaxed, essentially pub-like feel is probably a huge part of its success.
Time Out tip: It's always worth checking the daily-changing specials board here and asking staff for a look at the extensive natural wine list.
Photograph: Corner Cafe
What is it? A much-loved, family-run Indian.
Why go? Run by Kate and Karim, whose father opened the original restaurant in 1976, Corner Cafe is one of the oldest Indians in Leeds with an extremely loyal following. Its charm is not only down to the food, which is reliably delicious, but also the warm and attentive service (pre-Covid, plenty of orders were accompanied by hugs). The menu is extensive but well thought out. Rather than listing curries by name, here you pick your meat or veg then decide how hot you want it. Most dishes can be made into kormas for a small added charge. The result: curry to warm the soul.
Time Out tip: Kate's delicious homemade kulfi comes in 25 flavours. If you can't manage it after your meal, buy a tub to take home.
What is it? A former supper club-turned-intimate small plates dining room.
Why go? This little joint on North Street started life as a humble greasy spoon, only moonlighting as fine dining supper club The Swine that Dines a couple of times a month. That all changed in 2018, when husband and wife owners, Stu and Jo, decided to embrace small plates dining full time. Stu, who has a Michelin background, heads up the kitchen with a focus on nose to tail dining. The regularly-changing menu is always full of unusual cuts of meat and cutting-edge combinations, all presented with exquisite precision. Jo, who works front of house, is the epitome of service with a smile and is also responsible for the magical puddings.
Time Out tip: Veggie? The first week of every month the menu here is purely plant-based.
What is it? Homely, great-value French dishes.
Why go? Fancy enjoying a slice of Paris right in the middle of Leeds? Head to this bistro, which serves quality French cooking in a high-brow location (it counts BBC Leeds and the Northern Ballet among its neighbours). Cute touches like candles in wax-drenched bottles add to the Gallic charm, but above all it's the consistently excellent food that draws punters in.
Time Out tip: It's a good alternative to your usual Sunday lunch spot, too.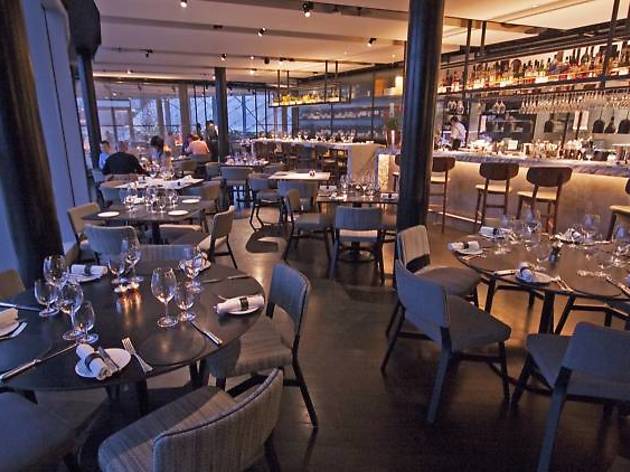 What is it? Upmarket offerings in an upmarket setting.
Why go? The ever-brilliant D&D are the hospitality group behind this restaurant, and they certainly don't slip up here. Lee Bennet's kitchen delivers a superb seasonal menu that succeeds thanks to its focus on high-quality local ingredients.
Time Out tip: The fish dishes, like pan-seared halibut, are particularly good.
What is it? Charming Italian restaurant that's been serving peckish Leeds folk since 1976.
Why go? The menu is pretty fierce in its dedication to Italy and diners are encouraged to follow the four-course Italian act (antipasti, pasta, secondi and dessert). But whether you can manage that amount of grub or not, there are some unmissable items on the menu. The gamberoni abruzzese for instance, with its grilled king prawns and chilli and lemon, or the risotto alla Boscaiola, which comes with truffled woodland and roasted oyster mushrooms.
Time Out tip: The early bird menu is good value at £14.50 for two courses, or £17.50 for three.
What is it? A laidback atmosphere and top-notch Thai food.
Why go? This local favourite is out in the Headingley 'burbs, but it's worth the trek. From the outside it looks like a takeaway, but don't be fooled. Inside you'll find a few rows of tables, Thai wood carvings and low lighting – a fuss-free environment that allows the food to shine.
Time Out tip: The classics, like pad see ew and tom yum soup are worth dipping into.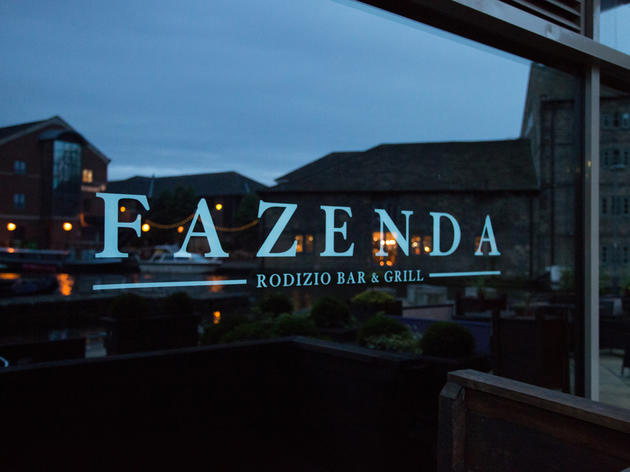 What is it? Endless plates of sizzling, rodizio-style skewered meat at a cheerful South American spot.
Why go? On paper, the Fazenda format sounds a little tacky: a Brazilian-influenced restaurant that does all-you-can-eat plates of skewers. But even if it does sound all a bit 'Man v. Food' – and a one-way ticket to the meat sweats – it's also all exceptional, and delivered in a stylish environment.
Time Out tip: Don't be afraid to order the chicken hearts.
Christopher Nunn
What is it? A charcuterie-based range of, yes, chiefly pork-based bites in a popular casual dining spot.
Why go? Friends of Ham opened in 2012 and in the years since has become a must-visit for any foodie passing through. It serves a wide range of meats and cheese, alongside an impressive list of craft beers and wine. Their platters are a tip-top sharing option.
Time Out tips: Hopping on the train after your meal? Located just around the corner from Leeds station ask staff for a train beer and it'll still be cold by the time you board.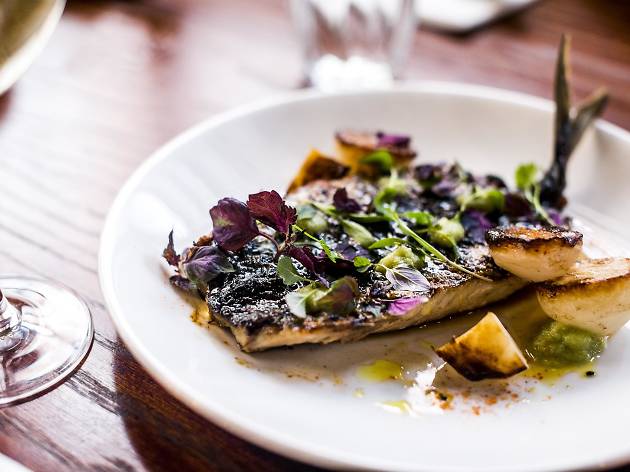 Photograph Ox Club / Courtesy Reece Leung
What is it? A classy-looking restaurant at Headrow House specialising in high-quality cooking over some serious flames.
Why go? The food here is how cavemen wish they'd eaten. The focus is on wood-fired cooking, with more than half of the dishes here given a lick of flame (and then some) from a very fancy bit of kit from US barbecue experts, Grillworks. But it's not just big, boisterous flavours – they do delicate damn well, too. Make sure you save room for the exquisite desserts...
Time Out tip: Sore head? Tuck into the phenomenal American-style brunch served on weekends.
What is it? A veggie restaurant that's home to one of the best halloumi salads around.
Why go? Dishing up veggie and vegan delights, Roots and Fruits is based within the Grand Arcade, decorated with wild and bright colours that radiate positive vibes. The menu has a pretty loose Mexican influence revolving around beans (and lots 'em), fried veg and mountains of cheese. Honestly? We think carnivores will leave completely converted.
Time Out tip: Did we mention the halloumi salad?!
After more solid recommendations?
Flanked as it is by sprawling national parks, Leeds may not seem green by comparison. But with lush city parks and an array of stately country piles and nature reserves on its outskirts, we'd argue it offers the perfect balance of bustling city living and proximity to the great outdoors.