The 22 best restaurants in Leeds
From well-established local favourites to the top new places, these are the Leeds restaurants you need to know about
Restaurants in Leeds certainly boast some pretty impressive renown, and that culinary clout is more than justified by the consistent quality coming out of its kitchens. From classic Italian spots, incredible vegetarian restaurants and curry houses to small little operations with second-to-none service or slick and chic spots with one eye on those folk at Michelin, Leeds has pretty much everything when it comes to getting stuck in to fine fare. Here's our comprehensive pick of the very best on offer, so take a look and get ready to get stuck right in. There really are some corkers here.


1
RM Studios
Why go? For awesome Kashmiri dishes at a legendary curry house – like their phenomenal mild-to-medium hyderabadi.
Aagrah has clearly got their formula down to a tee: the Shipley-based chain now has locations across the North. Its roots lie in the late '70s, when the family-run restaurant were serving their curries and other dishes to a public who were still suspicious of South Asian cuisine. Of course, those attitudes are long done, and Aagrah is perennial favourite with Yorkshire diners.
Price: Budget/mid-range.

What is it? A classy-looking restaurant at Headrow House that specialises in high-quality cooking over some serious flames.
The food here is how cavemen wish they'd eaten. The focus is on loads of wood-fired cooking, with more than half of the dishes here given a lick of flame (and then some) from a very fancy bit of kit from US barbecue experts, Grillworks. But it's not just big, boisterous flavours – they do delicate damn well, too. Make sure you save room for the exquisite desserts...

Why go? For high-concept, ultra-refined dening that stays just the right side of pretentious.
The name references to titular sorceror in 'The Wizard of Oz', and in turn, the chef Michael O'Hare, who cooks in plain sight of the clientele. His restaurant is almost as much an artistic as culinary an experience: the walls are used as blank canvases for more creative patrons to doodle across. But really, it's the 12-course degustation menu that really shines here: not cheap, but worth every penny.
Price: High-end/blowout.

What is it? A quite-simply-brilliant restaurant and bar paying homage to the Basque region of Spain.
This very cool restaurant at The Trinity opened back in 2015 and has been getting appreciative tongues wagging ever since. It takes its name from the Spanish for 'work of art', so you can guess what the plates look like. But it's how they taste that's the biggie here – this is some of the best Spanish cooking you'll get outside of España. Little tip: make sure you check out the bar, too. Cocktails here are sensational.

Restaurants, Brazilian steakhouse
Fazenda
Why go? For endless plates of sizzling, rodizio-style skewered meat at this fun South American spot.
On paper, the Fazenda format sounds a little tacky: a Brazilian-influened restaurant that does all-you-can-eat plates of rodizio-style skewered meats. But even if it does sound all a bit 'Man v. Food' – as well as a one-way ticket to the meat sweats – it's also all exceptional good, and delivered in a stylish, self-respecting environment.
Price: Mid-range.

6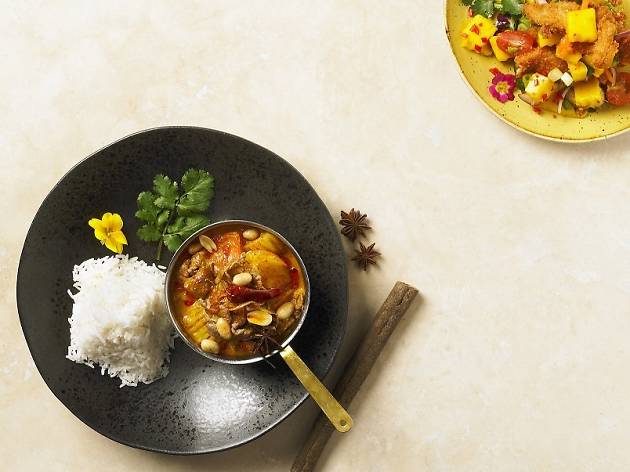 Sukhothai
Why go? For generous portions of top-notch trad Thai fare. (Lunchtime diners: have a gander at the highly affordable khao gang set menu.)
This Thai mini chain is clearly doing something right: it has branches in the city centre, in the up-and-coming areas of Headingley and Chapel Allerton, as well as out in Harrogate. The Sukhothai ethos is one of high-quality south-east Asian cookery, impeccable service and generous plates that ensure all patrons leave full and with smiles characteristic of Thailand on their faces.
Price: Budget/mid-range.

7
Why go? For the mother of all halloumi salads at this fun eatery with a strong vegan/veggie slant.
Cast aside all your prejudices about all food in the North involving meat and pastry: Leeds, in actual fact, is home to one of the UK's finest vegetarian eateries. This Grand Arcade dining spot is brightly coloured, altogether fun spot with a loose Mexican theme: lots of beans, lots of cheese, lots of veg. Carnivores will leave completely converted.
Price: Budget.

Why go? For appallingly good regional Indian cuisine – with not a piece of meat in sight.
Hansa Dabhi has cultivated a reputation of near celeb status in Leeds, thanks to her phenomenally good vegetarian Gujerati dishes. Her North Street restaurant has earned a slew of top awards, and has turned many many meat-eaters into lentil-lovers. The menu is small and select, and the staff are cheerful. Her thali meals make for an excellent lunchtime pitstop.
Price: Budget.

9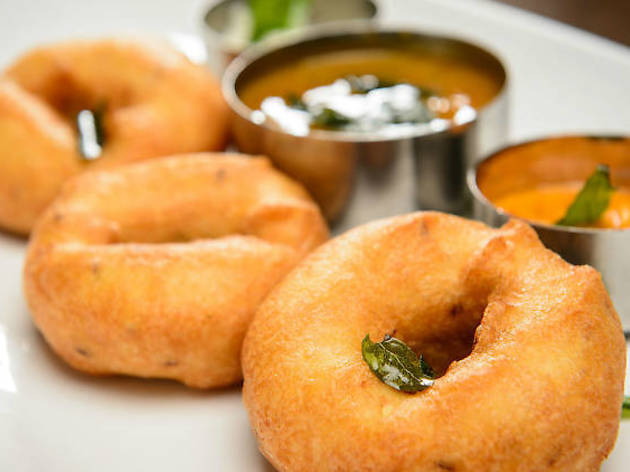 Why go?
A widely popular Keralan spot that does a mean little dessert menu.
The Malayalam word 'tharavadu' roughly translates as keeping traditions alive – and that's certainly the ethos of this charming Keralan restaurant, which you'll find just across the road from Leeds train station. They cover a wide variety of south Indian dishes, amongst which you'll find some unusual treats – look out for crab cooked in coconut sauce, delicious fried lentil doughnuts and toffee-filled steamed rice cake.
Price:
Budget.
Why go? For Stateside classics in a US-style diner. Look out for the Threesome – a heart-stopping dessert made up of cookies and ice cream, a salted caramel chocolate tart and a chocolate brownie.
Nation of Shopkeepers works in the American diner pastiche vein, but to eminent success where others make it look naff and tacky. Meals here, served in plastic baskets, are all wondrously greasy and truckstop-esque: fried chicken, man 'n' cheese and the memorable fried egg and peanut butter burger.
Price: Budget.

Why go? For sophisticated seasonal plates at a slightly off-the-beaten-track location.
Being honest, it's a rare moment that the Leeds dining scene his national papers. But The Reliance managed it, being praised by professional critics and local patrons alike when. This pub-restaurant has a slightly akward location that's utterly redeemed by high-end cuisines. That's not to say The Reliance is overly formal – its relaxed, essentially pub-like feel is probably a huge part of its success.
Price: Mid-range.

12
Christopher Nunn
Why go?
For a charcuturie-based range of, yes, chiefly pork-based bites in a popular casual dining spot.
Friends of Ham opened in 2012 and in the years since has become a must-visit on many a Leeds-based foodie's list. It serves top-notch range of meats and cheese, alongside an impressive list of craft beers and wine. Their platters are a tip-top sharing option.
Price:
Mid-range.
Why go? For hearty, traditional South Indian dishes in a family-run spot. Checking out their tasting menus for a whistlestop tour of the grub.
In a region that's known for its high-calibre curry houses, one of the finest resides in Leeds, and it's the award-winning Prashad. Another vegetarian Gujarati restaurant, it's a neighbourhood restaurant (in the suburb of Drighlinton), and boasts a menu jam-packed with trad regional dishes.
Price: Budget/mid-range.

14
Why go:
For self-respecting hipster stables in an achingly cool vintage-strewn café-bar.
Outlaws Yacht is so on-trend that it hurts. One half of a partitioned room with the rock 'n' roll hair salon Rebel Pin-Up, its decked out with all the usual hipsterish trimmings: reclaimed furniture, abstract act and the like. Scotch eggs, pork pies and beef brisket aren't exactly news to the fashionable school of bar snackery, but Outlaws does them well, and in generous portions.
Price:
Budget/mid-range.
Why go? For zingy, shareable Italian small plates – perfect for a cosy meal with your other half.
This small-plates spot is a little out of town and in the 'burbs, but is resoundingly successful neighbourhood spot. The menu has plenty of classics, but also rotatings with the availability of seasonal produce. It's broken down into boccone (mouthfuls), such as olives or white anchovy crostini, pizzette and pan, and cold meats, fish, pasta and vegetables. Naturally, this is a place where you want to order a spread of things and share with pals.
Price: Mid-range.

Why go? For the excellent-value prix de fixe and homely French dishes.
Fancy enjoying a slice of authentic Paris right in the middle of Leeds? Head to this bistro, which serves quality French cooking from a highbrow locale (it counts BBC Leeds and the Northern Ballet among its neighbours). Cute little touches like candles set in wax-drenched bottles add to the Gallic charm, but above all else it's the consistently excellent food that draws the punters in.
Price: Mid-range.

17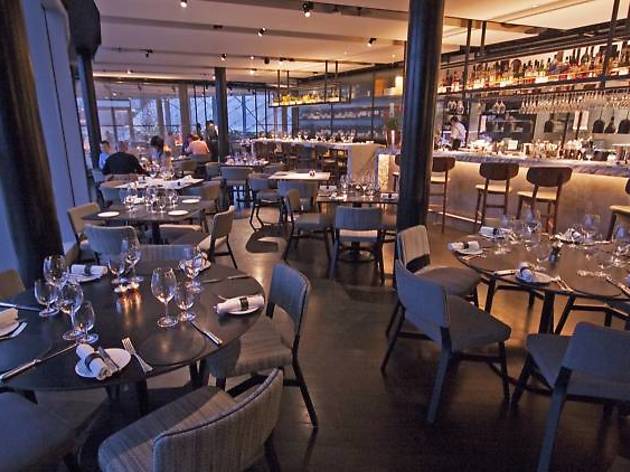 Why go? For those times someone deserves to be treated to an upmarket meal in fancy surroundings.
The ever-excellent D&D are the hospitality group behind this restaurant, and they certainly don't slip up here. Lee Bennet's kitchen delivers an excellent seasonal menu that succeeds through its high-quality ingredients. The fish dishes, like pan-seared halibut, are particularly good.
Price: High-end.

18
andrews.co
Why go?
To sink your teeth into their freshly baked focaccia and ciabatta sandwiches.
Sharing the same swish premises as the Gallery at Munro House, this independent caff is popular with the artsy crowd that spills of the nearby Leeds College of Music, Northern Ballet and Yorkshire Dance. An offshoot of Woodhouse Lane's Bakery 164, this spot does a mean line in cakes and baked goods, chiefly from local suppliers That Old Chestnut and #Brownies.
Price:
Budget.
Why go? For reliably sophisticated plates at a veteran dining spot.
This veteran spot pitches itself as 'Leeds's original café-bar', and has been doing its with total aplomb for over 20 years. The menu is a self-respecting affair, with things like pan-roasted hake and mirin-glazed pork belly on the à la carte, and chorizo hash and eggs benedict on the Sunday brunch.
Price: Mid-range.

Why go? For trad Italian staples in a cosy venue – and the three-course early-bird meal if you're after a bargain.
A cute and totally bona-fide Italian restaurant that has been keeping the diners of Leeds fed and happy since 1976. The menu is staunchly traditional, as is the staff's rampant hospitality. We suggest you do as the Italians do, and go for the four-course act: antipasti, pasta, secondi and dessert.
Price: Mid-range.

21
BlasValue
Why go? For their famous 'hanging kebabs', which including tandoori cod and king prawn. Yum!
You can judge restaurants by the length of their queues – and be warned, it can be nigh-on impossible to get a table here without booking in advance at the weekend. But if you do, you're in for a stylish experience, and some seriously fabulous barbecue and rotisserie-style dishes, alongside a list of 'home comforts' like sausage and mash and welsh rarebit.
Price: Mid-range.

22
Why go? For cosy, pleasant, unassuming vibes in a neighbourhood spot that delivers fabulous Thai.
As several inclusions on the list have already attested to, the suburbs of Leeds have plenty of fantastic dining destinations. So if you don't want the hassle of fighting the city centre traffic, head out to Headingley, and to this neighbourhood Thai spot. It's small, even in comparison to rivals Sukhothai and Salvo's, but what it lacks in style and finesse it absolutely makes up for with its homespun and inventive Thai menu.
Price: Budget.