In an era when, whether legally or illegally, it's easy to download a video game from pretty much any era it may seem strange that retro enthusiasts, scouring car boots sales for forgotten consoles and games, still exist. Yet we do.
Whether you're a self-confessed addict or interested in starting a collection of your own, the RetroCollect Video Game Market, which takes place on Saturday February 7, is the perfect opportunity to indulge your love of retro. As an added bonus, because it's taking place at Leeds Town Hall, you don't have to worry about your car getting stuck in mud or an unexpected downpour ruining your copy of Wonder Boy III: The Dragon's Trap.
To mark the occasion, here are five retro video-game gems to keep an eye out for while you're there.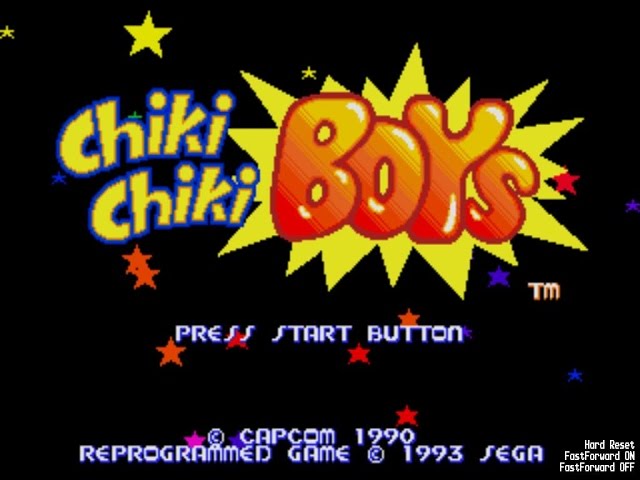 Chiki Chiki Boys (Megadrive, 1992)
Every retro enthusiast has their gateway game, the 'one-off' purchase that spawned an obsession. This was mine. It would be ten years after I first played it that I found a copy nestled between two frayed Beano annuals at a jumble sale. Of course, to play the game you'll need the right console but then why stop at just one game or even one console? It's a slippery path.
The game itself is a fun little platformer with some great sprite work, which really shows off the system's graphics and colour palate. It also has one of the greatest soundtracks of any game. Seriously, take a listen, it's three minutes of unadulterated joy.
Super 3D Noah's Ark (SNES, 1994)
Some retro games aren't particularly valuable or even very good, they're just plain odd. Super 3D Noah's Ark wasn't actually licensed by Nintendo for their Super Nintendo console. In order to bypass Nintendo's lockout chip – designed to prevent the use of unlicensed games – the game's producers, Wisdom Tree, developed a one-of-a-kind cartridge which required a licensed game to be inserted into it to function.
Having gone to all that effort to get it to work, you'd be forgiven for thinking it might actually be good. In reality, it's a dodgy clone of Wolfenstein 3D in which Nazis are replaced with goats and the main character's gun with a slingshot. Strange but true.
Castlevania: Symphony of the Night (PlayStation, 1997)
Considered by some to represent the peak of 2D platform action, Symphony of the Night was released on the original PlayStation to critical acclaim. Unfortunately, it didn't connect with an audience won over by the exciting worlds offered by 3D platformers like Super Mario 64.
Thanks to Xbox Live and PlayStation Network it's now easy to download a copy of the game and experience this masterpiece for yourself, but for the retro collector, that's just not enough. Opening up a downloaded copy from your console's dashboard just doesn't compare to popping the disc into the original system – after saying a brief prayer that it still works, of course.
Bonus points if you can find a Japanese version that came bundled with a manga and soundtrack CD.
Panzer Dragoon Saga (Saturn, 1998)
Panzer Dragoon Saga was also heavily praised by critics upon its release, it's just a shame it was only released on the Saturn – a console that, while loved by its fans, was a disastrous misstep for Sega.
An epic adventure set across four discs, the game supposedly combines real-time combat with exploration. I wouldn't know as only 30,000 copies were produced and none of them are in my possession. If you find a copy, I suggest you buy it (and invite me round to play it).
Its creators have said the original source code for the game is lost, meaning the chances of Panzer Dragoon Saga being re-released are extremely slim.
Nintendo World Championships (NES, 1990)
Nintendo World Championships is, in many collectors' eyes, the Holy Grail of retro video-game collectibles. It also represents the insane limits some collectors will go to.
Ninety copies of the game were given out to finalists in the real-life Nintendo World Championships and a further 26 gold-coloured cartridges were given out to the winners of a competition run by Nintendo Power magazine. As you'd expect, this makes the game extremely valuable to collectors. When copies do appear they sell for upwards of £10,000.
The crazy thing is, the game itself is actually made up of mini-games based on Super Mario Bros, Rad Racer and Tetris, all of which are pretty cheap and easy to get hold of. Unlike Panzer Dragoon Saga, you're not getting access to something that can't be found elsewhere and you're not getting a hidden gem like Symphony of the Night.
Nintendo World Championships is, to put it bluntly, an incredibly expensive conversation piece. That being said, I'll definitely have my eyes peeled for a copy.
The RetroCollect Video Game Market, Saturday 7 February.