Indie-rock national treasures The Cribs are back! Back!! BACK!!! Not only do the Yorkshire-born anthem-makers have a new album, For All My Sisters, in tow, they're set to headline this year's Live at Leeds festival on May 2, topping a weekend-long bill that includes Thurston Moore, Spector, Hookworms, Eagulls, Emmy the Great, Gaz Coombes and many more.
To celebrate both of these very welcome facts and get warmed-up for Live at Leeds, watch the band perform I'm a Realist at their 2013 Christmas homecoming show at Leeds' Town and Country Club (now the O2 Academy Leeds), taken from a live DVD that comes with deluxe copies of their brand-new album.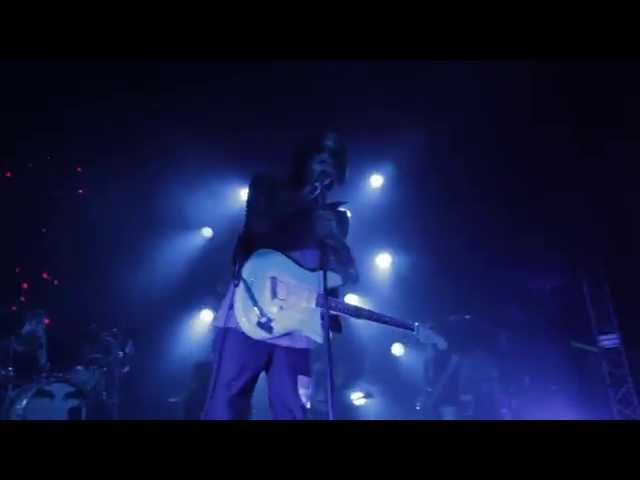 We also asked Gary and Ross Jarman from the band to take us on a quick-fire ten-minute tour of Leeds. So any Cribs fanatics out there can do exactly as their favourite band does when they're in town.
My favourite Leeds phrase or word is…
Gary: Living outside the UK, as two of us have for several years now, the fact that lunch is referred to as dinner and dinner referred to as 'tea' is really funny.
Ross: I also like the word 'snap' for food, which relates to the sound of metal lunch boxes snapping open and closed when people used to work down the mines.
My favourite memory of Leeds is…
Gary: Going to see Foo Fighters and Marilyn Manson at the Town and Country Club in the same week back in 1997 straight after our GCSEs.
O2 Academy Leeds, formerly the Town And Country Club
When I'm hungover and need to recover I…
Ross: If I'm ever really hungover, there are only two things I need – Head and Shoulders' menthol shampoo, and full-fat Coke, with ice, through a straw. That seems to bring me round every time. Breakfast is usually the last thing on my mind.
If I'm trying to impress a visitor from out of town, I take them to…
Ross: Any of my friends who come from out of town, particularly from the US, I usually take for fish and chips because they're so good in Yorkshire. Everyone I've ever taken out has really enjoyed them, but some people just don't get the mushy peas thing. I remember giving one of the guys from Skaters a can of dandelion and burdock with his fish and chips once, and he thought it was the most revolting drink ever. He thought it was a bad Coke or something.
Flickr: Steven Lilley
If I need some new music, I buy my records from…
Ross: Wah Wah Records, Crash or Jumbo. We're lucky to still have some great record shops in the area.

The place I go to think is…
Ross: Newmillerdam, near Wakefield, is a great place to go walking and feed the ducks.
Flickr: Stephen Bowler
My favourite place to stuff my face is…
Ross: I really like the Thai food down at Chaophraya. It's kind of expensive though, so I only go on special occasions. It kind of makes me sad though, because you can see The Cockpit from the window and The Cribs have many happy memories of starting out down there.

Leeds' best beer is…
Gary: Milo's sell Pabst Blue Ribbon, and we are pretty low-brow when it comes to that sort of thing.
Flickr: C. Kelly Roberts
If I could save only one place in Leeds from destruction, it would be…
Ross: It would have been The Duchess, but now that's been knocked down it would have to be the Town and Country Club [now O2 Academy].
The Duchess, LeedsFlickr: Sam Saunders
The Cribs' new album is out now.
More music on Time Out Leeds.