Our first restaurant-served curry is something we all remember. Like the day we learnt to ride a bike, our first gig and the first time we woke up with the front door wide open after a night out. OK, maybe that was just us.
But once you have a taste for an authentic and well-cooked curry there's no going back – particularly with it being one of the most affordable things to do with friends to soak up some booze after a night on the beers.
Contemporary Indian restaurants, however, are far more than somewhere to start nodding off after a post-pub Madras. They are often visually striking and ambitious organisations; polished, well-organised affairs with feature designs and sophisticated fittings.
This got us thinking about traditional curry houses in Leeds, and which was the oldest. Places like Nafees (renamed Balti King a few years ago) on Woodhouse Lane and Tariq's in Headingley have existed since the at least the early 1990s – but what about before then?
While there were only an estimated 500 Indian restaurants in the whole of the UK in 1960 (compared to nearly 10,000 in 2015) no doubt some existed in Leeds city centre – even if they hadn't quite gained the attention of many Yorkshire diners.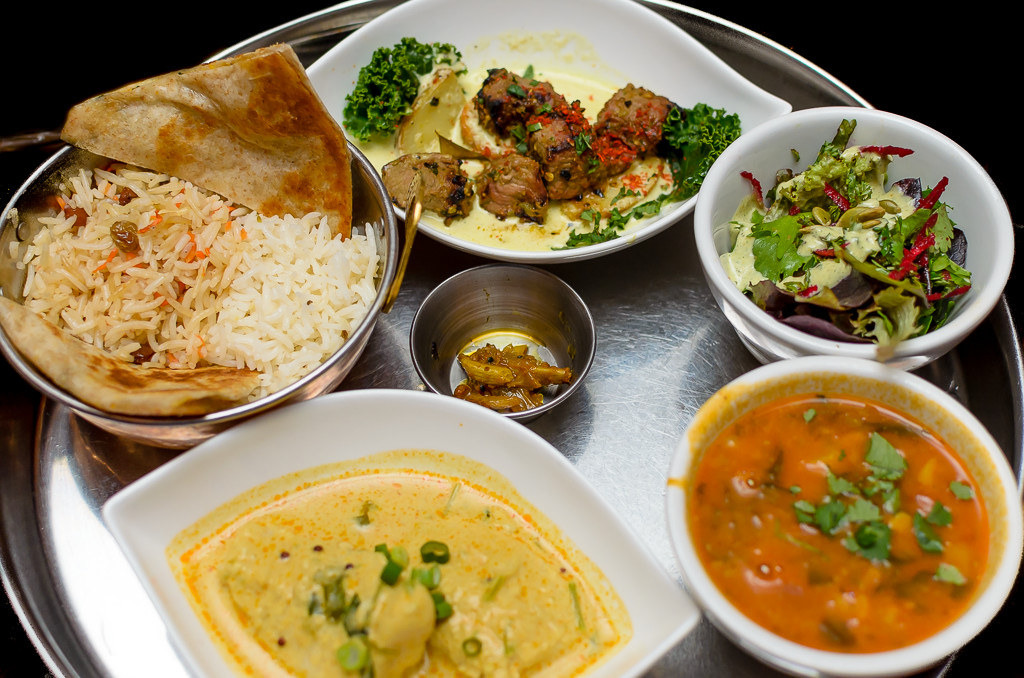 Flickr: Qasic
When we look back at the history of curry houses in Leeds, people talk wistfully about the Khyber Pass on Wellington Street, the Kohinoor on Boar Lane, the Ashoka 'opposite Romeo & Juliets' in the Merrion Centre and the Curry Centre on Merrion Street.
Darbars, near Kirkgate Market also dated back many years, and those old enough will recall its huge upstairs dining area, comical fake palm trees and enormous post-meal platters of gratis fruit. Sadly, none of these now exist, but we can still picture the rickety tables, wooden chairs and vivid Anaglypta wallpaper.
Hansa'sRob Booker
Today, while there are plenty of traditional-looking curry houses around Leeds, it is hard to place many prior to the mid-1980s. Hansa's on North Street, behind the Grand Theatre, has been serving vegetarian Indian cuisine since 1986. The Desi Polash on Town Street in Stanningley has been open since 1985. The majestic Sheesh Mahal on Kirkstall Road has been run by its current, very successful owner since 1990, but was presumably open before that? And the Corner Cafe on Burley Road first opened in Sheepscar in 1976, but moved to Burley and its current premises in 1986.
Raja's
So which is Leeds' oldest curry house still in operation? One of the latest claimants is the East India, which is up a narrow flight of stairs leading from an unassuming white door next to a Thomas Cooks in Crossgates Shopping Centre, but no definitive date of opening can be found. Another contender is Raja's, which has been open on Roundhay Road in Harehills since 1983.
The mass of takeaways of all types and in all areas renders it hard to identify many established restaurants, which quite but possibly have quite a story to tell. Take Bobby's Sweet Centre and Kebab House, for example. Having existed on Roundhay Road since 1974, it's not the first Indian restaurant in Leeds, but could well claim to be the first that offered takeaway Indian food (and still does, despite the name).
So, can you date your local Indian restaurant prior to the '70s? Can your favourite curry house lay claim to be Leeds's oldest still in existence? Get in touch and let us know.
Find more Indian restaurants in Leeds.