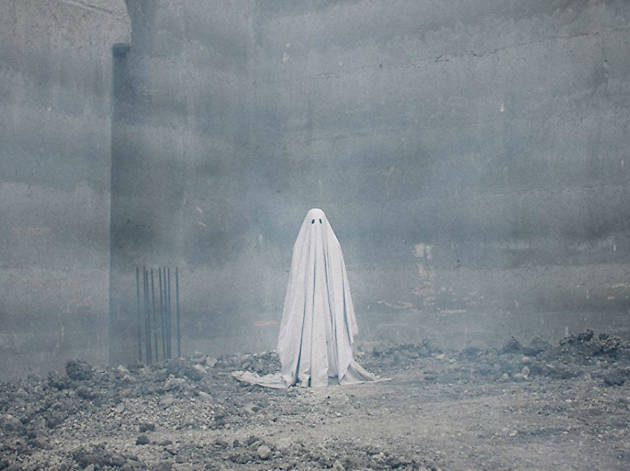 Time Out says
Casey Affleck dons a white sheet to play a ghost in David Lowery's hypnotically beautiful and strange supernatural indie
As lovely, mysterious and cosmic as horror movies get, 'A Ghost Story' is eerily quiet right from the start. In its early scenes, we see a house, sitting behind a front lawn. Inside it lives a thirtyish couple, nameless throughout, played by Casey Affleck and Rooney Mara. From dribs and drabs of dialogue, we feel a little tension, yet when the camera lingers over them in their bedroom, we feel a connection. They kiss gently, and the spooning session is of a piece with the movie's skyward-tipping Terrence Malick–like shots, composer Daniel Hart's aching orchestral shimmers, and fields of swirling stars.
Writer-director David Lowery (who directed Affleck and Mara in the similarly interior 'Ain't Them Bodies Saints') adjusts us to a slower pace for reasons that pay off beautifully. Widening out on another foggy morning, we take in the shocking sight of a smoking car wreck, with Affleck's character dead behind the wheel. He's gone, and before you brace for the clichés of typical movie grieving, we notice – well, a ghost, and one in a white bed sheet with black cut-out eyes. At first it sits up on a hospital trolley, almost confused. It meanders down the fluorescent-lit hallway, unnoticed. And it turns up in the corner of the couple's living room, like some weird lamp.
Don't be ashamed to giggle. The collision of styles – a cartoonish, Halloween-costume-grade spectre haunting a quiet indie – is the point where 'A Ghost Story' asks the most of us. But how thrilling it is to be challenged. Lowery is spending the capital he's earned on big gigs like 'Pete's Dragon' to make something bizarre and experimental, and as his film starts flitting through the weeks in unannounced leaps, you'll appreciate his gamble. The ghost is remarkably expressive. It's a lonely, stranded figure, unable to make like Patrick Swayze with a potter's wheel or cry out its love.
Instead, the movie blooms around it. Mara excels during these scenes, especially during one breathless five-minute long take in which she sits alone on the floor of her kitchen and gobbles down a pie left by a consoling friend. 'A Ghost Story' often feels like an invasion of her privacy, and the intimacy speaks volumes about the way life goes on. The ghost can't leave – it never will, even after a new family moves in or the house is razed for a sleek office-building years in the future. Lowery is committing to nothing less than the scope of eternity; frankly, sometimes it feels like it. But by doing so, he does more to explore supernatural sadness than any thriller I can think of. He's crafted something strange and wonderful.
Details
Release details
Rated:
12A
Release date:
Friday August 11 2017
Duration:
92 mins
Cast and crew
Director:
David Lowery
Screenwriter:
David Lowery
Cast:
Rooney Mara
Casey Affleck
Sonia Acevedo

Average User Rating
2.3 / 5
Rating Breakdown
5 star:

0

4 star:

2

3 star:

1

2 star:

1

1 star:

3
l found this film unconvincing.It has scenes of pathos but many other scenes of directionless twaddle. She comes home and you get a 10 minute shot of her eating a pie whilst the bed sheet looks on.The whole,film seems to have been made up as it was being shot,scene by scene.l love the art house genre but this is a director getting in above his head and the result being a messy mishmash of a film..The bed sheet really is just daft as their could have been many other ways of visually portraying the ghost.One thing does stand out and that is Rooney Mara,who off screen dresses like a bench tramp and has very short gay haircuts,but here in this film she is an aquiline beauty with her elongated features and long hair.2 stars
Despite its high rating on IMDB which is often quite accurate, this movie was extremely disappointing. Slow-paced, inconclusive and lacks substance.