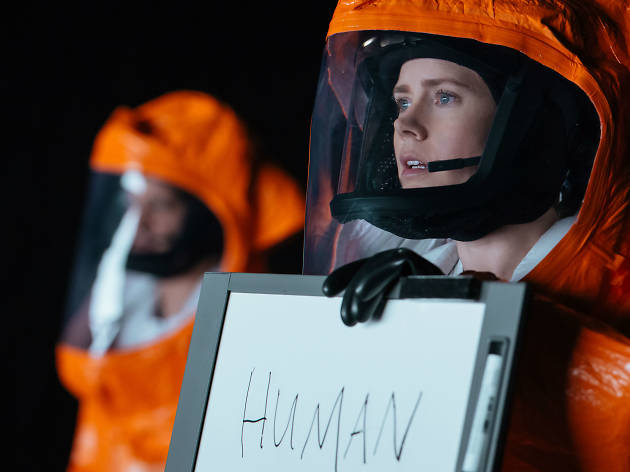 1/3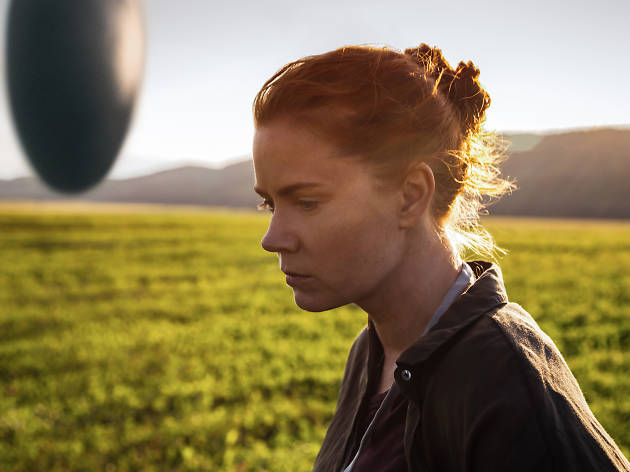 2/3
Jan Thijs
by Paramount Pictures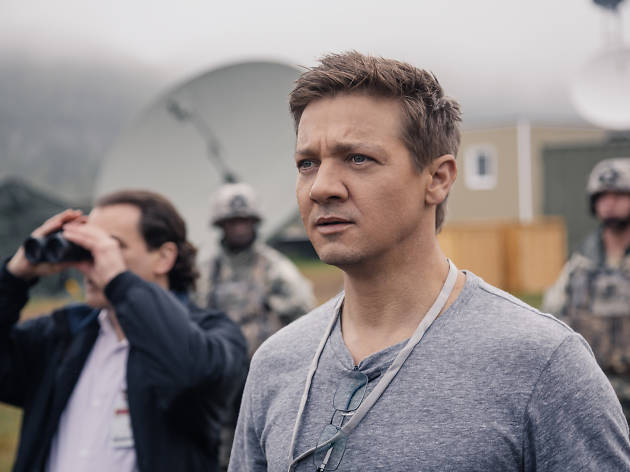 3/3
Jan Thijs
by Paramount Pictures
Time Out says
Aliens come to earth in this smart – but not smart enough – slice of modern sci-fi
'Sicario' director Denis Villeneuve's colour-drained, mournful sci-fi drama 'Arrival' plays like a more mainstream filmmaker got his hands on Jonathan Glazer's experimental alien masterpiece 'Under the Skin' and added moments of international intrigue, hints of romance, memories of past grief and shots of soldiers stomping about just in case the heady avant-garde stuff all got too much. There are plenty of smart ideas and bravura visuals in this maudlin, ponderous and slightly ridiculous tale of aliens coming to Earth, adapted from a Ted Chiang short story. But to enjoy the film's arresting musings on language, time and how much we can ever understand others, you'll have to close your eyes and ears to the wealth of schlocky hokum surrounding them.

An ambiguous, moody prologue layered with Jóhann Jóhannsson's Michael Nyman-esque score begs us to take 'Arrival' seriously long before there's any talk of heptapods. Dr Louise Banks (Amy Adams, strong and sombre) is alone in a lakeside house with only images of her past life for company: she once raised and lost a daughter. Then the sci-fi kicks in: alien pods are hovering above several sites around the globe, and the US government hauls in Louise, who is a top linguist, and a theoretical scientist (Jeremy Renner, a bit of a spare part) to help them to understand what's going on. Their mission is to enter these creatures' giant egg-shaped craft and to discover what the pair of seven-legged uglies inside want and what they're doing in a field in Montana.

You might roll your eyes when Forest Whitaker's army colonel explains to Louise that it's her past experience translating Farsi that made her perfect for this project. Do aliens and Iranians share a linguistic heritage? That aside, the scenes of Louise and co entering the alien pod and meeting the inhabitants are strong on spooky tension and the production design is especially stellar, all of which bodes well for Villeneuve's upcoming 'Blade Runner' sequel.

When the film lingers on Louise's attempts to 'translate' the language of her new extraterrestrial friends (there are nods to 'ET'), it's strange, gripping stuff that does what great sci-fi should: offers new perspectives on our own world. Villeneuve also has a show-stopping reveal up his sleeve that revives our interest in the film late on. But much of 'Arrival' focuses on baser stuff – ticking bombs, rolling TV news commentary, social breakdown as window-dressing – and in those moments it feels caught between a brainless big-budget movie and a smaller, much more thoughtful one.
Details
Release details
Release date:
Friday November 11 2016
Duration:
116 mins
Cast and crew
Director:
Denis Villeneuve
Screenwriter:
Eric Heisserer
Cast:
Amy Adams
Jeremy Renner
Forest Whitaker

Average User Rating
3.8 / 5
Rating Breakdown
5 star:

3

4 star:

13

3 star:

5

2 star:

1

1 star:

0
The reference to farsi is relevant because Amy Adam's character had recently translated some secret communications for the military. To do so she needed a high ranking security clearance. In SF, governments typically treat all contact with aliens to be a security threat. They might also consider that if they learn something that one of the other governments did not, they would like to keep that a secret. Therefore, her still active security clearance, in a very pressing moment, gave her character an advantage over someone new as it takes a considerable amount of time to vet someone's background for a security clearance.



I thought this film was very clever, though a slow burner, it was interesting to see a more intellectual take on what form extraterrestrial life may take - rather than simply a humanoid looking figure messed around with using face makeup. I did think this film went on little too long, however I did think the ending was very intriguing and overall definitely worth a watch.
I really enjoyed this film a lot, probably more than Interstellar because I found it more involving and accessible. Great performance by Amy Adams and good support by Renner and Whitaker. Ambitious ideas but connected to people and emotions. Really imaginative concept of Aliens and how we might react to them. Always enjoyable but thoughtful and quite demanding of your brain, unlike many I have seen recently.
I wish Dave Calhoun didn't take himself so seriously. As TO's readers on this page have said, this film is far better than DC makes out. It was a very interesting exploration of alien contact around the globe and the disharmony that breaks out when a united front isn't shown by all. Amy Adams was really good, and ditto Jeremy Renner. Both very convincing performances.

For someone who likes movies, I've felt this year hasn't been a great year for them, but this is definitely an exception. Go see.

There's a really interesting movie trying to get out here that is lyrical, thought-provoking and touching - but the rather derivative plot is just too slow and ponderous. I found myself yawning on several occasions. Worth seeing but as a piece of cinema it just didn't do it for me.
A beautiful film! The film follows the arrival of extraterrestrial structures on earth and the complications of communicating with the non human beings that inhabit them. Visually the film is very beautiful. Photography, composition and special effects come together effortlessly. The story unfolds in a calm, melancholic rhythm in which the music, landscapes and emotions experienced by the main characters in the film make the audience create a strong emotional bond with the story. At times the film's nostalgic tone reminded me of Terrence Malik's films. Slight hints at Tarkovsky's Solaris also came to mind. I found the film's subject of the exploration of language and how it influences our understanding of ourselves and the word around us very refreshing, not to mention that it is an enormously rich subject for a science fiction film. This is not another clichèd 3D-explosions-science-fiction-buster. Rather, it is a beautifully crafted, moving exploration of human language and identity. Definitely recommended.
I agree about the Farsi/alien language connection, that was very odd and not properly explained, but the film was otherwise an interesting and stimulating journey through the construction of language and the meanings between words, both written and aural. 4/5 stars - definitely worth seeing, but this ain't no Star Trek folks! For more from me: bit.ly/ArrivalFilm2016
I am so excited for this once!!! I hope it is what "Contact" was!