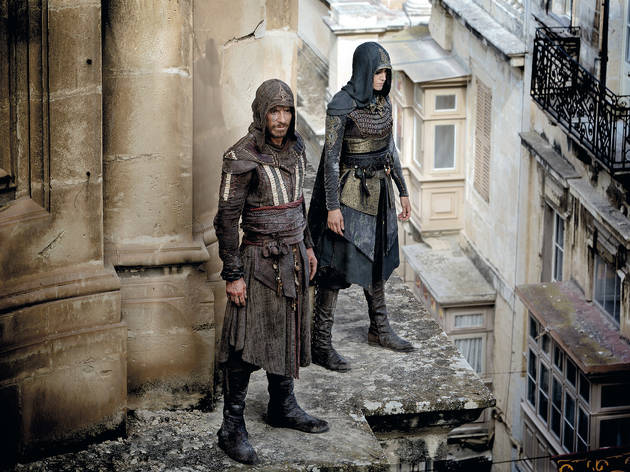 Time Out says
This moody spin on the gaming smash hit stars Michael Fassbender and takes itself too seriously – but manages to serve up a convincing enough alternate reality
Gamers will know exactly what 'Assassin's Creed' is; everyone else will need a little introduction to this solemn, brutal adaptation of the huge-selling computer game. Offering more than its fair share of head-scratching moments, it stars Michael Fassbender as a time-hopping member of the 'Assassins' – a secret order said to be at loggerheads for centuries with the Knights Templar over possession of the sacred apple from the Garden of Eden.
If this freestyle plundering of medieval and religious history sounds a bit like 'The Da Vinci Code', it is, just a little. But as we hop between Madrid, London and Texas in 2016 and Andalusia in 1492 (with a quick stop in 1986 California) this is darker, more straight-faced and humour-free territory than Dan Brown. A collision between moody, smoky swords-and-daggers historical fantasy and sleek-lined modern-day sci-fi, the overall dimension-shattering vibe is more like 'The Matrix'.
We meet Fassbender in two time periods. In 1492, he's an assassin set on forcing the ruling sultan (Khalid Abdalla) into submission. In 2016, he's a convicted criminal, Callum Lynch, rescued from the jaws of execution by a shadowy, Madrid-based scientific organisation run by Sofia (Marion Cotillard) and her father Rikkin (Jeremy Irons). Where 'Assassin's Creed' demands full attention is the concept of 'DNA memory' that links both periods. We watch as Callum essentially plays a virtual-reality experience controlling himself in the past, while in the wings Sofia and Rikkin play out their own family power games.
The film reunites Fassbender, Cotillard and director Justin Kurzel, who worked together on 2015's 'Macbeth'. Common to both movies is a brooding atmosphere and a bone-crushing, unsentimental approach to action and violence. The relentless gloom can feel oppressive, but there's plenty of ambition here, especially in the layered storytelling and woozy sense of time and place, with plenty of soaring aerial shots that nod quietly to the all-seeing eye of a computer game.
Details
Release details
Rated:
12A
Release date:
Sunday January 1 2017
Duration:
115 mins
Cast and crew
Director:
Justin Kurzel
Screenwriter:
Bill Collage, Adam Cooper, Michael Lesslie
Cast:
Michael Fassbender
Marion Cotillard
Michael Kenneth Williams
Jeremy Irons

Average User Rating
2.5 / 5
Rating Breakdown
5 star:

0

4 star:

0

3 star:

2

2 star:

2

1 star:

0
It's a bit silly really, but then what would one expect from a video game spin-off. The CGI had its moments. The concept was interesting; the acting, well nothing special but the visuals were effective. Bubblegum for the mind really. If you have the time and there isn't much else to watch at the cinema (but surely there will be) give this a chance.
I didn't go into Assassin's Creed with particularly high expectations, and, well, it was a bit better than anticipated.
I'm familiar with the games, so the concept was never going to be a shock, and I did enjoy the look of the thing, but God it's ridiculous.
The narrative is all over the place, and some of the characters have no real purpose other than to be particularly mobile bits of scenery. But on saying that, the film is enjoyable in its silliness. And it is gorgeous to look at. And Michael Fassbender, a man who can apparently straight-face his way through anything, is worth watching.