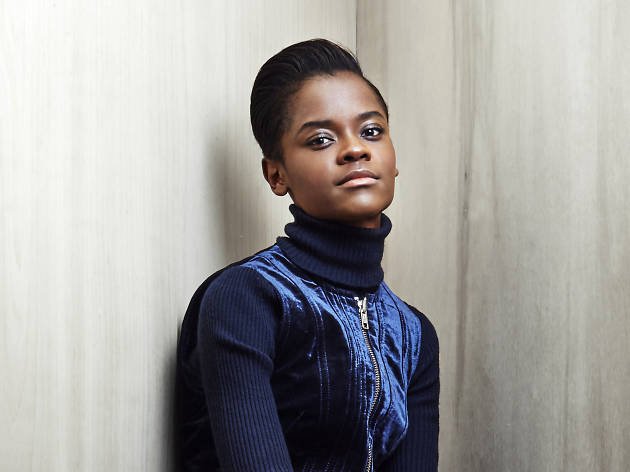 'Black Panther' star Letitia Wright: 'I'll always be a north London girl'
Letitia Wright on making her name in 'Top Boy', scoring a role in 'Black Mirror' and starring in Marvel's groundbreaking blockbuster 'Black Panther'
'If I'm wrong, I owe you some chips.' Letitia Wright is so convinced that her friend and 'Black Panther' co-star Daniel Kaluuya will win a Bafta, she's offering me a carb-based wager. But he's not the only one looking forward to a big year. While Wright's arrival at the BFI Southbank café doesn't cause a stir when we meet, that's all going to change after the Marvel comic-book movie comes out next week.
'Black Panther' is arguably the most anticipated blockbuster to hit cinema screens since the last 'Star Wars' film. Based on the 1960s comic books of the same name, it sold more advance tickets within 
24 hours of going on sale than any other Marvel flick and it boasts a 
cast of stellar acting talent, the majority of it black, including Angela Bassett, Forest Whitaker, Lupita Nyong'o, plus Kaluuya and Wright, who plays hero Black Panther's techy little sister, Princess Shuri, in the film.
Wright has a knack for getting cast in cult hits. The 24-year-old, who was born in Guyana and grew up in Tottenham, has racked up roles in much-loved TV shows 
('Top Boy', 'Humans' and, most recently, the exceptionally dark season four finale of 'Black Mirror'), but now she's finally making her mark in big-budget, big screen territory. As well as appearing in 'Black Panther', she's in just-released Liam Neeson thriller 'The Commuter', imminent Spielberg-directed sci-fi movie 'Ready Player One' (March) and the next 'Avengers' movie (May). If you didn't know Letitia Wright's name before, you certainly will by this summer. I'd bet my chips on it.
'Black Panther' is a groundbreaking blockbuster. How does it feel to be a part of that?
'The cast is pretty much all black, which is refreshing, but we want that to be normal. Every time we see a period drama, we don't say: "Oh my God, it's white folks in the '60s." It's just a story.'
What drew you the role of Princess Shuri?
'Shuri is one of the most interesting characters I've played. When a young girl sees her at the cinema, she can go: "Wow, I thought I was a nerd because I like technology, but I want to do that."'
Angela Bassett plays your mum in the film. 
What was it like working with her?
'I learned a lot from her. I was really nervous during the first couple of weeks. I wanted to hide in the background and do my lines. She noticed that and built up my confidence. '
You grew up in Tottenham. Where did you hang out when you were younger?
'The park everybody went to was Bruce Castle Park in White Hart Lane. I'd go to the Hollywood Green cinema in Wood Green and sit outside at Alexandra Palace on summer nights. Tottenham was a dope place to grow up because it's so community-based. It's a melting pot of cultures. I'll always be a north London girl.'
How did you get into acting?
'I started doing amateur theatre and played Rosa Parks at the age of 12 or 13. At 16, I decided it was what I wanted to do. I took a horrendous picture in my bathroom, made it black-and-white and sent it to agents all over the UK. Every booker has an email from Letitia Wright at 16 years old.'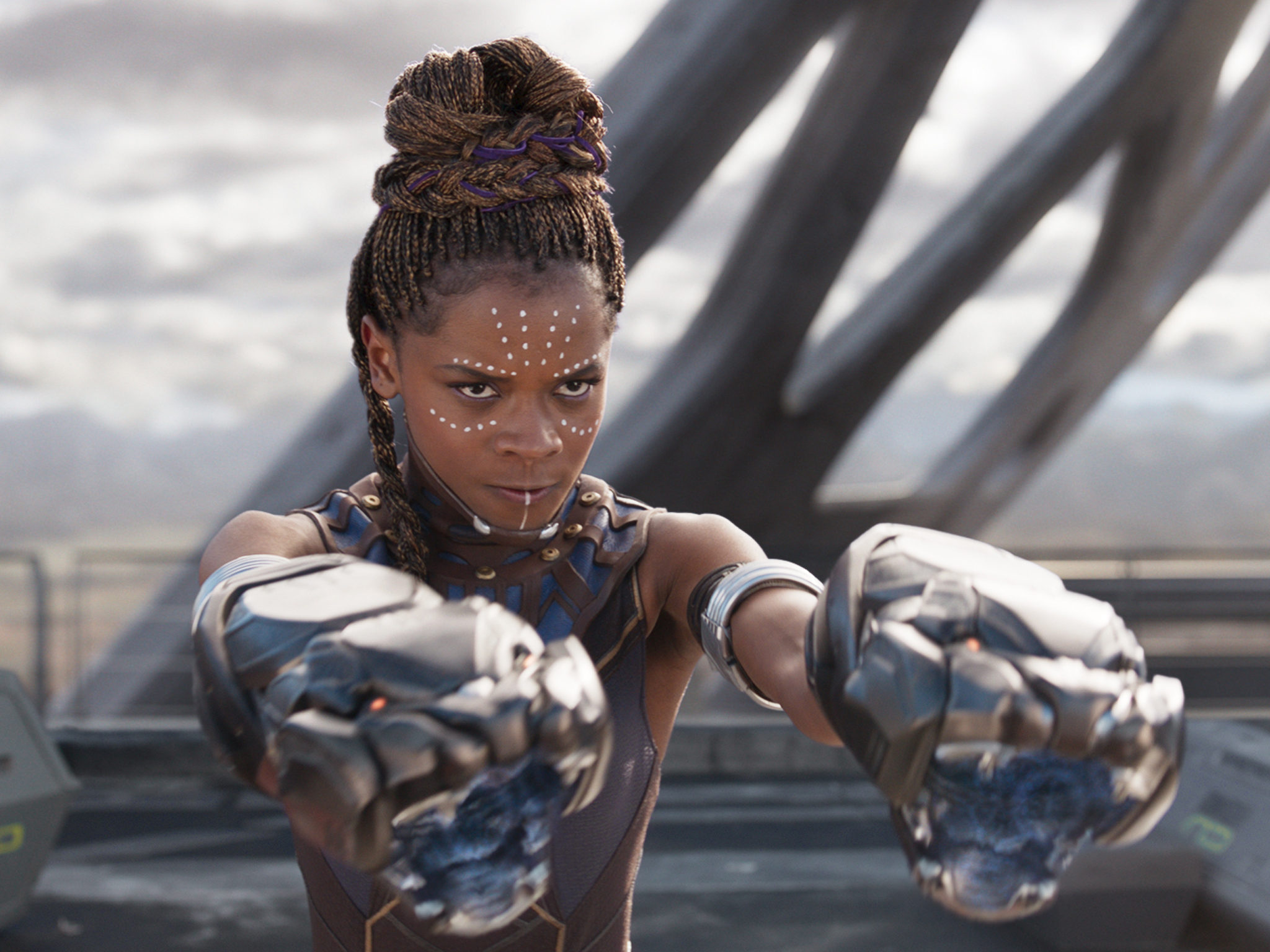 'The cast is pretty much all black, which is refreshing, but we want that to be normal.'
What did it say?
'"I'm looking for representation, I've done work…" – as in all my school plays. Rosa Parks was at the top of the list so they knew I was a serious actress.'
Your big break was in East End drama 'Top Boy'.
'I learned a lot on that show, but I didn't do the second season. I was scared it would box me in. 
It was one of the bravest decisions I've ever made.'
It's getting a revival thanks to Drake. Would you ever go back to it?
'I love Drake, he's amazing. But my character would have to be someone positive. I can't go back on my word and play a character that at the time 
I didn't really find three-dimensional. I hope they do a good job with it. I'm sure they will.'
Were you a fan of 'Black Mirror' before you were 
on the show?
'Of course! I was offered a part in the last episode of season three, "Hated in the Nation", but I couldn't do it because it clashed with "Humans". It broke my heart. When they called again and I read the script, I thought: This is the part for me.'
Are you nervous about being famous?
'I think about it a lot. I know that things around will me change. I was in Paris recently and someone on the metro was staring at me and talking about me in French – all I could make out was "Black Mirror". The best I can do is to remember that I'm a vessel for the characters.'
'I learned a lot on "Top Boy", but I didn't do the second season. I was scared it would box me in.'
Hollywood is in a state of flux right now. What's it like to be a young actor coming through?
'It hit home when Lupita spoke about [Harvey Weinstein sexually harassing her]. It was like: Whoa! This is not just the actresses from far away, it's the actress on set, getting ready to say lines right next to me. A few months later, Brie Larson gathered all the women on set and was like, "Hey, there's this thing called Time's Up." The next thing I know, America Ferrera – who I grew up watching on telly – is emailing me.'
Does the movement make you feel empowered?
'It gives me confidence knowing that [if something happened] there are people who are going to say: "That's wrong." '
You've worked with director Michael Caton-Jones, who discovered Leonardo DiCaprio. Is it true he compared you to Leo?
'He said: "I'm going to take you under my wing, I'm going to treat you how I treated Leo." That entailed watching movie upon movie – silent films, documentaries, '80s films, black-and-white films. He told me not to [always] play the same roles.'
What's next?
'Arthouse films. I want to do stuff like "Lady Bird". I want people to say: "She told amazing stories."'
'Black Panther' opens on Mon Feb 12.
Read about 'Black Panther' and more great films we can't wait to see this year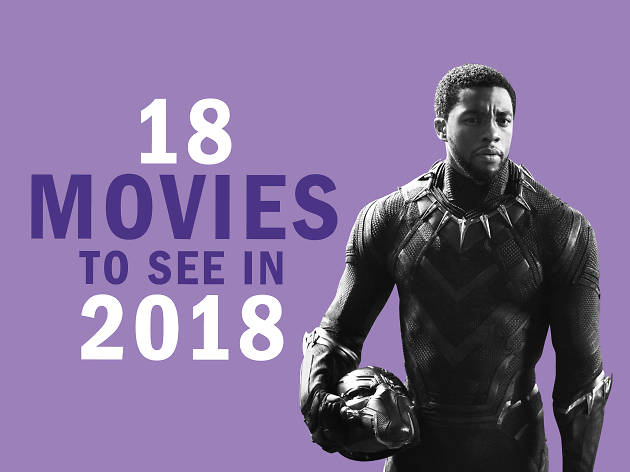 There's plenty of cinematic joys to look forward to over the next 12 months, with sharp-edged indies, ambitious blockbusters and, yes, the odd sequel ahead. Here's a select few to put in your diaries...
Support Time Out
We see you're using an ad-blocker. Ad revenue is Time Out's main source of income. The content you're reading is made by independent, expert local journalists.
Support Time Out directly today and help us champion the people and places which make the city tick. Cheers!
Donate now